Stock Market Wednesday Worries, Greece Closed and Japan On the Edge of Collapse
Stock-Markets
/
Stock Markets 2010
May 05, 2010 - 09:48 AM GMT


Lord Blankfein, the peasants are revolting! Lloyd: "I know, they stink on ice."
Greek air-traffic controllers and teachers walked off their jobs and shopkeepers shuttered their stores to challenge Prime Minister George Papandreou's latest decision to cut wages and pensions and raise taxes in return for a 110 billion-euro ($143 billion) rescue package. Protesters trying to gain access to the parliament building clashed with helmeted and padded riot police and threw sticks and stones and chanted slogans when they were repulsed. Police, who said 18,000 people are participating in the marches, shot tear gas at other protesters who lobbed rocks and set trashcans on fire at the central bank building near the parliament.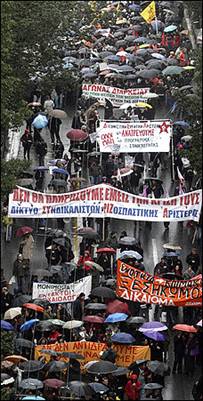 Today's general strike, the third this year, follows Papandreou's announcement of a second set of wage cuts for public workers, a three-year freeze on pensions and a second increase this year in sales taxes and the price of fuel, alcohol and tobacco in return for a bailout from the European Union and the International Monetary Fund. Union groups have called the austerity measures "savage." Demonstrators daubed "IMF OUT" in red paint on pillars around the centrally located Finance Ministry. Most stores in the main shopping street of Ermou were open for business, with some lowering shutters over display windows to protect against any violence.
Air traffic controllers shut down Greek airspace
Government workers shut schools and hospitals
Gas stations closed to protest the fuel-tax
Dock workers grounded the ferried
Power company employees are striking
Journalists are on strike so there is no local news covering any of it!
It's one thing to have these egg-headed discussions about austerity and cutbacks and for the EU and the IMF to get together and tell the Greek people it's time to pay their debts but it's quite another thing to actually get it past the people who's lives these measures will affect. Imagine if the IMF told Americans that we needed to cut government spending by $1.5Tn (the equivalent) and that wages would be frozen and retirement will be raised from 65 to 70 effective immediately so hopefully you die at work and save us the Social Security payments…. We have Tea Party protests now!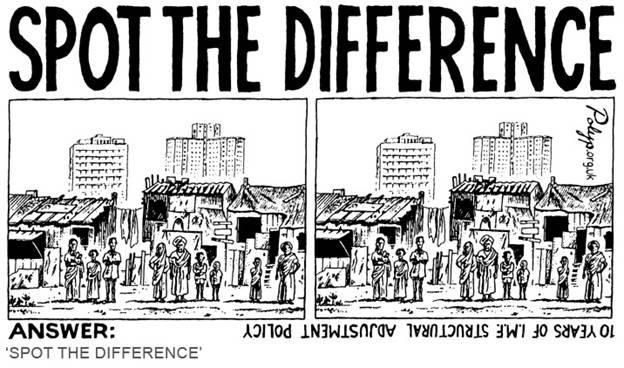 Fifty-one percent of Greeks say they won't accept new austerity measures and would join protests against them, according to a poll of 1,000 people by ALCO for Proto Thema newspaper from Apr 27-29. That compares with 33 percent who would accept them. Support for the government fell to 29.7 percent from 32.1 percent last month, according to the survey. "These measures are unjust and should be paid for by those politicians over the past 30 years who have led us here," said Barbara Tzerbou, 37, a lawyer who traveled to central Athens with her brother to participate in her first-ever protest. Papandreou "had choices; we didn't need to get as far as the IMF," she said.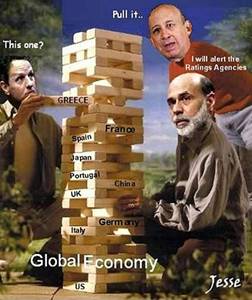 Make no mistake, Japan is next. Their consumers have tightened their belts for 20 years to pay back for the collapse in the 80's but that belt is out of notches and Japan can no longer borrow money internally as their people are tapped out. S&P indicated that a fiscal plan scheduled for next month by Prime Minister Yukio Hatoyama's government may be key to whether it will cut the nation's sovereign credit rating.
At stake for Japan is keeping the AA grade after S&P lowered its outlook for the rating in January, and shoring up confidence that it will avoid contagion from a Greek crisis threatening to engulf other sovereign borrowers. Finance Minister Naoto Kan said this week that Greece has shown the need for Japan to take a "very firm" stance toward reducing debt, which is approaching twice the size of Japan's economy. "There is a growing sense of urgency, even though it's stated very quietly, that the situation isn't sustainable," said Hess, who was in the capital of Uzbekistan to attend an annual meeting of the Asian Development Bank.
Japan's government has an election in July but needs a budget next month that reduces the deficit from 9.4% of GDP to 3% of GDP but the whole thing is a joke as Japan is still borrowing money by selling 10-year notes at 1.29% because the Japanese people are offered 0% by their own banks and tend to be long-term savers. Also, 20 years of DEflation has given the people a false sense of security so 1.29% seems pretty good when things get cheaper every year. The rest of Asia is fighting INflation and if prices go up OR if rates go up OR if Japan is forced to sell 10-year notes "outside the family" - that 9.4% deficit could jump to a 20% deficit overnight if Japan is forced to pay the same 3.72% the US does. Of course, if Japan has to compete on the open market for loans - EVERYONE's rates will be going up!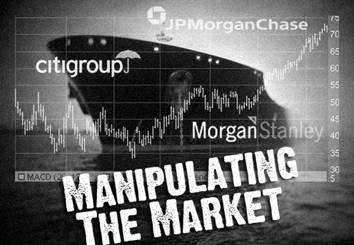 So party on Garth - the dollar is fetching 94.7 Yen this morning, that's up 10% since Thanksgiving while oil priced in Yen is now hurting the Japanese consumers as much as it hurts us (they had escaped some of the pain with a very strong Yen to Dollar in the last spike). Oil priced in Euros is even worse, now passing 2008 highs as the Euro falls below critical at $1.30 (now $1.289). At the end of 2008, oil was priced at $100 American and that is the pain currently being felt in Europe as their currency declines while oil continues to be manipulated higher by investment banks who are stealing more money every single day than all of Goldman's sub-prime deals put together. Now that bubble may be popping too as, once again, they have bankrupted the people who have to, ultimately, buy the oil.
Putting the global cherry on top of our EDZ and EUO hedges is State Street Global, who put an "underweight" position on the largest emerging markets including China and Brazil on concern shares are expensive relative to smaller developing nations as economic growth slows. "We've been a little cautious on the larger countries in emerging markets, China amongst them, that seem to have reasonably rich valuations," Richard Lacaille, London-based global chief investment officer at State Street Global Advisors, which oversees $1.9 trillion, said in a Bloomberg Television interview in Hong Kong.
The MSCI China Index trades at 14 times estimated profits and Brazil's Bovespa gauge fetches 13 times, compared with the multiple of 12 for the MSCI Emerging Markets Index. Chinese manufacturing grew at a slower pace in April according to a survey of more than 400 companies released today. BlackRock Inc. is among money managers reducing their holdings on Chinese stocks on expectations that economic growth has peaked. The BlackRock Emerging Markets Fund has widened its "underweight" position for China versus the MSCI Emerging Markets Index to about 7.5 percent from 4.6 percent at the end of March, the fund's London-based co-manager Dan Tubbs said.
The Hang Seng dropped another 435 points (2.1%) this morning, down to 20,327 but the Shanghai bounced 0.8% but is still off 13% for the year so far and the rise in the Shanghai smacks of manipulation. Taiwan fell 3% and India dropped another 0.5% so it was JUST the Shanghai that went up IN THE WHOLE WORLD. Japan and Korea are still closed for holidays and, at the moment, they have a LOT of catching up to do when they come back.
"It's a bit of a bloodbath today," said IG Markets institutional dealer Chris Weston in Sydney. "We are seeing aggressive short-selling of materials and other high beta names because there's still no clarity on the resources tax and the European debt crisis and Chinese manufacturing looks to be slowing down. It's a perfect storm, but we've got great value in certain stocks, which could trigger broker upgrades."
I love that attitude, which is the norm among investors: "Hey, things are catastrophically bad but maybe GS will put a stock on their Conviction Buy list and everything will be all better…" Europe actually opened up this morning and gave a brief pop to our futures but now they are back to roughly 1.5% drops with the DAX failing 6,000 for the first time since March and that would be about 1,157 on the S&P, right where I said we'd be at the conclusion of our 5% Rule Review! I also said "not holding that is going to be nasty" so look sharp today as we expect at least a 1% bounce off that line. Anything less will be LAME!
Of course we are in disaster hedge heaven because THIS IS A DISASTER! We'll be looking at layers to go lower and also as a way to lighten up because, the same way we took 300% profits off the table on the way up, we need to do the same on the way down.
By Phil
Philip R. Davis is a founder of Phil's Stock World (www.philstockworld.com), a stock and options trading site that teaches the art of options trading to newcomers and devises advanced strategies for expert traders. Mr. Davis is a serial entrepreneur, having founded software company Accu-Title, a real estate title insurance software solution, and is also the President of the Delphi Consulting Corp., an M&A consulting firm that helps large and small companies obtain funding and close deals. He was also the founder of Accu-Search, a property data corporation that was sold to DataTrace in 2004 and Personality Plus, a precursor to eHarmony.com. Phil was a former editor of a UMass/Amherst humor magazine and it shows in his writing -- which is filled with colorful commentary along with very specific ideas on stock option purchases (Phil rarely holds actual stocks). Visit: Phil's Stock World (www.philstockworld.com)
© 2010 Copyright PhilStockWorld - All Rights Reserved Disclaimer: The above is a matter of opinion provided for general information purposes only and is not intended as investment advice. Information and analysis above are derived from sources and utilising methods believed to be reliable, but we cannot accept responsibility for any losses you may incur as a result of this analysis. Individuals should consult with their personal financial advisors.
© 2005-2019 http://www.MarketOracle.co.uk - The Market Oracle is a FREE Daily Financial Markets Analysis & Forecasting online publication.

Only logged in users are allowed to post comments.
Register/ Log in