Stock, Commodity and Financials Trading, The Quick And The Dead
Stock-Markets
/
Financial Markets 2010
May 20, 2010 - 04:59 AM GMT


The Fat Boys are stop killers.
You must learn the ways of the Fat Boys.

This sudden plunge in the market has been a wake up call to investors. Complacency is dangerous. It re-enforces bad habits and can lead to not questioning how we think and who we listen to. The price of (financial) freedom is eternal vigilance.


This is a good time to look at your investments and how you manage them. It is a good time to ask who do I listen to and what do I believe. It is a good time to look at past performance. Yours and those you listen to. Do you know what you are doing? Does your advisor?

This chart of the advice and opinions of the newsletter writing Gurus, dated the 5Th of May, says it all. At the market top, none of the gurus saw it coming. Sure there were a few that were bearish but they are the perma bears, the ones that are always bearish. The ones who if you listened to them, would have caused you to miss the last 100% rally. 100 percent! Now they are going to say "see I told you it would crash". I do not call this useful advice. I call it being wrong.
As you watch cnbc or glean the financial sites looking for help, you will find the same experts that missed the top, explaining what happened and what will happen next. How does that work? Deep down you know there is something wrong with risking your hard earned money based on nonsense like that.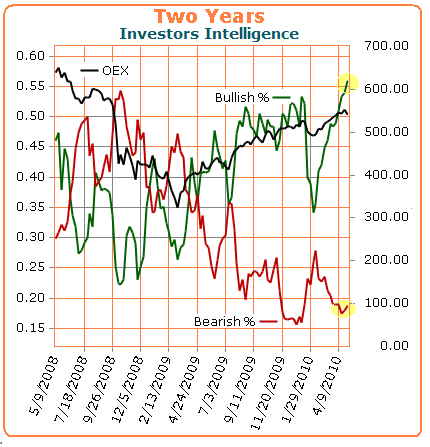 Here are some simple truths

When you make an investment and put you money down, you live or die by that decision. Nobody else is responsible. It does not matter if you did your own analysis, listened to an advisor of some kind or your account manager made the decision for you. you made the call. You chose the advisor or the account manager. It is your money. They will go on talking their game whether you win or lose.

If you or you advisor do not have an entry price, a tight stop loss price and a target price before you make a decision to enter a trade you have got nothing!
You have no real plan, you will be in a blur of hope, greed and fear.

When JP Morgan was asked what he thought the stock market would do, he replied, "It will fluctuate".
In these economic times we are deluding ourselves if we think it is normal for price to trend ever higher in a tight orderly fashion and all we have to do is put our money down, sit back and get rich. If you think that, then you have been watching to many of "the secret" type of videos. Volatility is opportunity.

The truth is you are smarter than a lot of the people that you go to for investment ideas and advice. The problem is you do not have a methodology, a structured way to look at markets and price action. It is like you are in a car trying to get to point "b", and the problem is no one has showed you how to work the gas pedal and the brake. You do not know what the traffic lights mean and often seem to end up driving on the wrong side of the road. You learned to drive a car and you can learn to trade and invest just as well.


Get good advice

I write an investment advice email for my readers every night in which I make recommendations on selected ETF's and on every recommendation I set a tight stop loss point to exit if the trade fails. It would be so much easier to leave them out and then if the trade goes south, not mention it again and talk about a different investment idea but then what would I be giving my readers. Nothing. The reality is, in investing and trading, we have to finish what we start.

If you don't think for yourself someone else will do it for you. You will be chasing the guru of the moment. That is not good. Success requires consistency.
If you coattail a guru, make sure they are not a stopped clock still replaying last week's game.
Go back and read their previous recommendations and ideas.
Do not choose or listen to advice just because it mirrors your own views.

To be successful in the investment business you have to be right immediately, not after the price has gone against you by 10 or 20%.

If the predictions are based on fundamentals or have no fixed entry and exit point, you really have nothing.
Let me say this about fundamentals. They are very seductive. They are always right in hindsight. Most experts misread them. They are useless for placing positions and managing risk and making money.

Remember all the prognostications. 97% said the US Dollar was going to nothing. How about bonds being the slam dunk short of the decade. What about oil never going below $100.00 again. These fundamentally based predictions may ultimately happen but standing firm on those trades has made for a world of misery so far.
Now you are hearing the Euro is toast, the next stop is parity. Do you believe that?




What about Silver being a great inflation hedge? I just bought SLV in February for the same price it was trading at 4 years ago. Clearly the charts in this article show one thing. Prices fluctuate. The fluctuation is where the opportunity is.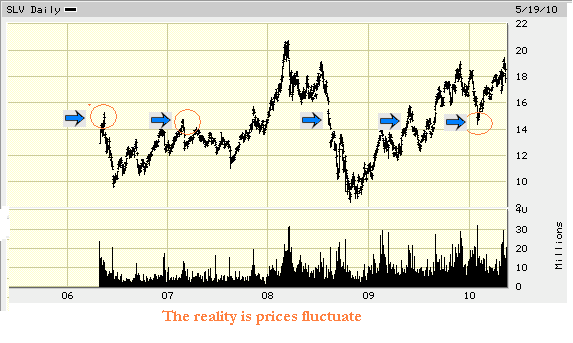 Over throwing the dictator
Have you noticed how long evil dictators seem to stay in power oppressing and feeding on the populace? It seems to go on and on. It is no different in most so called democratic countries. The elected officials are just front men for the real power lords. You can change the front men but the dictator is still there. It is an elected dictatorship with the same dead wood and rot in every party.

What do dictators have to do with investing?
I have studied Keynesian economics and I have studied Austrian economics and I have not found much use in either for making money as a trader. These theories stay around like elected dictatorships. I am sure the Austrians will be right about their Armageddon predictions eventually but they said it was upon us a year ago in March! Now they are saying we are in a crack up boom again. The Keynesians got us into this mess. It reminds me of trying to predict the market using Elliott wave analysis. Remember what I said about putting your money down? It applies to economic theories as well. Do not blame your economic theory for whether your trade lives or dies. Economic theories take years to prove out and most of us do not have that luxury. In the mean time prices fluctuate.
I am not discouraging you from studying, far from it, but you can only study for so long. Then you have to face the market and it's masters.

I live by a different investing model which I call "Venal Fat Boy Economics". It goes something like this, they rule the world and I do what they tell me. I should say, I do what they tell me they are doing. They use computer algorithms, which are precise, logical and they never second guess themselves. Their computers have no ego, no self doubt, no hesitation. I try to invest the same way. The Fat Boy's trigger points are knowable and predictable and they can be used to fine tune and structure each trade.

Below is an excerpt from an article I wrote in mid December of last year for this web site in which I used their algorithms to call the low in GLD within .10 cents, two months in advance. (Check out the whole article here, Gold crash, de ja vu all over again and please check all my articles.)




Above, we see that the previous corrections took months to play out. We also see the 102.50 level may become a turning point this time.

In most cases, modern markets are manipulated. They are places where the rich and powerful take money from the majority. This is not a place for the unskilled investor to plop down his life savings with no business model, no trading plan or worse yet, on the advice of the guru de jour. You are going up against the best, whose sole intention is to make money. Just check the recent Fat Boy earnings reports.
The recent sell off clearly demonstrates that if you are not with them, you are a victim.

I have been asked by readers if I am alright and will I be writing anymore articles. I have been busy transferring my educational materials which I have used for years in my online real time trading course into an Ebook that can be easily understood by the average investor. My hope is that I can help every investor understand and think more clearly about trading and risk management.
Finally it is done and I am excited to say I will be releasing it at the end of May.
Bob Clark is a professional trader with over twenty years experience, he also provides real time online trading instruction, publishes a daily email trading advisory and maintains a web blog at www.winningtradingtactics.blogspot.com his email is linesbot@gmail.com.
© 2010 Copyright Bob Clark - All Rights Reserved
Disclaimer: The above is a matter of opinion provided for general information purposes only and is not intended as investment advice. Information and analysis above are derived from sources and utilising methods believed to be reliable, but we cannot accept responsibility for any losses you may incur as a result of this analysis. Individuals should consult with their personal financial advisors.
© 2005-2019 http://www.MarketOracle.co.uk - The Market Oracle is a FREE Daily Financial Markets Analysis & Forecasting online publication.

Only logged in users are allowed to post comments.
Register/ Log in