Why Bank Regulators Can't Tell A Dead Parrot From A "Resting" One
Politics
/
Market Regulation
May 28, 2010 - 08:11 AM GMT


Caught this one via Edward Harrison on the tedious business of bank regulation, capital adequacy, and other such delightful subjects, ideal for anyone who can stomach more discussion on something that many (particularly central banks and regulators), would prefer to be just swept under the carpet.
There is a nice link to a clip of Hugh Hendry speaking his mind (and a lot of sense), also there was Gillian Tett of the Financial Times; she said:
"Many investors are saying that they can't tell what the level of exposure and risk is in the European Banking system".
Of course she is absolutely right, although I'm not sure what's news? Investors couldn't tell what the risk and exposure was five years ago; if they could have they never would have made the loans or greedily gulped down all that highly-rated toxic garbage, like a pack of BSE-infected piggies.
What's new is that in Europe, they have only just realised that they don't know what they don't know.
The crisis in USA in 2008 and the crisis now is that investors – i.e. market participants, were not (and are still not), provided with sufficient truthful information that allowed them to make sensible investment decisions. That's why they "can't tell what is the level of exposure and risk".
Tett goes on to say (I paraphrase)
The problem right now is that by avoiding talking about it and sweeping the problems under the carpet, that will just make things fester.
But what's the big deal? First the government in USA and now the governments in Europe have committed to "stand behind the banks", to pay-off their gambling debts, and reward their stupidity. And everyone will live happily ever-after, for a while, by which point the politicians who made those decisions will be long-gone.
So "Don't Panic", this problem is being swept under the carpet and will be "dealt-with" at a later date when the "market" is not so jittery.
I was rather amused by something else that Tett said which was that in USA the regulators went in and "did a proper audit", and that although that was "not perfect" it was a start.
WOW!! That's a good idea, why didn't anyone think of that until now?…DO A PROPER AUDIT (even if it's not perfect). Fantastic idea!!!
Err…but weren't they supposed to do "proper" audits before?
Did I miss something?
I was also interested in a link to an excellent paper written by Eric Tymoigne and Randall Wray's (http://www.scribd.com/.. ), they make the point (correctly) that:

"The notion that legislated capital requirements (such as those inherent in the Basel agreements), can constrain growth (of bank landing(my brackets)) and risk, are therefore flawed".

One of the issues comes down to valuation. Many commentators have remarked that mark-to-market valuations report over-optimistic "values" at the start of a bubble; thus fuelling the bubble (under current banking regulations), and exacerbating the bust that inevitably follows, creating an illusion of a liquidity crisis (when in fact the issue is more likely to be a solvency crisis (which is the case at present)).

One area that has been consistently "not talked about" and "swept under the carpet"; is that unless market participants (and regulators) can rely on the valuations of assets (read outstanding loans or collateral backing them up), any discussion of capital adequacy is simply absurd.
And that's whether you have an audit or not, all an audit does is to report that assets have been valued in line with FASB, SEC, and or IFRS rules. And since those allow you to say that a parrot is "resting", even if it is stone cold deceased and you can bang it's head on the counter and it does not wake up.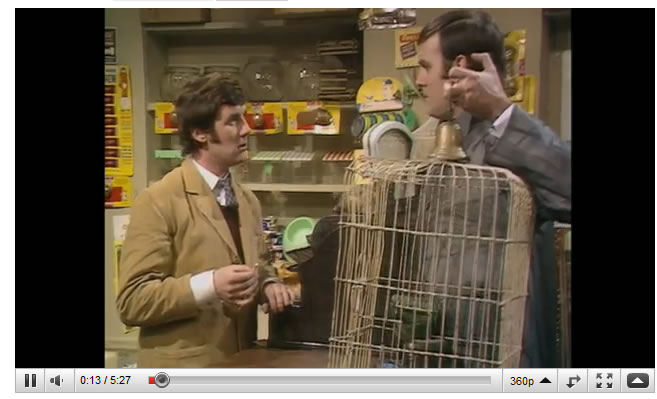 Hence the acronym MPVS (Monty Python Valuation Standards).

I know that no one likes to talk about it, but this issue was addressed in the first edition of International Valuation Standards (published in 2000), where it was recognized that markets can sometimes be in what George Soros calls "disequilibrium" (both up and down).
Err…is that "news"? If it is, it's certainly not something that people who do valuations talk about…perhaps some dogged reporter like Gillian Tett should break that story?

The solution to that problem put forward by IVS was simply that the person doing the valuation (ideally an independent person who is not taking kickbacks (directly or in kind) from the owner of the asset), should:
1: Give an opinion on whether or not the market was (at the time of the valuation), in disequilibrium.
2: Make sure that if that was the case, it should be clearly flagged in the valuation, so that anyone who relies on the valuation knows about it.
3: And then, if there is evidence the market is in disequilibrium, work out using "sufficient market-derived data" (from when he thought the market (in the past) had not been in disequilibrium, and report the "other-than-market-value" which would be his//her opinion on what the value would have been, had the market not been in disequilibrium.

That's as easy as One-Two-Three and it's not a lot harder than working out if a parrot is deceased or "resting" (and on that score, I wonder what they will call the $1.25 trillion of toxic parrots that the Fed just bought whenever they do a "proper" audit, will they call them "dead" or "resting"?)
So if I was contemplating taking on some counter-party risk, buying a bond, or investing in a bank, I would as a matter of law have access to information on (a) what the assets held by the bank would fetch if they were sold today; and (b) what (in the opinion of a valuation expert that I trusted), they might have sold for if the market was not in disequilibrium (and by definition, the extent of disequilibrium of a market above it's "fundamental" is exactly equal to the extent below - over a long period of time, so if was smart I could work out the up-side or downside potential).

And with that information, I would be able to make an informed investment decision. Without that information, which is the case now, well I guess you just have to follow the herd (and which is why I consider any bond purchase outside of German debt and (perhaps) US Treasuries, to a be a complete blind gamble).

What's happening now is that counter-parties and market participants are being denied access to both information on the mark-to-market value (however bad that might be), and also to either (a) a professionally conducted and impartial estimates of other-than-market-value or (b) the necessary information to be able to do their own valuation.

So basically, the actual situation (good or bad), is impossible to determine with any degree of confidence; which explains the wild moods of the marketplace.
What I can't understand is why everyone is so upset about Goldman Sachs and the crafty CDO that they stuck ACA and some sucker German banks with?
After all they provided the "customers" with a lot more relevant information, than is currently being provided to investors and counter-parties by American and European banks.
Until regulators and central banks start calling a dead parrot a dead parrot; and mandating that truth-full information on the health of the parrot should be shared with "the customers", that state of affairs is likely to continue, as will the mood-swings.
Enjoy the ride!!
By Andrew Butter
Twenty years doing market analysis and valuations for investors in the Middle East, USA, and Europe; currently writing a book about BubbleOmics. Andrew Butter is managing partner of ABMC, an investment advisory firm, based in Dubai ( hbutter@eim.ae ), that he setup in 1999, and is has been involved advising on large scale real estate investments, mainly in Dubai.
© 2010 Copyright Andrew Butter- All Rights Reserved
Disclaimer: The above is a matter of opinion provided for general information purposes only and is not intended as investment advice. Information and analysis above are derived from sources and utilising methods believed to be reliable, but we cannot accept responsibility for any losses you may incur as a result of this analysis. Individuals should consult with their personal financial advisors.
© 2005-2019 http://www.MarketOracle.co.uk - The Market Oracle is a FREE Daily Financial Markets Analysis & Forecasting online publication.

Only logged in users are allowed to post comments.
Register/ Log in