Metals Investing in Burkina Faso, The Land of Upright People
Commodities
/
Metals & Mining
Jul 25, 2010 - 09:47 AM GMT

Burkina Faso is a landlocked country in West Africa. It is surrounded by six countries: Mali to the north, Niger to the east, Benin to the southeast, Togo and Ghana to the south, and Côte d'Ivoire to the southwest.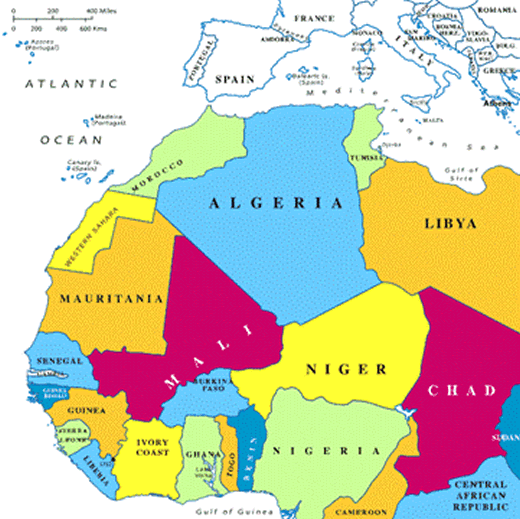 focusonforests.org
Burkina is 274,000 km² with a population of plus 15 million it's people belong to one of two major West African cultural groups - the Voltaic and the Mande.
Formerly called the Republic of Upper Volta (The country owes its former name of Upper Volta to three rivers which cross it: the Black Volta (or Mouhoun), the White Volta (Nakambe) and the Red Volta (Nazinon). It was renamed Burkina Faso in August 1984 - meaning "the land of upright people" in Mòore and Dioula, the two major native languages of the country. Figuratively Burkina may be translated as "men of integrity" from the Mòore language and "Faso" means "father's house" in Dioula.
After gaining independence from France in 1960 the country is now a semi-presidential republic. The parliament consists of one chamber known as the National Assembly, it has 111 seats with members elected to serve five year terms. There is a constitutional chamber with ten members and an economic and social council whose roles are purely consultative. Burkina Faso is divided into thirteen regions, forty-five provinces, and 301 departments.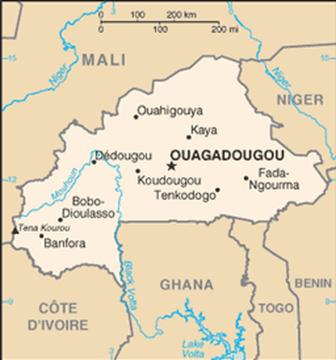 Burkina Faso's capital is Ouagadougou. It is a member of the African Union, Community of Sahel-Saharan States, La Francophonie, Organization of the Islamic Conference and Economic Community of West African States.
Burkina Faso is made up of two major types of terrane. The larger part of the country is covered by a peneplain (land worn down by erosion almost to a level plain - a nearly flat land surface) which forms a gently undulating landscape with a few isolated hills. The southwest of the country is a sandstone massif, where the highest peak, Tenakourou, is 749 meters tall. The average altitude of Burkina Faso is 400 meters - the difference between the highest and lowest terrain is only 600 meters.
Burkina Faso has a tropical climate with two seasons - wet and dry. During the rainy season the country receives 600 to 900 millimeters of rainfall, the rainy season lasts four or five months, starting in May/June and it rains, off and on, till September. In the dry season, the harmattan - a hot dry wind coming from the Sahara desert - blows.
Burkina Faso's natural resources include manganese, limestone, marble, phosphates, pumice, salt and gold, there are currently operating copper, iron, manganese and gold mines in the country.
Burkina Facts:
The inhabitants of Burkina Faso are known as Burkinabe.

Agriculture represents 32% of its gross domestic product

A large part of the economic activity of the country is funded by international aid

Burkina Faso is one of the poorest countries in the world - per capita gross domestic product (GDP) = $440

More than 80% of the population relies on subsistence agriculture

Drought, poor soil, lack of adequate communications and other infrastructure, a low literacy rate, and an economy vulnerable to external shocks are all longstanding and ongoing problems

Many Burkinabe migrate to neighboring countries for work sending substantial amounts of money back home - these remittances provide a contribution to the economy's balance of payments that is second only to cotton as a source of foreign exchange earnings

The currency of Burkina Faso is the CFA franc

Burkina Faso is one of the few West African countries that's not predominantly Muslim

A railway connects Burkina with the port of Abidjan, Cote d'Ivoire, 1,150 kilometers (712 mi.) away

Primary roads between main towns in Burkina Faso are paved

Phones and Internet service providers are relatively reliable, but the cost of utilities is very high
Burkina is attempting to improve its economy by:
developing its mineral resources

Improving its infrastructure

Making its agricultural and livestock sectors more productive and competitive

Stabilizing the supplies and prices of food grains

Implementing a fairly widespread privatization program

Adhering to strict policy rules set out by the International Monetary Fund (IMF) and the World Bank (WB)
Economic growth has averaged around 6% per year for the last 15 years.
Burkina Faso also has a new investment code that is helping to promote foreign investment. Reforms include:
The adoption of a labor code in May 2008

Improving the process to transfer property

The elimination of commune authorization requirements

The creation of a one-stop shop to facilitate construction permits

A decrease of the corporate tax rate from 35% to 30%

A decrease on dividend taxes from 15% to 12%

Implementing major changes to the tax system

Creating a number of 'mining friendly' programs with the specific aim of attracting new mining and development companies

Announcing their intention to set up a 'mining development fund' with Groupement des Professionnels Miniers (GPMB) behind the move, specific details have yet to be released

Building a higher education institute for mining engineers and other executives
"Gold production in Burkina Faso more than doubled from 2008 to 2009. The entire mining sector in the country is booming. The strongest increase in any sector during 2009 has been in gold production. Thanks to a strongly growing price of precious metals on the world market during recent years the mining and extractive industries are experiencing a real boom in Burkina Faso. The number of permits and authorizations issued rose from 537 in 2008 to 599 in 2009, an increase of 11.6 percent. The industrial production of gold has risen from about 5,000 kg in 2008 to 11,642 kg in 2009, representing more than a doubling of production. These development should be helping to strengthen the position of our country as a mining country." Condensed from Prime Minister Tertius Zongo's state-of-the-nation speech to the Ouagadougou parliament
Burkina Faso is now at the start of a mining boom. Looking to take advantage of the countries abundant natural resources, the number of 'mining friendly' programs the country has to offer and hoping to benefit by being a "first mover" a number of mining and exploration companies have decided to develop assets in Burkina Faso. One of them is...
Riverstone Resources TSX.V - RVS
Share Structure
Total Institutional & Corporate Ownership: 20,680,000 = 22.8%
Total Insider Ownership; 4,366,000 = 4.8%
Retail Ownership: 65,183,190 = 72.4%
Outstanding shares: 90,229,190
Warrants: 24,272,876
Options: 7,400,000
Fully Diluted: 121,902,000
Market Capitalization @ .50 per share: $45,100,066
Cash: US$ 8,500,00.00
Debt: nil
Management
Michael D. McInnis, P.Eng, Director, President & CEO. Over 35 years of experience in exploration and management, track record with high quality mineral projects
James Robertson, P.Eng, Director. Over 35 years of experience, past Director of Primary Metals before takeover by Sojitz Corp.
Alvin Jackson, P.Geo, Director. International experience, past President and COO of EuroZinc Mining
Rick Bailes, P.Eng, Director. Over 30 years in mining, past President and CEO of Canadian GoldHunter
Gregory Isenor, P.Geo, Director. Past CEO of Jilbey Gold before its takeover by High River Gold
Paul G. Anderson, P. Geo, Vice President Exploration. International experience, previously in Burkina Faso with Channel Resources in 1990's
Riverstone Resources Inc. has focused its exploration activities on West Africa because its elephant country for gold exploration - hosting world-class gold deposits in Ghana, Mali and Guinea. In addition, West Africa has had the fastest growth in gold production in the world over the past five years.
| | | |
| --- | --- | --- |
| Ghana | Mali | Burkina Faso |
| Obuasi (42M oz) | Sadiola (14M oz) | Essakane (5.2M oz) |
| Bibiani (5M oz) | Morila (5.9M oz) | Taparko(1.5M oz) |
| Obotan(2.8M oz) | Syama (5.2M oz) | Mana (1.2M oz) |
| | Yatela(4.4M oz) | Youga(1.5M oz) |
| | Loulo(4.0M oz) | Inata/Belahoure(1.7M oz) |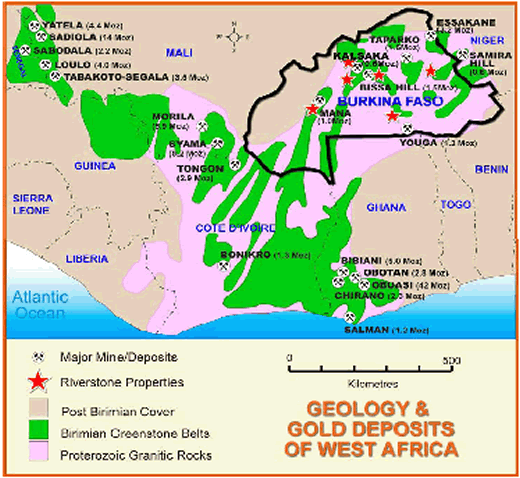 The Company has chosen to concentrate its efforts in Burkina Faso because the belts of favorable rock that host all of the major gold deposits in Ghana continue into Burkina Faso.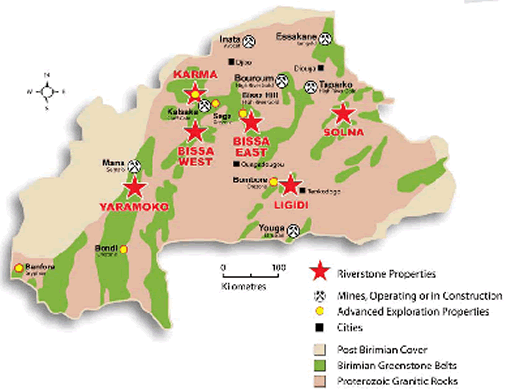 Burkina Faso has undergone less than 10 years of modern exploration and offers the chance to build a property portfolio in an area that has been severely under-explored. Riverstone management believes there are opportunities for further major discoveries in the country.
Projects
Since 2003 Riverstone has amassed a total of 13 exploration permits in 6 regions with its current land package covering some 2,300 square kilometers.
1. Karma - Five contiguous permits with four gold deposits to date: Rambo, Kao and Goulagou I & II. The Company has completed an initial independent NI43-101 resource estimate at Karma with an indicated resource of 820,500 ounces of gold and an inferred resource of 320,300 ounces of gold. The resource is contained within 4 deposits all within 7 km of each other and drilling has been limited to a 100 meters in depth. The Company is currently focused on expanding the gold resource contained within the Karma Project.
The Rambo Deposit contains 56,900 oz of gold at an average grade of 7.02 g/t, the deposit is open for expansion and is anticipated to become the starter pit.
Goulagou I & II contain 577,000 oz of gold at a grade of 1.83g/t - the resource is anticipated to increase with this year's drilling program.
The Kao Deposit contains 507,000 oz of gold at a grade of 0.91g/t and is still open to the north, north east and depth.
Gold resources at Karma are shallow, the bulk of resources is in oxide material above 100 meters in depth. There is the potential for a centralized gold processing facility to handle the material from all the deposits. There is also significant potential to expand gold resources with many untested gold showings.
A new discovery, the Nami artisanal site, is located 4 kilometers north of the Rambo deposit. Artisanal activity commenced on the site in April, 2009 and activity has increased substantially since then. Artisanal workers excavate small, vertical shafts and collect material - in Nami's case from quartz veins and quartz breccias - which they process through a crude sluice box system. Several hundred of these shafts have been excavated to date.
Riverstone has recently undertaken testing of the Artisanal miners waste dumps. The waste dumps are material left behind by the artisanal miners after high grading the quartz veins and they are considered by these miners to carry no gold grade. The average of all samples greater than 0.3 g/t is 1.36 g/t with a high of 8.6 g/t.
"We are very pleased with the results from the waste dump sampling. We knew from our sampling of the *quartz veins and quartz breccias that they carry exceptionally high values of gold but we had very little information on the gold content of the host rock surrounding the quartz bearing material. The average grade of 1.36 g/t returned from the waste dump material certainly exceeded our expectations and is a very positive development for the project." M.D. McInnis, President and CEO of RVS
*Previous sampling by the Company of the quartz bearing rock returned numerous values in excess of 10 g/t gold with a high of 98 g/t. (See Riverstone News Release dated Jan. 18 and Feb 23, 2010). These high grade values should elevate the average grade of the Nami site to a value well in excess of the 1.36 g/t background value defined by the dump sampling.
Any gold ounces developed at Nami will be accretive to the NI 43-101 gold resource at the Company's adjacent Rambo, Goulagou and Kao deposits - the Karma Project. Nami is approximately 1.5 km by 600m based on RAB drilling and tracing the quartz veins and altered zone.
Currently there are over 6000 samples in the laboratory and another 20,000 meters of drilling is planned for Karma this year.
2. Ligidi - a 13 km long by 3 km wide gold-in-soils geochemical anomaly that is open in at least one direction. The Ligidi permit covers 225 square km and both Birimian greenstones and Tarkwaiian sediments have been identified on the property. The presence of Tarkwaiian rocks is closely linked to the very large gold deposits found in Ghana.
Riverstone has plans to spend $1mm on this project in 2010. The company expects to have plus $5mm remaining in its treasury at the end of 2010.
Joint Ventured Projects
The Company's other three projects, all drill ready, will have a total of $1.05m spent on them through the second half of the year as the result of a recently announced option agreement. Riverstone retains 60% after earn in and remains operator.
3. Yaramoko - an 8 km long deformation zone which appears to be the continuation of the mineralized zones at Semafo's Mana Gold Mine. The Mana Mine is being developed on a series of high-grade gold veins.
4. The Bissa East Project - comprises two contiguous Exploration Permits, Tangapella and Biliga. To date, the company has defined three gold zones on Tangapella and two on Biliga. The Bissa East permits collectively cover an area of 498 square km and were acquired to cover portions of the northeast trending Sabce shear zone. The Sabce shear zone hosts a large number of known gold deposits.
5. Solna - The Solna Project comprises three contiguous permits, Solna, Teyango and Yantera. The company has delineated a 30 km long deformation zone that runs through all three properties. Work done to date on the more advanced Solna permit has demonstrated the presence of some very high gold grades in trenches.
Conclusion
Five large exciting projects already in their portfolio, unlimited potential for new discoveries, a mining friendly country that recognizes the need for resource extraction, ongoing legislation changes, the new mining fund and a series of tax breaks all mean Riverstone Resources is in a good position to take advantage of everything Burkina Faso has to offer investors.
Currently Riverstone is valued at roughly $50 per gold oz in the ground. This is very low for West African gold - $75 oz for the insitu value of gold in West Africa.
After the upcoming 20,000 meter drilling program this author believes Riverstone's current gold resource of 1,140,800 Indicated and Inferred oz's could rise substantially.
Burkina Faso and RVS.v are, in this authors opinion, offering a chance for early investors to get in on the ground floor of a mining boom. Riverstone Resources TSX.V - RVS and Burkina Faso - The Land of Upright People - should be on every investors golden radar screen.
Is it on yours?
By Richard (Rick) Mills
Copyright © 2010 Richard (Rick) Mills - All Rights Reserved
Legal Notice / Disclaimer: This document is not and should not be construed as an offer to sell or the solicitation of an offer to purchase or subscribe for any investment. Richard Mills has based this document on information obtained from sources he believes to be reliable but which has not been independently verified; Richard Mills makes no guarantee, representation or warranty and accepts no responsibility or liability as to its accuracy or completeness. Expressions of opinion are those of Richard Mills only and are subject to change without notice. Richard Mills assumes no warranty, liability or guarantee for the current relevance, correctness or completeness of any information provided within this Report and will not be held liable for the consequence of reliance upon any opinion or statement contained herein or any omission. Furthermore, I, Richard Mills, assume no liability for any direct or indirect loss or damage or, in particular, for lost profit, which you may incur as a result of the use and existence of the information provided within this Report.
© 2005-2019 http://www.MarketOracle.co.uk - The Market Oracle is a FREE Daily Financial Markets Analysis & Forecasting online publication.

Only logged in users are allowed to post comments.
Register/ Log in