Ron Paul on Return to the Gold Standard (When and How)
Commodities
/
Gold and Silver 2011
Nov 29, 2011 - 03:42 AM GMT


In the following interview video on Fox News, Ron Paul explains his plan for monetary freedom and a return to a gold standard. Paul also addresses a dangerous competing idea for the IMF take over control of setting international monetary standards. Finally, Paul explains how he has been temporarily stymied on his plan for a full and complete Fed audit.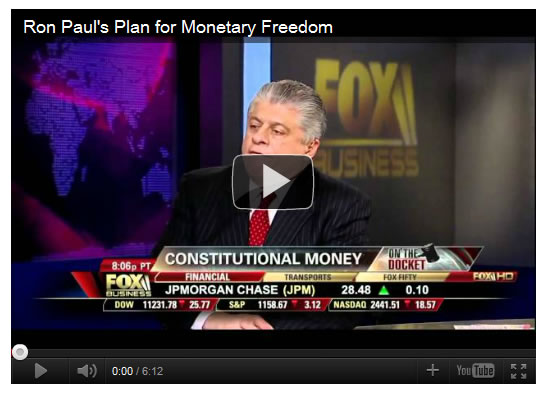 Introduction and questions by
Judge Andrew Napolitano
, senior judicial analyst for
Fox News
.
Transcript
Judge Napolitano:
Here is a man who has single-handedly educated the nation to the evils of worthless money and to the dangers of a central bank with a printing press, and who continues to believe that fighting for economic liberties is just as important as fighting for civil liberties.
Who else but Texas Republican Congressman and Republican presidential hopeful, Ron Paul.
Congressman Paul, always a pleasure. Welcome to this special edition of "
Freedom Watch
" on money.
Ron Paul:
Thank you very much.
Judge Napolitano:
What would happen in a Ron Paul presidency if we were to return to a gold standard. How soon could this happen and how would it happen?
Ron Paul:
I wish we could do this overnight and we could do a few things like repealing the executive order of Nixon but that in and of itself wouldn't be enough.
We know what to do. We did it once after the Civil War. We went from a paper standard back to a gold standard, and the event was not that dramatic. Today the big problem is both the conservatives and the liberals have a big appetite for big government for different reasons. Therefore they need the Fed to tide them over and monetize the debt.
So if you do not get rid of that appetite, it's going to be more difficult. But the transition is not that difficult. You have to get your house in order, you have to balance the budget, you have to not run up debt, and you have to promise to not print any more money.
That's what they did after the Civil War and it was accepted and we went right back to the gold standard.
I would like to have a transition period. Just legalize gold money, and allow us to use gold and silver as legal tender. And we can work our way back.
Judge Napolitano:
I have to agree with you, but I would even go a step further and say, if gold and silver became currency, that would drive paper money out. Who would want the paper money when you have real gold and real silver out there?
Ron Paul:
If there was a fixed exchange rate, sure, we would never pay our bills off with gold. We would pay it off with paper because it drives the good money out of circulation. But if you want a checking account and you want to deal with gold, you put your money in, you could buy and sell in gold and save in gold, so it would be parallel rather than having a fixed exchange rate between the two.
If you tried to fix the exchange rate it would not work.
Judge Napolitano:
Is this a Pipe Dream or might you and I at some time in the near future, actually be able to show up at the gold window, the one Nixon closed in 1971, and receive from that person the equivalent fair market value of actual gold or actual silver? Might that happen?
Ron Paul:
Well it might, but you would have to be completely on the gold standard. But that's not on the near horizon.
What we want to do is legalize the use of gold and silver as the constitution dictates rather then punishing the people who try to do that.
But yes, it will come about. I am quite convinced the system we have here will not be maintained and that's what these last four years are all about, and that's what the turmoil in Europe is all about.
So the question is: Are we going to move towards constitutional form of money or are we going to go another step further into international money? Instead of having an international gold standard based on the market, will we go towards a UN, IMF standard, where they are going to control with the use of force, another fiat standard?
That's what many people are working for. I consider that a very, very dangerous move.
Judge Napolitano:
The last time you proposed the Federal Reserve should be audited, you had more than half of the House of Representative agree with the proposal, and it passed overwhelmingly. Even some of your polar opposites ideologically were agreeing with you. Where does it stand in this Congress, this time around? Are we going to get a real serious, true audit of the Federal Reserve because everybody (liberals, conservatives, Democrats, Republicans, Libertarians, progressives) have had enough.
Ron Paul:
I wish I could tell you we are better off now since we [Republicans] are in charge of the House, but unfortunately we are not moving. Sometimes these things are done in a partisan manner.
Where these bills to audit the Fed used to come through the domestic monetary policy subcommittee, of which I am the chairman, has no longer directed to that committee, it has been sent over to Government Oversight. So I have been hamstring to a degree, on actually pushing that type of legislation. That means their heart is not in it, and that means we need a lot more work from the people to put pressure on members of Congress.
That's why we did get so far last time, because we mobilized the people and they were telling their member of Congress, you better support the position of auditing the Fed, but right now there is a lot more talk about the "super-committee" and how they are going to mess around with the budget under pretense they are going to cut. That is dominating the news.
Judge Napolitano:
When you and I first met, which was a long time ago, you may have been the only member of Congress talking about auditing the Fed. But am I hearing you say, congressman Paul, that their might actually be more resistance from Republicans, particularly the Republican leadership in the House of Representatives, than anybody else to this vital piece of legislation, to reveal secrets that everybody has a right to know?
Ron Paul:
I don't have concrete evidence. I haven't had a statement, but I do know that I could have had more jurisdiction than I have now. I've had it in the past, and committees have always had it in the past, but its gone in a different direction this time. I think that when push comes to shove, there are people at the leadership of both Republicans and Democratic parties have too much at stake to mess around with the Federal Reserve unless there's a political gamesmanship play in there and they can gain some politics out of it.
END Transcript
By Mike "Mish" Shedlock
http://globaleconomicanalysis.blogspot.com Click Here To Scroll Thru My Recent Post List
Mike Shedlock / Mish is a registered investment advisor representative for SitkaPacific Capital Management . Sitka Pacific is an asset management firm whose goal is strong performance and low volatility, regardless of market direction.

Visit Sitka Pacific's Account Management Page to learn more about wealth management and capital preservation strategies of Sitka Pacific.
I do weekly podcasts every Thursday on HoweStreet and a brief 7 minute segment on Saturday on CKNW AM 980 in Vancouver.

When not writing about stocks or the economy I spends a great deal of time on photography and in the garden. I have over 80 magazine and book cover credits. Some of my Wisconsin and gardening images can be seen at MichaelShedlock.com .
© 2011 Mike Shedlock, All Rights Reserved.
© 2005-2019 http://www.MarketOracle.co.uk - The Market Oracle is a FREE Daily Financial Markets Analysis & Forecasting online publication.
Comments
Lem
04 Dec 11, 10:21
Returning to a gold standard


To return to a gold standard means socialism is dead, minimal entitlements and massive deleveraging would precede it. This process would have to proceed slowly indeed. Another positive aspect of a gold standard is a reduction in central government power and elimination of perpetual war. Any antiwar activist worth his salt condemns fiat money.



peter
04 Dec 11, 10:45
gold standard


I agree completely with Lem. And having a gold standard also levels the playing field between the rich and poor. No longer is wealth flowing upward through inflation theft. Everyone on a gold standard can trust in their savings and keep their own hard earned wealth. If you're old enough to remember the 60's or early 70's when it was common to have a home with a single earner and a stay at home parent with 4 or 5 kids. Today you need two earners just to raise 1 or 2 children. That's the difference between a gold standard and fiat money.




05 Dec 11, 18:48
gold standard


The United States was not founded with a gold standard. It had a bimettalic standard of gold and silver. The gold standard was imposed on American and the world in the middle of the nineteenth century by the silver poor British Empire. It was well understood by many that the gold standard would bring depression and an end to growth. There is not enough gold in the world to lubricate the huge economies that followed industrialization. The gold standard was in fact, the stalking horse for fiat money and got us in the situation we are experiencing now.




Only logged in users are allowed to post comments.
Register/ Log in