MF Global Crime, Comedy and the Cover-Up
Stock-Markets
/
Credit Crisis 2012
Feb 28, 2012 - 10:00 AM GMT


MF Global's October 2011 bankruptcy was the eighth largest bankruptcy by assets in the United States. James Giddens, the bankruptcy trustee, issued a press release on February 6 stating that his investigation found that money from customer accounts that was supposed to be segregated was improperly used to fund MF Global's daily activities. Improper transfers of customer money occurred regularly in amounts under $50 million before MF Global's bankruptcy. MF Global wasn't caught, because it put the money back before customers knew it was missing.
On January 30, 2012 the Wall Street Journal did a hilariously bad job of reporting when its front page article stated that a "person close to the investigation" said that as a result of chaotic trading in the week before MF Global's October 31 bankruptcy, customers' money "vaporized." Money doesn't vaporize. It's true that tracing money transfers can be tedious, but that's why we call it work.
As for the Wall Street Journal's article, the editor should have made it vaporize. I was having breakfast with several traders at Chicago's East Bank Club. One trader read the passage aloud. The entire table burst out laughing. Then he got up and ceremoniously threw the paper in the trash. The entire table applauded.
Fox Business News had people in stitches when it reported that federal investigators are saying that this wasn't criminal, it's just a matter of sloppy bookkeeping.
The habitual filching of customers' funds -- even if the funds are later replaced -- goes way beyond sloppy bookkeeping. It goes way beyond bad judgment. Just because MF Global got away with it for a long time before it blew up in its face doesn't mean one can call it sloppy bookkeeping and have any reasonable person believe it. If federal investigators and law enforcement people want to make public statements like this, one should investigate corruption in their ranks. They seem to be providing undeserved excuses as a trial balloon to see if it will fly. Nice try, but it's not working.
According to the bankruptcy trustee, money was repeatedly filched from customers' accounts. That goes way beyond sloppy bookkeeping.
Senior officials of the Chicago Mercantile Exchange and of MF Global's regulator, the U.S. Commodity Futures Trading Commission (CFTC), have already testified to Congress their belief that MF Global violated regulations -- it broke the law -- because using customers funds, money that was supposed to be in segregated accounts, to pay off MF Global's creditors or to use that money to fund MF Global's day-to-day operations is not permitted.
MF Global CEO Jon Corzine, a former head of Goldman Sachs, signed off on statements that said his internal controls were adequate. After Enron, the Sarbanes Oxley Act was meant to assure Americans that officers that signed such statements would be held accountable for their accuracy.
Federal law enforcement is trying to get away with saying no crime has been committed, because there was no direct criminal intent. Proving intent is very difficult. It's hard to get into someone's head and figure out what they were thinking when they were purloining funds. I mean, what could they possibly have been thinking?
Here's something that isn't at all difficult to prove. Jon Corzine should have a big problem under Sarbanes Oxley. There's no getting around the fact that MF Global's compliance standards were unreasonably inadequate.
Jon Corzine is a campaign fundraiser, a "bundler," for campaign contributions for President Obama. Money contributed by Jon Corzine and his wife was returned by President Obama's campaign committee, but the other money raised by Jon Corzine was not returned. It seems that both sides of the aisle in Congress view huge fundraisers like Corzine as untouchable. Congress will pose for the cameras and hold hearings, but absolutely nothing of meaning has been done to clean up the mess in the financial system.
When MF Global's condition worsened, the amounts grew much larger, and MF Global couldn't replace customers' funds in time to cover-up the shortfall. Investigators believe the segregated commodity customer account reached a deficit -- meaning customer funds were obviously missing -- on Wednesday, October 26, and that condition continued through to MF Global's bankruptcy.
MF Global's officers cannot claim to have been ignorant of missing customer money when it habitually took customer money in small amounts and then took money in huge amounts, and the fact that customer money was missing showed up on an MF Global report. Investigators are now looking at multiple wire transfers including a just-made-public suspicious transfer of $325 million that was transferred on October 31. This is just one of many transactions that are under investigation.
Since the September 2008 financial crisis, we've seen a pattern of misdeeds, dodgy financial reporting, congressional "investigations" that are all for show, slow and incompetent investigations, and ultimately a slap on the wrist for wrong-doers. The MF Global "investigation" is just the last in a long list of the miscarriage of justice that has destroyed confidence in global finance.
First Business Morning News's Bill Moller interviewed me about this ongoing pattern of crime and lack-of-punishment in this brief segment: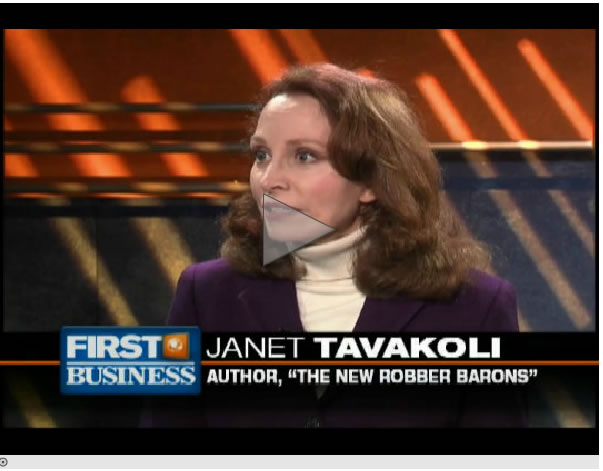 By Janet Tavakoli
web site: www.tavakolistructuredfinance.com
Janet Tavakoli is the president of Tavakoli Structured Finance, a Chicago-based firm that provides consulting to financial institutions and institutional investors. Ms. Tavakoli has more than 20 years of experience in senior investment banking positions, trading, structuring and marketing structured financial products. She is a former adjunct associate professor of derivatives at the University of Chicago's Graduate School of Business. Author of: Credit Derivatives & Synthetic Structures (1998, 2001), Collateralized Debt Obligations & Structured Finance (2003), Structured Finance & Collateralized Debt Obligations (John Wiley & Sons, September 2008). Tavakoli's book on the causes of the global financial meltdown and how to fix it is: Dear Mr. Buffett: What an Investor Learns 1,269 Miles from Wall Street (Wiley, 2009).
© 2012 Copyright Janet Tavakoli- All Rights Reserved Disclaimer: The above is a matter of opinion provided for general information purposes only and is not intended as investment advice. Information and analysis above are derived from sources and utilising methods believed to be reliable, but we cannot accept responsibility for any losses you may incur as a result of this analysis. Individuals should consult with their personal financial advisors.
© 2005-2019 http://www.MarketOracle.co.uk - The Market Oracle is a FREE Daily Financial Markets Analysis & Forecasting online publication.

Only logged in users are allowed to post comments.
Register/ Log in