An Urgent Update on America's Energy Megatrend
Commodities
/
Natural Gas
May 26, 2012 - 05:40 AM GMT


Frank Curzio writes:
In less than 10 years, every heavy-duty truck in the U.S. could be running on "alternate fuel."
Companies like Wal-Mart, Coca-Cola, AT&T, Pepsi, and Waste Management have already begun switching their diesel-engine trucking fleets. Today, small businesses with trucking fleets are looking to do the same.
I'm not talking about ethanol, hydrogen, or electricity. I'm talking about natural gas.
There's a fundamental shift taking place in the energy sector. We're in the early stages. And billions of dollars are at stake...
Like its energy cousin oil, natural gas has many uses. It's used as a building block to make chemicals, fertilizers, and plastics. It's also used to fire power plants and heat homes and factories. And it's becoming widely used as a motor fuel.
In just the past 10 years, America has gone from expecting to import natural gas to boasting the world's largest supplies. Due to new technologies like hydraulic fracturing (aka "fracking") and horizontal drilling, companies have extracted massive amounts of gas from shale areas across America over the past five years... and producers are finding more and more of the stuff every day.
The U.S. is now "the Saudi Arabia of natural gas," which has resulted in a glut in supply... and 10-year lows in natural gas prices.
This huge drop has many contrarian traders looking for a short-term rally. As you can see from the chart, prices have begun to rebound from super-depressed lows. But there's little chance prices will push back up to their 52-week highs any time soon.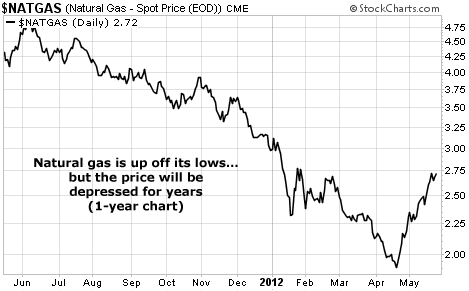 Here's why...
Based on government statistics, the U.S. is now sitting on a 90-plus year supply of natural gas. Industry professionals say it's even more... According to Steve Farris, the CEO of natural gas giant Apache, the U.S. has at least a 300-year supply of natural gas.
There are only so many ways we can burn off this massive supply. And as you'll see, there is little chance we will do this over the next three years. The longer we're in a period of low gas prices (below $4 per thousand cubic feet), the more money investors in this transportation megatrend will make.
Let's look at the three reasons why this period of low natural gas prices is going to last a long time...
Reason No. 1: Electricity... It's been widely reported that natural gas is replacing coal for electricity generation. With natural gas prices down more than 80% from their four-year high, it's becoming cheaper for utility companies to burn natural gas instead of coal.
However, coal prices are still cheaper than natural gas. Also, according to the U.S. Energy Information Administration (EIA), the use of natural gas to generate electricity only rose 4%, to 26% from 2010 to 2011. In other words, the move from coal to natural gas in the electricity market is not taking much supply off the market.
More proof of this trend can be found in the latest natural gas storage figures – which are near five-year highs. The American Gas Association said natural gas reserves hit a new record at the end of 2011.
Reason No. 2: Exporting natural gas... The largest markets for natural gas are China, India, and Europe. Exporting the fuel to these markets makes sense from every point of view... While natural gas prices remain depressed in America, prices are more than 250% higher in these places. We would make money producing gas at a low price and selling it to other countries for more than three times the price.
Also, Europe would not have to rely solely on Russia for its natural gas needs (as it does now). And China would have another alternative to fuel its economy. However, we currently don't have the capabilities to export natural gas.
You see, the U.S. consumes gas by burning it off and using it in everyday items like plastics and fertilizers. In order to sell the clean fuel abroad, we have to cool it down to a liquid (hence the term "liquefied natural gas"). After this cooling process, the LNG is ready to be exported abroad.
The problem is, we don't have those export facilities yet... One company is trying to change that. Cheniere Energy is building one of the first-ever natural gas export facilities in Louisiana. It's called the Sabine Pass. The company already signed four major agreements with international companies to ship natural gas once the facility is completed.
The only problem is the Sabine Pass won't be operational until 2015. At least, that's what the company reported in its latest quarterly report. Plus, construction costs are estimated to be above $5 billion. I would like to be optimistic here... but the chances of this major project being on budget and on time are slim.
Reason No. 3: Trucking fleets... Using natural gas to fuel trucks is another way to burn off excess supply. As I mentioned earlier, major trucking fleets are making the switch from diesel to natural gas to fuel their engines. The cost savings is nearly $2 per gallon, or 50% at current prices.
For context, if the average heavy-duty truck covers 100,000 miles annually, at five miles per gallon, that equals 20,000 gallons per year in fuel. A $2 per gallon savings results in roughly $40,000 a year per truck. That would save Wal-Mart, which has a 7,000-truck fleet, $280 million a year on fuel costs.
Of course, this doesn't include the cost of manufacturing natural gas engines. But you can see the huge cost savings behind using natural gas instead of diesel as an alternative fuel.
You might think more companies switching their trucking fleets over to natural gas would drastically cut into our massive supply of the clean fuel. Not according to utility holding company Integrys Energy Group's executive vice president Mark Radtke.
Integrys just bought two natural gas-fueling station manufacturers. At the Natural Gas Vehicle Infrastructure Conference, Radtke said if every long-haul truck used natural gas to fuel its engine, that would only use up 3 trillion cubic feet (Tcf) of gas.
The U.S. consumes about 23 Tcf of natural gas each year. We have over 2,200 Tcf of domestic natural gas supply. So 3 Tcf would barely make a dent in our supply.
Putting this all together... While my analysis above includes a lot of numbers, it's important for you to understand that there's little chance of working off our massive supply of natural gas any time soon. Natural gas prices will probably stay below $4-$5 range for many years.
That means the economics of turning natural gas into an everyday transportation fuel are extremely favorable over the short and long term. That's why you are seeing:
| | |
| --- | --- |
| • | Major trucking companies continue to switch their fleets over to natural gas. |
| • | A huge rush to build natural gas-fueling stations across the U.S. from companies like Trillium, Clean Energy Fuels, Integrys, and large natural gas producers like Encana, Chesapeake, and Apache. |
| • | Natural gas producers and natural gas utility companies dive head-first into this trend to capture growth. |
My favorite play here is the "picks and shovels" companies. I'm talking about the companies that build natural gas engines, natural gas fueling stations, natural gas transportation equipment, and more.
The boom is already underway. Make sure you're onboard.
Good investing,
Frank Curzio
P.S.
Small Stock Specialist
subscribers have been watching this trend unfold for almost a year. We've already made money on several plays. But there's still plenty of cash to be made as this megatrend unfolds. In fact, the recent market pullback has created a great opportunity for investors to jump into some of my favorite plays in the sector.
You can learn more about it here
.
© 2005-2019 http://www.MarketOracle.co.uk - The Market Oracle is a FREE Daily Financial Markets Analysis & Forecasting online publication.

Only logged in users are allowed to post comments.
Register/ Log in