Global Stock Market Uptrend Confirmations Pending
Stock-Markets
/
Stock Markets 2012
Jun 30, 2012 - 12:52 PM GMT

Another wild week on Wall Street as the market had gap openings on four of the five days. In the end it was a positive week as there was a gap up opening on friday which took the market to its highest levels of the week. Even the economic news improved somewhat to a balance between positive and negative reports. On the uptick: new/pending home sales, Case-Shiller home prices, durable goods orders, the Chicago PMI and weekly jobless claims ticked down. On the downtick: consumer confidence/sentiment, personal spending, new home prices, the monetary base and the WLEI. For the week the SPX/DOW were +1.95%, and the NDX/NAZ were +1.35%. Asian markets rallied 1.3%, European markets rose 2.8%, and the DJ World index gained 2.4%. Next week we have a mid-week holiday with reports on ISM, and on friday the monthly Payrolls report.
BIG PICTURE
We thought it would be best this week to start off with the big picture in a few of the world's asset classes. As we all know, medium term trend changes can sometimes be mistaken for long term changes. Therefore it is a good practice, as the saying goes, to keep a sharp eye on the forest before examining its trees.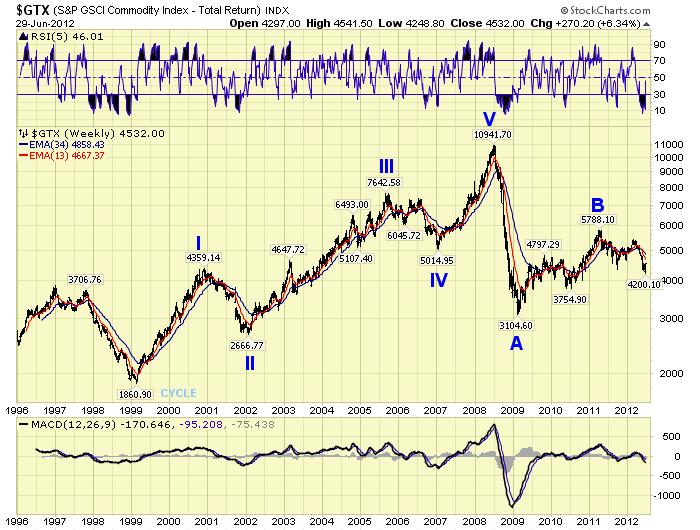 We covered the Commodity asset class over the weekend. We counted a five Primary wave bull market from 1998 to 2008. Then a Primary A wave decline into 2009, followed by a B wave advance into 2011. Long term we expect commodities to head lower.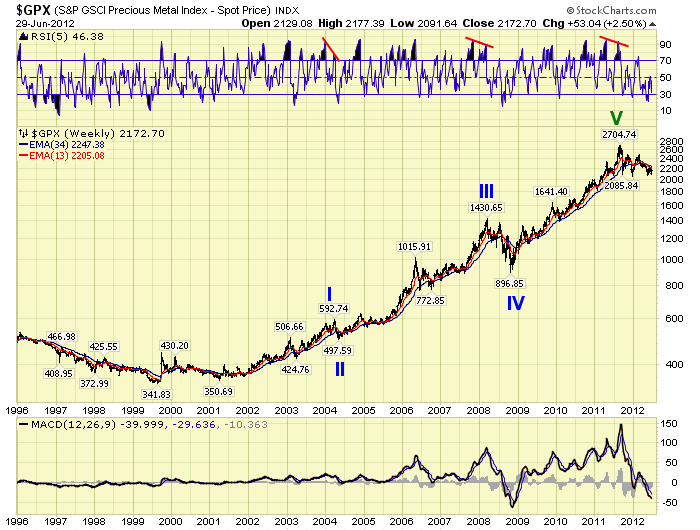 We also covered the Precious metals asset class last weekend. This chart has a similar count from the 1999/2001 low topping in 2011. We believe the precious metals are now in potentially a long term bear market.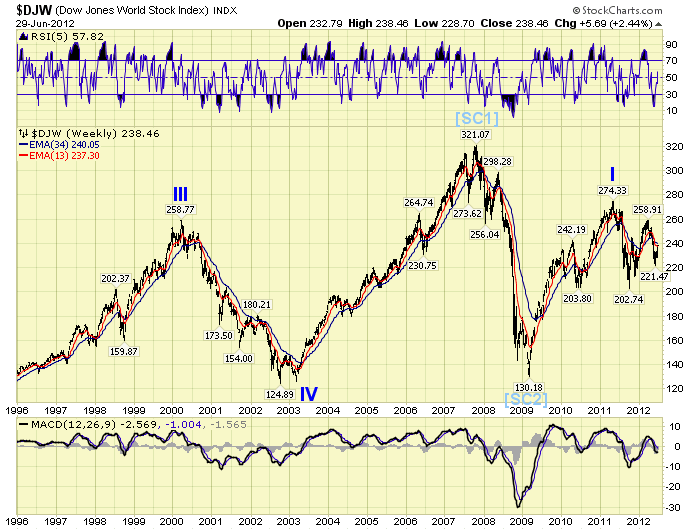 The next asset class is the DJ World stock index. We count a Primary wave III top in 2000, followed by a Primary wave IV low in 2002, then a Primary wave V high in 2007. The 2007 high is marked as the end of a multi-decade Supercycle wave that started in 1932/42. What followed that peak was the biggest crash and market decline, (60% worldwide), since the 1929-1932 bear market. This bear market, we believe, ended in 2009 and concluded that Supercycle wave. After that low, a two year bull market followed into 2011. Now, equity markets in general are in a bear market. The US, and possibly England and Switzerland appear to be the only exceptions at this time.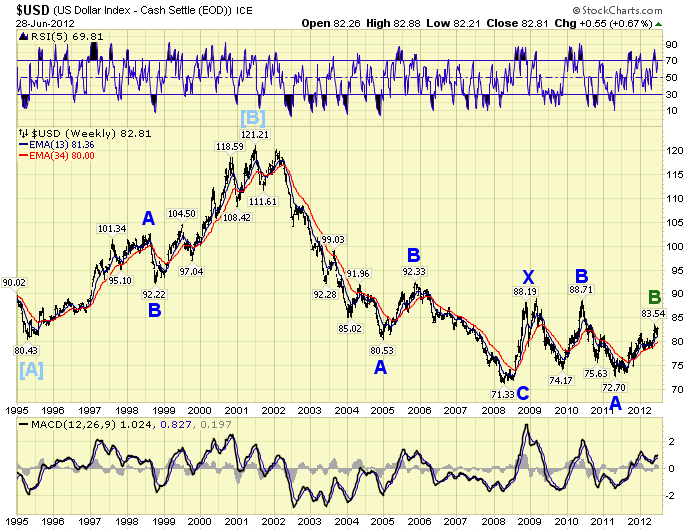 We wrote a report of a major change underway last year in the Currencies. Not much has changed, except many of the currencies have confirmed our views. The USD has generally been in a major bear market since 1985 when it hit 164.72. As you can see it has lost more than half its value since then. It did have somewhat of a bull market between 1995 and 2001 when it rose a bit more than 50%. That low and high were labeled Cycle waves [A] and [B] respectively. It has been in a Cycle wave [C] bear market since then. Typically at the end of a bear market the USD establishes a low, in this case Primary wave A at 72.70. Then rallies in a Primary B wave, which may have recently completed at 83.54. This is followed by a higher Primary wave C low to end the Cycle. After this occurs, possibly by 2013/14, the USD should soar into the end of the decade. Potentially it could double. Considering we do not expect the USD to make a lower low than 2011, we would state it appears to be in a long term bull market.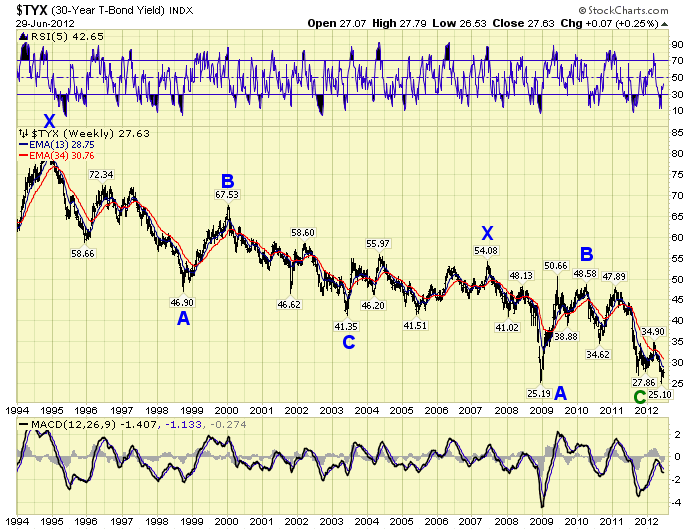 The last asset class covered is the US 30-year Bond. Interest rates on the long term bond have generally been declining since they peaked in 1981 at 14.59%. Recently the 30-year hit an all time low of 2.51%. We have been counting this entire bear market in rates as a series of ABC's: a triple zigzag. The last C wave, of the last zigzag, may have completed at the recent low. This would suggest long term rates should start rising for the next three decades. It should be gradual at first as a new bull market in rates takes hold. This also suggests bond prices should soon start declining. The worse time for investors to own long term bonds is when interest rates are rising. Unless held to maturity.
In conclusion. Commodities, precious metals, worldwide stock indices, and US government bonds are either in, or entering, bear markets. There are, however, selected sectors within these bear markets that are still in bull markets. For example, the US stock market and possibly England's and Switzerland's equity market should make new bull market highs into 2013. These new highs may coincide with the expected USD low in 2013. After that, it would appear the USD and short term US Treasury bills will be the place to be for a couple of years. Plus, US real estate.
LONG TERM: bull market
The US bull market we have been tracking now for three years is still underway. This market has had its share of disappointments and surprises but it continues to unfold. The count we have been carrying is different than the one presented above for the world market indices. While we believe world equity markets generally topped in 2011 the US market remains bullish and in a slightly different pattern.
Our count suggests a Supercycle wave [2] low occurred in 2009, and a Cycle wave [1] bull market is underway. The Cycle wave bull market should unfold in five Primary waves. Primary waves I and II completed in Apr11 and Oct11 respectively. Primary wave III has been underway since then. Within at least two of the rising Primary waves there should be five clearly defined Major waves. Primary wave I displays five Major waves with a subdividing Major wave 1. Primary wave III is also starting off with the same pattern. A Major wave 1 that subdivided into five Intermediate waves.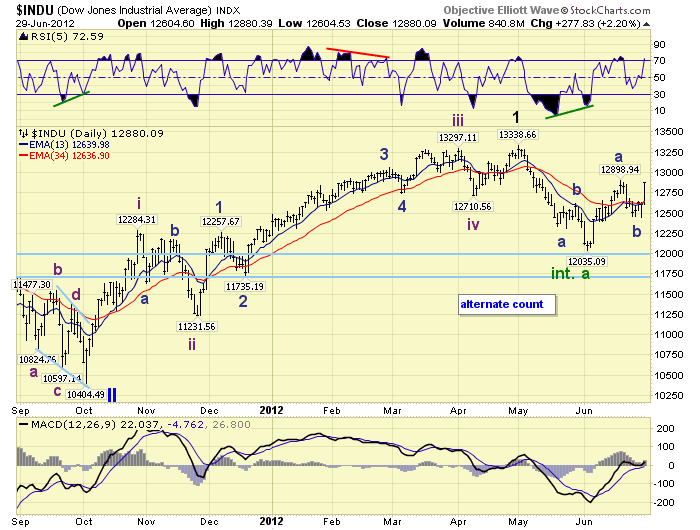 After Major wave 1, in Primary I, concluded Major wave 2 was a three month, and somewhat complex, zigzag. All other corrections during Primary I lasted only one month. Major wave 2, in Primary III, thus far appears to be a simple zigzag. And, it has only lasted one month if one uses the bellwether DOW count. Whether or not Major wave 2 has concluded at the early June low we'll examine in the next section. When Major wave 3 unfolds it should be a lengthy uptrend lasting possibly six to seven months. Then a quick Major wave 4 down should be followed by a short rising Major wave 5 to conclude Primary wave III. After a Primary wave IV correction, a rising Primary wave V should unfold to end the bull market sometime in mid to late 2013. Currently it looks like the DOW will make all time new highs before the bull market concludes.
MEDIUM TERM: uptrend confirmation pending
After a thorough review of all the charts and indicators it is quite clear markets worldwide had an impressive week. Even though it did not show up in the final weekly numbers. In fact, 80% of the world's indices are in confirmed uptrends or nearing one. This is quite a shift from last week when not one international index was in a confirmed uptrend. In the currency markets the USD joined the JPY in a confirmed downtrend, while the EUR and CHF are now in uptrends. In fact, friday's 1.7% surge in the EUR can be categorized as a rare event. A surge like this occurs only two to three times a year, and is usually at the beginning, or early part, of a stock market uptrend.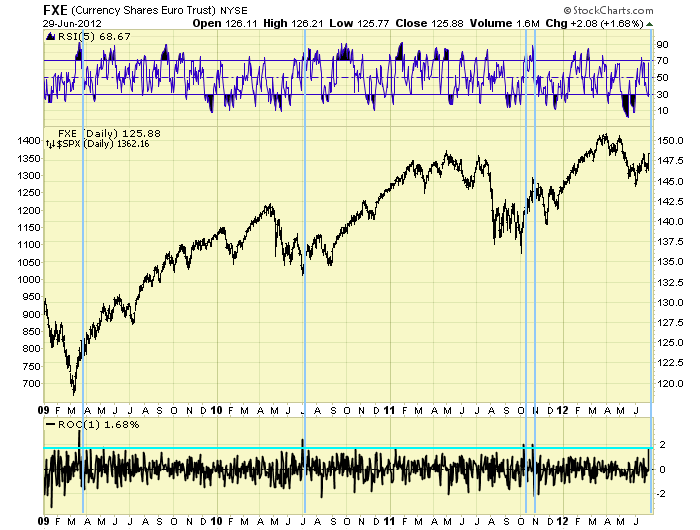 In the US, all nine of the SPX sectors we track are in confirmed uptrends or close to it. Indicators such as the VIX and Corporate bond risk are either in a confirmed downtrend or will confirm shortly. Even 1 year rates now have five waves up from their 0.08% record low yield in 2011. It was quite a week!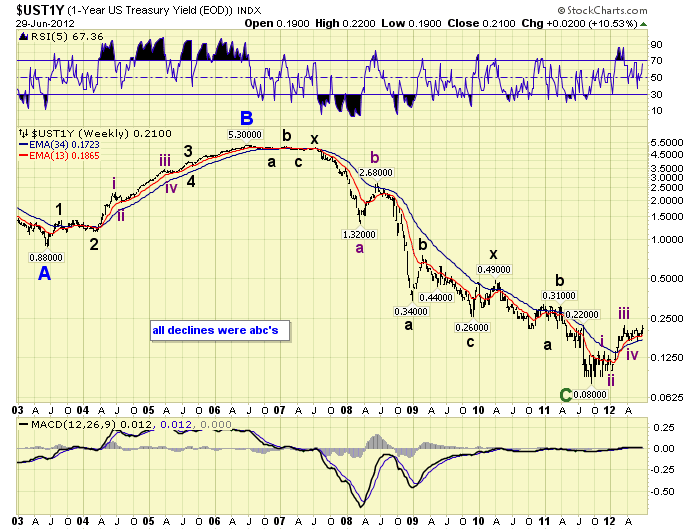 The major four US indices have been displaying three potential bullish counts, during Primary III, for the past month or so. We have decided to narrow it down to two: the DOW count and the NDX count. The bellwether cyclical DOW displays a Major wave 1 high, of Primary III, in May12. The growth NDX displays a Major wave 3 high, of Primary III, in Mar12. We have adjusted the cyclical SPX to align with the DOW count, counting its May high as a fifth wave failure.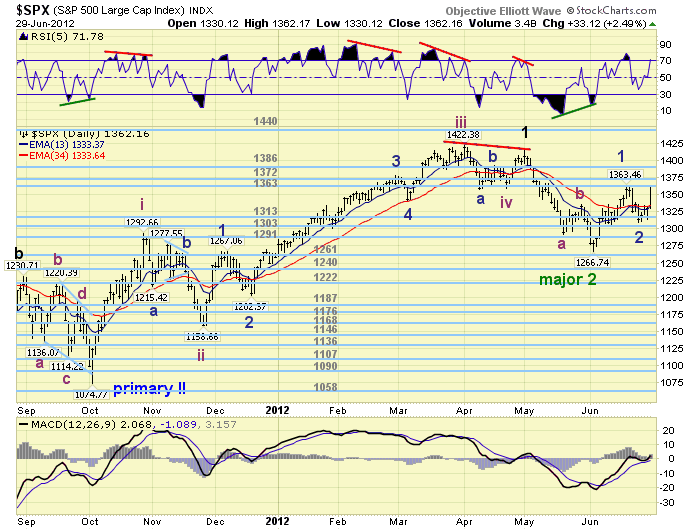 Three weeks ago we received a WROC buy signal. These signals usually arrive at the beginning of a potential uptrend, and are 90+% accurate. After reviewing the initial rally from SPX 1267 – 1363 it appeared to be a bit choppy, corrective even, suggesting we could get an uptrend. But it could be just an Intermediate B wave rally. We still see this as a possibility. As a result we have decided to continue to carry this count, but as an alternate. This alternate count is posted on the DOW and NAZ charts, with the primary count on the SPX and NDX charts.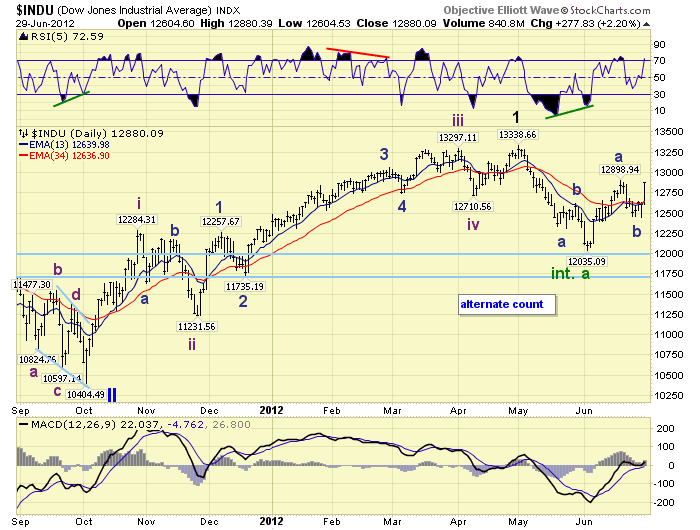 SHORT TERM:
Support for the SPX remains at the 1313 and 1303 pivots, with resistance at the 1363 and 1372 pivots. Short term momentum hit extremely overbought on friday and closed there. The initial rally from the early June low at SPX 1267 rose to 1363. A pullback followed to SPX 1309 by monday, a retest on tuesday at 1310, then another retest on thursday at 1313 when the DOW made a lower low. Late on thursday the market started to rally, and continued that rally into friday ending at SPX 1362. The entire seven trading day pullback was nearly recaptured in one day. Quite impressive!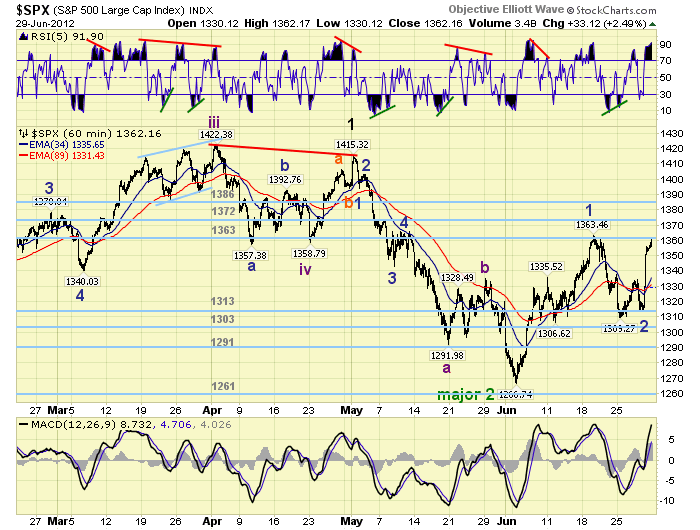 With all the previous bullish observations in mind we have labeled the initial advance to SPX 1363 as Minor wave 1, of Intermediate wave i, of Major wave 3. Minor wave 2 should have ended at the SPX 1309, 1310, 1313 complex low. The late thursday/friday rally should be the beginning of Minor wave 3. Initial resistance for this advance is at the 1363, 1372 and 1386 pivots. Support remains at SPX 1342/47, 1334/37 and 1324/27. With the market hitting extremely overbought on friday, a pullback into initial support at SPX 1342/47 would be quite normal. The short term OEW charts turned positive on thursday when the market rallied above SPX 1327. The positive/negative swing point is now around SPX 1334. Best to your trading, and happy 4th of July.
FOREIGN MARKETS
The Asian markets were nearly all higher on the week for a net gain of 1.3%. India and South Korea are now in confirmed uptrends.
The European markets were all higher on the week for a gain of 2.8%. Spain has already confirmed an uptrend.
The Commodity equity group were mixed on the week for a net gain of 1.6%. Canada is in a confirmed uptrend.
The DJ World index rose 2.4% on the week and nearly confirmed an uptrend.
COMMODITIES
Bonds fluctuated a bit this week ending with a 0.3% gain. Bonds are getting close to confirmed a downtrend.
Crude continued lower for most of the week hitting $77.28 on thursday. Then rallied to close the week at $84.82 for a net gain of 6.1% on the week.
Gold has been quite choppy since its May low at $1527, but rallied strongly on friday for a net gain of 1.7% on the week. Gold is now in a confirmed uptrend.
The USD rallied early in the week, but gave it all back on friday for a net loss of 0.8% on the week. The USD is now in a confirmed downtrend. The EUR (+0.7%) and CHF (0.7%) are in confirmed uptrends, while the JPY (+0.8%) remains in a downtrend.
NEXT WEEK
With a holiday, 4th of July, scheduled in mid-week volume is expected to be somewhat on the light side in the US. On monday ISM manufacturing and Construction spending will be released at 10:00. On tuesday, Factory orders and monthly Auto sales. Then on thursday, the ADP index, weekly Jobless claims, and ISM services. The monthly Payrolls report closes out the week on friday. The FED has nothing scheduled at this time. The ECB, however, meets on thursday. Best to your weekend, holiday and week!

CHARTS: http://stockcharts.com/...
http://caldaroew.spaces.live.com
After about 40 years of investing in the markets one learns that the markets are constantly changing, not only in price, but in what drives the markets. In the 1960s, the Nifty Fifty were the leaders of the stock market. In the 1970s, stock selection using Technical Analysis was important, as the market stayed with a trading range for the entire decade. In the 1980s, the market finally broke out of it doldrums, as the DOW broke through 1100 in 1982, and launched the greatest bull market on record.
Sharing is an important aspect of a life. Over 100 people have joined our group, from all walks of life, covering twenty three countries across the globe. It's been the most fun I have ever had in the market. Sharing uncommon knowledge, with investors. In hope of aiding them in finding their financial independence.
Copyright © 2012 Tony Caldaro - All Rights Reserved Disclaimer: The above is a matter of opinion provided for general information purposes only and is not intended as investment advice. Information and analysis above are derived from sources and utilising methods believed to be reliable, but we cannot accept responsibility for any losses you may incur as a result of this analysis. Individuals should consult with their personal financial advisors.
© 2005-2019 http://www.MarketOracle.co.uk - The Market Oracle is a FREE Daily Financial Markets Analysis & Forecasting online publication.

Only logged in users are allowed to post comments.
Register/ Log in