Implications of November's U.S. Presidential Election on Private Equity
Stock-Markets
/
Financial Markets 2012
Oct 03, 2012 - 12:58 AM GMT


Steve Schwarzman, Chairman and CEO of Blackstone, sat down with Bloomberg News' Jason Kelly and said that election scrutiny of private equity may pay off: "There's a point of view that these business have performed very well for institutions...Ironically, it gave the public and other people a chance to think through these arguments."
Schwarzman also said, "We have not seen any of the blow back that you might expect."
Schwarzman on the lasting implications of November's presidential election on private equity:
"Certainly, private equity has gotten visibility in a highly combative area, which probably isn't something you'd put your hand up and volunteer for. I think that the asset class certainly can survive this. I think there's a point of view that these businesses have performed very well for institutions; I think that's quite well recognized. And a lot of the other accusations, most people take with some grain of salt because they're coming in the context of a highly partisan discussion. So I think, ironically, it gave the public and other people a chance to think through these arguments. I don't think they come down with a huge negative on private equity despite the attacks. I think they've been pretty thoughtful, frankly, and we have not seen any of the kind of blowback that you might expect as a result of that from our investor base."
On whether private equity can deliver the same returns it has in the past:
"You do live in the real world. It's not like being a magician. If global growth is going to slow down, the returns that you make will be reduced from historic levels but relative to what's available. It will still remain at a very large spread. There are always pockets of investment opportunities. Right now, it's real estate, in a conventional sense in private equity but ultimately returns on asset classes do get reduced with the prospects for the world and global growth themselves have been reduced."
On those who say Blackstone is the new Goldman Sachs:
"Given Goldman's publicity, I hope that's not the case. We'd rather just be the same old Blackstone. And we've seen a lot of changes that have happened. We sort of stick to our knitting. And every time we make an investment or every time we provide advice for a company or provide a service like raising money for some other funds like our own through our Park Hill Group, we always just try and do a great job. We always try and adhere to a culture of excellence. We're aided a little bit by some of the not so wonderful things going on in the world. The fact that global growth appears to be going down, interest rates are incredibly low around the world, it takes what we do, which is in the alternative asset category where we can generate returns in the teens, actually relatively easily in the teens, puts us in a pretty unique position for relative very high performance."
On Blackstone's future plans:
"We basically expand within the asset classes we're in. We're in the business of developing new products, not for any particular manifest destiny reason, but because when we see something that is really interesting we want to develop that product, and we want to take it to the institutional community and give them the opportunity to earn higher returns on that with low risk. Now, that ends up being a good model for us in terms of growing the business because it provides opportunities for our younger people and it's slightly different but in the same bucket. Whether it's a different type of product in real estate or a slightly different product in our hedge fund solutions group or a different product in private equity where we did an energy fund that's having terrific results very quickly. That gives some of our younger people a chance to step up in a managerial level, which is very important for growing our firm, where everybody can make a success. Running a business that's a zero-sum game where only some people win and other people are forced out, it's not something that promotes good behavior over time. And we want to have those opportunities for younger people and at the same time provide opportunities for our investors to do well."
On how he views his role in the industry and at Blackstone:
"I want to our firm to do really well. I want us to be excellent at everything we do. I want us to have people at the firm itself who are nice, honorable people, and on a talent scale, nines and tens. I want us to be highly ethical, as we have been, in everything we do. And I sort of drive to that and always keep my eye out on risk. I'm a worrier. As we say, there are no brave old people in finance. If you're brave, you've been picked off long ago. And so, ultimately, one of my roles is to make sure the firm's always protected as well as expanding. We have a terrific cadre of people, led by Tony James, who's a fantastic executive and investor, who's the president of the firm. So, my role is there. Sometimes a cheerleader, sometimes I keep feet to the fire, but Tony is really driving a lot of what goes on and we manage things as partners."
"In terms of the industry, and a greater - broader basis than just the industry, I just want the country to do well. And as we have all these problems, some of which are caused by the financial collapse and others of which were caused by the so-called solutions to the financial collapse, we can find ourselves going in directions that really hurt growth, job creation, and other types of things. Not just in the United States, but beyond that. And I really care about us being on the right path because that helps the greatest number of people in society. And these high levels of unemployment, the damage that does to individual people, their emotional well being, the preservation of their marriages, how they treat their children. People who lose their jobs, things really change. People who can't find jobs. So it's not statistical for me."
On what he's most worried about and what he's most optimistic about:
"The single thing I'm most worried about now is that we have too much divisiveness in the United States and we can get ourselves into real trouble. After this election, however it comes out, where we sentence ourselves to years of below expected growth and keep taking debt on, which ultimately is a drag for not just ourselves, but for future generations. And even though it sounds a little corny, that's exactly what we're doing. It's potentially really dangerous to us as a society and limits our flexibility to build and rebuild our society to make us the most competitive group in the world. We can't fall from number one to number 27 in the world in education and think it's going to be a good outcome for the next generation of Americans. And I really worry that we're in a political situation where we just don't seem to be able to find the formula to drive through and get ourselves on the right side of that. It's strictly an American problem. Nobody foreign has created it- this particular problem. There are minor contributions with exports and so forth, but we really aren't doing the right job of addressing it."
"On the optimistic side, it's that we can solve these problems. They're within our own grasp. And if we can solve them and each one of these issues is addressable, there's no mystery, no magic to it, that we have the capacity for dramatically changing the future course of the country. And since we're still the largest country in the world with about 23% of the world's economy, that's a good thing for the world. It's an American-centric view, but those are the things that concern me. And there is an optimistic scenario, for sure, but we've got to do something to get it. We're no longer on a glidepath where good things will necessarily happen; well, we have to make them happen now."
On whether there's an area in the world he sees the most opportunity right now:
"That's a tough one, because there are a lot of different pockets of opportunity, some of which are here in the States. You can't underestimate the rule of law and the creativity of the people in this country. Whenever there are dislocations anywhere in the world, and now there are a lot of dislocations in emerging markets, there are opportunities. There are opportunities in Europe as a result of Basel III shrinking the banking system. We may have a low growth to no growth environment there, but you're also going to have assets being sold because they have to be or other people get scared. And so it's an issue of being patient and carefully looking at what's happening and having an open mind about different parts of the world because we're in an era of volatility and fast movement. And the Internet connecting everyone, so that everybody learns everything at the same time, creates movements that people wouldn't expect."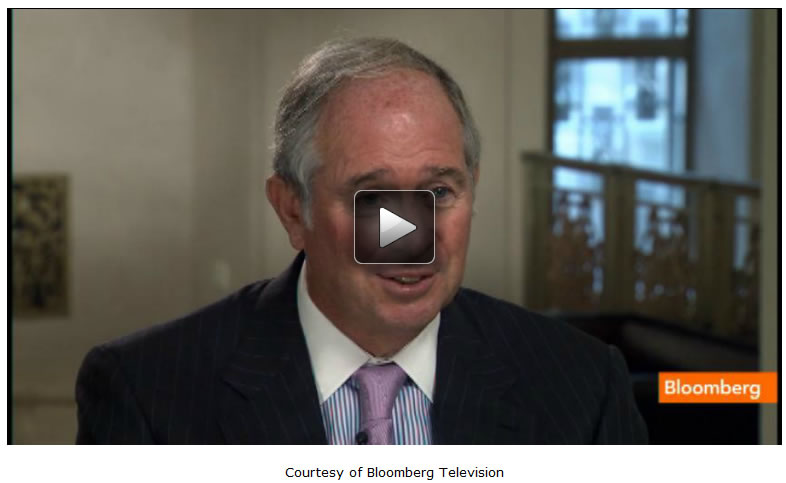 Copyright © 2012 Bloomberg - All Rights Reserved Disclaimer: The above is a matter of opinion provided for general information purposes only and is not intended as investment advice. Information and analysis above are derived from sources and utilising methods believed to be reliable, but we cannot accept responsibility for any losses you may incur as a result of this analysis. Individuals should consult with their personal financial advisors.
© 2005-2019 http://www.MarketOracle.co.uk - The Market Oracle is a FREE Daily Financial Markets Analysis & Forecasting online publication.

Only logged in users are allowed to post comments.
Register/ Log in