The UK Fuddles Its Way To Energy Crisis
Commodities
/
Gold and Silver 2013
Oct 11, 2013 - 10:11 AM GMT


THE US PREFERS DEBT CRISIS
For people outside the US its easy to laugh at America's political system, which is once again showing itself to be hopelessly defective as it trundles the nation towards a possible default on its debt – about a half of which is held by non-Americans. In a development oozing geopolitical significance, China and Japan, America's top creditors, have already made their stress and displeasure known in no uncertain terms. In the case of Japan, it was forced to step in and offer to pay for the US removal of its Okinawa base dating from World War II, because the US can't afford to remove it. China and other countries including Australia have warned they will increasingly not use dollars in their foreign trade.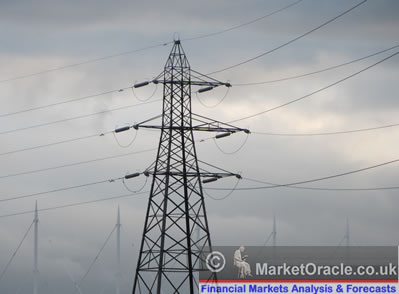 The UK seems light years away from this problem. Its national debt mountain is handled, mostly in secret and out of public view, by government and the Bank of England in close relation with the management of Europe's other tottering debt mountains. This continent-wide house of cards tallies to almost exactly the same amount as the USA's debt mountain – about $16 trilllion.
While the US political class or mafia wants, or acts like it wants, to bring down its house of cards the lights can go out an awful lot easier in the UK than in the US. Britain is at its greatest risk of a winter power blackout in years, maybe a decade, the National Grid warned this week. The linkage between the UK's debt and bad bank crisis and its energy crisis however certainly exists – basically the UK can't pay for its delirious Low Carbon energy plans. These are theoretically to fight the global warming "crisis" that even the IPCC admits is a process or event that happened through about 1980-2000 and ended more than a decade ago, although the IPCC makes a brave attempt at saying global warming will make a comeback. Its present downsized but probably still exaggerated claims are that world average temperatures could or might rise by 0.9 degreeC in the next 86 years. What a crisis!
ENERGY SECURITY VERSUS CLIMATE SECURITY
The threat to the UK's energy security does not concern the end of the century but the present day and as long as the nation's political deciders go on playing "carbon correct". The UK's power grid network operator forecasts that the margin of electricity reserves – the safety buffer of spare capacity between supply and demand – will fall to five per cent this winter, almost halved from last year, and the lowest since 2008. National Grid of course insists that emergency arrangements are in place to secure supplies from the European continent in the case of a shortage, but its director of market operations said this week that the margin is "tighter than we have seen historically". National Grid put the heightened risk of blackouts squarely down to ever-more-complex new laws to limit carbon emissions, as well as the financial impact of constant uncertainty on how these laws impact power plant operation and force operators to the default solution for uneconomic plants - mothballing them.
As elsewhere in Europe where "low carbon" became a theme for the elite and the crony corporate players of low carbon, while this slogan remains a quick way to gouge profits, the UK is faced by a net decline in the number of operational power stations. Retiring power plants was and is easy when these don't concern nuclear plants with their fantastic decommissioning costs, and plant retirement has moved ahead fast in UK – but the "onrush" of new, low carbon, renewable energy turned into a race of tortoises. Analysts say that the UK's plans for building renewable power generators, and possibly nuclear plants are both held back by sheer lack of financing and are at least 3 years behind schedule. For nuclear plants the holdback may be as high as, or more than 8 years.
The hope that continental electricity supplies can be brought into the UK whenever needed faces a simple capacity constraint – the maximum transport capacity of undersea cables linking the UK to French and other European suppliers is about 2000 MW. This is roughly 2% of the UK's total generating capacity of around 93000 MW.
The UK's maximum "nameplate capacity" has itself slipped far behind even Spain's total power capacity among the Big 5 power producers of Europe. Germany now has over 1.6 times Britain's capacity, France has 30% more, while Italy and Spain have about 15% more than Britain.
Underinvestment was the previous reason for the UK's power capacity always declining, or growing slower than the other Big 5 producers in Europe, but with the onrush of "carbon correct" and UK dreaming of a low carbon future – without the means to pay for it – national power capacity went into faster decline. Single large fossil power projects in 2008 and 2009 were able to buck the trend of UK decline, but financially-decided and carbon correct-decided power plant shutdowns now threaten Britons with dark, cold and expensive winters for years ahead.
The six-largest suppliers of electricity, the Energy UK group, has signaled many times that British power demand is getting ever closer to the amount that can be produced in the country - or bought in. Energy UK this week said: "What we need right now is clear, pragmatic energy policy to keep energy affordable, long-term certainty to attract vital investment, and the necessary back-up to ensure we have energy security." The energy regulator Ofgem has also warned several times this year that Britain could face unavoidable and repeated blackouts from as little as 18 months ahead.
FUTURE ON HOLD OR CANCELED
The upstream cause of this - UK low carbon energy policy – is back in the political spotlight due to now-open conflict and disarray on its cost, timelines and goals among the two governing parties. UK energy policy (or the lack of it) conflicts have been recently intensified by Labour leader Ed Miliband. He has pledged to freeze electricity prices if re-elected, instantly generating (excuse the pun) howls of protest from the "business community" which claims that only a maintenance of British low carbon energy plans – and extreme high electricity prices – can bridge the UK's power gap with Europe's Big 5 and cover national electricity needs.
Commentators say with hindsight that the US shutdown crisis – triggered by its debt crisis – was inevitable because the US has been over-extending its public finances for years, or decades, and when the day of reckoning came it would be self-inflicted rather than imposed on it by outsiders. In exactly the same way, Britain's rising likelihood of repeated wintertime power cuts – despite extreme high electricity prices that are among the highest in the world – cannot be blamed on outsiders.
For reasons including the British love of gimmick ideas, the low carbon fetish and the designer fear of "carbon effluent" in the atmosphere took a stranglehold on Britons, for a long time. Despite clear and repeated warnings, the two governing parties, the Tories and Lib Dems, sailed on and along with deliberately adopted or reinforced energy policies that only now are openly called "deranged" by a rising number of commentators from the left and right of the political spectrum. Coupled with Britain's extreme financialized economy, power plant mothballing and shutdowns were totally inevitable. Just as inevitable, the extreme high price of replacement "low carbon" power capacity was too much for the skinflint British to pay for. So nothing happened and they fuddled their way into crisis.
The British political elite also wanted to compete with Germany and its Energiewende transition plan, but did not have the economic power, the industrial power or the financing to do it. Today, even rich Germany has to and will cut back on Energiewende and its extreme goals of an almost 100%-carbon free power system by about 2045. The difference for the UK is that pennypinching Britons and their downsized economy mean they have to cut back right now.
BLAME IT ON EUROPE
Blaming the problem on Europe and its troubled and shaky, corrupt and inefficient emissions trading scheme (ETS) is a frequent British cop out. Britain was among the prime movers, under its then-Labour government, of the so-called Large Combustion Power Plant Directive, issued by the European Commission in October 2001 and basically aimed at phasing out any coal or gas-fired power plants that did not emit extremely low levels of CO2 per unit of power produced. Claiming that both Germany, with massive subsidies and the US - due to extremely cheap natural gas – were able to phase out coal-fired plants, and therefore Britain can or must do it too, was absurdly naïve or plain stupid, but this was UK government policy for years – and in theory still is.
As we know, US exports of coal to Europe increased about 24% to 66 million tons in 2012, because American coal is now ultra-cheap. In Europe, where the ETS penalty on coal power has massively shrunk in the past 15 months due to the near-collapse of carbon emissions permit prices, coal is now the "no brainer" power production fuel choice. This is made even more no-brainer because of extreme high gas prices in Europe – up to 4 times US domestic gas prices – which are not set to rapidly fall because of Europe's holier-than-thou attitudes on "fracking" for shale gas production. Conversely Europe has no problems at all about importing shale gas, as LNG, and will increasingly do so, which might be considered the ultimate in European hypocrisy – or stupidity.
The irony is that the EU directive aimed at chasing coal (and older gas-fired) plants to extinction is being applied after years of delay, especially in the UK. Several massive generating stations have been shut since last December, and in March and August this year. This process of practically ensuring future blackouts and power cuts in the UK is called "opting-out", in Orwellian Euro-jargon. The high carbon plants "opt out" - we mean are forced out - but nothing replaces them. Meanwhile, the power shortage impact of the tortoise race to building and developing pristine-clean low carbon renewable energy generating capacity is only attenuated and delayed by UK peak power demand continuing to contract. Among major causes of this we find greater energy efficiency, the economic recession, industrial outplacement or delocalisation, and the decline of all British industrial activity.
NOT IN MY BACKYARD
Another Monty Pythonesque trait of the English, the NIMBY cult, plays with full force on the planned but theoretical replacement of "brown power" with green. Haggling on wind generation capacity growth and the increasing public rejection of windfarms onshore, joined with the very slow pace of construction for low-emission new gas fired power stations – due to financial uncertainty – and years of underinvestment in grid capacity are all factors ensuring that the UK power future is on hold, at best.
Ironically again, analysts identify one major factor trimming UK peak power demand – the fast pace of deindustrialisation and outplacement of industry – which alone has pushed forward the date when power cuts will likely be repeated every winter.
In other words, if the economy had not been gutted and replaced by the cockleshell paper economy bobbing on the financial tides of pure chance, it is very likely electricity production would not have coped with the much higher demand that would have resulted. When or if there is any recovery in UK industry, power demand can easily attain the same level as Spain – for example – a country with 15 million fewer inhabitants than the UK, but which currently has 15% more power capacity. In the present and short-term future context this would be a power disaster for Britain.
Britain therefore has to stay downsized and trust in the play of the financial industry's casino tables and one-armed bandits – because downsizing is the only way to beat the power crisis that its political elite, gurgling low carbon slogans and one-liners, bequeathed and defaulted on the country. At present, financing and building new power capacity, in fact even building replacement capacity, is now too risky – and much too expensive for downsized Little Britain.
By Andrew McKillop
Contact: xtran9@gmail.com
Former chief policy analyst, Division A Policy, DG XVII Energy, European Commission. Andrew McKillop Biographic Highlights
Co-author 'The Doomsday Machine', Palgrave Macmillan USA, 2012
Andrew McKillop has more than 30 years experience in the energy, economic and finance domains. Trained at London UK's University College, he has had specially long experience of energy policy, project administration and the development and financing of alternate energy. This included his role of in-house Expert on Policy and Programming at the DG XVII-Energy of the European Commission, Director of Information of the OAPEC technology transfer subsidiary, AREC and researcher for UN agencies including the ILO.
© 2013 Copyright Andrew McKillop - All Rights Reserved Disclaimer: The above is a matter of opinion provided for general information purposes only and is not intended as investment advice. Information and analysis above are derived from sources and utilising methods believed to be reliable, but we cannot accept responsibility for any losses you may incur as a result of this analysis. Individuals should consult with their personal financial advisor.
© 2005-2019 http://www.MarketOracle.co.uk - The Market Oracle is a FREE Daily Financial Markets Analysis & Forecasting online publication.

Only logged in users are allowed to post comments.
Register/ Log in