Zuckerberg, Facebook Would Love to work With Google on Connectivity Projects
Companies
/
Internet
Feb 19, 2015 - 04:28 PM GMT


Tonight's "Studio 1.0" hosted by Bloomberg Television's Emily Chang (;@EmilyChangTV) features Facebook CEO Mark Zuckerberg. In a wide-ranging interview, Zuckerberg discussed Internet.org, his relationship with Google, and Facebook's development of drones and lasers.

Zuckerberg says that Facebook will probably "lose a bunch of money" on Internet.org and he doesn't have a "better idea" of when it will become profitable. On whether he'll reach his goal of connecting 1 billion more people by 2020, he said, "We'll see. I think so."

Zuckerberg said he talks "to a number of folks" at Google and is open to working with them on connectivity efforts: "I'd love to work with Google. They are a great search product." On Google's Android, Zuckerberg said, "It's something that is certainly a little bit stressful."

On whether Internet.org could help Facebook get back into China, he said, "that's not something that we are focused on right now."

On drone and laser development, he confirmed that Facebook is "going to be testing some in the near future."
Highlights:

Zuckerberg on his vision for Internet.org:
"When people are connected, we can just do some great things. They have the opportunity to get access to jobs, education, health, communications. We have the opportunity to bring the people we care about closer to us. It really makes a big difference. The Internet is how we connect to the modern world, but today, unfortunately, only a little more than a third of people have access to the Internet at all. It's about 2.7 billion people, and that means two-thirds of people don't have any access to the Internet. So that seems really off to me."
"There are all these studies that show that in developing countries, more than 20 percent of GDP growth is driven by the Internet. There have been studies that show if we connected a billion more people to the Internet, 100 million more jobs would be created, and more than that would be lifted out of poverty. So there is just this deep belief here at Facebook that technology needs to serve everyone. Connectivity just can't be a privilege for people in the richest countries. We believe that connecting everyone in the world is one of the great challenges of our generation, and that's why we are happy to play whatever small part in that that we can."
On whether he thinks he'll get to a billion people by 2020:

"We'll see. I think so."
On whether he has a better sense of when Internet.org will become profitable:
"No, I don't have a better idea. The reality is just that a lot people can't afford to pay for data access in some of these areas; then they probably aren't ad markets, and it's probably not going to be a place where it's going to be particularly profitable in the near term. In fact, we'll probably lose a bunch of money—just because supporting Facebook as a service, and storing the photos and content that people want to share, costs money. We probably won't offset it by making much. But there's this mission belief that connecting the world is really important, and that is something that we want to do. That is why Facebook is here on this planet."
"And then there is this longer-term belief that this is going to be good for these countries if people have access to these tools, and over time, if you do good things, then some of that comes back to you. But you just have to be patient, and you can't always know what the plan is going to be upfront."
On believing that connectivity is a human right and why he wouldn't just give access to the complete Internet instead of a few apps:
"Yeah, it's a good question. So it comes down to the economics of how this works. It turns out that most of the Internet consumed is rich media, especially videos. So if you look at things like text, text-message services like search or Wikipedia, or basic financial or health information, can be delivered relatively cheaply and can consume less than 1 percent of the overall infrastructure. So if you are thinking about building something that operators can offer for free, it needs to be pretty cheap for them to do. And we've basically figured out a series of services that people can offer, and it actually ends up being profitable for the operators. The model that we consider this to be most similar to is 911 in the U.S. So even if you haven't paid for a phone plan, you can always dial 911, and if there is a crime or a health emergency or a fire, you get basic help, and we think there should be an equivalent of this for the Internet as well—where even if you haven't paid for a data plan, you can get access to basic health information or education or job tools or basic communication tools, and it will vary, country by country."
On advertising executives who are excited to advertise on Internet.org and how that could benefit users:
"I'm not sure it's a big part of the solution in the near term, to be honest. What we need to do is work out a model with operators and governments and local partners that is profitable for them so we can continue growing the Internet. What we have found in some of these early countries that we have worked in—Indonesia, the Philippines, Zambia, Kenya—is you offer a little bit of the Internet free, and more people start using data, and more people can access the Internet and access these tools, but also more people start paying for data once they understand what they would use the Internet for. The people understand why they would want to pay for data, and these operators end up making more money, and it ends up being more profitable, and it ends up taking that money and reinvesting that in better Internet and infrastructure for everyone in their country. So that ends up being very important, and a lot of what we have focused on for the past couple of years is just: How do you build a model that is sustainable for everyone and delivers free Internet to people?"
"Originally, we thought that maybe working with other kinds of partners would be important, but at this point, we think we have a sustainable model that is working in multiple countries now, and there's a lot of momentum and a lot of countries coming online now, and a lot of other countries are coming to us to roll out the Internet.org model. So I expect to see a lot more over the next year."
On whether that means no to advertising:
"In a lot of these countries, there isn't a very big ad market yet. So it's not that we won't do it eventually, but for right now and our business, the main thing that we need to continue to do is focus on the quality of the ads and doing that in the developed world—in the U.S. and Europe and Asia and a lot of places that are actually going to be the driver of our own profitability and revenue—not trying to make ad markets out of countries that are just coming online."
On what kind of data is being collected about users and how it's being used:
"I don't think it's anything different than how people use Facebook normally. The biggest thing we've had to do to make Internet.org work is connect with the different operators in these countries—for example, Airtel in Zambia—to make it so people have a very easy way to go buy data when they want to do more things. For example, you might be browsing Facebook and see a link to news, or you see some video that you want to watch—that can't be covered for free, but we make it so if you tap on that, it's very easy to online pay, and that's good for everyone. It makes it so people can discover why they would want to consume content on the Internet. It makes it so Airtel and our partners can make more profits, and continue investing, and building out a faster and broader Internet, and it gets everyone online."
On Google's Project Loon and Google Fiber:
"Connecting everyone is going to be something that no single company can do by themselves. So I'm really glad that they and a lot of other companies are working on this. Internet.org is a partnership between a number of different technology companies and nonprofits and governments. There are companies that are doing things that are separate, and that's going to be necessary, right?"
On whether he's had talks with Google about partnering:
"Yeah, our team is in contact with them frequently, and I talk to a number of folks over there. When we launched in Zambia, Google was actually one of the services that was in the Internet.org suite, and that's valuable. In addition to health services and education, jobs and different government services and communication tools, people need to be able to search and find information. And whether we work with Google or others on that in all of these other countries, I think that is an important thing. I'd love to work with Google. They are a great search product."
On Bill Gates's criticism of Google's Project Loon:
"Yeah, Bill and I have had a few conversations about this and other things that we have worked on together. And I think the reality is that people need a lot of things in order to have good lives, right? Health is certainly extremely important, and we've done a number of things at Facebook to help improve global health and work in that area, and I am excited to do more there, too. But the reality is that it's not an either-or. People need to be healthy and be able to have the Internet as a backbone to connect them to the whole economy. The Internet creates jobs. It actually is one of the things that facilitates health."
On Google's Android and how Facebook overcomes not having hardware:

"You know our strategy is just to build things that people really want to use. And Facebook is the most used app. WhatsApp and Instagram Messenger are some of the next most used apps other there. So I think at some level as long as we are building services that people really want to use and that help people lives then it's not as big of a deal, I mean right? And it's something that is certainly a little bit stressful. I figure we can make, help people out more or deliver our service a little better, if we have more partnerships with the operating systems that we were using to build our stuff, but it's not something that I am that stressed about at this point because as long as we stay focused on building our stuff, I think that is right thing for us to stay focused on, not worrying about what other people are going to do."
On when Facebook drones and lasers will be ready for launch:
"We are going to be testing some in the near future, so I think I'll probably be mistaken if I give you an exact date on this. But that's one of the big technical barriers, right? There are a lot of people who don't live within range of a network, and drones and satellites and communications lasers is one way to do it. Microwave communication is another."
On whether he's flown a drone yet:
"Well, I think the nature of a drone is the person doesn't fly it…No, I have not… I'll let our team of experts do that."
On the likelihood that Internet.org could help Facebook get back into China:
"That's not something that we are focused on right now with Internet.org. There are countries where they reach out to us and say, "Connectivity is a national priority, and a lot of people in our country use Facebook—and if there is a way to work together to do that ..."
"It makes sense that we prioritize countries that are reaching out to us actively for this."
Video:
Zuckerberg: Internet.org Work With Google Is Valuable: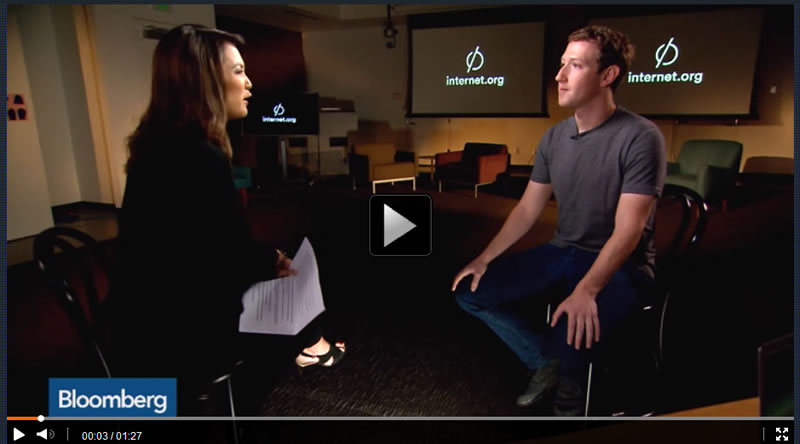 Zuckerberg to Gates: Connectivity Helps People, Too: http://bloom.bg/1G7QwXe
Zuckerberg: Facebook Drones, Lasers in Testing Soon: http://bloom.bg/1AWYylA

Bloomberg TV's Studio 1.0 with Emily Chang
Copyright © 2015 Bloomberg - All Rights Reserved Disclaimer: The above is a matter of opinion provided for general information purposes only and is not intended as investment advice. Information and analysis above are derived from sources and utilising methods believed to be reliable, but we cannot accept responsibility for any losses you may incur as a result of this analysis. Individuals should consult with their personal financial advisors.
© 2005-2019 http://www.MarketOracle.co.uk - The Market Oracle is a FREE Daily Financial Markets Analysis & Forecasting online publication.

Only logged in users are allowed to post comments.
Register/ Log in