Trading Doctor - Trapped in Quicksand by Holding Losing Positions . - Cut your Losses Short !
InvestorEducation
/
Trader Psychology
Mar 11, 2007 - 05:30 PM GMT

Take an old pair of jeans and cut a hole in one of the front pockets. Now, start pouring sand into that pocket. What happens? Sand runs down your leg and to the ground. What do you do? Keep pouring until the sand is up to your ankles? Your knees? Your waist?
At what point do you realize and act on the fact that no matter how much or how fast you pour sand into the empty pocket, you have a hole in your pocket? At what point do you come to the conclusion that you either have to stop pouring sand or just take off the pants and run away as fast as you can?
Pain is what you walk through. Misery is what you sit in.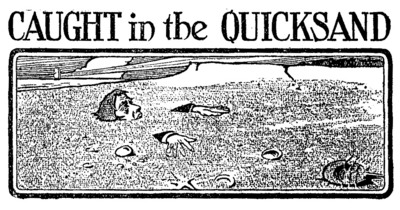 There are many who will keep pouring until, eventually, they are up to their neck in sand. Suddenly, it begins to feel like quicksand and they are trapped, and can't get out now matter what they do. At that point, the feeling changes to one of being drawn downward into the quicksand, unable to breathe, choking and suffocating into the murky slime. I know this feeling so well and have etched it on my brain so as never to forget it.
This is how it feels to lose. The hole in your pocket is the losing position. The sand is your mental, emotional, physical, financial and spiritual capital just pouring out until you are drained, suffocating, have nothing left to give and are literally sinking in the sand of your own creation. Losing is comprised of excruciating, stabbing pains and a kind of mind-deadening tunnel vision. Everything feels differently when you are in a losing position. The experience of time changes and seems to slow down to a snail's pace. Physical health deteriorates due to the outpouring of stress hormones such as cortisol. In the same manner that going long in the markets is not the inverse to going short, losing is much more than just the absence of winning.
I spoke with a trader yesterday who told me that the instant a position went against him, he cut it and moved on. I spoke with another trader today who told me he was down nearly 50 of his entire portfolio on two positions which he had been holding for nearly five months and that he could not cut it because it was too late, too much money lost and he was trapped. Perhaps you can identify with one of these traders, and perhaps not? Most certainly, if you have been trading for any period of time and you have not employed a rigorous stop loss discipline, you have felt your physical and psychic energy going into a losing position.
The trader who cuts his position immediately is out the commission and the (usually very small) drawdown. The trader who is holding a 50% portfolio loss does something that is quite common and damaging. The trades almost immediately went against him, but he did not get out. He stayed with them, holding and hoping and turned two losing trades into investments! The mind has a unique way of playing such tricks on us. Since he could not take the losses or honor stops, he played every manner of brain game with himself and decided that the positions would "come back one day" and entered onto the slippery slope of hope. If a portfolio is down 50%, what percent does one need to make in order to recover back to break even?
The feeling of losing is persistent, relentless and devastating. It eats at the very core of a person, like a malignancy that metastasizes to every part of the body, killing one cell after the other. If it is not contained, losing truly feels like death. How does deterioration of psychological and physical capital with focus on a losing position manifest itself? Irritability, sleeplessness, continual searching for something or someone to affirm the losing position, anxiety and dysphoria, tick-itis (the toxic habit of watching every tick of the position day after day), rumination, self-deception, impairment of social and family activities and a litany of other unpleasant emotional and physical states. Perhaps the worst aspect of this is the spiritual decay which comes through as self deception and, often, deception of family and friends. One is rarely capable of owning true feelings of guilt, shame and inadequacy and shifts into a mind morph where a trade becomes an investment. Holding and hoping then set in.
Of the panoplies of emotions that flood traders and investors on a daily basis, the most risky is hope. It becomes a passionate hope that, once the Market Mistress has seduced us, she will, one day, become kind to us and love us. If this is what you are thinking, it might be a good time to reassess what you are doing in the financial markets-- the greatest war game ever known to man.
The most rigorously honest thing that I can say in response to this type of thinking is: Abandon hope. As extreme as this may sound, it is the only way to be consistently successful. Attachment to a losing position is a recipe for more unhappiness and illness than any one of you deserves. Eschew complacency and mediocrity, both in trading and life. Cut losers quickly and do not sit around waiting for The Market Mistress to rescue you. If you do not begin to accumulate regret by cutting losses quickly, you are at risk for not learning.
Who can say what is waiting for you at the bottom of the slippery slope of hope? Get yourself out of the sand and get out before it is too late. Suffering is optional and you are in control. Take the power and use it to make yourself strong in the service of living and breathing with freedom to play another day.
The trouble with most people is that they think with their hopes or fears or wishes rather than with their minds... Will Durant (American Historian and Philosopher...1885-1981)
By Dr. Janice Dorn, MD, PhD
Prescriptions for Profits
www.thetradingdoctor.com
Signup for your risk-free subscription to the Trading Doctor Newsletter. If you are not completely satisfied that our newsletter is for you just let us know, via email, within 7 days of your subscription date and we'll immediatly refund your money.
© Copyright 2006-07 -- Janice Dorn, M.D., Ph.D. -- Ocean Ivory LLC
Dr. Janice Dorn is a graduate of the Albert Einstein College of Medicine, where she received her Ph.D. in Neuroanatomy. She did her postdoctoral work in Neurophysiology at the New York Medical College. She received her M.D. from La Universidad Autonoma de Ciudad Juarez, did one year of clinical clerkships in Phoenix, Arizona. and then completed a Neurology Internship at The University of New Mexico in Albuquerque. For the past twelve years, Dr. Dorn has focused her attention on trading, mentoring and commentary in the financial markets, with emphasis on Behavioral NeuroFinance, Mass NeuroPsychology, Trading NeuroPsychology, Futurism and Life Extension. A graduate of Coach University, she is a full time futures trader and trading coach. Dr. Dorn is the author of over 300 publications, relating to Trading and Investing Neurouropsychology, Market Mass Neuropsychology, Behavioral Neurofinance, and Holistic Wellness and Longevity.
© 2005-2018 http://www.MarketOracle.co.uk - The Market Oracle is a FREE Daily Financial Markets Analysis & Forecasting online publication.

Only logged in users are allowed to post comments.
Register/ Log in