Abenomics Stalls, So What's Japan Supposed To Do Now?
Economics
/
Japan Economy
Sep 08, 2015 - 05:25 PM GMT


It was just three years ago that new Prime Minister Shinzo Abe promised to pull Japan out of its "lost decades" by printing epic amounts of new yen. He got what he wanted from the Bank of Japan, which bought up pretty much all the available government debt with newly-created currency. After hardly changing at all in the previous seven years, the BoJ's balance sheet — a proxy for its money creation — tripled.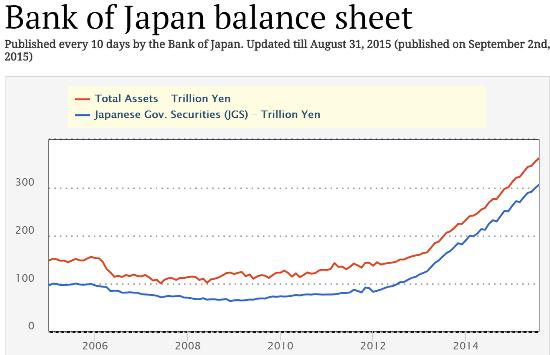 That's a lot of yen, and you'd think that, other things being equal, such a cash tsunami would get some animal spirits going. It did pump up the Nikkei stock index, which more than doubled between 2012 and July 2015. But that's about all Abe has to show for his bold plan. GDP growth is now negative in the aggregate over the past five quarters.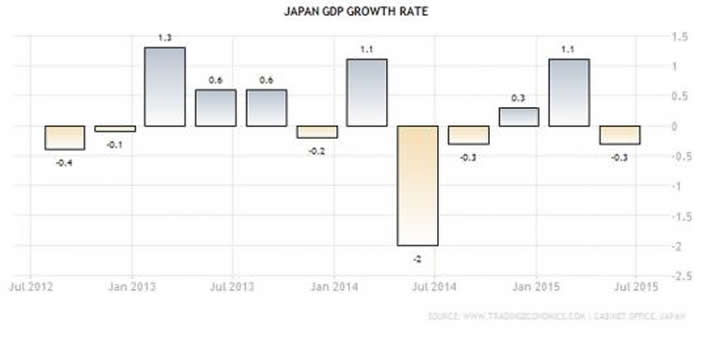 And the list of other bad numbers is comprehensive:
• Government debt hit yet another record in July, at ¥1.057 quadrillion.
• The Nikkei is down by 10% since August.
• Inflation has fallen perilously close to zero.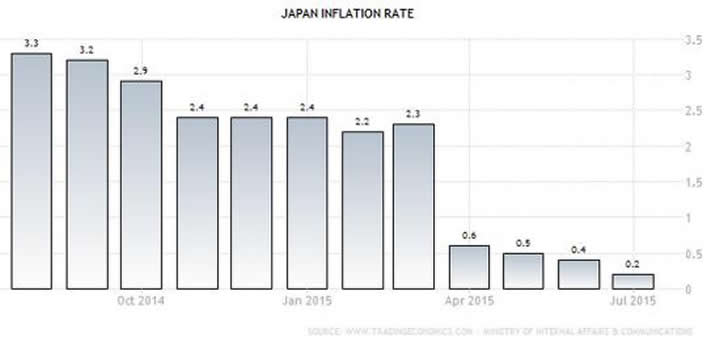 • And China, the engine of Asian (and globlal) growth, just reported August trade numbers that are apocalyptic: Imports down 14.3% y-o-y, exports down 6.1%, overall trade down 9.7%.
Part of the problem is that beyond a certain point, debt is debilitating and (as the world is finding out) money printing on the current scale can't overcome today's liabilities. The other, perhaps much more serious problem is demographics. Japan's population is the oldest in the world and the culture isn't open to the tens of millions of young immigrants it would take to reverse the trend. As the Daily Times amusingly put it in August:
What is the word for spending 3 percent of output on stimulus but only generating 2 percent growth over nearly three years? Abenomics. A central bank can print money, as Japan is learning, but it can't print babies or loosen immigration controls.

Japan's output slid into negative territory again in the April-June quarter, contracting at a 1.6 percent annualized clip. Private consumption fell, no surprise given that real wages have increased only sporadically. One more quarter of economic contraction, a development not currently forecast by most economists, and Japan will suffer its fifth recession since 2008.

Bad luck too that this is happening just as less-than-chummy neighbor China is seeing its own economy splutter and experimenting with allowing its currency to fall in value. Since its rise with the advent of Prime Minister Shinzo Abe in December 2012, Abenomics, a combination of fiscal stimulus, radical monetary policy and economic reform, has proved itself good at doing some things, mostly in financial markets, but less good at others, such as in the real economy.

Abenomics, an all-out attempt to break Japan from the grip of malaise, has very effectively driven corporate profits and the stock market higher, at the same time the value of the yen lower, the latter phenomenon driving the former. Yet all of this has not created the virtuous circle of investment, spiking exports and rising wages its architects expected.

Public sector debt is close to three times as large as annual output, interest rates have no room to fall and the BOJ is buying bonds faster than the government is issuing them. There is some brave talk about further stimulus from the Abe government, especially if the economy remains in contraction in the current quarter. What is less clear is why what hasn't worked so well thus far will begin to work in the future.

The choices facing Abe and the BOJ are not easy. More yen depreciation cuts both ways. It may only further fatten profits at corporations without increasing the volume of exports. A weaker yen will also raise the price of imported goods and may make consumers less willing to spend. Demographics are the real story, and other than encouraging more women to work, little is being done to help. Japan, a country which is taking children's restaurant meals out of the basket of goods to measure inflation, replacing them with hearing aids, is not addressing the fundamental issues.
If doing nothing as the big macro trends deteriorate isn't an option then, as the above article notes, it's not clear what comes next. Tax cuts will balloon an already record-breaking deficit. More QE would require the purchase of other, lower-quality debt and equities, turning the government into the world's biggest hedge fund (though it's arguably already there). "Helicopter money" would be taking the same medicine via injection rather than pill, probably not likely to produce a different response.
Or just give up, let the market liquidate the bad debt in a five-year Depression, and start over.
Or…keep on promising the (increasingly senile) voters that you'll fix things eventually, retire from office before it blows up, and let the next generation of politicians worry about the consequences. Guess which they'll choose.
By John Rubino
Copyright 2015 © John Rubino - All Rights Reserved
Disclaimer: The above is a matter of opinion provided for general information purposes only and is not intended as investment advice. Information and analysis above are derived from sources and utilising methods believed to be reliable, but we cannot accept responsibility for any losses you may incur as a result of this analysis. Individuals should consult with their personal financial advisors.
© 2005-2019 http://www.MarketOracle.co.uk - The Market Oracle is a FREE Daily Financial Markets Analysis & Forecasting online publication.

Only logged in users are allowed to post comments.
Register/ Log in