Next Banking Crisis Is Already Here – Opportunity!
Companies
/
Credit Crisis 2016
Feb 24, 2016 - 03:32 PM GMT


When the next great financial crisis strikes, millions will be blindsided by what is coming and will be shocked by a "New Great Depression of The 21st Century". This does not have to happen to you. It is empowering to know what is coming and to understand why it is coming. It is important to get prepared in advance for turbulent times. It is also imperative to have a plan for the years ahead. I will do my best to prepare you in advance for any eventuality.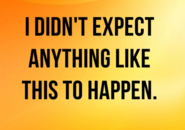 This global financial drama is also part of the "incubation" effect of as part of the 2008-2015 time frame. There is a much larger financial crisis on the horizon. Decisions were made that seemed to resolve that crisis, but in actuality, probably only delayed it. The world is not in less debt due to the decisions of central bankers during that 7-year period. To the contrary, the nations of the world are in more debt and require a rise in inflation to help bring them out of this crisis. But will they be able to ignite the forces of inflation? The answer so far has been NO!
Considering the market condition, this could come at any time but, until it does, more patience is required. While the 7-year cycle is the principal force that is causing the market to build a top in this time frame, negative events are usually associated with large cyclical tops. One of these, which would be reported as a news item, will probably become the trigger which will activate selling. Could such an event be about Deutsche Bank, the new Lehman Brother's crisis of 2016?
Deutsche Shares Compared to Cocos
There has been another new "financial toy" invented that rival's derivatives. They are called "Contingent Convertible Bonds", better known as 'CoCos'. They were invented to help banks shore up their capital bases. They are bonds that are sold to investors as debt, but with a twist; if the bank gets into financial hot water, they can cancel interest payments, convert the bonds into equity or even write off the debts altogether. This could avoid problems associated with regular bonds leading to lawsuits and bailouts and maybe even a catastrophic collapse. With these banks holding all the cards I can inform you that CoCos investors will take it on the chin in this next financial meltdown before the bank becomes unviable.
The success of 'CoCos' hinges on the credibility of the banks' assessment and reporting of their capital positions. Instead of bailing out the banks if they fail, coco investors will "bail in" the institutions that start to struggle, by allowing their holdings to lapse or transform into equity. These investors are encouraged to act as the banks' safety net with higher interest payments.
In the UK, the Financial Conduct Authority has banned banks from selling these complex hybrid instruments to mass-market investors. The FCA has said the products are still too risky for most retail customers to stomach. "Issuers can have unusually broad discretion in relation to coupon payments", making it extremely difficult for investors to assess, understand and price 'CoCos',
Confusion abounds in these markets. The cost of insuring against a Deutsche bond default, using products known as credit default swaps, has soared even though cocos are designed to prevent the credit default event that would trigger payment on this insurance.
'CoCos' issued by other European lenders have also plunged in value.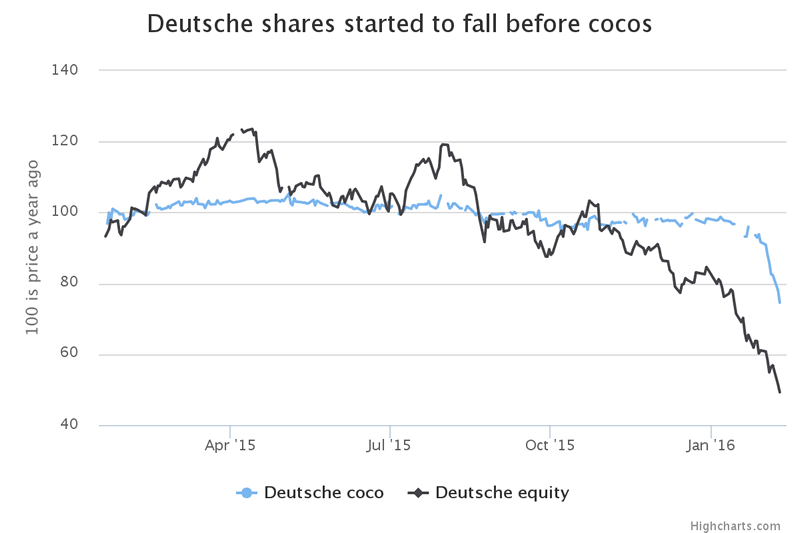 The Decline of Europe's Bank Stocks
Deutsche Bank, whose 'CoCos' are now in the spotlight, had €2.87bn-worth of convertible bonds by the end of 2014. Some of its cocos are now trading at 77% of their face value.
It's hard to know a bank's true balance sheet, because most banks don't disclose them. I know Deutsche Bank, which has been in the headlines recently, has a $2 trillion balance sheet. However, they have net tangible equity of $66 billion. That's only 3.3% of their balance sheet. So they're levered 30:1 in terms of net tangible equity.
No one knows what's whirling around in that $2 trillion balance sheet. The bad assets the big banks had on their books haven't simply disappeared. They've been unloaded into mutual funds and exchange-traded funds (ETFs). They're also in nonbank financial institutions, like the new companies you see making auto loans by selling junk bonds as a form of capital.
Deutsche Bank headquarters in Frankfurt
This shiny, sexy building with the Deutsche logo just may become an old rust bucket…
Concluding Thoughts:
There are some huge events starting to unravel globally within the financial market place. While all these things do have a very negative and scary tone to them, if you understand what is taking place and position yourself to either avoid them or better yet profit from them then all of these issues are really not that bad for you.
Follow me as I explain these events as they unfold and how I will profit from them through my ETF trading newsletter.
Join Us Today & Make 2016 Winning A Year For Your Trading Account: www.TheGoldAndOilGuy.com
Chris Vermeulen
Join my email list FREE and get my next article which I will show you about a major opportunity in bonds and a rate spike – www.GoldAndOilGuy.com
Chris Vermeulen is Founder of the popular trading site TheGoldAndOilGuy.com. There he shares his highly successful, low-risk trading method. For 7 years Chris has been a leader in teaching others to skillfully trade in gold, oil, and silver in both bull and bear markets. Subscribers to his service depend on Chris' uniquely consistent investment opportunities that carry exceptionally low risk and high return.
Disclaimer: Nothing in this report should be construed as a solicitation to buy or sell any securities mentioned. Technical Traders Ltd., its owners and the author of this report are not registered broker-dealers or financial advisors. Before investing in any securities, you should consult with your financial advisor and a registered broker-dealer. Never make an investment based solely on what you read in an online or printed report, including this report, especially if the investment involves a small, thinly-traded company that isn't well known. Technical Traders Ltd. and the author of this report has been paid by Cardiff Energy Corp. In addition, the author owns shares of Cardiff Energy Corp. and would also benefit from volume and price appreciation of its stock. The information provided here within should not be construed as a financial analysis but rather as an advertisement. The author's views and opinions regarding the companies featured in reports are his own views and are based on information that he has researched independently and has received, which the author assumes to be reliable. Technical Traders Ltd. and the author of this report do not guarantee the accuracy, completeness, or usefulness of any content of this report, nor its fitness for any particular purpose. Lastly, the author does not guarantee that any of the companies mentioned in the reports will perform as expected, and any comparisons made to other companies may not be valid or come into effect.
© 2005-2019 http://www.MarketOracle.co.uk - The Market Oracle is a FREE Daily Financial Markets Analysis & Forecasting online publication.

Only logged in users are allowed to post comments.
Register/ Log in