Banking Stocks Buying Opportunity of a Lifetime or Capital Destroyers?
Companies
/
Banking Stocks
Jul 30, 2008 - 01:18 AM GMT


Banks are a bundles of questions these days. We wrote on July 15 , just before the second quarter reports, that the next week would be a big week, and it certainly was.
Are the banks the buying opportunity of a lifetime, or a treacherous value trap that will destroy your capital?
These images show KBE and XLF versus SPY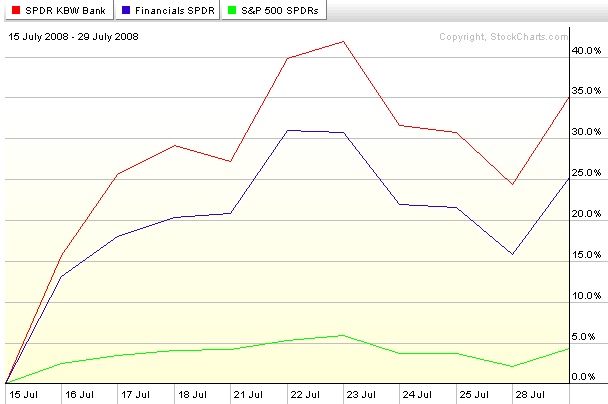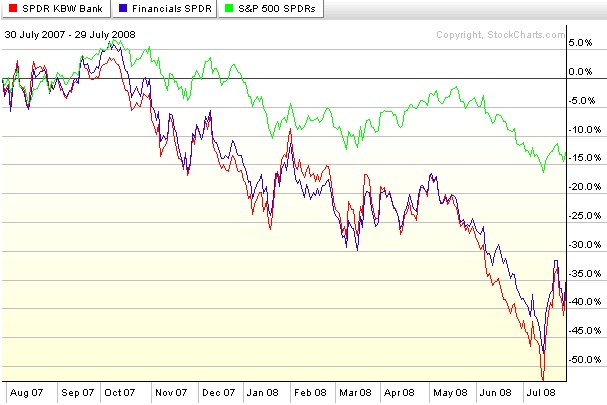 Is the abnormally high yield an opportunity to be paid to wait for price recovery, or an illusion that will disappear with dividend cuts?
Are we closer to the beginning or to the end of the asset write-downs?
Will government bailout programs stabilize the situation or simply delay it and make it even worse?
Is the problem principally a US problem with some overflow to the rest of the world, or is the global financial system in some sort of meltdown?
Are the explosive bank rallies of recent days a giant head fake, or the beginnings of a real recovery?
Well, we don't profess to know, but confess that we increasingly lean toward opportunity, yield carry, half-full versus half-empty, and that somehow the system will muddle through. We are not confident enough to take much exposure, however. It could still get a lot worse.
A 5+% equity income is very nice, but isn't much compensation in the face of value losses potentially many times that amount.
The IMF recently reported that $400 billion of bank assets have been written-down globally since the crack, which they predict is part of an overall $945 billion that will eventually be written-down.
Also of importance is the tendency for the good and the bad to sink in sympathy in major movements such as we are experiencing.
The pundits are divided on the question of financials.
Minimizing losses is key to investment success, but buying unwanted assets is also key to maximizing return. The problem is differentiating between the wounded and the dying.
While there is little question that most of the large banks will survive, it is not equally as certain that the shareholders of those banks will fare as well. The dilution shareholders are experiencing in many cases is quite significant, and in the case of insolvency takeovers shareholders tend to lose it all.
If the best time to buy is when "the blood is running in the streets" as Rothschild said, we can at least say the blood is running. It's just that nobody knows how much more blood is going to be spilled. Merrill Lynch's (proxy MER) surprise updated losses reported today are an example of the brick that can hit you in the back of the head with individual stocks.
To contribute to your own research into banks two prior articles gave you information about bank past, current and future earnings, and about bank executive compensation as it related to government bailout actions.
Additional food for thoght, as you continue your own evaluation of the risk and potential, is in the table below, It shows the prior year (FY-1), current year (FY0) and next year (FY1) actual and estimated Price-to-Book for the twenty four banks in the KBW large bank index (proxy KBE) as of July 29, 2008. The table also shows the current yield.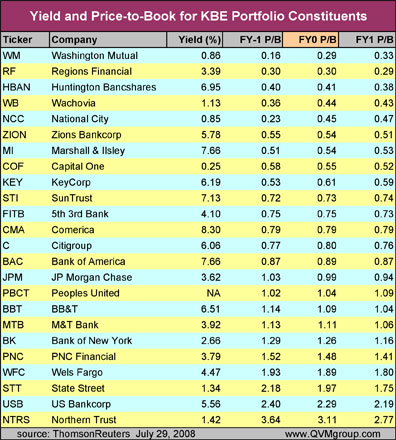 This data is the aggregate judgement of roughly 15 to 20 brokerage or independent research departments per bank.
As a general rule of thumb with any ordered list, the extreme ends of the lists tend to be less meaningful that the interior of the lists. For example, Northern Trust is a great company, but may be expensive with a high price-to-book ratio; and Washington Mutual is a not a good company, which may also be expensive with a low price-to-book ratio. For all of the companies on the list, you need to consider other fundamentals to get a handle on value.
If you buy the index (proxy KBE) or something broadly similar yet different, such as the S&P 500 financial sector (proxy XLF), you get a basket of financial companies that may be a safer bet than trying to game the system to guess which banks are the best.
You could respond to that idea saying that buying the financial sector, or any other sector, is also gaming the overall market. You would be correct, but as the bet becomes more macro, the chance for sharp surprises to upset your plan are somewhat reduced — you shift the balance more toward systematic market risk versus non-systematic issue selection risk. Unless you have time, make efforts and possess strong acuity; that's a good thing.
Bona fortuna!
By Richard Shaw
http://www.qvmgroup.com
Richard Shaw leads the QVM team as President of QVM Group. Richard has extensive investment industry experience including serving on the board of directors of two large investment management companies, including Aberdeen Asset Management (listed London Stock Exchange) and as a charter investor and director of Lending Tree ( download short professional profile ). He provides portfolio design and management services to individual and corporate clients. He also edits the QVM investment blog. His writings are generally republished by SeekingAlpha and Reuters and are linked to sites such as Kiplinger and Yahoo Finance and other sites. He is a 1970 graduate of Dartmouth College.
Copyright 2006-2008 by QVM Group LLC All rights reserved.
Disclaimer: The above is a matter of opinion and is not intended as investment advice. Information and analysis above are derived from sources and utilizing methods believed reliable, but we cannot accept responsibility for any trading losses you may incur as a result of this analysis. Do your own due diligence.
© 2005-2019 http://www.MarketOracle.co.uk - The Market Oracle is a FREE Daily Financial Markets Analysis & Forecasting online publication.

Only logged in users are allowed to post comments.
Register/ Log in