Bitcoin $10,000 – Huge Volatility of Cryptocurrencies and Risky Fiat Making Gold Attractive
Currencies
/
Bitcoin
Nov 28, 2017 - 01:34 PM GMT

– Bitcoin tops $10,000, soaring more than 850% since beginning of 2017
– Irrational exuberance arguably main driver of price performance
– Google Trends shows search for 'Bitcoin Bubble' hit highest level this morning
– Buyers need to be aware of hacking and security risks
– Other primary risks to widespread adoption is volatility and liquidity risk
– World's largest online trading platform IG Markets suspends BTC trading
– Volatility of cryptocurrencies and risky world of fiat make gold attractive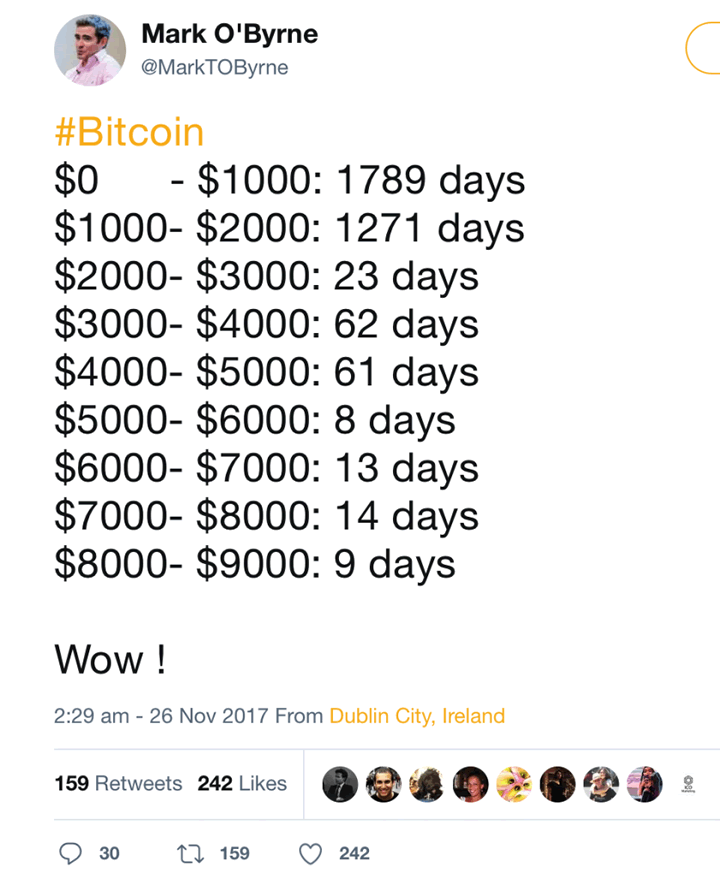 Bitcoin topped $10,000 on some exchanges yesterday to much fanfare and animal spirits internationally.
With a 850% surge in less than a year, bitcoin has seen gains that are four times more than dot-com stocks gains at their height in the late 1990s. This is making the first and arguably the best cryptocurrency look like it is an ever-growing bubble which will no doubt hurt many speculative punters when it finally goes 'pop'.
Bitcoin's market cap is over $160 billion and more than that of General Electric, a company that has been in existence since 1892 and has nearly 250,000 employees.
When you look on Google Trends and see the search for 'Bitcoin Bubble' reach a peak as the price probes $10,000 then you know that many owners and non owners of the cryptocurrency are beginning to get worried. Although a contrarian might say that the widespread concerns of a bubble mean that we may be in the early stages of the bubble.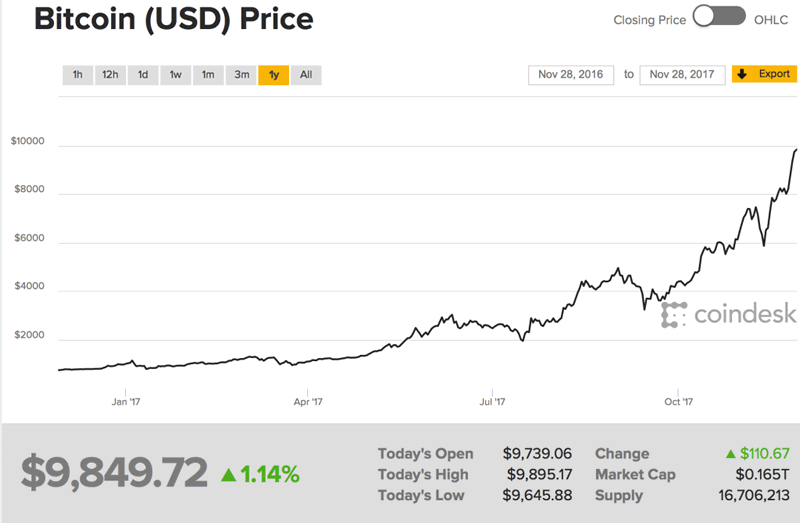 Bitcoin has many factions concerned. Central bankers are worried about its impact on financial markets, merchants are confused if they should be accepting it or not, exchanges are terrified they'll get a large sell order and some gold investors are even wondering if they should have invested in Nakamoto's invention rather than the world's oldest form of money.
Jitters are seriously beginning to show and yet the price keeps climbing. However high price does not necessarily equal validation. High price in this case is partly a sign of irrational exuberance. It is a sign of a market that is playing a short-game, blinkered by the mounting risks to which the bitcoin and cryptocurrency markets are exposed.
Bubblecious Bitcoin
Dr Constantin Gurdgiev, finance professor, respected market commentator and former non-executive adviser to GoldCore warned of a speculative bubble:
…at this point in time, bitcoin price can be potentially driven solely by expectations held by its enthusiasts, plus the incentives by the predominantly China-based investors to avoid extreme risks of capital controls and expropriations. If so, both drivers would make it a speculative bubble.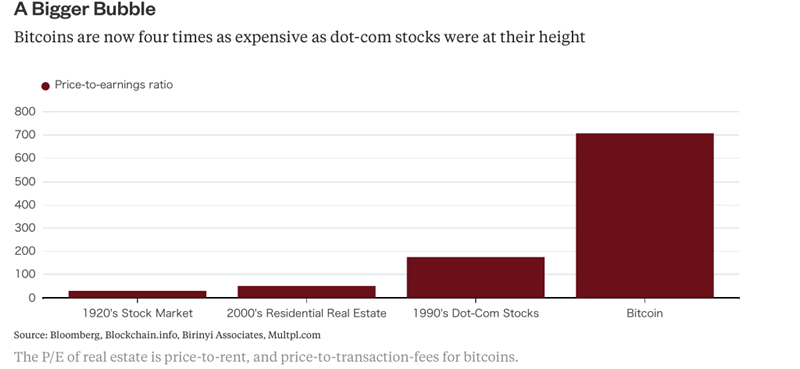 The problem with bitcoin is not that they are worth nothing. They are clearly worth something, if anything just because of the work that goes into creating them but also because there are people willing to make an economic exchange for them.
The problem with bitcoin is that while adoption is surging, it is still amongst a tiny section of the population – primarily the tech community and millennials. There are varied estimates but is believed that some 0.01% of the world's population holds a bitcoin wallet (not even bitcoin as many have wallets and accounts but have not bought).
The case for its potential is utterly compelling but it is as yet unproven with many potential competing digital currencies – state and private.
So what we are left with is a cycle of irrational exuberance, speculation and FOMO (fear of missing out).
There is some value to bitcoin and the tech is excellent and compelling. The dot com bubble did not burst because dot com stocks were completely useless, it burst because everyone became overexcited and a highly speculative "get rich" scheme. The same can be send for tulip mania.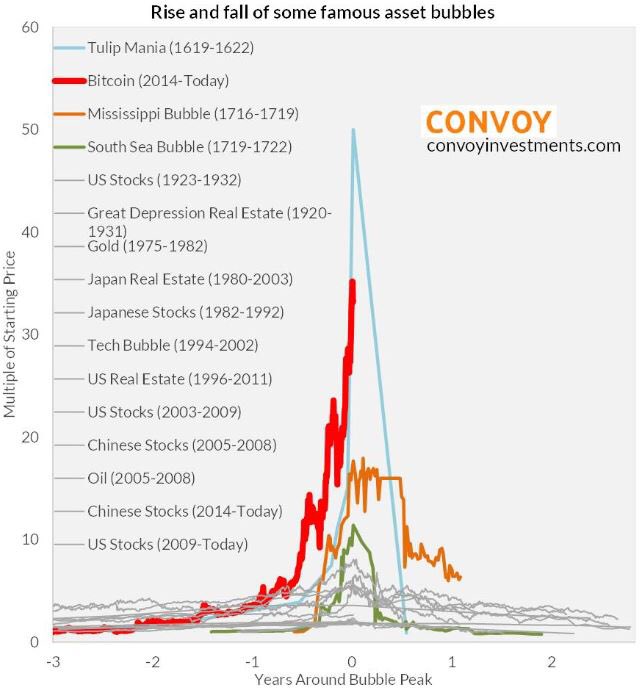 As evidenced by our publishing and trading online and the growth of social media and e-commerce in recent years, there was some value and great tech in the dot com era. The same will be seen with bitcoin, but most likely once the bubble has burst and the FOMOs have scarpered and moved onto the next great think … possibly gold and silver bullion. Only then will we see it's true potential.
As Michael J.Casey explained, the current bitcoin market has the hallmarks of a bubble now because of its immaturity. It needs to grow up quickly in order to move past this bubble phase.
The problem I have with the immaturity of bitcoin's investing culture is not that it's setting the market up for a correction. It's that it constrains progress toward attaining the technology's more fundamental social value.

Speculation is unavoidable, even useful in bootstrapping innovation. But if bitcoin is to change billions of lives, it needs to become a more mainstream asset class, one that's connected to the real world that those people occupy. As much as we might all love this quirky, abnormal "honeybadger of money," bitcoin needs to become more normal.

It needs more stability. It needs a two-way market.
The lack of a two-way market means there is increased volatility and a significant lack of liquidity. This can even create security risks for even the most professional of platforms.
On Monday IG Group told the Financial Times it had 'suspended trading of some of its bitcoin derivatives on Monday after roaring demand for the products left the company facing a high security risk.'
This is an asset-class which does not have years of data for analysts and investors to find support and understanding for their trading decisions. This makes the market nervous especially with such low liquidity. Hence this is a speculators game at present and one which makes even the most professional of platforms run scared.
Should gold investors be crying themselves to sleep?
Inevitably, bitcoin's performance results in many commentators declaring that gold is dead and bitcoin has replaced it. This is only based on the cryptocurrency's price action. In reality there is little to compare between the two.
If the bitcoin price action and its mere existence have any impact on gold then it can only be a good thing.
The birth of cryptocurrency in the last decade has caused many to realise that fiat currency does not have to be the only way in which one stores their wealth. Indeed it is not an optimal way to save for the long term – especially in these era of low to negative interest rates.
Like gold, bitcoin threatens central bankers' control of the banking system and money supply, which could undermine the monetary policies they use to manage inflation. These same policies which so many savers and investors lose out from.
It has also made people aware of the risks they are exposed to when investing. These means they are looking for further diversification in their portfolios, to be found with both gold and cryptocurrencies.
It is probably a good idea to have a small exposure to bitcoin, after all it is proving to be a worthy hedge against geopolitical upset this year. If nothing else, it makes sense as the technology is powerful and will be used in some form in the coming years and it makes sense to get familiar with the technology.
The main sources of concern and risks with bitcoin are the low liquidity and the high security risks. Neither of these exist with physical, allocated and segregated gold bullion bars and or coins. Current gold investors are well aware of this. Soon others will be too.
Many who get out of bitcoin as the bubble springs a leak will be putting that capital into gold as they seek an alternative to the volatility of cryptocurrencies and the dangerous world of fiat.
This is not an unhackable bubble
Low liquidity and security risks are at the forefront of the bitcoin bubble. IG Group's decision to suspend trading of bitcoin derivatives was a direct result of these two issues.
The more cryptocurrency IG, or any broker. holds, the greater the security risk for them. They are exposed on two fronts.
Firstly hackers are circling such exchanges like sharks around a dying whale calf. Secondly, in order to meet bids, exchanges have to go out into the market and buy the underlying asset. This exposes them to often unregulated exchanges given the lack of availability of bitcoins.
So suddenly you have two major counterparty risks. Two risks that bitcoin (as a 'digital gold') was apparently designed to avoid.
With risks such as these one has to ask if investors are holding them for security of diversification out of the fiat system, or for speculation. If it is the latter, as we suspect, then we are facing bubble with very significant security risks.
We have seen multiple hacking attempts and successes in the bitcoin space. There have been some major disasters and some major saves. However, this bubble is growing which arguably exposes the exchanges to the risk of low liquidity and counterparties, more than it does security.
Markets could go haywire once sellers realise they can no longer exit their positions, i.e. this is not a two-way system.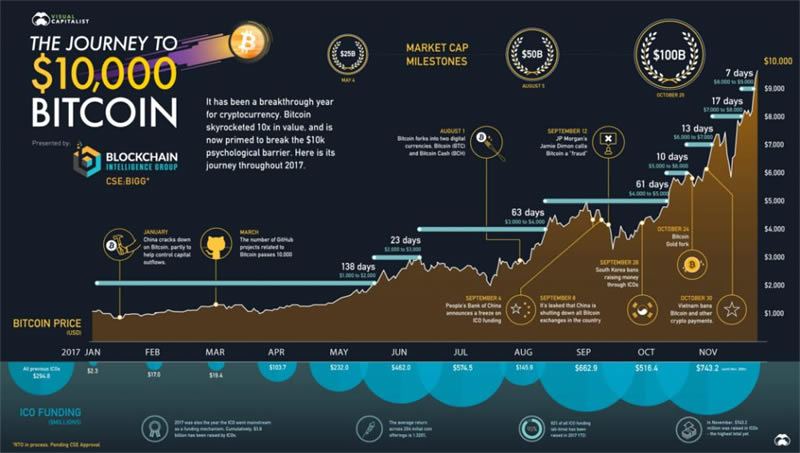 Buy gold and bitcoin, but only expect the grown-up to protect you
When you invest in physical, allocated and segregated gold you can be sure that the above scenario is not the case. The gold market is a several-century old set-up. One which has moved with the times in terms of security but kept to old-school beliefs when it comes to keeping counterparties to an absolute minimum.
We often discuss the risks of 'digital gold', pooled gold which is exposed to risks on a number of levels. Bitcoin has different but similar risks – how to own it in a safe way.
It is these risks which should stop people from rushing into bitcoin and from comparing it to gold.
As we concluded in our recent coverage of the ongoing bitcoin versus gold debate:
The debate is not about bitcoin versus gold but instead about investors and savers protecting themselves from the rapid devaluation of fiat currencies.

Bitcoin is new and volatile, with much to prove. Gold has been in existence as money and a store of value for millennia, not to mention all of it's other roles.

Investors should continue to pay attention to the bitcoin chatter due to the narrative it offers around changing attitudes to money and the economy. However, they must remember that the debate is about security of savings and value. This is where gold is currently the only real contender for protecting your diversified portfolio.
Gold Prices (LBMA AM)
24 Nov: USD 1,289.15, GBP 967.89 & EUR 1,086.37 per ounce
23 Nov: USD 1,290.15, GBP 969.93 & EUR 1,089.40 per ounce
22 Nov: USD 1,283.95, GBP 969.25 & EUR 1,092.51 per ounce
21 Nov: USD 1,280.00, GBP 967.04 & EUR 1,090.69 per ounce
20 Nov: USD 1,292.35, GBP 974.82 & EUR 1,096.43 per ounce
17 Nov: USD 1,283.85, GBP 969.31 & EUR 1,088.19 per ounce
16 Nov: USD 1,277.70, GBP 969.01 & EUR 1,085.53 per ounce
Silver Prices (LBMA)
24 Nov: USD 17.05, GBP 12.80 & EUR 14.38 per ounce
23 Nov: USD 17.10, GBP 12.84 & EUR 14.43 per ounce
22 Nov: USD 16.97, GBP 12.81 & EUR 14.44 per ounce
21 Nov: USD 17.00, GBP 12.85 & EUR 14.50 per ounce
20 Nov: USD 17.15, GBP 12.94 & EUR 14.56 per ounce
17 Nov: USD 17.09, GBP 12.95 & EUR 14.49 per ounce
16 Nov: USD 17.04, GBP 12.92 & EUR 14.48 per ounce
Mark O'Byrne
Executive Director
This update can be found on the GoldCore blog here.
IRL
63
FITZWILLIAM SQUARE
DUBLIN 2

UK
NO. 1 CORNHILL
LONDON 2
EC3V 3ND

IRL +353 (0)1 632 5010
UK +44 (0)203 086 9200
US +1 (302)635 1160
WINNERS MoneyMate and Investor Magazine Financial Analysts 2006
Disclaimer: The information in this document has been obtained from sources, which we believe to be reliable. We cannot guarantee its accuracy or completeness. It does not constitute a solicitation for the purchase or sale of any investment. Any person acting on the information containd in this document does so at their own risk. Recommendations in this document may not be suitable for all investors. Individual circumstances should be considered before a decision to invest is taken. Investors should note the following: Past experience is not necessarily a guide to future performance. The value of investments may fall or rise against investors' interests. Income levels from investments may fluctuate. Changes in exchange rates may have an adverse effect on the value of, or income from, investments denominated in foreign currencies. GoldCore Limited, trading as GoldCore is a Multi-Agency Intermediary regulated by the Irish Financial Regulator.
GoldCore is committed to complying with the requirements of the Data Protection Act. This means that in the provision of our services, appropriate personal information is processed and kept securely. It also means that we will never sell your details to a third party. The information you provide will remain confidential and may be used for the provision of related services. Such information may be disclosed in confidence to agents or service providers, regulatory bodies and group companies. You have the right to ask for a copy of certain information held by us in our records in return for payment of a small fee. You also have the right to require us to correct any inaccuracies in your information. The details you are being asked to supply may be used to provide you with information about other products and services either from GoldCore or other group companies or to provide services which any member of the group has arranged for you with a third party. If you do not wish to receive such contact, please write to the Marketing Manager GoldCore, 63 Fitzwilliam Square, Dublin 2 marking the envelope 'data protection'
© 2005-2019 http://www.MarketOracle.co.uk - The Market Oracle is a FREE Daily Financial Markets Analysis & Forecasting online publication.

Only logged in users are allowed to post comments.
Register/ Log in