From a Stocks Bull Market Far, Far Away, Virus Doomsday Scenerio!
InvestorEducation
/
Learning to Invest
Jul 16, 2020 - 04:00 PM GMT

It took me some 6 years from late 1987 to Early 1994 before the cookie finally crumbled and I understood the how to invest in stocks that has subsequently been tested in EVERY bear market and market collapse since, an understanding that has proven to be RESILIANT, so unless the worlds is about to end, or the West turns communist and starts seizing or heavily taxing capital, then the contents of this extensive article should shine the way towards profitable investing for decades to come. With the usual disclaimer that investing in the stock market is high risk. And that you are responsible for your investing decisions and any profits or losses that may occur.
Investor psychology tends to be the exact opposite to that which is required for successful investing i.e. Investors tend to fail to buy when they should buy i.e. when stocks are relatively cheap, instead most tend to buy at the worst possible time in terms of the bull / bear market cycles. And even if they do manage to hit the buy button near the right time, soon afterwards tend to become fearful of every dip, bad news event that erodes the few percent of paper profit they may have gained and thus tend to sell out of their investments too early on hopes that they can buy back later at a lower price, which rarely happens, so are left chasing stock prices ever higher as good stocks are good because they tend to go UP in price!
A long, long time ago in a bull market far far away, I too used think like that when investing, roughly from the late 80's to the Mid 1990's.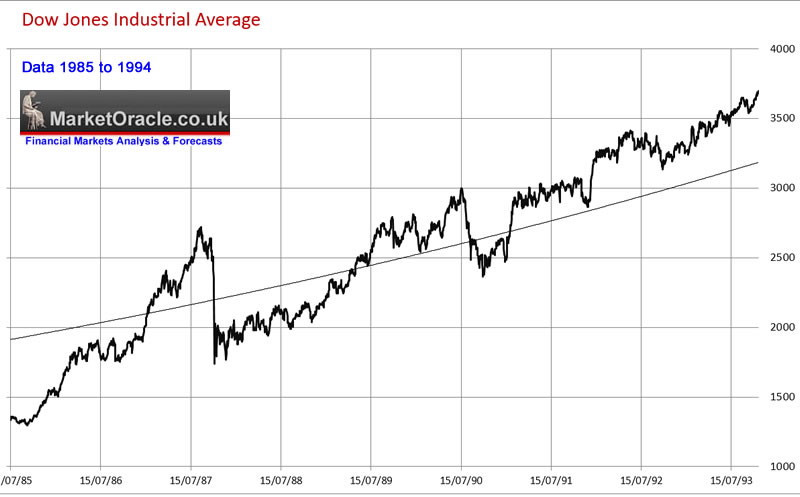 Looking back it's not hard to see why for FEAR of losses is the line that the mass media perpetually peddles and induces in investors, and it is only the few at the top of the investing hierarchy who have either ridden countless bull and bear markets and thus become wise to the processes' involved for successful investing, or who never felt the consequences of their investing decisions i.e. fund managers who earn a percentage return regardless of outcomes, and then we have the full spectrum commentariat who seek to eek out revenues in ever short copy, from daily reports down to minute by minute signals, with journalists pumping out reams and reams of copy that all sounds highly convincing but at the end of the day where successful investing is concerned is usually worthless garbage.
Why is it so?
It is because FEAR SELLS! People don't want to hear about steady as it goes strategies of riding a trend that's going to span several decades, they want to hear about mayhem, panic, bad news events! Because that is how humans have been hardwired to be alert to possible dangers on the african savanna so that they don't end up being meal for a meat eater.
So FEAR SELLS!. And thus the purpose of this article is to arm my Patrons with knowledge that should act to counter potential erroneous mindset's so that by the end of which my Patrons like me will come to embrace stock market corrections, crashes and even bear markets that I a good 2 decades ago condensed down into a simple mantra, basically when I concluded during the Mid 1990's that Technical Analysis was largely BS, an ever expanding sales industry that is continuously conjuring up new tricks to suck the gullible masses into it's vortex, much as economics is BS, a pseudo science that is no more accurate than a coin toss but nevertheless has been elevated into the minds of most as thought it is science. A lot of this goes on in our world, BS is constantly being elevated into science and certainty where the most recent example of which has been the governments and their scientific advisors response to Covid-19. Where from what I can see rather than doing what was in the best interests of combating the pandemic, all they actually did was to feather their own nests! Because at the end of the day most of what they thought they new was just BS!
Don't be in any doubt the so called scientists advising the governments gave murderously bad advice, where the UK has now passed over 65,000 deaths (ONS) when it should have suffered less than 100! As my video from Mid Feb illustrates.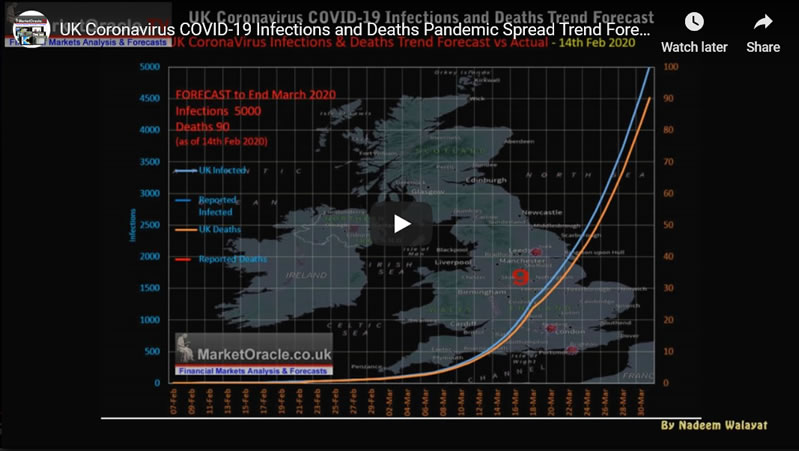 Instead of listening to the so called scientists the governments would have been better served if they had just flipped a coin in their decision making progress. of what to do. Quantum physicists are the closest to those who understand that reality is fuzzy, and so a coin flip riding a waves of probability is probably the most reliable indicator for what to do next. Remember that, in many instances a coin toss tends to prove more reliable in knowing what to do next than following the weight of academia based decisions!
Before I digress further, the simple investing strategy that I condensed everything down to over 2 decades ago is -
"the greater the deviation from the stock market high then the greater the buying opportunity presented".
Sounds too simple to be of much use but so does E=MC2.
The bulk of this extensive analysis has exclusively been made available to patrons who support my work How to Get Rich Investing in Stocks by Riding the Electron Wave.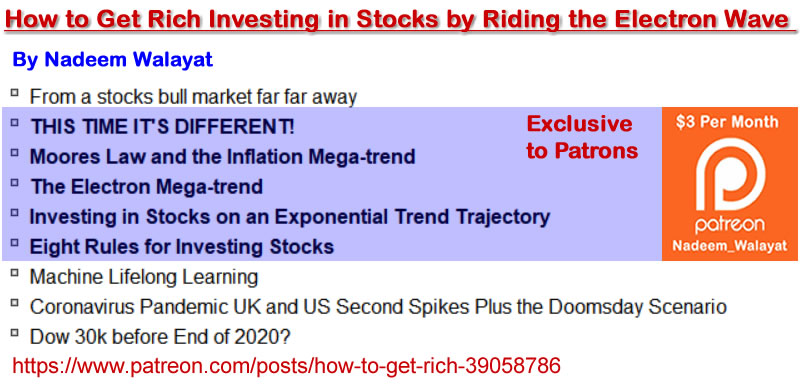 So for immediate first access to ALL of my analysis and trend forecasts then do consider becoming a Patron by supporting my work for just $3 per month. https://www.patreon.com/Nadeem_Walayat.
MACHINE LIFELONG LEARNING
Investing in stocks is just one way to profit from what's to come. But I think to truly prosper from this game changing mega-trend we also need to immerse ourselves into machine learning. This may sound daunting at first but there are literally hundreds of how to get started in machine learning videos out there, for instance search for "getting started with tensor flow".
My own goal is to offload some of what I do to neural nets, possibly position trading the Dow. And I am sure there will be tasks that everyone does that could be offloaded onto neutral nets as a starting point for this powerful exponential trend, where the next 10 years presents a unique opportunity that should not be wasted.
And if you have kids than you definitely should encourage them by steering away from for instance gaming / smartphone usage towards machine learning, yes I know it's easier said then done. One possible solution is to limit computer / smartphone usage, and then fill that tech void with hardware such as Nvidia's Jetson Nano which is basically a small computer board focused on running neural networks that is supposed to cost $99, but when I go to Amazon it pops up at £140 in the UK.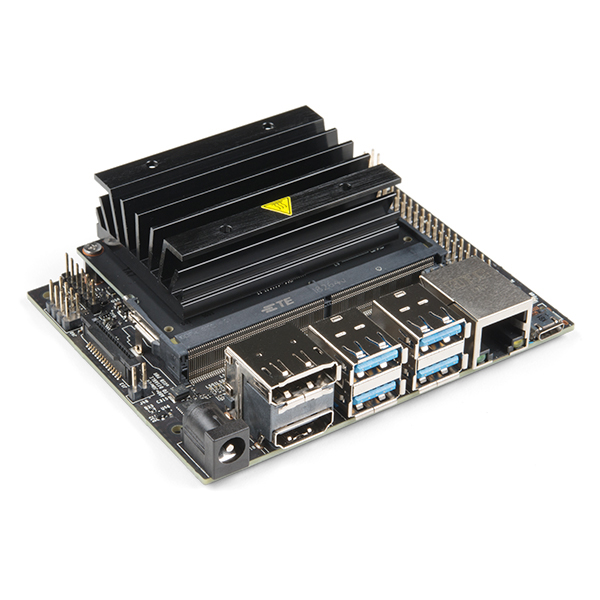 So If you have kids then you could look into the process of getting a Jetson Nano up and running with it's first neural nets, so that BOTH learn the power of machine and deep learning. And once you have the basics covered you can add components such as camera's, wifi, motors and wheels as you go along.
There are many machine learning platforms / frameworks out there with the number constantly increasing, for instance Google's Tensor Flow or Amazons Web Services amongst literally dozens.
The bottom line is that the TIME IS NOW, and not when everyone is trying to jump on board the AI bandwagon because by then it will likely be too LATE!
This is probably the best time for a business minded person to be alive in human history with the potential to become mega rich. All without have to call upon huge amounts of capital as used to be the case. It is VERY CHEAP to get on board the AI gravy train. If one stopped and thought about it then one should be energised to act today. Because every day delayed will make have have an exponentially increasing utility cost.
I can easily imagine that over the next 10 years many thousands of intelligent people living across the world will become tech billionaires, all without being anywhere near silicon valley when they started on their machine learning path.
So come on folks make a start in machine learning with Google 's Tensor Flow, they really could not make things any easier in getting started.
https://colab.research.google.com/notebooks/intro.ipynb
However, wealth without health isn't of much use, so a timely reminder to not neglect life extension strategies that I covered a year ago in - Investing to Profit and Benefit from Human Life Extension AI Stocks and Technologies,
Strength training - emulate a young body with greater percentage of lean muscle mass
Metformin - Cheap and it appears to work!
Alpha GPC - fuel for your brain, whilst we wait for that limitless NZT pill to materialise or more likely nanobots that plug our brains into cloud compute and memory storage.
Maybe add Nictotinamide (B3), a NAD+ precursor to the list, and unlike its over hyped cousins (NR and NMN) is dirt cheap! Less than £10 for 100 X500mg capsules.
Coronavirus Pandemic UK and US Second Waves, and the Influenza Doomsday Scenario
Three weeks ago I warned to expect an end to the trends of reducing number of deaths from covid 19 in the wake of black lives matters protests, lack of social instancing and winding down of lockdown's across the US and UK, where the only figure that actually counts in terms of the impact of the virus is in the number of deaths.
Whilst my analysis of Mid March warned to expect several pandemic waves where each subsequent wave 'should' be smaller than the one before due to increased institutional, governmental and individual intelligence on combating the virus.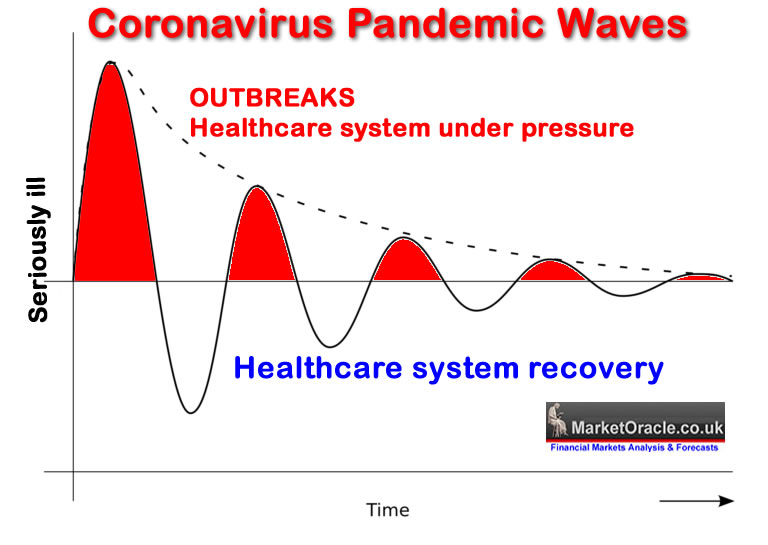 So now 3 weeks on where do the trends towards a second peak stand. Have the UK and US blown all their hard work in containing the virus during the past few months or not?
UK Covid-19 2nd Wave Status
Three weeks ago the 7 day average was 196, and the 14 day at 218. Current 7day av is 101, and 14 day at 113. So the UK so far has done well to sustain the downwards trend trajectory.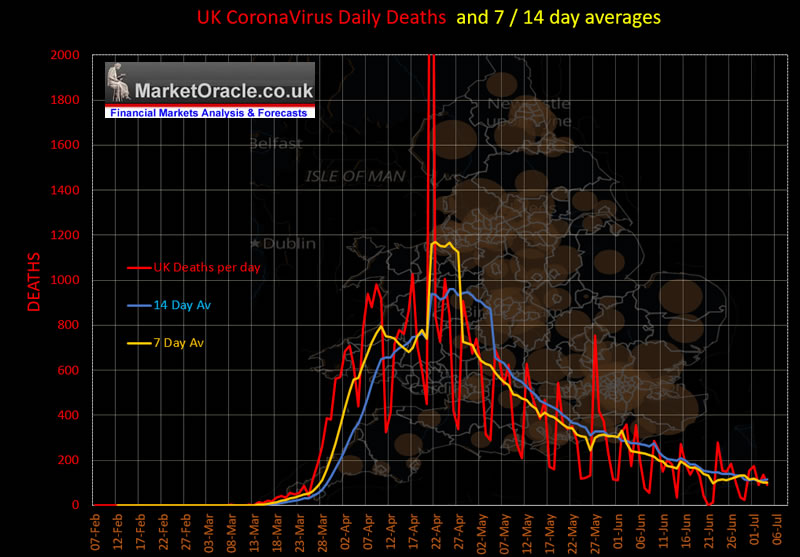 However, the UK celebrated it's 4th of July Independence from Covid 19 day when the people of Britain were free to congregate and get drunk in the pubs across the UK. Which will likely act like pouring rocket fuel onto the simmering covid-19 fire that I suspect will manifest in hospitalisations over the coming weeks and a sharp increase in the number of deaths about 3-4 weeks down the road.unless the Pandemic is now largely over and far more people have already contracted the virus and are now immune. So it will be illuminating to see where things stand a month down the road. If the 2nd peak in deaths materalises or not and if it does to what extent and to what degree treatments work.
US Covid-19 2nd Peak Status
Apparently the Blue states have decided to hell with the virus and so the warned of spike is fast gathering pace in those states whilst the Red states continue to battle to fight the war against the pandemic and thus acting to average down the pandemic waves.
Three weeks ago the 7 day average was 835, and the 14 day at 970. Current 7day av is 516, and 14 day at 675. So the US deaths are still trending in the right direction after a blip Mid June.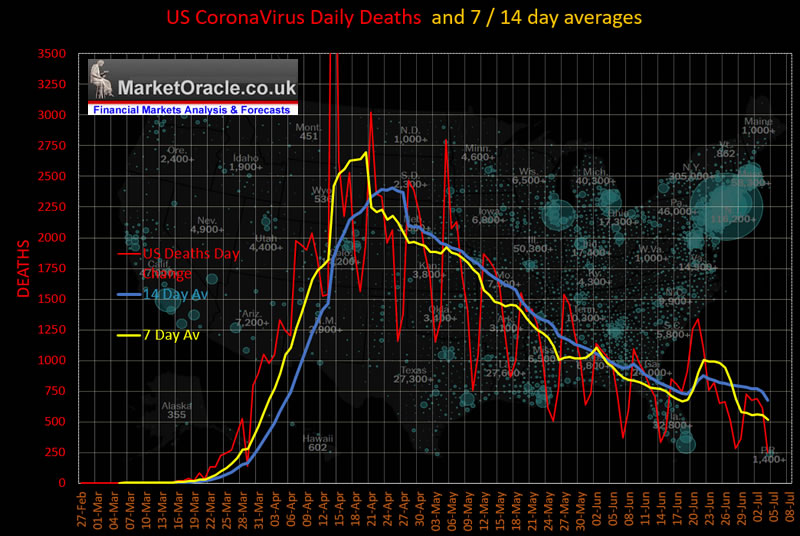 However this could be the calm before the coronavirus storm as the US has seen a acceleration in the number of new cases over the past 3 weeks that now exceeds the number of new cases at the height of the pandemic. So suggests to expect a spike in the number of deaths towards the end of July. However which should be moderated to some degree due treatments that have been shown to work to reduce duration of illness and the mortality rate.
Doomsday Scenario
As the world combats coronavirus that most nations despite decades of warnings of a pandemic being inevitable still failed to prepare for. However, lost on most is that the Pandemic that we were all supposed to be preparing for was not of Coronavirus but a deadly of INFLUENZA! The risks of which have NOT gone away!
So the Doomsday scenario is that come Autumn / Winter 2020, the dreaded long expected Influenza pandemic materialises which once more sends the world's economies into a tails spin of death spikes, lockdown's led by a stock market deep discounting crash, though be forewarned that IF it happens, such a market crash would prove JUST AS TEMPORARY as that of the Corona Crash of March 2020! Especially as we have many more pieces of the jigsaw puzzle as to how governments would react i.e. print money on an epic scale! That populations are better trained to follow social distancing, face coverings and other r0 reduction strategies than was the case in March.
Cue again our Chinese friends - 29th June 2020 - Swine flu strain with human pandemic potential increasingly found in pigs in China
What the world doesn't need now is a pandemic on top of a pandemic. So a new finding that pigs in China are more and more frequently becoming infected with a strain of influenza that has the potential to jump to humans has infectious disease researchers worldwide taking serious notice. Robert Webster, an influenza investigator who recently retired from St. Jude Children's Research Hospital, says it's a "guessing game" as to whether this strain will mutate to readily transmit between humans, which it has not done yet. "We just do not know a pandemic is going to occur until the damn thing occurs," Webster says, noting that China has the largest pig population in the world. "Will this one do it? God knows."
My next planned analysis will be on Gold, followed by the Stock market and then the housing markets.
Stock Market Dow 30k before End of 2020?
Looking at the way the Dow has behaved to date in the wake of the the Great Corona Crash of 2020.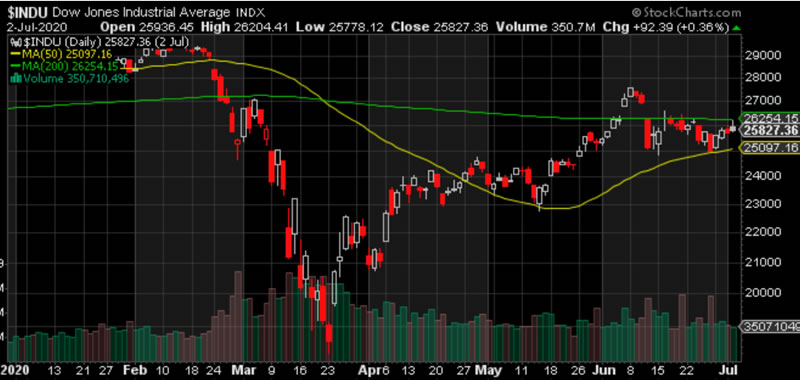 Then it is increasingly looking possible that my original stock market forecast for 2020 made at the end of last year could yet materialise to a significant degree i.e. with the Dow setting a new all time high by trading to above 30,000 before the end of this year, most of it driven by waves of government epic money printing stimulus. With the general indices driven higher courtesy of the tech sector that we all should be heavily exposed to.
Dec 31, 2019 at 12:24pm
Stock Market Trend Forecast Outlook for 2020
Dow Stock Market 2020 Outlook Forecast Conclusion
Therefore my forecast conclusion is for the Dow to target a trend to between 30,750 and 31,000 by the end of 2020. For a likely gain of 8% to 9% for the year (on the last close of 28,462).
Again the bulk of this extensive analysis has exclusively been made available to patrons who support my work How to Get Rich Investing in Stocks by Riding the Electron Wave.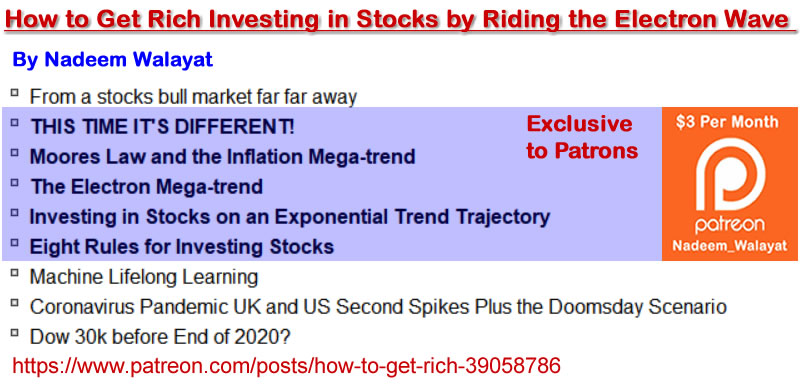 So for immediate first access to ALL of my analysis and trend forecasts then do consider becoming a Patron by supporting my work for just $3 per month. https://www.patreon.com/Nadeem_Walayat.
You will also gain access to my latest timely analysis that updates AI Stock buying levels for Q3 2020 - AI Tech Stocks Buying Levels and Valuations for Q3 2020
And ensure you are subscribed to my ALWAYS FREE newsletter for my next in-depth analysis.
Your analyst.
Nadeem Walayat
Copyright © 2005-2020 Marketoracle.co.uk (Market Oracle Ltd). All rights reserved.
Nadeem Walayat has over 30 years experience of trading derivatives, portfolio management and analysing the financial markets, including one of few who both anticipated and Beat the 1987 Crash. Nadeem's forward looking analysis focuses on UK inflation, economy, interest rates and housing market. He is the author of five ebook's in the The Inflation Mega-Trend and Stocks Stealth Bull Market series that can be downloaded for Free.

Nadeem is the Editor of The Market Oracle, a FREE Daily Financial Markets Analysis & Forecasting online publication that presents in-depth analysis from over 1000 experienced analysts on a range of views of the probable direction of the financial markets, thus enabling our readers to arrive at an informed opinion on future market direction. http://www.marketoracle.co.uk
Disclaimer: The above is a matter of opinion provided for general information purposes only and is not intended as investment advice. Information and analysis above are derived from sources and utilising methods believed to be reliable, but we cannot accept responsibility for any trading losses you may incur as a result of this analysis. Individuals should consult with their personal financial advisors before engaging in any trading activities.
© 2005-2022 http://www.MarketOracle.co.uk - The Market Oracle is a FREE Daily Financial Markets Analysis & Forecasting online publication.

Only logged in users are allowed to post comments.
Register/ Log in