AI Tech Stocks Portfolio Updated Buying Levels and Zones Part 2 of 2
Companies
/
AI
Jan 03, 2022 - 04:21 PM GMT

Dear Reader
Happy Near Year!
This is the concluding part two of my extensive analysis on the state of the AI tech stocks highlighting several stocks trading at bargain basement levels despite the FOMO rally in the face of the countdown to Financial Crisis 2.0 during 2022.
Part 1 - 21st Dec 21 - AI Tech Stocks Portfolio Updated Buying Levels and Zones as Financial Crisis 2.0 Continues Brewing -
Contents:
Financial Crisis 2.0 Checklist
The China Syndrome
Stock Market Begins it's Year End Seasonal Santa Rally
Stock Market Trend Forecast Current State
INVESTING LESSON - BUYING VALUE
Peloton 35% CRASH a Lesson of What Happens When One Over Pays for a Loss Making Growth Stock
INVESTING LESSON - Give your Portfolio Some Breathing Space
INVESTING LESSON - Give your Portfolio Some Breathing Space
How Stagflation Effects Stocks
INTEL Bargain - 15.5% Discount Sale
Why Intel stock price dropped 15%?
FACEBOOK - 10% DIscount
IBM - 20% Discount
Amazon - 5% Discount
APPLE 4% Discount
AMD $136 on Route to $200
TSMC - $117
Microsoft $336
Google $2980, PE 28.7, EC 30.
Nvidia Leaves planet Earth - $299, PE of 106
Heads Up on NEW Potential Tech Stocks
AI Stocks Portfolio Updated Buying Levels
AI Stocks Buying Plan B
FREE TRADE the Perfect Stocks and Shares ISA?
FREE SHARE FROM FREETRADE
High Risk Stocks Brief
Crypto's 20% Discount Event
Bitcoin Trend
Palladium Brief
AI Tech Stocks Portfolio Updated Buying Levels and Zones as Financial Crisis 2.0 Continues Brewing
The whole of which was first been made available to Patrons who support my work. So for immediate first access to ALL of my analysis and trend forecasts then do consider becoming a Patron by supporting my work for just $4 per month. https://www.patreon.com/Nadeem_Walayat.
And access to my latest analysis that updates the current status of my High Risk Bio and Tech Stocks portfolio.
High Risk Bio and Tech Stocks Portfolio Q4 2021 Update
Contents:
Exponential AI Mega-trend
INVESTING PRIORITY
Why Most Investors LOST Money by Investing in ARK FUNDS
ETF BUBBLE Primed to EXPLODE!
INVEST AND FORGET
BREWING FINANCIAL CRISIS 2.0 - RECESSION 2022
FED TAPER CON TRICK
CP LIE - INFLATION vs DEFLATION
UK Inflation Fraud - Real Inflation is 15%+
The 2% Inflation SCAM, Millions of Workers take the Red Pill
Why Inflation is Soaring
Flip Side High Inflation Winners
Warren Buffetts $130 billion Master Plan
STOCK MARKET CRASH INDICATOR
The Quantum Entangled Stock Market
Unloved Biotech Sector
High Risk Stocks Portfolio
COINBASE $247, Risk 1, P/E 19, +0%
TAKEDA $13.7 - Risk 1, PE 10, -19%
Western Digital $56.7, Risk 2, PE 13, -2%
ABBV $132, Risk 2, PE Ratio 11, 4% Dividend, +24%
CORSAIR $21.7 - Risk 3, PE 11, -26%
Neurocrine Bioscience (NBIX) $84, PE 18, Risk 3
ALI BLAH BLAH BABA (9988) $120, PE 17.2, Risk 3
TENCENT TCEHY (0700) $57, PE 19, Risk 4, -9%
RBLX $95. Risk 6, +7%
CRISPR $74, PE 15.3, RIsk 6, -39%
AVIR P/E 30.5 , Risk 9, -71%
APM $1.88, -37%
ACCUMULATING
AI Stocks Portfolio
Limit Orders
Best Stock Investing Platforms
CRYPTO BRIEF
OMICRON a Fuss About NOTHING
Also access to my recent in-depth analysis that acts as an early warning of the increasing risks of market panic event!
STOCK MARKET CRASH / BEAR INDICATOR TRIGGERED - 103.4% vs 100% = Switched ON!
What is the CI18?
CI18 Trigger Feb 2020
Existing Stock Market Trend Forecast
Stock Market VIX
Stock Market December Trend
OMICRON THE STRAW THAT BROKE THE CAMELS BACK!
MUTED SANTA RALLY
The Alibaba Stock Market
ARKK Garbage
Stocks Bear Market of 2022 May Have Started EARLY!
Facebook $301 Buying level achieved.
Recession 2022
Quantum AI Tech Stocks Portfolio
Crypto FLASH CRASH Early Christmas Present
Also access to my extensive analysis on how to capitalise on the metaverse. Best Stocks To Profit From the $1+ Trillion Emerging Metaverse Mega-trend
Contents:
VR and Gaming Becomes the Metaverse
A Video Message from Your Metaverse Analyst
PRIMARY META-VERSE STOCKS
QUANTUM AI METAVERSE STOCKS
METAVERSE STOCKS UNIVERSE
Google Glass a Big Fat FAIL
META (Facebook) Dominating VR
APPLE AR Headset Coming 2022
ROBLOX - High Risk
TENCENT- Chinese High Risk GAMING
XXXXXX - CAD - $254 RISK - 3 OUT OF 10
XXXXXX - RISK 3 OUT OF 10.
XXXXXX NEW LIFE FOR AGEING GAMING GIANT? RISK 2 OUT OF 10
XXXXXX - DIGITIZING THE REAL WORLD - RISK 8 OUT OF 10
INTEL Black Friday Sale!
IBM The REAL Quantum Metaverse STOCK!
NVIDIA THE KING OF THE METAVERSE!
XXXXX
AI Stocks Portfolio Current State
AI Stocks - What's Cheap
AI Stocks - What's far value
AI Stocks - What's expensive?
Stock Market Trend Forecast Current State
Current State of Cathy Wood ARKK Garbage
RIVIAN IPO Illustrates We are in the Mother of all Stock Bubbles
DECENTRALAND
SANDBOX
How to Get Rich in the MetaVerse
Bitcoin Trend Analysis
Crypto Current Portfolio
Covid19 Winter Storm Fuel for Financial Crisis 2.0
OMICRON - The 'Oh Dear' Worst Ever Covid Strain?
Consequences for the Stock Markets?
Financial Crisis 2.0 Current State - TAPERING
Financial Crisis 2.0 Stock Market Bubble Investing Strategy
Why You Should Not Fear a 50% Draw down in Your Stocks Portfolio
What's driving asset price inflation?
Inflation Forecasting a Recession In 2022
UK Inflation Hits 30 year High of 6%
UK Energy Customers Falling into Energy Firms Fixed Rate Tariffs Trap
Fin tech Stock - NEW STOCK
STOCK MARKET TREND FORECAST FOR 2022
With my current analysis in the works to conclude in a detailed stock market trend forecast for 2022 that I aim to complete this week.
And here's a reminder of my stock market trend forecast for 2021 which is set against the Dow's year end close of 36,338.
9th Feb 2021 Dow Stock Market Trend Forecast 2021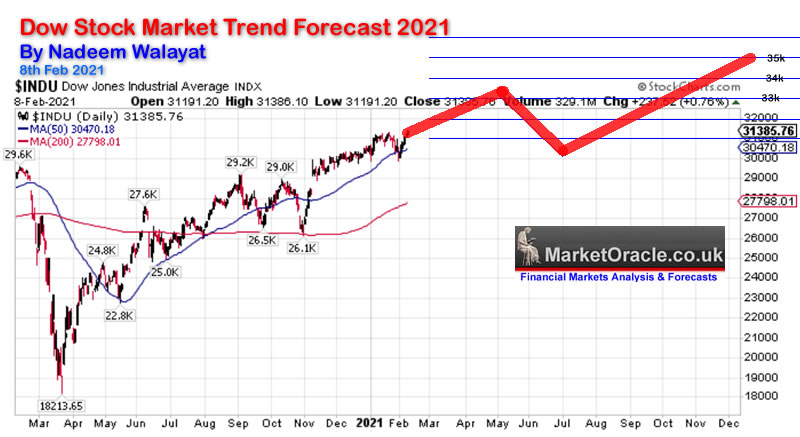 Revised in Mid September to -
Stock Market FOMO Hits September Brick Wall - Dow Trend Forecast Sept 2021 to May 2022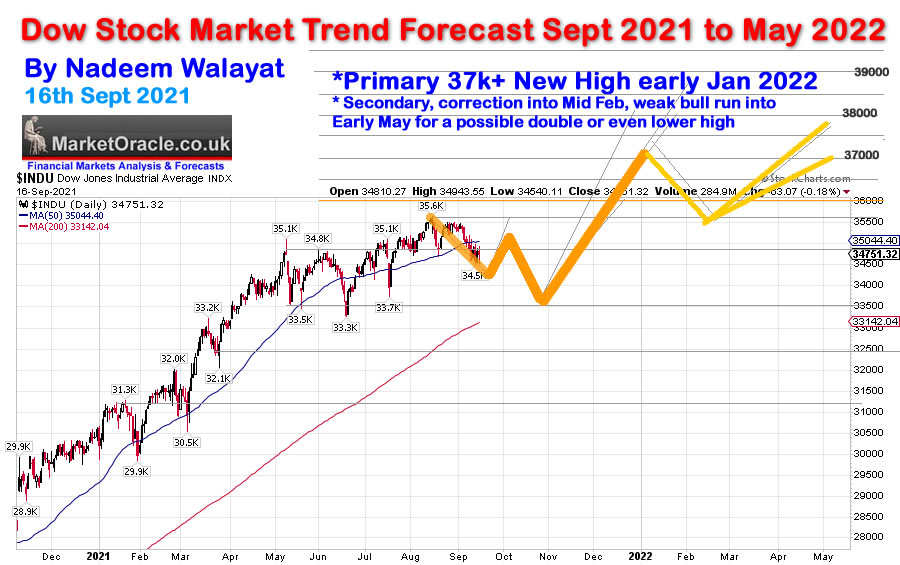 With the most recent revision currently open to Patrons only.
So for immediate first access to ALL of my analysis and trend forecasts then do consider becoming a Patron by supporting my work for just $4 per month. https://www.patreon.com/Nadeem_Walayat.
Note: The information provided in this article is solely to enable you to make your own investment decisions and does not constitute a personal investment recommendation or personalised advice.
TSMC - $117
PE 29.9, has been stuck in a tight trading range for virtually the whole of 2021 at between $125 and $108. Therefore I am raising the buying level to an achievable $109.5.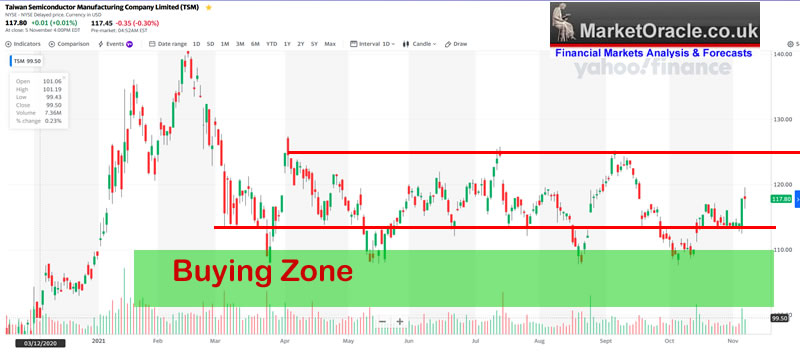 Microsoft $336
The stock is firing on ALL cylinders by delivering the best earnings report of the lot! So I am increasing the buying the level to $282 with a plan to buy back limited exposure in the range of $310 to $302 so that my portfolio does not remain devoid of Microsoft.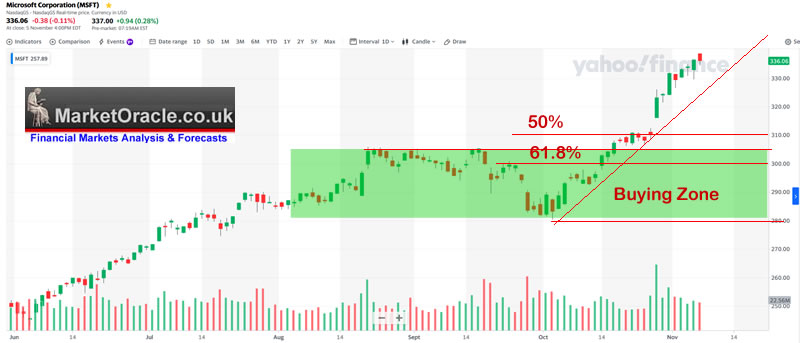 Microsoft Insiders - Buying for at $0 (options) and then selling all day long, 416,000 sold over the past 3 months. A lot of sell orders took place at $303 as the management keeps milking this cash cow as though they think the price they are getting is too good to be true! Though Microsoft does tend to buy a small amount of shares so overall not a huge impact on shareholders.

Google $2980, PE 28.7, EC 30.
Earnings 2nd best to Microsoft. Though it is higher risk due to despite all the AI noise remains a one trick pony at heart i.e. an advertising company. So in light of earnings I am raising the buying level a little to $2675 with no firm plans to buy ay more right now.
Google Insiders - Buy / Sell ratio 48%. Buying at $0 cost and then going on to sell at above $2800.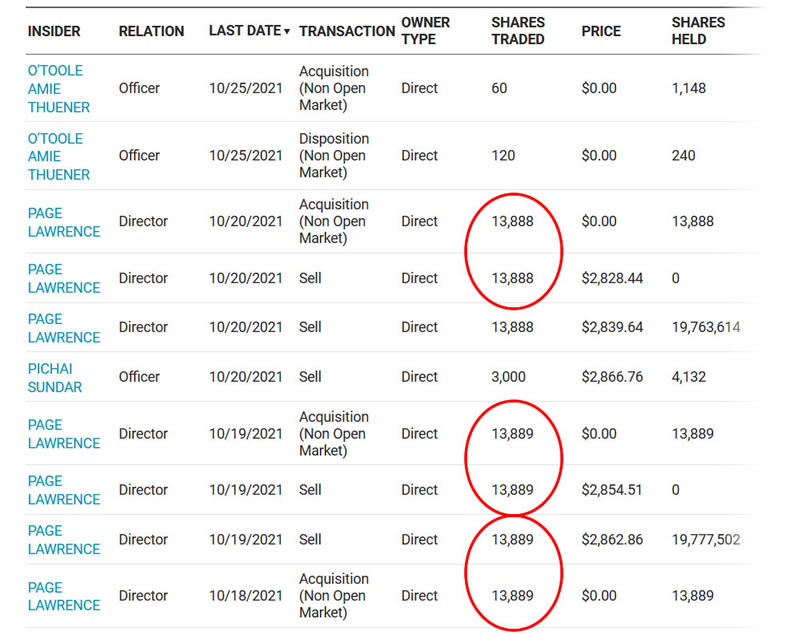 Insiders selling all day long.

Nvidia Leaves planet Earth - $299, PE of 106.
NVIDIA has left planet earth and is off to god knows what destination, probably thinks it's Tesla 2.0, how long before we see CEO Jensen Huang announce plans for an Nvidia space rocket to low earth orbit?
I cannot invest in stocks that have lost touch with reality. Ridiculously over valued. I'm going to leave the buying level at $154 for now. I suspect Nvidia is heading for a 50% crash. But that may just be wishful thinking on my part. Prints shares but not to the extent of AMD. IF Nvidia misses its earnings on 17th November the stock is going to crash.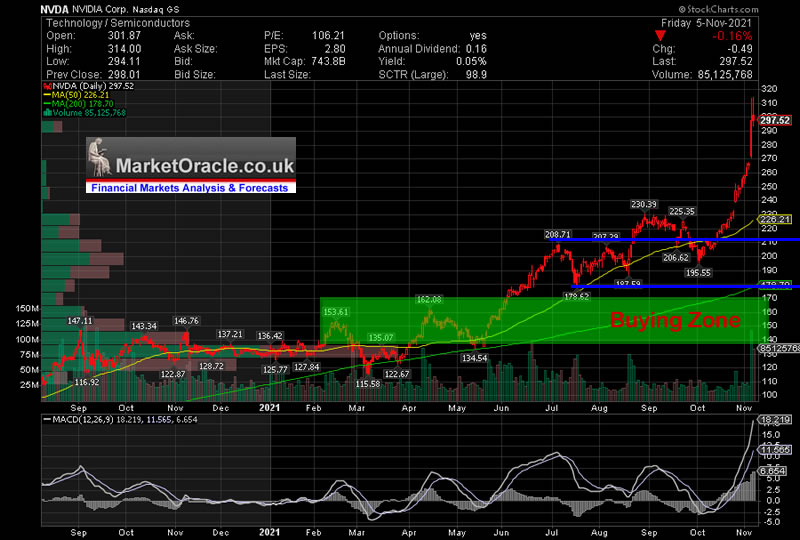 (Charts courtesy of stockcharts.com)
Heads Up on NEW Potential Tech Stocks
Qualcom $163, PE 20, Div 1.67%
A chip designer that appears dirt cheap when compared against it's brethren, the likes of Nvidia and AMD. The stock soared on earnings report posted on November 3rd with revenues up 43.7% Y/Y , EPS beating expectations 2.55 to 2.26 with the management expecting similar growth for Q1 2022.
But still the stock is only up 12% on the year, I will likely make my first buy of this flying under the radar AMD / Nvidia clone at the start of the week even if it trades higher beyond it's recent high and then look to accumulate the bulk of a position during a pull back into the buying zone that could be in some months time.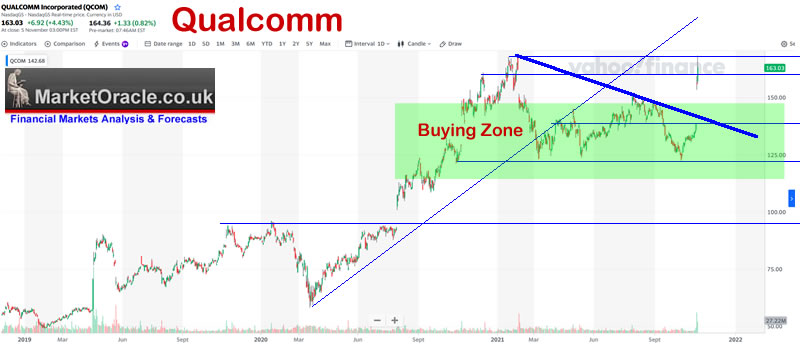 The bottom line is I look at what Nvidia and AMD did when they broke higher and well, there is no reason why Qualcom cannot do the same given that it is trading at just 20X earnings vs AMD on X58 and Nvidia on X106.
ASML - $877, PE 53.65, Div 0.4%
During the 1990's the Japanese dominated the semiconductor Lithography space, then Europe's electronics giant Phillips in conjunction with local universities gave birth to what would come to be known as ASML that has since dominated the sector, a stock which currently has a defacto monopoly without which NONE of the chip giants can produce any semiconductors.
Price chart wise there is no nearby opportunity to accumulate into ASML right now so the stock is one to keep ones eye on..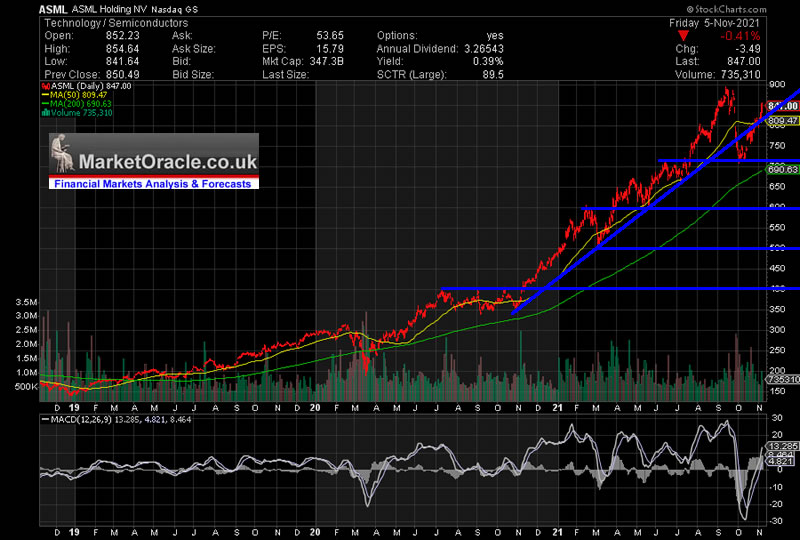 AI Stocks Portfolio Updated Buying Levels
Here is the updated AI stocks portfolio with revised buying levels following release of corporate earnings results for most stocks.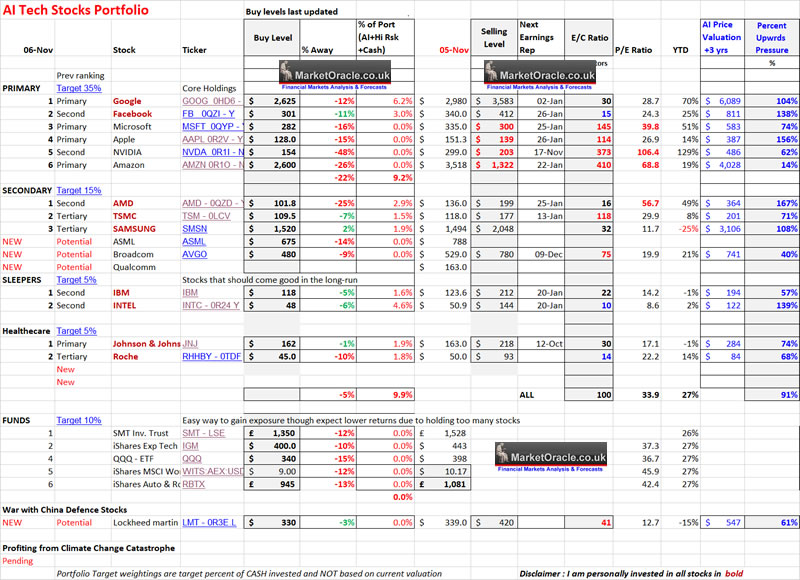 Large Version - http://www.marketoracle.co.uk/images/2021/Nov/AI-Stocks-NW-Portfolio-5th-Niov-big.jpg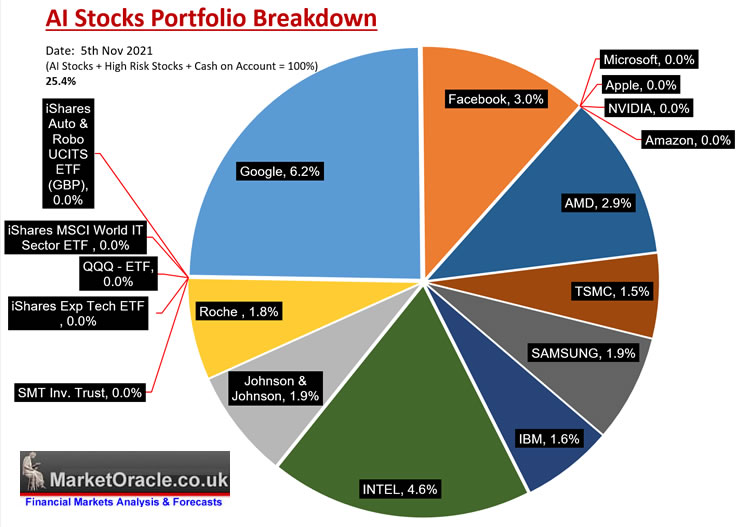 AI Stocks Buying Plan B
I want to buy Apple and Microsoft but so far the over valuations have prevented me from biting the bullet and buying my usual investment sized positions i.e. at least 1% of total portfolio at a time. So it's time for plan B by utilising the likes Etorro, scaling into micro positions, by placing nearby limit orders likely to be filled so a position can be initiated and built to limited degree. where Etorro and it's kind are great for that because there are no trading FEEs! So one can accumulate a position gradually, just as I am doing with the crypto.
However, the lack of trading fee's and the buying of fractional shares is also one of the reasons why I have refrained from using such services to date because the Etorro platform is NOT an investing platform it is an TRADING platform. It encourages short-terms trading, buying and selling the net result is one is invested in nothing, just constantly spinning ones wheels,.that and the platform encourages the use of CFD's i.e. to short stocks.
So Etorro is not a good investment platform and it is highly probable that all of the stocks I am gradually accumulating on the platform will be sold within a few short months time rather than investing for multiple years.
Still this gives me breathing space to wait for the better opportunities whilst in the meantime accumulating a limited position in the likes of Apple and Microsoft whilst adding a little more Intel along the way and buying Facebook towards the upper end of my price range.
I will likely to also initiate a positron in Qualcom this week because it appears to be on the cusps of breaking higher.
Where my regular investing positions are concerned, I am aiming to buy Apple at around $130, Facebook at around $310, additional Intel at around $48, LMT at around $326 and Qualcom should it dip to down towards $140..
High Risk Stocks Brief
My long standing buy limit on WDC was finally triggered at $50, and I have no plans to add to my high risk stocks portfolio at this time, with a full update due during late December.
Crypto's 20% Discount Event
The morning of Thursday 23rd October saw a mini crypto crash generated an alt coins buying opportunity of typically 20\%. though it could only really be capitalised upon via limit orders already in place.
The Squid Game Crypto Currency barely launched 2 weeks ago to cash in the fame of the South Korean hit TV show soared by 44,000% from a launch price of $0.01 to over $2000 as it pulled in lemmings by their thousands FOMO-ing to the MOON! Only one problem NO ONE but the developers COULD SELL! It is reported that it briefly even touched $2,861 only to within minutes crash to near zero at 9.30am on the 1st of Nov, to just $0.00008. An out and out SCAM from START to FINISH. POOOF a crypto with a market cap $7 billion instantly lost all of it's value, rug pulled by the developers. A lesson to all of the lurking fate out there for may crypto's! To NOT get carried away, and understand the final destination for ALL crypto's could be ZERO!
So my strategy is to buy at as deep a discount as possible to the PRECEDING bull markets high for it is at that price when crypto's will start to attract the retail flows and then gradually intensifying into FOMO greater fools, luckily most crypto's are STILL trading well below their last bull highs so we still have time to accumulate.

Thursdays approx 20% drop was great timing, got me filled on many nearby limits across the crypto spectrum which lifted my crypto portfolio to an overall 18.4%, where I would be content to settle at 50% of the amount I had originally allocated to crypto's as it looks like I am going to end up holding very little Bitcoin and probably no Ethereum unless there are more spikes lower. My portfolio currently stands at 22.8% invested of the target $ amount, with Arweave already X10ing from my first buys during July up from $7 to $80 with my plan to exit half at around $199 for about x30, on route to it's final target destination of $500. These are still early days as we have yet to see Bitcoin double, so a reminder, Bitcoin first THEN the real alt coin mania begins.
Bitcoin Trend
Firstly Bitcoin is in a bull market and any spikes / corrections lower are living on borrowed time so my strategy regardless of trend expectations is to accumulate some crypto every day and where I view any corrections / spikes lowers as a bonus. So bare that in mind I view all downswings as being temporary. However crypto's are very volatile, i.e. the Bitcoin price could easily spike lower by 20% which should not be taken as a sign of weakness but an opportunity to accumulate.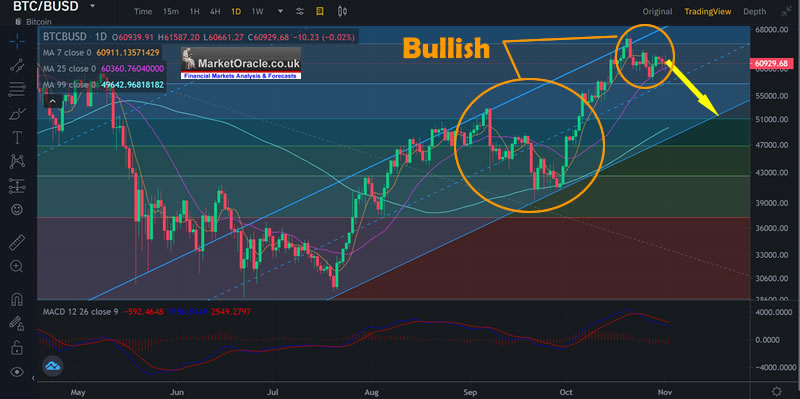 In terms of trend it is difficult to forecast lower prices, all one can do is have limit orders in place at significant support levels ranging to no more than 20% distant whilst at the same time accumulating a little every other day as that is the nature of the beast, it wants to keep people who are wanting to buy on the sidelines waiting for lower prices that fail to materialised until the give up in frustration and FOMO towards the end of its bull runs. Which is why one should becareful of bearish projections / expectations as the outcome is more likely to be a bullish breakout higher.
As a reminder my bull market expectations are for the Bitcoin price to DOUBLE by around March 2022. So with the price currently trading at $61k then it is likely to be trading at north of $70k a month from now hence why I an accumulating a little bitcoin every other day, as well as retaining mined earnings that brings my total Bitcoin position to 2.3% of my original $ target.
Whilst Bitcoin strength will be good news for prospective buyers of alt coins as a strong Bitcoin bull run will act like a black hole sucking capital out of other crypto's to feed it's huge market cap as speculators will be FOMO-ing into BTC as I suggested would happen in my last in-depth analysis. Thus we should get several more buying opportunities in the target Alt coins that could trade down by 20% or more over the coming weeks..
LATEST - Bitcoin Price has spiked to $65k, eying a resumption of it's bull run which 'should' deliver an Alt coins buying opportunity of sorts.
Binance for 10% discount on trading fees - Discount Code LZ728VLZ.
For managing your crypto's see Coinbase ,
For GPU mining check out Nicehash (affiliate links).
Palladium Brief
Palladium has crashed by 1/3rd from a high of $3000 in early May to $2000 today. The price chart looks like it could be heading towards making a bear market bottom soon between $1750 and $1500 with the low probably nearest to $1600, following which I would expect a bull market to eventually take the Palladium price back to new highs north of $3000.
My analysis schedule includes:
Stock Market Trend Forecast 2022
How to Get Rich! - 90% done - This is a good 6 month work in progress nearing completion.
UK House Prices Trend Analysis, including an update for the US and a quick look at Canada and China - 65% done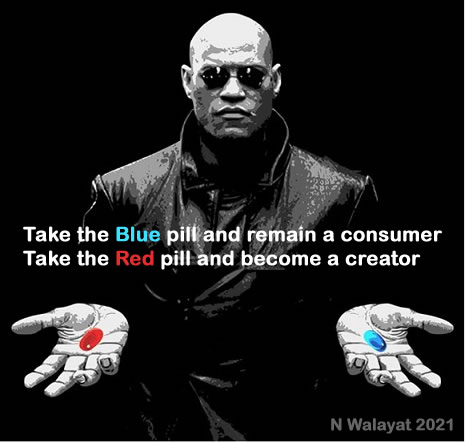 US Dollar and British Pound analysis
Gold Price Trend Analysis - 10%
Again for immediate access to all my work do consider becoming a Patron by supporting my work for just $4 per month. https://www.patreon.com/Nadeem_Walayat.
Your metaverse investing analyst wishing all a happy and prosperous new year.
By Nadeem Walayat
Copyright © 2005-2021 Marketoracle.co.uk (Market Oracle Ltd). All rights reserved.
Nadeem Walayat has over 30 years experience of trading derivatives, portfolio management and analysing the financial markets, including one of few who both anticipated and Beat the 1987 Crash. Nadeem's forward looking analysis focuses on UK inflation, economy, interest rates and housing market. He is the author of five ebook's in the The Inflation Mega-Trend and Stocks Stealth Bull Market series that can be downloaded for Free.

Nadeem is the Editor of The Market Oracle, a FREE Daily Financial Markets Analysis & Forecasting online publication that presents in-depth analysis from over 1000 experienced analysts on a range of views of the probable direction of the financial markets, thus enabling our readers to arrive at an informed opinion on future market direction. http://www.marketoracle.co.uk
Disclaimer: The above is a matter of opinion provided for general information purposes only and is not intended as investment advice. Information and analysis above are derived from sources and utilising methods believed to be reliable, but we cannot accept responsibility for any trading losses you may incur as a result of this analysis. Individuals should consult with their personal financial advisors before engaging in any trading activities.
© 2005-2022 http://www.MarketOracle.co.uk - The Market Oracle is a FREE Daily Financial Markets Analysis & Forecasting online publication.

Only logged in users are allowed to post comments.
Register/ Log in