Best Metaverse Tech Stocks Investing for 2022 and Beyond
Companies
/
Metaverse
Jan 14, 2022 - 08:15 PM GMT

Dear Reader
This is part 2 of 3 of my truly extensive analysis on how to profit form the emerging metaverse. Part 1 - Investing in the METAVERSE Stocks Universe
The whole of which was first made available to Patrons who support my work.
Best Stocks To Profit From the $1+ Trillion Emerging Metaverse Mega-trend
Contents:
VR and Gaming Becomes the Metaverse
A Video Message from Your Metaverse Analyst
PRIMARY META-VERSE STOCKS
QUANTUM AI METAVERSE STOCKS
METAVERSE STOCKS UNIVERSE
Google Glass a Big Fat FAIL
META (Facebook) Dominating VR
APPLE AR Headset Coming 2022
ROBLOX - High Risk
TENCENT- Chinese High Risk GAMING
AUTODESK (ADSK) - CAD - $254 RISK - 3 OUT OF 10
UNITY (U) - RISK 3 OUT OF 10.
SONY - NEW LIFE FOR AGEING GAMING GIANT? RISK 2 OUT OF 10
MATTERPORT (MTTR) - DIGITIZING THE REAL WORLD - RISK 8 OUT OF 10
INTEL Black Friday Sale!
IBM The REAL Quantum Metaverse STOCK!
NVIDIA THE KING OF THE METAVERSE!
CISCO
AI Stocks Portfolio Current State
AI Stocks - What's Cheap
AI Stocks - What's far value
AI Stocks - What's expensive?
Stock Market Trend Forecast Current State
Current State of Cathy Wood ARKK Garbage
RIVIAN IPO Illustrates We are in the Mother of all Stock Bubbles
DECENTRALAND
SANDBOX
How to Get Rich in the MetaVerse
Bitcoin Trend Analysis
Crypto Current Portfolio
Covid19 Winter Storm Fuel for Financial Crisis 2.0
OMICRON - The 'Oh Dear' Worst Ever Covid Strain?
Consequences for the Stock Markets?
Financial Crisis 2.0 Current State - TAPERING
Financial Crisis 2.0 Stock Market Bubble Investing Strategy
Why You Should Not Fear a 50% Draw down in Your Stocks Portfolio
What's driving asset price inflation?
Inflation Forecasting a Recession In 2022
UK Inflation Hits 30 year High of 6%
UK Energy Customers Falling into Energy Firms Fixed Rate Tariffs Trap
Fin tech Stock - Global Payments Inc.
So for immediate first access to ALL of my analysis and trend forecasts then do consider becoming a Patron by supporting my work for just $4 per month. https://www.patreon.com/Nadeem_Walayat.
And access to my latest compressive analysis on how to successfully invest in stocks during 2022 and beyond.
HOW TO SUCCESSFULLY INVEST IN STOCKS During 2022 and Beyond
CONTENTS:
1. UNDERSTAND WHAT INVESTING IS
2. INVEST IN GOOD COMPANIES
3. UNDERSTAND THAT WHICH ONE IS INVESTING IN
4. STOCK PRICES
5. EARNINGS CATCHUP TRADING RANGE TREND PATTERN
6. EMOTIONAL INVESTING
7. MONITORING AND LIMITING EXPOSURE IS MOST IMPORTANT
8. BUY AND SELL on the Basis of VALUATIONS
9. INVESTORS BIGGEST MISTAKE
10. BEST TIME TO BUY STOCKS
11. WORST TIME TO BUY STOCKS
12. BUY VOLATILITY
13. INVESTING TIME
14. FUND MANAGERS
15. OPTIONS
16 . INFLATION
17. INVEST AND FOREGET
AI Tech Stocks Draw down and End of Year 2022 Price Targets
CATHY WOOD ARK GARBAGE
Also access to my recent analysis that updates the current status of my High Risk Bio and Tech Stocks portfolio.
High Risk Bio and Tech Stocks Portfolio Q4 2021 Update
Contents:
Exponential AI Mega-trend
INVESTING PRIORITY
Why Most Investors LOST Money by Investing in ARK FUNDS
ETF BUBBLE Primed to EXPLODE!
INVEST AND FORGET
BREWING FINANCIAL CRISIS 2.0 - RECESSION 2022
FED TAPER CON TRICK
CP LIE - INFLATION vs DEFLATION
UK Inflation Fraud - Real Inflation is 15%+
The 2% Inflation SCAM, Millions of Workers take the Red Pill
Why Inflation is Soaring
Flip Side High Inflation Winners
Warren Buffetts $130 billion Master Plan
STOCK MARKET CRASH INDICATOR
The Quantum Entangled Stock Market
Unloved Biotech Sector
High Risk Stocks Portfolio
COINBASE $247, Risk 1, P/E 19, +0%
TAKEDA $13.7 - Risk 1, PE 10, -19%
Western Digital $56.7, Risk 2, PE 13, -2%
ABBV $132, Risk 2, PE Ratio 11, 4% Dividend, +24%
CORSAIR $21.7 - Risk 3, PE 11, -26%
Neurocrine Bioscience (NBIX) $84, PE 18, Risk 3
ALI BLAH BLAH BABA (9988) $120, PE 17.2, Risk 3
TENCENT TCEHY (0700) $57, PE 19, Risk 4, -9%
RBLX $95. Risk 6, +7%
CRISPR $74, PE 15.3, RIsk 6, -39%
AVIR P/E 30.5 , Risk 9, -71%
APM $1.88, -37%
ACCUMULATING
AI Stocks Portfolio
Limit Orders
Best Stock Investing Platforms
CRYPTO BRIEF
OMICRON a Fuss About NOTHING
Also access to my recent in-depth analysis that acts as an early warning of the increasing risks of market panic event!
STOCK MARKET CRASH / BEAR INDICATOR TRIGGERED - 103.4% vs 100% = Switched ON!
What is the CI18?
CI18 Trigger Feb 2020
Existing Stock Market Trend Forecast
Stock Market VIX
Stock Market December Trend
OMICRON THE STRAW THAT BROKE THE CAMELS BACK!
MUTED SANTA RALLY
The Alibaba Stock Market
ARKK Garbage
Stocks Bear Market of 2022 May Have Started EARLY!
Facebook $301 Buying level achieved.
Recession 2022
Quantum AI Tech Stocks Portfolio
Crypto FLASH CRASH Early Christmas Present
STOCK MARKET TREND FORECAST FOR 2022
With my current analysis in the works to conclude in a detailed stock market trend forecast for 2022 that I aim to complete within a week.
And here's a reminder of my stock market trend forecast for 2021 which is set against the Dow's year end close of 36,338.
9th Feb 2021 Dow Stock Market Trend Forecast 2021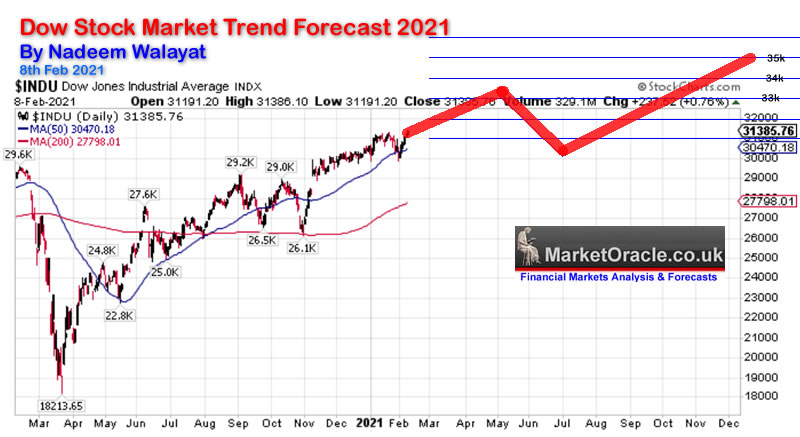 Revised in Mid September to -
Stock Market FOMO Hits September Brick Wall - Dow Trend Forecast Sept 2021 to May 2022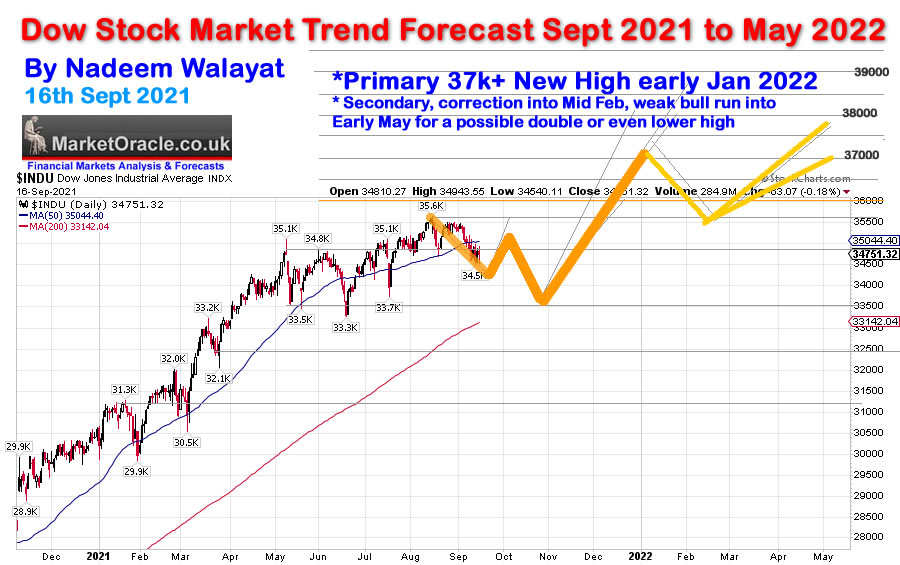 And then came the warning from Stock Market Crash / Bear Neural Net (CI18) of 6th Dec, warning to skew stock market expectations lower. Remember CI18 is a weighting tool / indicator and not a trading signal, i.e. after the signal is triggered it is up to me to determine the downwards trend implications and so i revised my stock market trend forecast a lower to expect a year end close of near Dow 36,000 ahead of a deeper mew year sell off.
STOCK MARKET CRASH / BEAR INDICATOR TRIGGERED - 103.4% vs 100% = Switched ON!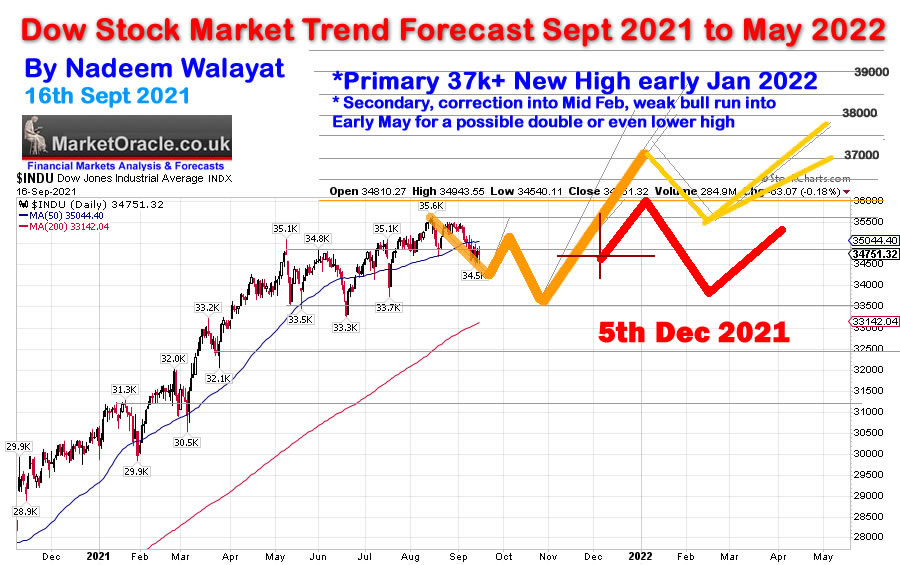 Which brings us to the present with the Dow trading lower off an early year new all time high, but as expected most of the downside action is taking place in the tech giants due to the valuation reset in progress which should deliver several good buying opportunities during much of 2022 that we received a small taste of on Monday, that saw Google trade down to $2662, and being the lucky bugger that I am I bought half a Google at $2667, posting my trade live in the comments section ON my last post on Monday. "Bought a small amount of Google (fractional share) at $2667 ahead of buying level of $2625.". LUCKY!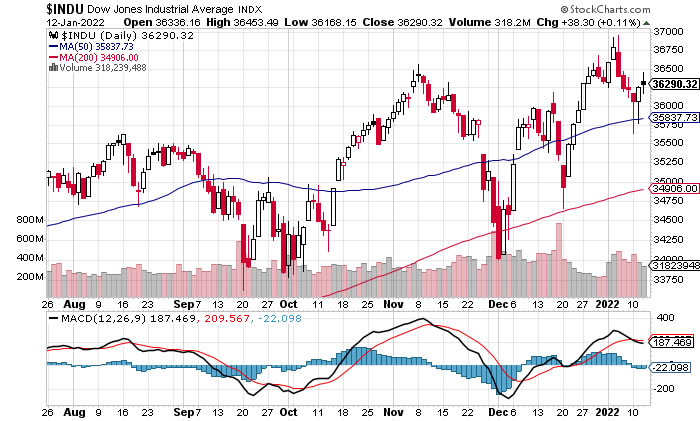 (Charts courtesy of stockcharts.com)
The over valued tech giants are lead the markets lower whilst under / even fairly valued stocks are not only withstanding the sell off but actually rising, such as IBM, INTEL and LMT amongst many others, much as I have been flagging to expect to happen for several months, a pattern that is likely to repeat for much of 2022 where we see GOOD over valued stocks take a plunge just as we have seen, only to be met by buy the dippers who push the prices back up in advance of the next wave of selling to result in a choppy volatile year which is one of the primary focuses of my stock market trend analysis for 2022 to try and determine the magnitude of the intra-year draw downs for each of the AI tech stocks for better buys.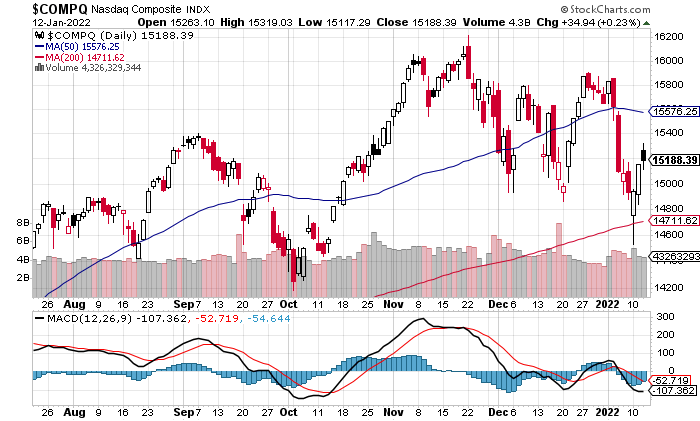 And as for where we currently stand, I would be very wary of any rallies by reminding all of my existing analysis and trend forecast that paint a picture for at least a bearish January and beyond, the trend for which I will cover in a few short days time.
So for immediate first access to ALL of my analysis and trend forecasts then do consider becoming a Patron by supporting my work for just $4 per month. https://www.patreon.com/Nadeem_Walayat.
Note: The information provided in this article is solely to enable you to make your own investment decisions and does not constitute a personal investment recommendation or personalised advice.
METAVERSE STOCKS UNIVERSE
Here's an indication of the wide spread spread and breadth of potential metaverse stocks which is as near as infinite as the number of virtual worlds that will soon be generated. IBM? How is IBM a metaverse stock?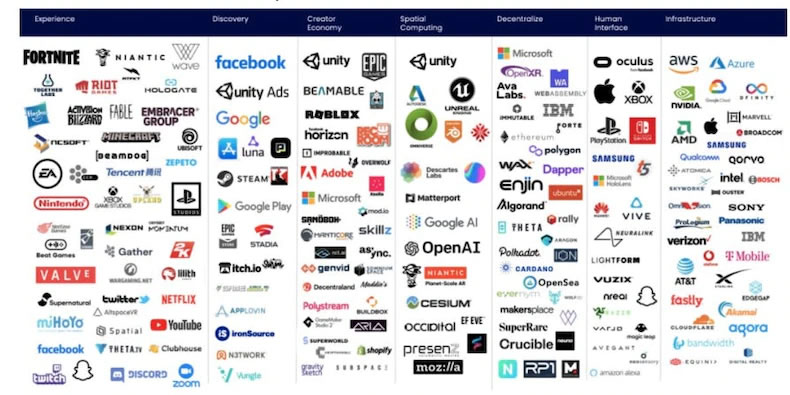 When I look across at the Top 4 AI tech stocks 2 are hitting the nail on the head and 2 have so far missed the boat. Apple and Google have nothing to show. Whilst here is a closer look at 5 existing and 4 new potential meta-verse stocks to see if there are any opportunities to accumulate.
Google Glass a Big Fat FAIL
I am really disappointed with Google given that they were ahead of the curve some 8 years ago with Google Glass, but then effectively put it it all onto the back burner with nothing much heard of since 2019. So it looks like Google could have blown it as they were really on the cusps of producing something that could have been huge but after 5 years of trying to make it work it appears the technology was just not good enough at the time and it looks like they gave up, maybe they are still quietly working on Google Glass in the depths of Google Labs to one day make a big reveal?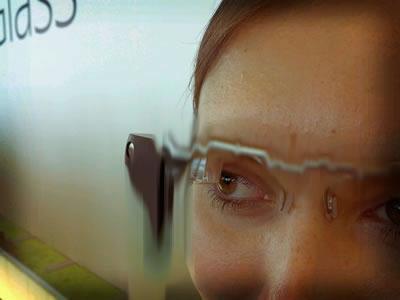 Trying to find signs of life reveals that Google bought a Canadian AR glasses startup NORTH in mid 2020, so we may finally see a working version of Google Glass during 2022 to give competition to Apple and Facebook who are also working on AR headsets.
In terms of the stock price, my buying level is at $2625 and I actually sold 2/5ths of my Google holding on Monday 22nd November which now means Intel is my largest holdings. Why did I sell? We'll It's a one trick pony, adsense. So far I am not seeing the other investments paying off big time, though youtube continues to grow share of earnings. Though many creators are hedging their bets / livelihoods by also posting their content elsewhere as youtube is increasingly becoming averse to posting any controversial material on their platform such as anything negative about the covid vaccinations that immediately results content removal, warnings and threats of channel deletion. I expect this trend to continue for youtube to be continually watered down so as to avoid attracting regulatory interest.

if Google fell to it's buying level of $2625 I would buy that which I just sold, and if it fell to $2100 I would buy a lot more! Presently looks like correcting down towards it's buying level. It's PE at 28 is not overly expensive in historic terms i.e. tends to range between 36 and 23.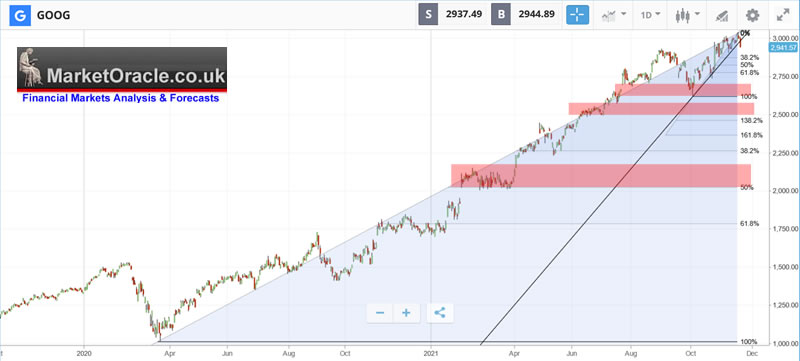 The bottom line is Google is primary so I expect it to come roaring back into AIR with a new version of Google Glass.
META (Facebook) Dominating VR
I won't regurgitate that which has already been blasted across the airwaves during the past few weeks since Zuckerberg's announcement so I will dive straight into the stock chart.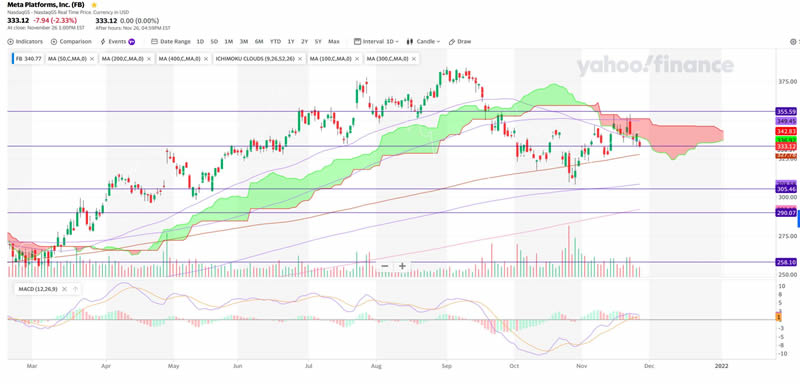 As I covered in my last analysis (AI Tech Stocks Portfolio Updated Buying Levels and Zones as Financial Crisis 2.0 Continues Brewing) it looks like Zuckerberg's relentless continuous selling of his huge META stock holdings means Santa could give META a miss this year, I am not seeing signs of a Santa rally in fact Santa may finally deliver me my $301 buying level present though as I said before I would be looking to buy additional exposure to META at between $302 and $313, which is looking a lot more probable now than a even a week ago, so I will continue to patiently bide my time for my next buy in the $302-$313 zone, and I have a string of limit orders BELOW $300 at $292, $272 in case of a market panic event. Though META on a relative basis is cheap on a PE of 24 when compared to the other big AI tech stocks.
APPLE AR Headset Coming 2022
Apple has been working on an augmented reality goggles headset for several years and there are rumours that this will make it to market during late 2022 as Apple attempts to play catchup to the success of Facebook's Oculus headsets likely built around Apples M1 processors rather than be tethered to either an Apple Mac or Iphone so is likely to be expensive when compared to the Quest headsets, probably priced at at least £999, near triple the usable Quest that costs £399 and it could be priced a lot higher than that, maybe as high as £2000!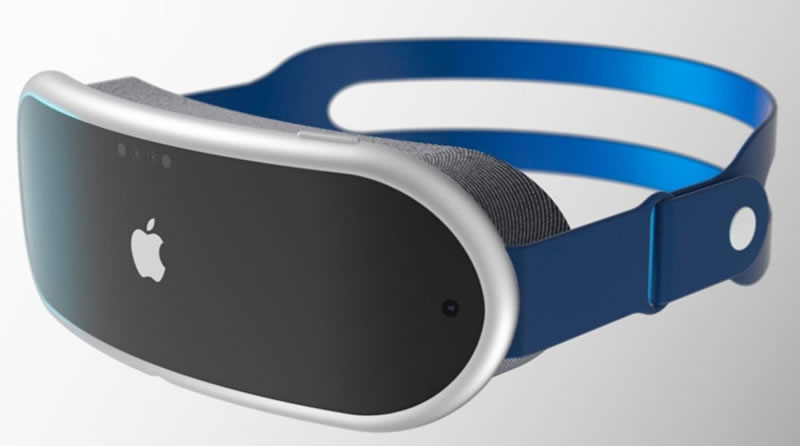 And along with the Apple headset will come the Apple virtual worlds, direct competition for all of the other virtual worlds. This should act as a wake up call to Google to get their skates on with a marketable version of Google Glass.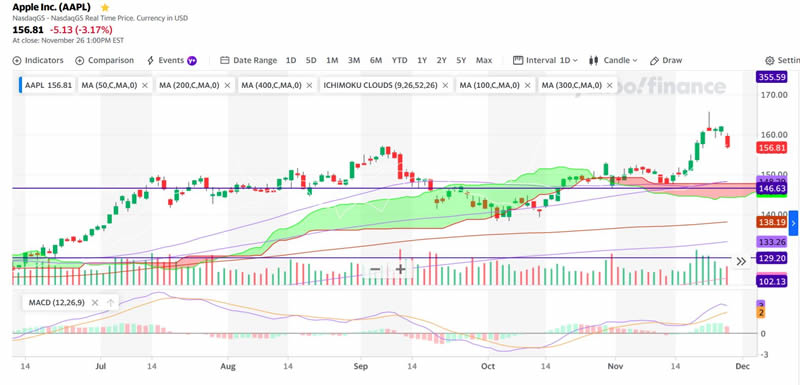 Like Facebook, Apple stock despite the recent surge higher is not overly expensive trading on a PE of 28, NOT cheap but not overly expensive. Whilst my buying level is at $128 which remains my primary buying level. However as I mentioned previously I am seeking to accumulate a small position in advance of better opportunities probably in the range of $140 down to $153 so that I have some exposure given that Apple looks set to join the META gold rush during late 2022. The stock price looks like it could correct down to between $146-$141. Though Apple tends to buy back a lot of stock so continuous upwards pressure on the stock price.
ROBLOX - High Risk
As you know after dumping 80% of my AI stocks portfolio during the summer months I went on a high risk stocks buying spree, where ROBLOX was at the top of that list along with Western Digital and Corsair given the importance of GAMING, of which the 'metaverse. is a subdivision of. For if it is not already clear, the metaverse's are basically online gaming environments. UNFORTUNATELY, to date I have bought NO ROBLOX, for the reason that I deem the stock to be a lot higher risk than either Corsair or WDC given that it is along way from making any profits. The stock has soared to $125 on the back of Facebook's metaverse announcement and improving financials, though still makes a loss. The stock is trading on an eye watering Market cap of $64bn! That's on annual sales of $1.6 billion.
However the key metric to focus on is the number of monthly users where I am not seeing much growth during the past 3 quarters, though it looks like Roblox tends to get a spike in new users in the final quarter of the year, so Q4 should see a jump in paying users.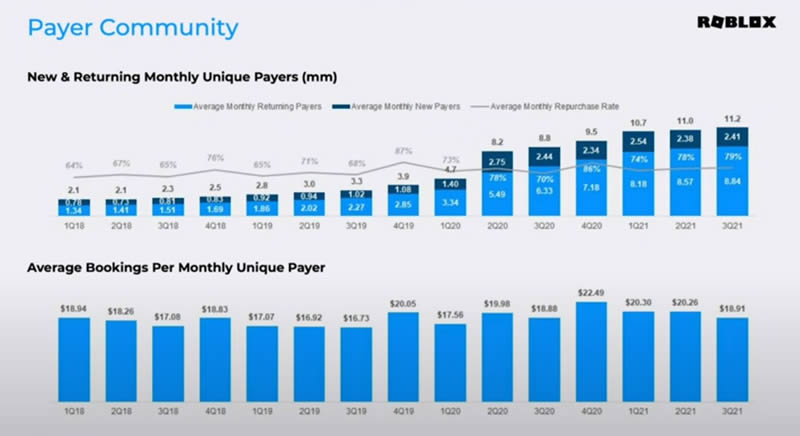 Roblox reported losses of $134 million for the 9 months to Sept 30th on sales of $1.6 billion. However hidden away in their accounts is the fact Roblox are rampant stock printers, the management awarded themselves $222 million in shares! Against $30 million for the same period last year. Whilst share holders were diluted to the tune of 460 million new shares. There's nothing much appealing to an investor in the financials which explains why I have yet to buy.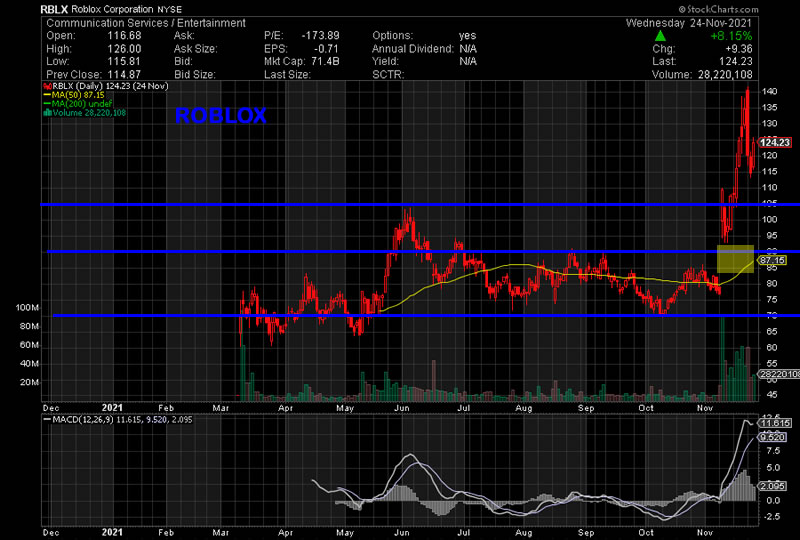 What stands out from the stock chart is -
a. Breakout to new highs above $104.
b. There is a large gap on the chart between $83 and $93 and gaps tend to eventually get filled.
c. Strong Support in the zone of $67 to $80.
The bottom line is Roblox is definitely a high risk stock, they are printing a lot of new shares, so a lot of shareholder dilution is going on at the moment, and likely for some years to come which means there should be plenty of opportunities to buy Roblox in the future for all it takes is one earnings miss and Roblox will be back to well below $100. So I remain in no rush to buy Roblox and definitely not anywhere near the current price of $124. Instead I would seek to buy a small stake on a retracement back to well below $100, perhaps to fill the gap down to at least $80, and likely a deeper retracement than that. My existing buying level for Roblox is $65 which I am now raising to $80 which is the approx price I will be seeking to gain first exposure to Roblox. Though remember folks THIS IS a HIGH RISK STOCK! It could both DOUBLE and HALF with ease.
TENCENT- Chinese High Risk GAMING
Tencent, China's gaming giant's stock price has collapsed under the weight of the communist dictatorships enthusiasm to control the minds of China's masses. They don't want workers to 'waste' time playing video games when they can be busy building skyscrapers even 'ghost' cities that few will ever live in that are already fast crumbling into dust. Still Tencent gives on exposure to potentially hundreds of millions of chinese gamers who are even more eager to seek escape from a totalitarian state into the virtual freedom of virtual worlds.
The financials for Tencent are neither great nor bad, as the corporations' earnings are suffering in response to CCP mafia style interference, demanding their VIG or the corporation will be put up against a wall and SHOT as some have been. Despite this the long-term trend trajectory of the corporations financials appear good i.e. extract short-term noise and look at the big picture and we are are going to see a doubling in revenues and profits over the next 3-4 years which should resolve in at least a doubling in the stock price. The current PE of 20 is the lowest the stocks traded at for at least 5 years so the stock is cheap.
Tencent is one of my 3 chinese high risk tech stocks. where it's long standing buying level since I first introduced this stock back in Mid July is $57 (AI Predicts AI Tech Stock Price Valuations into 2024, Time to Buy Chinese Tech Stocks?), which is where I personally bought the stock many months ago. and as you can see from the price chart as far as buying levels go, $57 has proven to be a remarkably useful indicatory price to accumulate at for the long-run. The stock price has literally attempted to form a base at around the $57 level by trading in a range of between $56 and $66.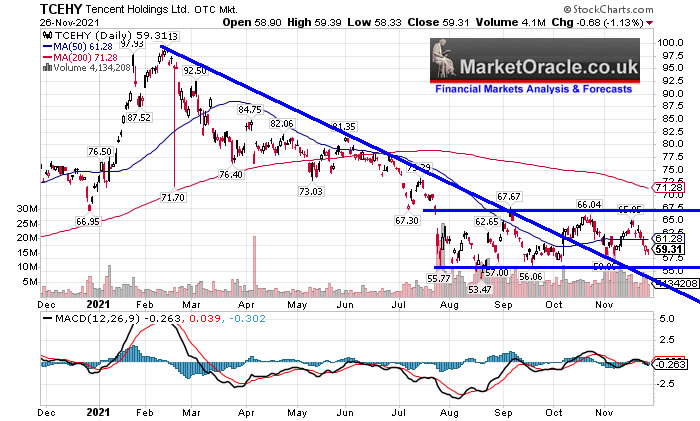 Personally, I am already exposed to Tencent and see no reason for me to to add more right now, maybe if it fell to it's 2nd buying level of $47 I would consider adding more.
The bottom line is that in a universe of expensive stocks, this one is fairly priced, yes that is because of the CCP risk so not to go over board with but the stock should do fine in the long-run where the metaverse is just another revenue stream for Tencent to capitalise upon. So I am not in the slightest bit worried of what happens over the coming weeks or months i.e. if it fell below it's current trading range to the next level of $47 would just mean the stocks become cheaper still.
Next 4 NEW SCREENED Metaverse Stocks that I will be adding to my High Risks Stocks portfolio at the next update in late December.
REMEMBER HIGH RISK STOCKS ARE -
1. VOLATILE, expect price swings of 30%+ as the norm.
2. FOR THE LONG RUN - At least 5 years! So no crying if they fall by 1/3rd a few weeks after buying for that is the nature of the beast!
AUTODESK (ADSK) - CAD - $254 RISK - 3 OUT OF 10
Auto desk has been kicking around for literally decades, long before the internet become a thing with it's autocad software that has since mushroomed into over 100 design software packages so as the VR hardware advances then so will the demand for software to design and construct the metaverse's where Auto desk has decades head start on any startups. In terms of financials the companies revenues are growing at a rate of about 20% per annum so doubling sales roughly every 4 years. Trades on a lofty PE of 53, with decent EPS growth of 28%. Though on a high market cap of $56 billion but on the plus side the balance sheet shows a slight reduction in the number of outstanding shares, down form 222 million in 2017 to 219.8 million at the start of 2021. So they don't appear to be a serial shares printer.
The stock chart shows that Autodesk just experienced a sharp drop as the market disliked their latest earnings report for whatever reason.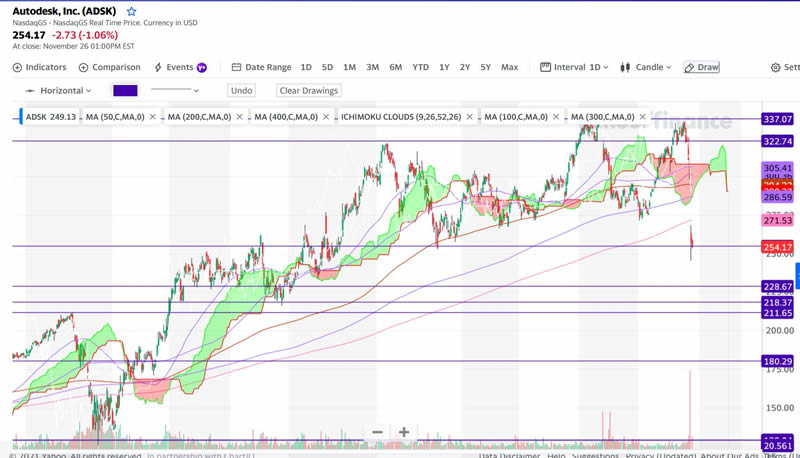 Clearly he stock is not going to resume it's bull run to new all time highs any time soon. Nevertheless the stock is trading at support at $254, and below which there exists significant support at between $210 and $220 which should seek to halt any further significant decline. Thus there appears to be an opportunity to accumulate one of the key relatively lower risk METAVERSE stocks at much better valuations than has been the case for the whole of 2021. So I will be looking to buy a SMALL initial at around $250 and seek to accumulate on any trend down to $220, say at $245, $232 and $220. In terms of buying levels, Buy 1 would be at $250 and Buy 2 would be at $236.
UNITY (U) - RISK 3 OUT OF 10.
Unity is the leading platform for creating virtual games with titles including Pokemon Go and Angry Birds. If or rather when I venture down the yellow brick road of creating my own virtual world it is very highly likely that I will be doing it using Unity because it is FREE! Powerful free software means that Unity already has huge market share as HALF of ALL of the games are made with Unity..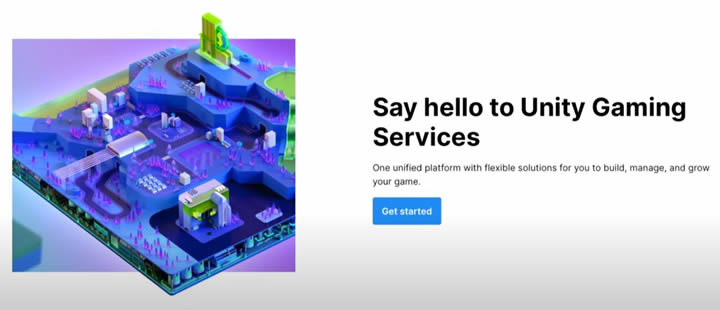 Unity financials -Market Cap $51bn. No P/E as the company made a small Q3 loss of -0.41 per share, less than half that of a year ago (-$0.97). Whilst revenue grew by 43% for the year to $286mln, expect losses to continue for at least another full year which will likely be accompanied by shareholder dilution.
The stock price has had a roller coaster ride since it's IPO soared to a high of $176 before losing more than half it's value to $76, only to sow the seeds for a bull run to new highs courtesy of META. The stock is currently bouncing off support at $172 and it is not clear if that support will hold. The stock is overbought and could replicate a move similar to Jan to June though target a higher high at between $130 and $143.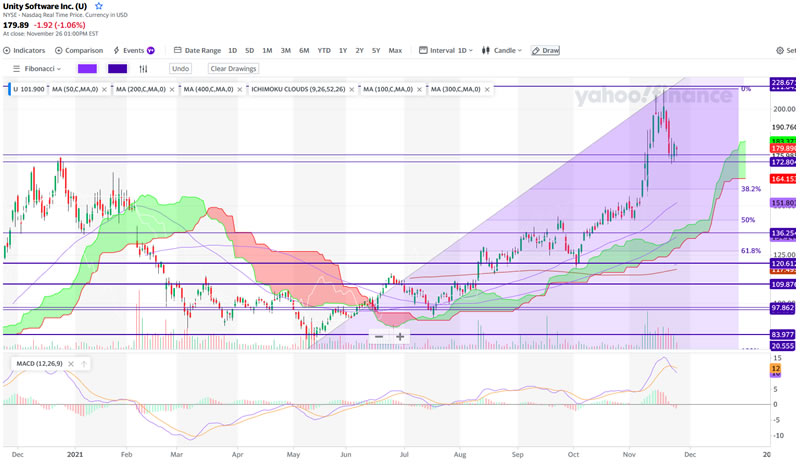 Unity is one stock that I definitely do want to hold but maybe seek to buy exposure if / when it enters the $120 to $143 range. Therefore I would put the first buying level at $135 and the second buying level at $122 as the stock is not cheap and highly volatile so has a high probability of delivering such opportunities once the META dust dies down.
SONY - NEW LIFE FOR AGEING GAMING GIANT? RISK 2 OUT OF 10
I often get asked by Patrons to take a look at Sony, so finally the metaverse may give a reason to own SONY. The problem I have with Sony is that it is a mish mash of divisions from gaming that we want to invest in then there is Sony Pictures and Sony consumer electronics that took a big hit due to the Pandemic. Sony Music which also tends to do well, Sony financials? No not crypto's, just another bolt on, a bit like when the US automakers thought they were banks. Gaming is where the action is at but it only accounts for about 30% of Sony's revenues. Trades on a PE of 18.5, pays a small dividend of 0.34%, Expected EPS of 11% so it's hardly going to do an Nvidia or a Microsoft. On the plus side it does buy back 'some' shares every now and then so no share holder dilution in recent years. It's basically a safe stock if bought at the right price and that right price would be at about 15X earnings. Current price is $121 divided by 18.5 X 15 = $98, so lets see if $98 is possible.
The stock trends, so it's not a sleeping giant, the buying area that sticks out is $98, which so happens to match X15 earnings. So Sony could be a long-term buy at $98, but nothing spectacular, remember we are in a bubble and X18.5 is as good as it gets for Sony! . Next below that would be $85 or 13X earnings.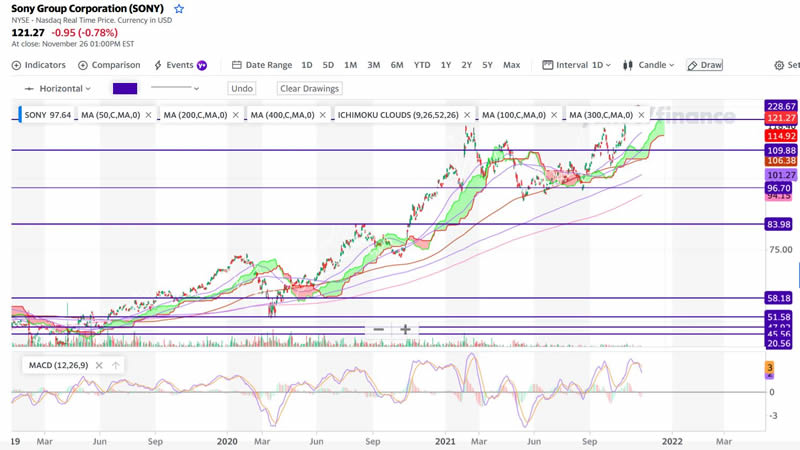 Would I invest in Sony?
I am not feeling excited by Sony, yes they will capitalise on the metaverse to some degree but the company is too diverse. movies, music, games, financial services, tv's. But the stock price does trend! So it's got some prospects of doing well over the several years. Maybe one should wait for much lower prices say something like $85. The stock would be much more appealing if it paid a decent dividend say around 3% as then one could invest and forget and bank the dividends over the next 10 years, whilst waiting for that mania FOMO spike. So I may consider Sony at $85.
MATTERPORT (MTTR) - DIGITIZING THE REAL WORLD - RISK 8 OUT OF 10
And lastly MATTERPORT that digitises the real world via it's Pro2 3D camera's by turning image data into 3d models. Of specific interest is that it holds 38 patents and 28 pending patterns in the digitisation of the real world space which is going to make it tough for new entrants to deploy similar systems without having to enter into a licence agreement with Matterport. Matterport is a small cap very high risk stock i.e. Q3 revenue was just $27, 7 million, accompanied with a net loss of $14 million or negative EPS of $0.06. However the numbers mean diddly squat right now for we are looking out across brave new virtual worlds towards which Matterport looks set to play it's pivotal role where for me the key metrics right now are market cap $6.6bn, and shareholder dilution for which it is early days but I strongly suspect they will print a lot of shares in early years at least, which means it's best to bide ones time than to FOMO.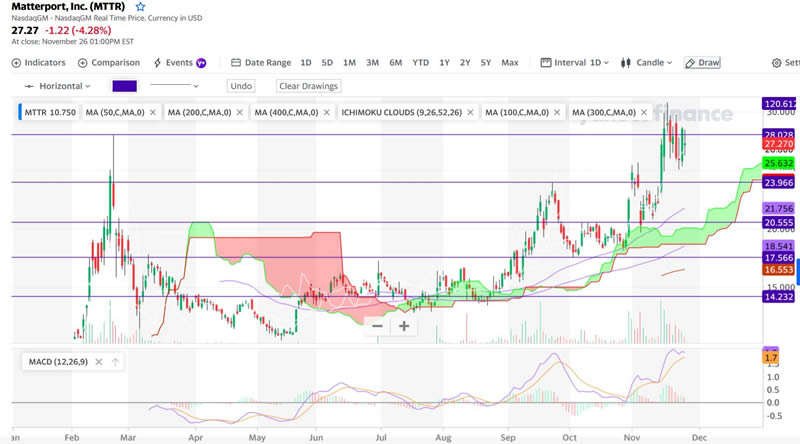 This recently IPO' d stock is very volatile, i.e. swings of 33% are the norm, which is good for it offers an opportunity to pick up exposure at far lower levels. Technically the stock could range down to support at $20.5, and I would be looking to pick up limited exposure for the long run at between $17.5 and $20.5, the next level down would be to accumulate at around $14.50. And again this last stock on my META list is VERY HIGH RISK i.e. I give it a risk rating of 8 out of 10 where 10 is the highest. But it is a risk that i would be willing to take especially as the more I research the company the more appealing it becomes for instance it is working an 3d cloud platform for android so anyone with their own 3D cameras can digitise their environment. And Matterport is working with Facebook on developing virtual worlds. The stock has massive potential but along with that there is also a high risk that it could go kaput!
The bottom line is if one is already invested in the AI mega-trend stocks and some of the higher risk tech stocks then one already has strong exposure to the Metaverse mega-trend where the four additions act as icing on the meta-verse cake.
INTEL Black Friday Sale!
You know it's the right time to buy a good stock when it's stock price has been beaten down to a pulp and virtually every analyst, 97% according to one patron say it's a BAD stock to be invested in, Of course I don't give a fig about what other analysts say as virtually all are on someone's payroll and rarely put their money where their mouths are, I know Intel is a good stock and trading at a good price / valuation and hence I TRIPLED my holding and will buy more on any further declines due to clueless analysts following the herd by all delivering very similar reports on Intel..
INTEL is CHEAP! But when a stock is cheap people don't want to buy because there is no FOMO! Instead they focus on desperately trying to jump on board the next over priced, over hyped titanic as it hurtles towards an ice-berg such as Nvidia which I so happen to be short of with positions initiated between $306 to $323 as I am getting in some early shorting practice as I imagine I will be shorting a lot of stocks during 2022.
INTEL is a Metaverse stock, for there aren't many corporations out there that actually MAKE the chips and where Intel's big idea is to go and copy TSMC to become the US version of the Taiwanese company by producing chips on demand for design houses such as Nvidia and AMD.
Who knows! Maybe one of the tek giant's out there is wondering if they can successfully launch a takeover bid of Intel given given it's cheap valuation, Google? Apple? Amazon maybe? I would not be surprised if there was a surprise bid for Intel.
Intel 12th Gen Alderlake is GOOD, 13th Gen will be better! And then we have all of the chips yet to be launched the server and high end desktop processors to take on the likes of AMD's threadripper's and I not even mentioning Intel's DG2 mobile GPU's.
Intel's stock price is currently trading at just below $49. The stock price chart shows very heavy support in the $44 to $48 range so I am not seeing much downside as the stock price could bottom at any point between $44 to $48 which remains my long standing buying level.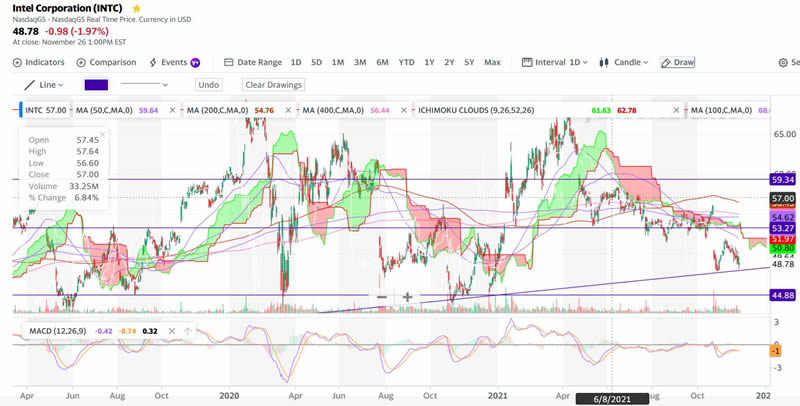 Anyway INTEL is cheap! where the market is NOT discounting any of the tricks up it's sleeve as most are focused on the death of X86. See a lesson to ALL! You have to KNOW the company you are investing in else you won't understand where it is heading. The earnings reports only really tell you what's happened in the past NOT where the company is headed several years down the road..
IBM The REAL Quantum Metaverse STOCK!
IBM is another sleeping tech giant that the so called the analysts are clueless about.
What comes to mind when you think of IBM ?
It's stock price chart ?
Logo?
What comes to my mind is a quantum computer and then the 2001 Space Oddessy movie Monolith. If you have not watched the movie then watch it even though it is over 50 years old.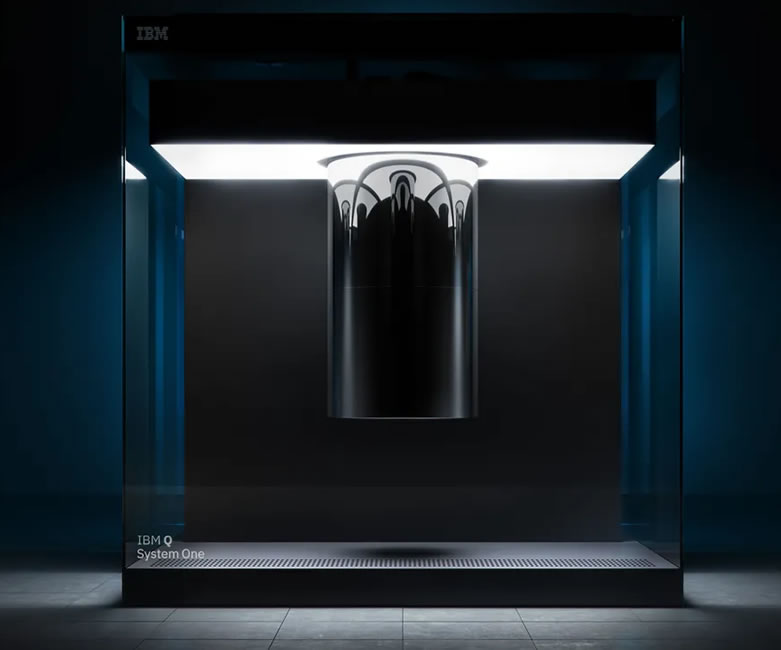 We waste too much time and effort focused on crumbs and peanuts, what the likes of IBM, Intel and most of the other AI tech stocks to varying degrees are heralding is something much more profound, a glimpse at the true nature of reality, time, space and INFORMATION.
At this point we can only throw out random guesses at the glimmers of understanding contained within Quantum Mechanics that is telling us that the true nature of reality is NOT what we perceive it to be! We are on the cusps of a revolution greater than Newton, Greater than Einstein for it will reshape our whole understanding of Physics! Does Matter even exist? Is Time an illusion? We re all going to become Alice's falling down the quantum rabbit hole.
And this is not just true on the smallest scale for peer out to the centre of our galaxy to the monster that lies at its core which periodically shoots out galaxy wide jets of high energy particles stripping and sterilising billions of planets in it's wake. That monster is Sagittarius A* that is Quantum in nature outside of the scope of General Relativity that breaks down into a singularity which cannot exist in nature.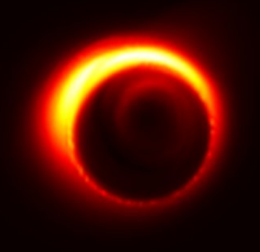 And that is why I am invested in IBM, and don't give diddly squat for what the stock price does for IBM and its like IS where the ACTION is at, at the very core of the QUANTUM AI MEGA-TREND! Just as those who knew what Intel was doing in 1972 with the 4004 did not give a fig about what the stock price did , whether it went up or now by 10%, 15%, or 20%.
So if the stock price falls. I will buy and the more it falls the more will buy!
Because what they are building is akin to the 2001 monolith, few understand what it means, but many will look back in some years time and wonder why they did not invest in IBM when is trading at perhaps 1/20th of it's future price!
AI coupled with Quantum Computers are going to give is a glimpse into the true nature of reality and that is what I am investing in.
Now back down to earth for a look at the stock price.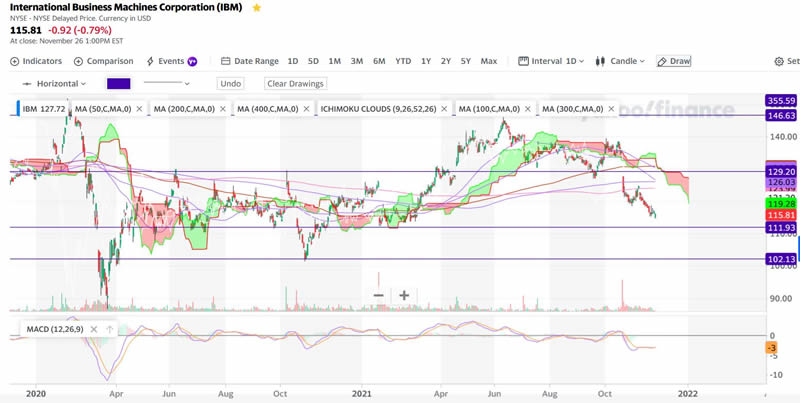 The stock just got cheaper for its Black Friday sale. My buying level for IBM is $118, which given the Kyndryl split ranges down to $112. The current stock price at $115 is trading smack bang in the middle of that range. The stock price has trended down towards the bottom end of it's $130 to $112 trading range following the October earnings gap down, $112 is a strong area of support. However should $112 break then IBM will likely next trend lower towards $102. I have bought a little more recently at $118 and will continue to buy as the stock price trends lower, though I don't envisage IBM becoming a huge position on par with that of Intel, perhaps keeping it at about 1/3rd that if Intel given it's lack of earnings, that and the stock does not have much upwards buying pressure (68%). So I am lowering the buying level slightly from $118 to $114.
NVIDIA THE KING OF THE METAVERSE!
The GPU King is fast branching out across the AI spectrum, targeting all with it's processing power form Cloud computing to Autonomous vehicles. But you have to PAY TOP DOLLAR for piece of the KING of the Metaverse! And what am I doing? I am SHORT Nvidia! Yikes, that could prove to be a short lived short (stop $352). BUY THE DIP, ANY DIP JUST BUY THE DIP AND THEN FORGET ABOUT IT! I need to practice what I preach where Nvidia is concerned, over thinking can be dangerous to ones portfolio!
The bottom line is virtually every tech stock on my list is a META-VERSE stock! I literally have to do nothing more than to be invested in the stocks on my list (yes I know I don't hold Microsoft, and Apple right now) to be invested in some of the best and safest exposure to Meta-verse stocks.
Heads up on the Next Big Tech Stocks Sector Media Obsession After Metaverse
AND just as today the market is obsessed with the Metaverse, tomorrow the next media obsession will likely be with the Internet of Things stocks,. and guess which stocks are likely to top that must have IOT list?
Microsoft
Apple
AMD
Amazon
Broadcom
Whilst there is one stock I have long contemplated but lacks the AI component to make onto my AI stocks list - CISCO, as a possible addition to my legacy stocks portfolio. Basically my legacy stocks portfolio has very low monitoring and the stocks enter and leave it at a glacial pace. Though is currently larger in size than my AI stocks portfolio 7.4% vs 6.2% of total assets.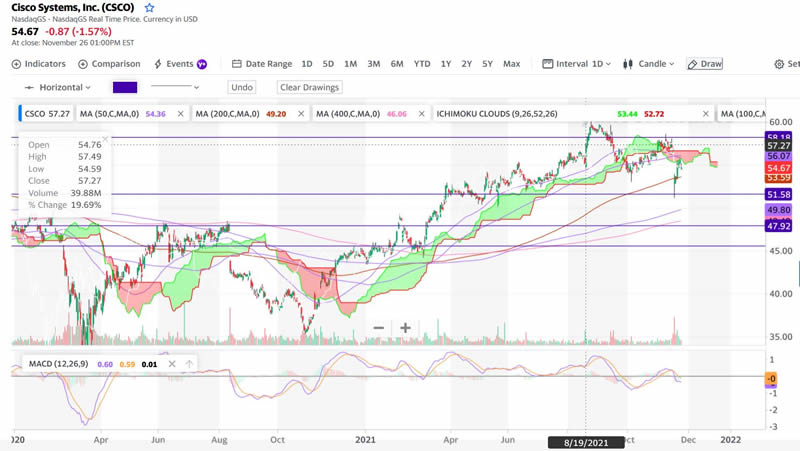 Cisco's current stock price is $54, PE ratio at 17 seems reasonable, earnings growth at 7% is slow, so it's akin to a sleeper somewhere between IBM and INTEL. Also pays a 2.7% dividend! If I were looking to buy I would be wanting to pay between X13 and X15 earnings so contemplating buying at between $45 and $48 for a long-term invest and forget stock that feeds the portfolio with a 2.7% dividend until the big pay off many years down the road. In many ways similar to Verizon though looking at the that stock Verizon is much cheaper right now trading on on PE of 9.8 and yielding a 4.95% dividend.
The rest of this analysis will follow in part 3. However the whole of which was first been made available to Patrons who support my work Best Stocks To Profit From the $1+ Trillion Emerging Metaverse Mega-trend
My analysis schedule includes:
Stock Market Trend Forecast 2022
How to Get Rich! - 90% done - This is a good 6 month work in progress nearing completion.
UK House Prices Trend Analysis, including an update for the US and a quick look at Canada and China - 65% done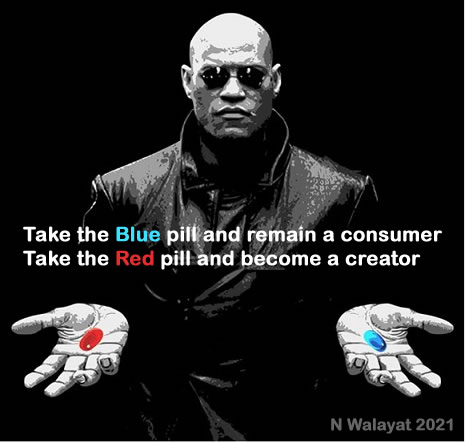 US Dollar and British Pound analysis
Gold Price Trend Analysis - 10%
Again for immediate access to all my work do consider becoming a Patron by supporting my work for just $4 per month. https://www.patreon.com/Nadeem_Walayat.
Your metaverse investing analyst wishing all a happy and prosperous new year.
By Nadeem Walayat
Copyright © 2005-2021 Marketoracle.co.uk (Market Oracle Ltd). All rights reserved.
Nadeem Walayat has over 30 years experience of trading derivatives, portfolio management and analysing the financial markets, including one of few who both anticipated and Beat the 1987 Crash. Nadeem's forward looking analysis focuses on UK inflation, economy, interest rates and housing market. He is the author of five ebook's in the The Inflation Mega-Trend and Stocks Stealth Bull Market series that can be downloaded for Free.

Nadeem is the Editor of The Market Oracle, a FREE Daily Financial Markets Analysis & Forecasting online publication that presents in-depth analysis from over 1000 experienced analysts on a range of views of the probable direction of the financial markets, thus enabling our readers to arrive at an informed opinion on future market direction. http://www.marketoracle.co.uk
Disclaimer: The above is a matter of opinion provided for general information purposes only and is not intended as investment advice. Information and analysis above are derived from sources and utilising methods believed to be reliable, but we cannot accept responsibility for any trading losses you may incur as a result of this analysis. Individuals should consult with their personal financial advisors before engaging in any trading activities.
© 2005-2022 http://www.MarketOracle.co.uk - The Market Oracle is a FREE Daily Financial Markets Analysis & Forecasting online publication.

Only logged in users are allowed to post comments.
Register/ Log in