The Spooky Mulder Stock Market - Best Shares Cash ISA for for Accumulating Cheap AI Tech Stocks
Stock-Markets
/
Tech Stocks
Apr 27, 2022 - 05:55 PM GMT

Stock market price action is proving X files style spooky, not in terms of big price movement but rather that it is spookily following my trend expectation as of late March, unfortunately this is NOT AI generated for if it were I could sit back and retire, this is Deem generated of the trend picture in my mind late March of how things could play out during April and into May. A chart is much better than just text which is open to misinterpretation.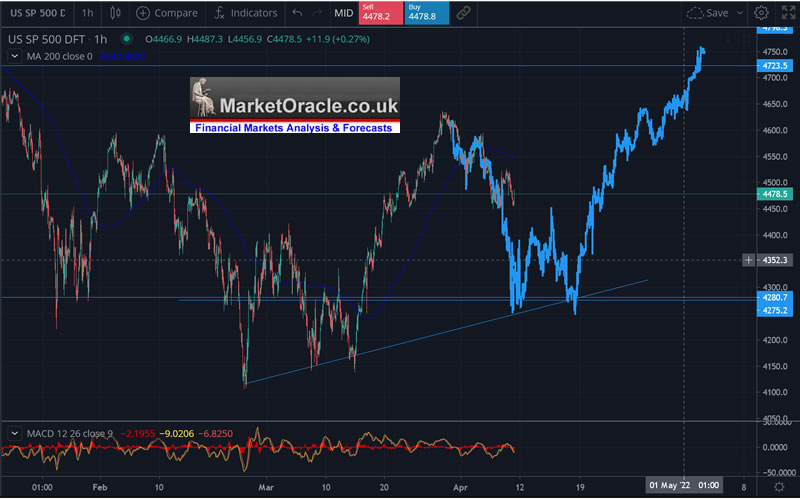 My expectations today remain the same as the chart illustrates in that I expect a higher low around Mid April for a sharp rally into early May for a lower high to the early January all time highs, which is also inline with my 5th December analysis beyond which I will need to do an in-depth analysis so as to clear away the mists of time.
AI Stocks Buying Levels - What's Cheap and What's Not
Here are the current states of my two public portfolios.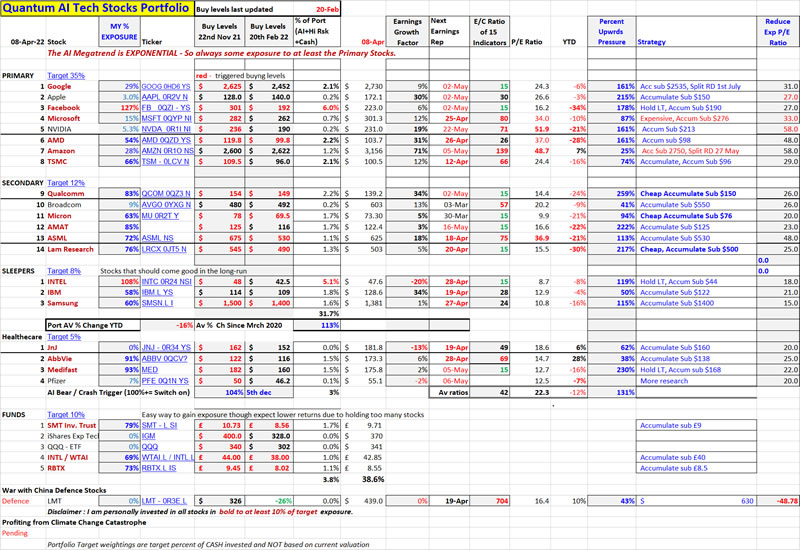 Big Image - https://www.marketoracle.co.uk/images/2022/Apr/NW-AI-techstock-APR-8-BIG.jpg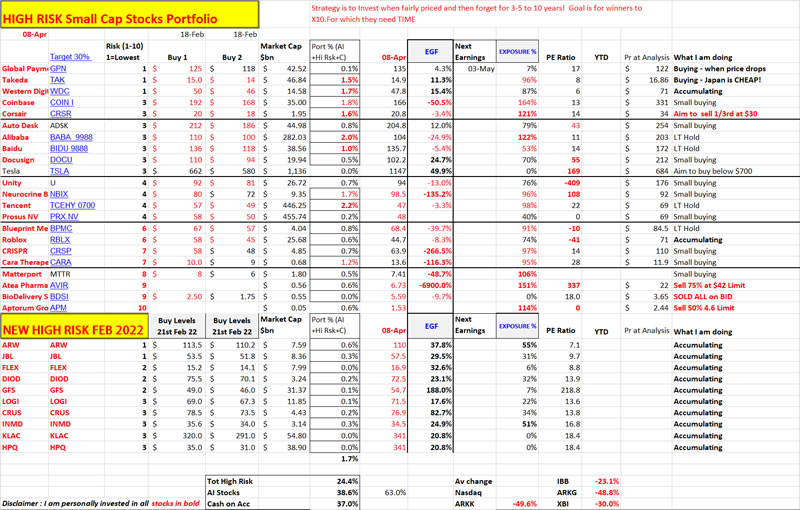 Big Image - https://www.marketoracle.co.uk/images/2022/Apr/NW-High-Risk-Stocks-APR-8-BIG.jpg
Some patrons have asked for an XL spread sheet version which I will look at in future updates.
Will Smith Slap in the Face DIRT CHEAP
QCOM - $137 - My next big buy is at $132, I have had a big buy limit order at $125 for eons, maybe it will finally get filled? Remember folks Qcom floated high at well above $155 for months as other stocks dived prompting several patrons to throw in the towel and buy, don't worry your buys will still eventually come good, it is just a lot cheaper to buy today than then.
CHEAP
AMD - $101 - Aim to buy big at $92, else small buys sub $99.
AMAT - 120 - I loaded up with more sub $118, next big buy is at $109, small sub $117.
APPLE - $170 - Small sub $150, Big $140 - While most eyes are on the iphone, I keep reminding myself of the M1 chips! With M2 48 core SOC's imminent so I need to get exposure to Apple but don't want to pay 28% earnings.
INTEL - $47 - A little more at $42.5, remember this is sleeping pending new chip fab's so long-run, so no crying if it does not budge much from current levels for some years.
FB - $223 - Add a little more below $200. It's going to take some years for the metaverse to become manifest but earnings are still growing well so I think we will see Facebook at $300 this year!
LRCX - $492 - Small sub $470, Big Sub $400. I am 76% invested so require deep discount to buy more.
IBM - $128 - Small sub $121, Big $114.
MED - $180 - Adding more below $168, but I am 93% invested.
GOOGLE - $2680 - I seek sub $2460 for big buys, Small sub $2532.
SO AND SO
MU - $72 - Small buys sub $70, big buy at $64
ADSK - $202 - Small sub $192
ASML - $611 - Small sub $596, Big $528
AMAZON - $3090 - Small Sub $2790, Big Sub $2600
Samsung - $1360 - Sub $1300.

EXPENSIVE
TSMC - $99 - Buying small sub $99, big at $91
AVGO - $587 - I seek sub $530
MSFT - $297 - I seek sub $270
NVIDIA - $231 - I seek sub $200. Not paying a penny more! Now 51X earnings, down from over 90X, just get to X40 and I will start accumulating.
GPN - $135 - I seek sub $120 for big buys, small sub $128.
ABBV - $175 - Has turned out to be a pocket rocket, though not surprised and why I am continuing to accumulate cheap pharma, Takeda, Medifast, INMD and so on. ABBV at above $140 is expensive.
JNJ $182 - Small sub $158, Big sub $136.
VERY EXPENSIVE
TESLA - $1025 - Short as of $1100, I am seeking sub $700 to buy any Tesla exposure, maybe I don't really get Tesla and Elon Musk? Is he the Tech Messiah or something?
Why Where the Bear Market WIll Bottom is Irrelevant
Everyone wants to know how low will the bear blow, it's what I often get asked and I always sigh each time because it means people are not listening to what I keep repeating. I see bear markets and CRASHES as TEMPORARY, Let's not complicate the picture with garbage stocks, but for good stocks, i.e. ALL in the AI stocks portfolio WILL RESOLVE TO NEW ALL TIME HIGHS! Even NVIDIA! EVEN FACEBOOK! That's my mindset and I find it difficult to put myself in the alternative mindset that fears lower stock prices and then FAIL to buy the deviations form the HIGHS in GOOD STOCKS.
The problem is most people focus on the indices which for me are an INDICATOR, rather than the STOCK MARKET.For one does not have the time to analyse say 50 stocks, so I pick an indicator for a rough picture for the direction of travel which is usually the DOW because that is what I have been analysing and trading for approaching 40 years!
So my PRIMARY FOCUS is to accumulative GOOD stocks at NEW lows just as I did for AMAT and QCOM during the past past week taking my exposure in these stocks respectively to 85% and 83% invested of target position.
THE TORNADO STOCKS BEAR MARKET
Folks the stock market earnings clocks is tick tocking away, unlike most I take what the mainstream financial press reports with a mountain of salt, the I see the likes of CNBC as a clown show. I don't even trust the ratios they propagate such as the PE Ratio because there are so ,many errors in public data, they just don't care about getting things right, hence why many Patrons could not understand why I was seeing GPN in November as being far better than Paypal, it's because the public data on GPN's PE ratio was wrong and STILL IS some 5 months on! It's 17 not 41 ! Go google GPN stock. How the hell can they the have any clue what they are investing in if their data is WRONG! But it's good for you and me for get to buy GOOD stocks such as GPN all whilst the fools fomo'd into the like of paypal.
So just take this as a cautionary tale that the earnings clock is quietly ticking in the background for at least the good stocks, which is why I don't waste TIME when it comes accumulating as and when opportunities arise.
So ask yourselves right now what would be worse for you? A 10% drop or if the stock market went soaring off to new all time highs.
For me, it would definitely be if Mr Market decided that all of the recession noise is total BS and took off like a rocket leaving all in dust behind scratching their heads as to what the hell is going one, as even though I have bought a lot (doubled my exposure to AI stocks) I am still NOT done with buying more.
Whilst a 10% drop would be fantastic, Even deeper discounts because the valuations would FALL with the stock prices! Remember we are investing in companies where it is not the price that matters but rather the valuation! A stock that has crashed by 50% can be LESS value today than when it was trading at its all time high! And there are many stocks like that such as Snowflake.
So the real risk is NOT that the stock market DROPS, rather that the bull market RESUMES with a vengeance catching virtually EVERYONE off guard, we'll nearly everyone because like I said, I am NOT WASTING TIME AND OPPORTUNITIES as I could not careless about catching THE FINAL BOTTOM, all I want to do is BUY NEW LOWS as and when they occur.
In fact I could literally copy and paste what I wrote early 2009 and it would apply well to today!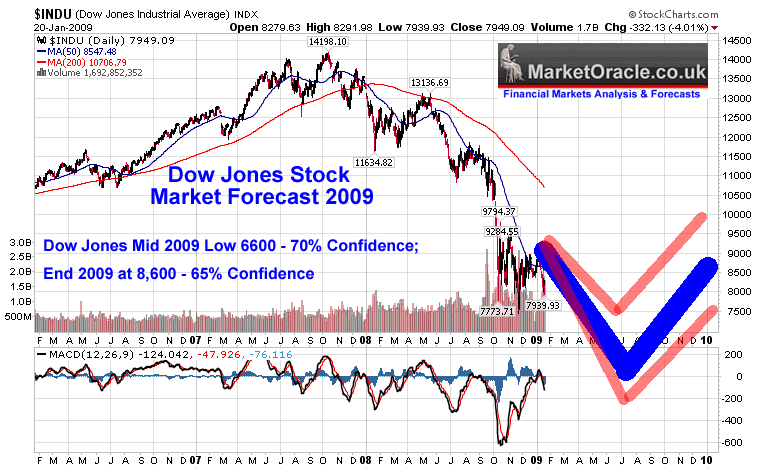 In Summary, I do not know at precisely what price level the Dow will make a low during 2009, my best estimate at this time is 6,600, but I am expecting that it will mark the start of a multi-year bull market that will eventually make 2008-2009's price action appear as a mere minor blip, much as the 1987 crash appears on today's price charts.
Two Point Stock Market Investing Strategy for 2009.
a. 2009 will be great time to scale into long-term investments at bargain basement prices. Even if stocks fell by another 20%, that should be more than made up for in subsequent years as great bull markets are born out of the most pessimistic market conditions! My october strategy called for a 10% per month investment of funds allocated towards stock market investing in each month where the index trades to below 10% from its bear market low to date. The October article also listed the key mega-trends to focus on such as Global Warming, Peak Oil, Rise of Asian Middle class and Population growth as the sectors to focus on that are expected to outperform the general indices over the long-run.
b. 2009 Will be an even greater year for trading the markets as was 2008, and in that respect my new site walayatstreet.com will be aimed at position trading including hedge fund style trading tactics which will be going live shortly that aims to freely share my whole trading methodology honed over the past 20 years AND to publicise trade points and ongoing analysis. In the meantime the site lists my existing longer range analysis and commentary.
Remember - STOCK MARKETS MOVE AHEAD OF THE ECONOMIC DATA AND NEWS, Therefore Focus on the Trend rather than the Bad News of which there will be plenty during 2009 as global economies contract.
Will 2009 Rhyme in 2022?
NUMBER CRUNCHING THE BEST STOCKS AND SHARES CASH ISA
NEW TAX YEAR NEW ISA and maybe an additional SIPP, though I have to keep in mind the lifetime LIMIT, currently at just over £1 million! ISA"s are the way to go, a no brainier for UK stock investors, continue upto 20k per person (40k per couples) annual allowance and can transfer in cash ISA's on top (which I still have too much of),
So BEFORE I opened my latest stocks and shares ISA, I did a number crunch to determine which is best, now there maybe some minor errors in this table but overall it gives a accurate picture that I used to make my decision of who to go with for 2022-23.

Big Image - https://www.marketoracle.co.uk/images/2022/Apr/Best-cash-ISA-2022-NW.jpg
From BEST to WORST
IKBR
IBKR on face value offers the best bang for ones buck, but it's mot exactly for the inexperienced. After opening one last week I spent a good 3 hours going through every setting to figure out how to make proper use of the platform. Plus their fee structure can easily bamboozle would be investors as to exactly how much you will pay, i.e. they charge for REAL TIME QUOTES! That's 1 cent per quote! Whether you place an order or not, so you may want to check the prices elsewhere before you decide to place an order or just stick to using delayed quotes. Also IKBR allows after hours trading with very wide spreads, which can be a double edged sword i.e. after hours prices can be deceptive.
So IKBR even though it is the clear winner is NOT for Newbs! You will be stuck! Likely spend days trying to figure out what all of it means!
Still if you are up for it, it cannot be beat in terms of the low fees.
IKBR are running a promotion! Where if you signup using this link, I get $200 and you can get upto $1000! WAHOOO!!!!
To me this sounded to be too good to be true! So I went and trawled through their T&C small print and found the following line hidden away that they DO NOT MENTION ANYWHERE ELSE!

"Tax-advantaged accounts are not eligible to participate in the Program."
And hey presto the promotion is NULL and VOID for ISA's! These IKBR clowns tried to pull a fast one on me! Wanted me to promote their excellent low fee's platform for what would turn out to be NOTHING in return!
Anyway it is the best platform, feel free to use my link to signup https://www.interactivebrokers.com/referral/nadeem423 though beware we WON"T GET ANYTHING for opening and funding a SHARES iSA not unless we ALSO fund and use their NON ISA account with a minimum of $10,000, within 30 days of opening an account, they got so many get out of paying referral clauses that it's joke promotion (video coming).
Bottom line - Low fee's. complicated platform that will confuse MOST, we'll it even took me a good 3 hours of use to get to grips with it. Also beware NOT TO FOLLOW their account funding procedure else you WILL pay a FEE, I just ignored their instructions and DID a BACS, and as if by magic the funds arrived a couple of days later WITHOUT any FEEs!
FREETRADE ISA
I have covered the Frreetrade iSA before, this is the exact opposite of IKBR, VERY SIMPLE and EASY to USE! No problems opening or funding an account. I rate this as No 2 in terms of the best iSA. I have used it to the hilt to scale into positions and then scale out a little on the way up. IT IS GOOD!
BUT only for smart phones NO desktop, which at first peeved me off until I got used to placing orders on my phone.
Plus if you follow my link WE BOTH get a FREE SHARE, all you need to do is deposit £1! As for the value of the free share? In my experience it's going to be around £10. But you might get lucky as it is a bit of lottery i.e. maybe 1 in 100 gets a £200 share? Most £3 - £30.
Note to be able to use it properly you will have to pay £10 per month. £120 per year, so don't bother opening one if your just going to put a couple of grand into it.
Follow my link for a FREE SHARE, NOTE if you open an account WITHOUT the link you WILL NOT GET a FREE Share.
I like it, I use it, and I will be transferring a cash ISA into it.
IG INDEX
A close third on my list, it's fees structure is better suited to frequent traders, fee's are high for light users. Platform is good easy to use.
II SIPP
Is the potential ace in the hole! Yes it has the potential to resolve in a NEGATIVE FEES! BUT ONLY IF ONE IS PREPARED TO PLAY THE F/X GAME! I.e. transfer into dollars when sterling is above 1.40 and then maybe transfer excess cash back into sterling when below 1.30. Which means one can end up with plenty more dollars buying power than if one just bought at the spot rate, as the II spot rate is an atrocious rip off, 3% bid offer spread!
However given that sterling is currently perched at 1.30, I am not going to be opening an II SIPP anytime soon, as they do offer a promotional 6 months of no monthly fees so I will bide my time and open the SIPP only after I see GBP trading north of 1.40, else just like it's ISA it is not worth opening when sterling is weak.

II ISA
II is a good platform, but the F/X fee is a total rip off a 3% bid offer spread! So II ISA is only good for accumulating long-term positions and for me is used as a last resort, for instance I have distant limit orders that I renew every 3 months, which occasional get hit! Such as happened with Facebook at a limit of $238 which seemed very improbable when Facebook was perched on $320 but that's what happened! And it got triggered!
Similarly a limit to buy Google at $2252 seems very unlikely but you never know it may happen and like wise for most of the AI stocks, i.e. Apple at $128, MSFT at $245, Amazon at $2352, Micron at $56, AMAT at $125 (that one got triggered!) and so on.
So why did I open an II ISA if it is largely a pile of fx charges poop?
I didn't! EQI sold me and most of their ISA clients into II bondage. So I am stuck. It's not all bad because they do cover a wide range of markets and the platform is good, unlike AJ bells creaking monstrosity that I have been using since the late 1990's, they have not upgraded it in decades! What once was fantastic is now a dinosaur platform! No Limit orders on US stocks! No limit orders on US LSE listings!
The only plus is they allow one to buy a handful of US listings on the LSE and thus dodge their 1% F/x fee.
So the best ISA for the less experienced is the FREE TRADE ISA. Which I hold,. I also hold their SIPP which is not quite upto scratch i.e. ONLY employee contributions and NO pensions DRAWDOWN! You have to MOVE it to another provider which will likely mean selling everything and moving as cash so not for someone planning pension draw down anytime soon!
Whilst IKBR is good if you want to take stock investing to the next level but beware of the hidden fees.
This article The Spooky Mulder Stock Market - Best Shares Cash ISA for for Accumulating Cheap AI Tech Stocks was first made available to patrons who support my work.So for immediate first access to ALL of my analysis and trend forecasts then do consider becoming a Patron by supporting my work for just $4 per month. https://www.patreon.com/Nadeem_Walayat.
Whilst my most recent just posted analysis is - UK House Prices Three Trend Forecast 2022 to 2025, where I pealed away every layer of the UK housing market I could think of to arrive at a high probability of trend forecast, no following of the consensus herd here!
UK House Prices Trend Forecast 2022 to 2025
THE INFLATION MEGA-TREND
WE HAVE NO CHOICE BUT TO INVEST IN STOCKS AND HOUSING
High Inflation Forecast for Whole of this Decade Due to Rampant Money Printing
Fed Inflation Strategy Revealed
Russian Sanctions Stagflation Driver
RECESSION RISKS 2023
UK Debt Inflation Smoking Gun
Britains' Hyper Housing Market
UK Population Growth Forecast 2010 to 2030
UK House Building and Population Growth Analysis
UK Over Crowding Ratio
Overcrowding Implications for UK House Prices
UK Housing Market Affordability
UK House Prices Real Terms Sustainable Trend
UK House Prices Relative to GDP Growth
UK House Prices Momentum Forecast
UK House Prices and the Inflation Mega-trend
Lets Get Jiggy With UK INTEREST RATES
Is the US Yield Curve Inversion Broken?
UK house Prices and Yield Curve Inversions
Interest Rates How High WIll they Go?
Work From Home Inflationary BOOM?
Formulating a UK House Prices Forecast
UK House Prices 2022 to 2025 Trend Forecast Conclusion
Peering into the Mists of TIme
Risks to the Forecasts
US House Prices Trend Forecast 2022-2024
So if you want immediate access to a high probability trend forecast of UK house prices, with US and global housing markets analysis to follow soon then do consider becoming a Patron by supporting my work for just $4 per month. https://www.patreon.com/Nadeem_Walayat.
My Main Analysis Schedule
UK House Prices Trend Forecast - Complete
Earnings bloodbath Buying Opportunities - Complete
US House Prices Trend Forecast - 70%
Global Housing / Investing Markets - 60%
US Dollar / British Pound Trend Forecasts - 0%
Stock Market Trend forecast into End 2022 - 0%
High Risk Stocks Update - Health / Biotech Focus - 0%
How to Get Rich - 85%
Gold and Silver Analysis - 0%
State of the Crypto Markets
Again for immediate access to all my work do consider becoming a Patron by supporting my work for just $4 per month. https://www.patreon.com/Nadeem_Walayat.
And ensure you are subscribed to my ALWAYS FREE newsletter for my next in-depth analysis.
Your analyst BUYING the panic selling falling knives.
By Nadeem Walayat
Copyright © 2005-2022 Marketoracle.co.uk (Market Oracle Ltd). All rights reserved.
Nadeem Walayat has over 30 years experience of trading derivatives, portfolio management and analysing the financial markets, including one of few who both anticipated and Beat the 1987 Crash. Nadeem's forward looking analysis focuses on UK inflation, economy, interest rates and housing market. He is the author of five ebook's in the The Inflation Mega-Trend and Stocks Stealth Bull Market series that can be downloaded for Free.

Nadeem is the Editor of The Market Oracle, a FREE Daily Financial Markets Analysis & Forecasting online publication that presents in-depth analysis from over 1000 experienced analysts on a range of views of the probable direction of the financial markets, thus enabling our readers to arrive at an informed opinion on future market direction. http://www.marketoracle.co.uk
Disclaimer: The above is a matter of opinion provided for general information purposes only and is not intended as investment advice. Information and analysis above are derived from sources and utilising methods believed to be reliable, but we cannot accept responsibility for any trading losses you may incur as a result of this analysis. Individuals should consult with their personal financial advisors before engaging in any trading activities.
© 2005-2022 http://www.MarketOracle.co.uk - The Market Oracle is a FREE Daily Financial Markets Analysis & Forecasting online publication.

Only logged in users are allowed to post comments.
Register/ Log in