Stock Market at the Edge of a Precipice....
Stock-Markets
/
Stock Index Trading
Feb 14, 2009 - 10:53 AM GMT


Dow and across the board for that matter. The market should have followed through to the upside on Friday, but could never get going and ended up closing basically near the lows. Exactly the opposite of what I thought would take place. My thinking couldn't have been more wrong. When you get a 1 point Doji on an 8000 index such as the Dow off a downtrend of 600 points, you should get a reversal the next day 99% of the time. Friday was the 1%. Only in this bear market, I guess. Another reason why you can't get aggressive.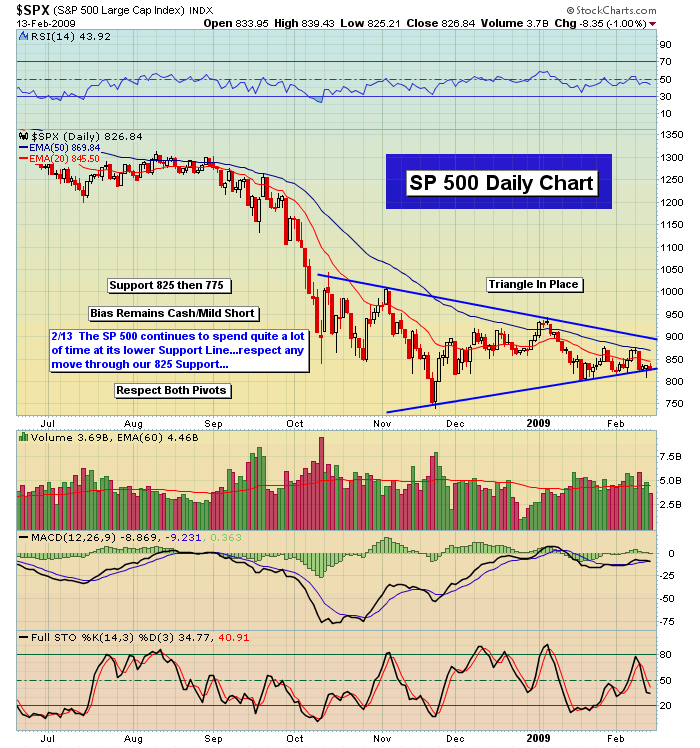 Too many times when technical analysis just doesn't pan out. And it hasn't only been from bullish patterns. There have been times where this bear gave head fakes to the down side when there were some nasty patterns in place. These types of markets are designed to play with your emotions as often as possible. They are designed to kill you if you play too heavily. We started on the down side today and recovered as we always do but couldn't hold those gains, small as they were. The advance decline line was weak. No follow through and thus the 826 close on the Sp. If 825 goes away on a closing basis it's lights out folks. Simple as that. Like it or not. We'll all have to deal with it. After 825 is 805 but we've been there many times already so that will not likely hold next time. We should trek all the way down to 775. If we ever lose 775 on a closing basis we are potentially staring a Nikkei in the face.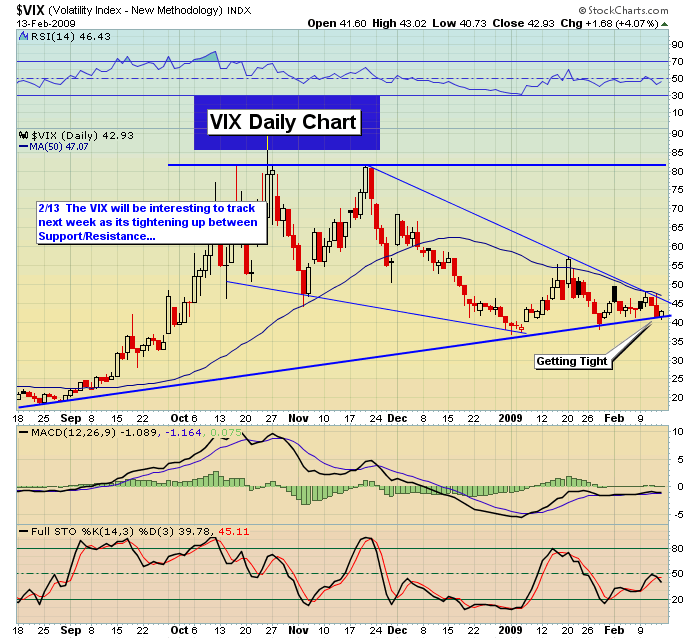 That's along ways away and it isn't. we have to watch and hope for something to come along and not allow that to happen. As a market agnostic I shouldn't care, but in this case I do. Too many good people would be devastated if that occurs. I won't look at the market any differently, or through rose colored glasses because I would prefer no collapse. I just hope this doesn't happen because of the adverse long term affects such a development would bring. A long-term secular bear is likely locked in should it happen. It already exists on the Nas. Nine long years. It could be the Dow and Sp are on deck. Prepare for it. There will be cyclical bulls within the secular bear but that won't mean very much if it starts from Sp 650. It's too soon to say all is lost and that there's no hope because there's always hope. Don't play on hope. Play on reality. it doesn't look good. We'll know a lot more very early next week.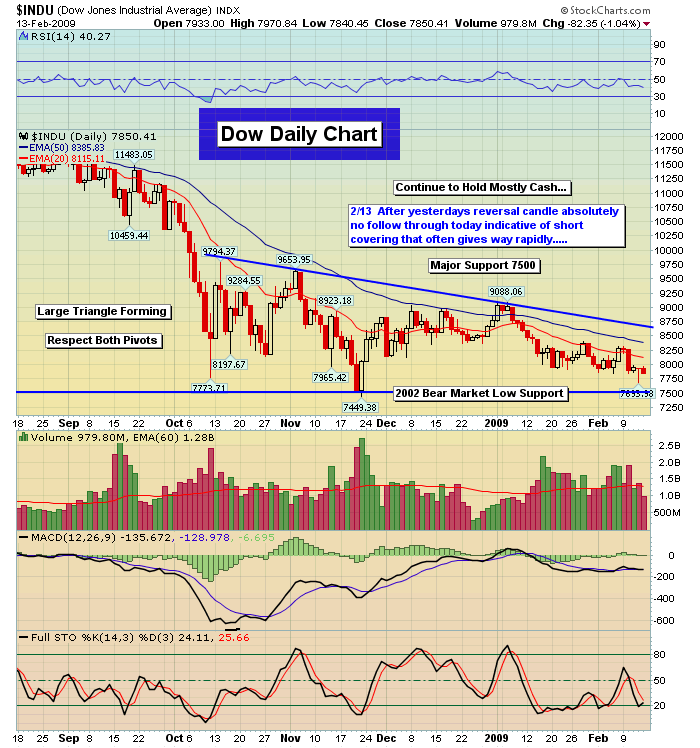 The banks continue their free fall. The Financial Select Sector SPDR (NYSE: XLF) trading in the 8's. Hard to wrap my head around that but there it is. Sure does seem like a buy doesn't it based purely on price. That's not how we play. It just can't get out of its way. Day after day the biggest banks continue their downward spiral. Will the remaining big boys survive? Wells Fargo (WFC), JP Morgan (JPM), Morgan Stanley (MS), Goldman Sachs (GS)? Goldman probably has the very best chance of survival. The rest are very uncertain. We never thought we could lose Bsc, Leh, Wb and the rest that have gone away. The rest that remain are in jeopardy of the same fate.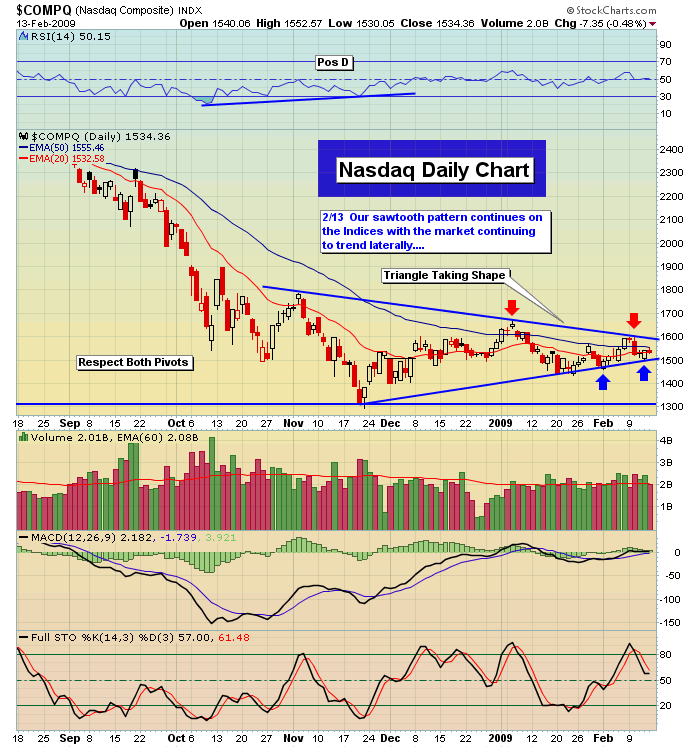 The great chart set ups that existed just one week ago have not held up at all. Again, classic super bear market action. A normal run of the mill bear market would have allowed a far better rally before failing. This super bear gives very little. A bear market of hope without delivery. For now I can not recommend even nibbling on this incredibly beat up sector. Do what feels right to you but there are no signs today that things will get any better. Of course that doesn't mean they won't. Something can come out of Washington at any time to change the landscape but for now there is nothing there.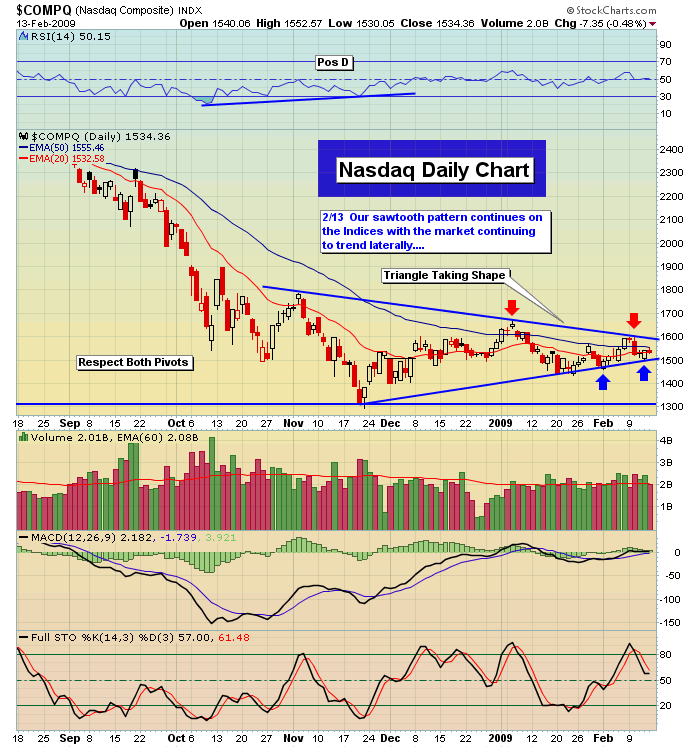 The big cap tech stocks continue to hold up much better than just about any other sector in this market, but you have to start to wonder just how much they may have left in the tank. If they start to roll over that would be the kiss of death for the entire market. The Nas is holding up things more than any other sector and if that leader goes away it'll get nasty fast for the other sectors, particularly the Dow which is just atrocious. Its under performance daily is stunning. So many bad stocks out of the 30 existing ones. A total overhaul may be the cards some day soon. Kraft Foods (NYSE: KFT) wasn't a very good choice as the last one to enter. Nothing is really working there other than a scant few. Taking out its old lows wont be too difficult if the SP loses 825 here.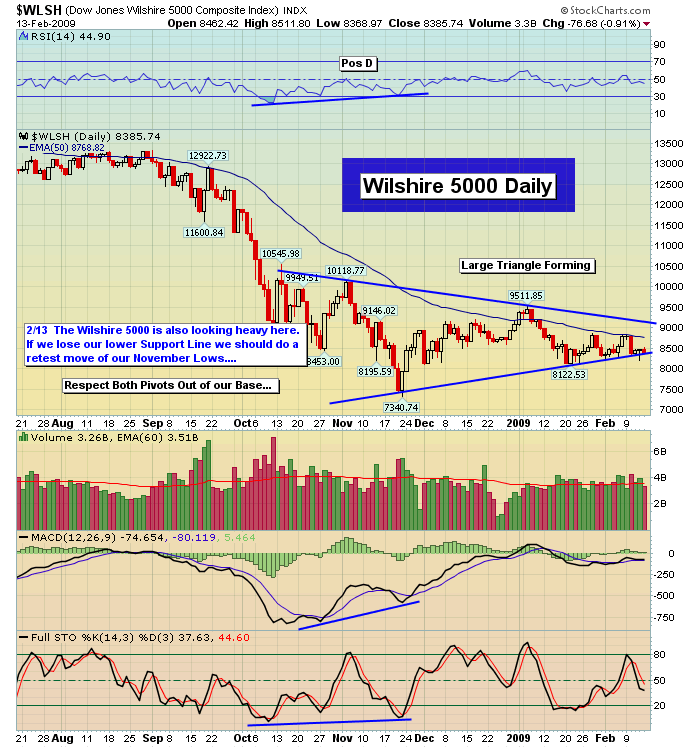 Many sector charts are sitting right at the bottom of their triangle's. They are getting very heavy. it doesn't matter where you look. The Nya, Dow, Nas, Sp, etc. Transports continue to break down and lwoer almost daily. It'll take only one more small down day on a closing basis to get all of the major indexes that rule this market to be on long term four month triangle breakdown. That's a long time to consolidate a strong move down such as we saw last year.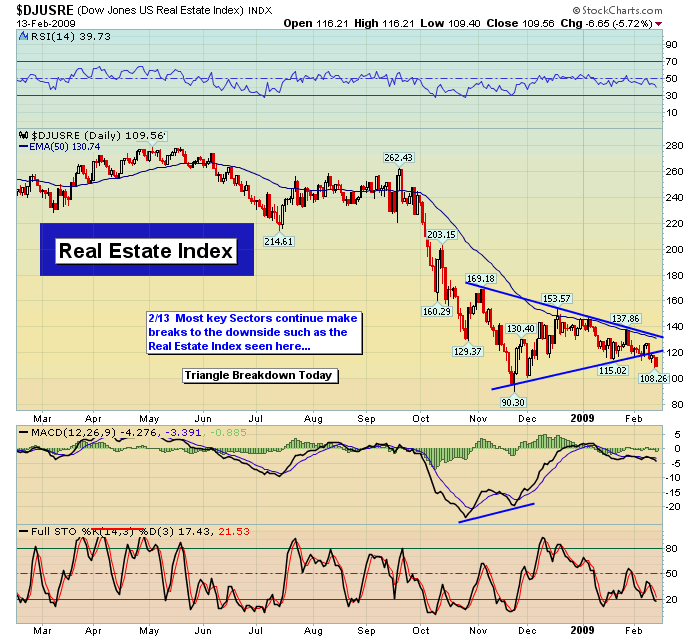 There's a lot of energy here for the bears should they finally get the job done. The weekly's still look good but have unwound at least half way up on stochastic's with no price appreciation from the bulls to speak of. They could now reverse lower at any time. It would have been better from the bullish perspective has they at least easily cleared the 50's so that if things reversed, there would be lots of room before falling back through 825. No cushion here. We're only a point away. Very dangerous time here folks.
Peace
By Jack Steiman
Jack Steiman is author of SwingTradeOnline.com ( www.swingtradeonline.com ). Former columnist for TheStreet.com, Jack is renowned for calling major shifts in the market, including the market bottom in mid-2002 and the market top in October 2007.
Sign up for a Free 30-Day Trial to SwingTradeOnline.com!
© 2009 SwingTradeOnline.com
Mr. Steiman's commentaries and index analysis represent his own opinions and should not be relied upon for purposes of effecting securities transactions or other investing strategies, nor should they be construed as an offer or solicitation of an offer to sell or buy any security. You should not interpret Mr. Steiman's opinions as constituting investment advice. Trades mentioned on the site are hypothetical, not actual, positions.
© 2005-2019 http://www.MarketOracle.co.uk - The Market Oracle is a FREE Daily Financial Markets Analysis & Forecasting online publication.

Only logged in users are allowed to post comments.
Register/ Log in