Invest with China's version of Warren Buffet
Stock-Markets
/
Investing 2009
Feb 18, 2009 - 06:19 PM GMT


Tony Sagami writes: He's been called chiu yan (Superman) and the Warren Buffett of China. He earned that title as one of the most successful Chinese businessmen in the history of China. And according to Forbes magazine, he's the ninth richest man in the world and the richest man in Asia.
His fortune is centered on two, massive global conglomerates, Cheung Kong and Hutchison Whampoa. Yet very few Americans have heard of him.
He also has a $10 billion stake in the most undervalued energy company in the world.
The man I'm talking about is Li Ka-Shing, whose fortune totals more than $23 billion.
A True Rags-to-Riches Story …
Some people prefer to invest in restaurants or apartments … I prefer to invest in energy, as it is a daily necessity. —Li Ka-Shing
Li Ka-Shing was born in the Chinese city of Chui Chow and was the humble son of a teacher. His father died when Li was only 15 years old, and he took on the responsibility of supporting his family.
Li dropped out of school and went to work for a Hong Kong plastics company where he worked 16 hours a day. His hard work paid off because he started his own plastics company, Cheung Kong Industries, in 1950.
He then scraped together enough financing in 1979 to buy a controlling interest in Hutchison Whampoa, which he then leveraged to build a business empire that includes: banking, construction, real estate, plastics, cellular phones, satellite television, cement production, pharmacies, supermarkets, hotels, transportation, airports, electric power, steel production, ports, shipping, and even the ports at both ends of the Panama Canal.
One of Li's savviest purchases was a little-known company, which was considered by many to be a horrible investment because of the low price of oil in 1991.
There is a lot more to Husky than a bunch of convenience stores.
Oh, how times changed. Li's purchase of Calgary-based Husky Energy has turned out to be a brilliant move and one of the jewels in Li's portfolio.
Here Are Three Reasons Why Husky Energy Has Become So Valuable
Reason #1: Tar sands
Northern Alberta is sitting on the biggest petroleum deposit in the world.It has 300 billion barrels of proven reserves … and another TRILLION barrels that are just waiting for recovery technology to improve.
That's eight times the oil in all of Saudi Arabia!
Mind you, this isn't the type of gushing oil that made Jed Clampett rich. It's in the form of tar sands, which resemble gooey coffee grounds.
You may already know about the Canadian tar sands, but I can't emphasize enough how huge of a gold mine they are. Time magazine called it: "the greatest buried energy treasure that could satisfy the world's demand for petroleum for the next century."
For centuries, Native Americans used the material to seal their canoes. But the technology to extract the valuable oil has now made tar sands not only economically important but wildly profitable.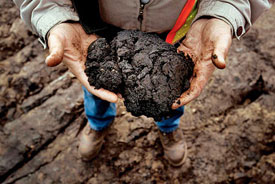 Tar sands oil needs to be "upgraded" before it can be processed by most refineries.
Tar sands are a combination of clay, sand, water, and bitumen, an extremely heavy form of crude oil. So instead of being pumped from the ground, the bituminous sands are mined. Next, they're run through a separation process that uses steam and solvents to extract the oil. The process currently recovers roughly 75% of the bitumen at an average cost of $10 a barrel.
And the petroleum industry is spending billions on research to find new technology to make it even cheaper! I expect the $10-a-barrel cost to rapidly fall closer to the $3 average that OPEC spends to pump a barrel of oil.
There's no doubt that this is already becoming a huge business. More than one million barrels of oil are produced from Canadian tar sands each day, making up 40% of Canada's total oil production.
And Canada is now the largest single supplier of oil and refined products to the United States.
So you see, these tar sands could free the rest of us from our dependence on Middle East oil. Think about that … absolute and complete energy independence!
Husky Energy has over a half-million acres of rich tar sands projects that hold an estimated 40.9 billion barrels of oil. And even though oil is well off its highs, the company's vast tar sands holdings could easily turn into a mountain of profits.
Reason #2: South China Sea's natural gas riches
Li Ka-Shing has a very close relationship with the leaders of the Chinese communist party. And he has used his connections to enrich himself and his shareholders.
For example, his energy company has a sweetheart contract with state-owned CNOOC to drill in the most productive parts of South China Sea.
An area referred to as Block 29/26 is right on top of the Liwan natural gas discovery, which covers 1,274 square miles and is one of the richest finds in recent history. This deal alone should send Husky's profits to the moon.
Reason #3: The refinery money machine
The biggest bottleneck in the oil food chain is at the refinery level. A big part of the problem is that it has been more than 30 years since the last refinery was built in the U.S., so existing refineries are like ATM machines for their owners.
Husky has a Lima, Ohio refinery that should pay off in a huge way.
Reason: It's modifying that plant to process the heavy crude and bitumen that will dovetail with its tar sands production.
If the Canadian tar sands represent the future of U.S. oil imports, this refinery is going to darn near print money.
How to Jump on Li Ka-Shing's Money-Making Bandwagon
Scores of investors have become a whole lot richer by buying the same stocks that Warren Buffett buys for Berkshire Hathaway. That same monkey-see-monkey-do strategy can work just as well — if not better — if you follow the Asian Warren Buffett.
That's why when I saw Husky's potential, I told my Asia Stock Alert subscribers to buy. They sold later and banked gains as high as 27.9%!
My point is simple: You don't have to have the same golden touch that Warren Buffett and Li Ka-Shing have. You just need to be smart enough to watch and learn from what they are doing.
And what both of them have done is invest heavily in the companies that can help fill China's insatiable appetite for energy and natural resources.
I've said it many times: My #1 rule for making money is to "get long in whatever China is buying." And perhaps nothing captures that strategy better than Li Ka-Shing's investment in Husky Energy.
Husky Energy is listed on the Toronto Stock Exchange (HSE) but is available on the OTC Bulletin Board (pink sheets), too.
Best wishes,
Tony
P.S. For the latest on Asian economies and markets, be sure to visit my blog .
This investment news is brought to you by Money and Markets . Money and Markets is a free daily investment newsletter from Martin D. Weiss and Weiss Research analysts offering the latest investing news and financial insights for the stock market, including tips and advice on investing in gold, energy and oil. Dr. Weiss is a leader in the fields of investing, interest rates, financial safety and economic forecasting. To view archives or subscribe, visit http://www.moneyandmarkets.com .
© 2005-2019 http://www.MarketOracle.co.uk - The Market Oracle is a FREE Daily Financial Markets Analysis & Forecasting online publication.
Comments
JDLamb
19 Feb 09, 08:23
oil refineries


....The biggest bottleneck in the oil food chain is at the refinery level......

This is not true. Over the next 2-3 years, the excess capacity in the sector will grow enormously. Refinery margins will fall back from their recent highs.

The 30 year fact that everyone throws around ignores the reality. Major refineries have been expanded & upgraded extensively in that time.

Only those with large scale complex refineries can hope to make money.




Only logged in users are allowed to post comments.
Register/ Log in