The Worst Global Crisis of All Time
Politics
/
Water Sector
Mar 05, 2009 - 07:27 AM GMT

Larry Edelson writes: No, I'm not talking about the global financial crisis. Nor am I talking about the AIG disaster … Citibank's failure … the collapse of GM or Ford. I'm not even referring to the Dow's recent plunge to below 7,000.
Don't get me wrong: I am not minimizing the financial crisis that's affecting people all over the world.
I just don't want anyone to forget about a crisis that's killing 12 million people per year, including 10,000 children per day .
I'm talking about the worst crisis of all time, the intense and critical shortage of water … pure fresh water. What I call "blue gold" — a term I coined back in 2004 to describe one of the most precious natural resources of all and to help motivate others to take notice of the growing crisis.
Festering for years, sadly, the world's water crisis is now getting worse by the day. And the global financial and credit crisis is merely one reason why.
Another is the ongoing modernization of major parts of the world, which continues despite the world's financial meltdown. This is increasing demand for water, while at the same time polluting it.
Yet another is major droughts around the world, including in our own back yard, where 60 percent of the U.S. is officially experiencing a drought. In fact, California Governor Arnold Schwarzenegger declared a state of emergency just last weekend due to the state's now three-year running water crisis, its worst on record.
Arnold Schwarzenegger declared a state of emergency due to California's three-year running water crisis. And he sure can't expect much help from Washington.
Neither Wall Street nor Washington is doing much about the water crisis. Even the recent infrastructure spending bill has largely ignored it … allocating only $6 billion over the next 20 years to water projects.
And the rest of the world isn't doing much either. All told, I count less than $80 billion in spending going toward saving the lives of those who are dying from lack of water.
Nearly Two Billion People Don't Have Access to Clean Potable Water
In my travels around the world, there isn't a day that goes by when I don't see people suffering from the lack of clean water.
Even before the financial crisis engulfed the world, each and every minute of every day, more than ONE BILLION people don't have access to clean, fresh, potable drinking water.
More than a third of the world's population — about 2 billion people — live in countries where consumption of drinking water exceeds available supplies. In Asia …
* China's available water supplies are estimated to support 650 million people, only half of its 1.3 billion population. Of China's 660 cities, 400 face serious water shortages.
* Thailand and Malaysia: Rivers carry 30 to 100 times more pathogens, heavy metals, and industrial poisons than the government supposedly allows. Water-related diseases are rampant.
* India receives 90 percent of its annual rainfall during the summer monsoons, from June to September. The rest of the year is basically bone-dry, with hardly a drop of rain. It's estimated that India and other countries with similar climates, such as Pakistan, can actually use no more than 20 percent of their annual freshwater resources.
In Karachi, Pakistan, poorly-maintained sewage treatment plants with clogged pipes can barely manage to operate at 15 percent of their design capacity. Most of the sewage leaks out into the soil and contaminates the city's drinking water wells, causing sickness and death.
In the Middle East — Jordan, Israel, and Saudi Arabia all suffer chronic water shortages, and are forced to import as much as 91 percent of their fresh water needs from other countries.
Dams in Turkey and irrigation in Syria have reduced Iraq's water supply from the Tigris and Euphrates rivers by one third. The problem has been aggravated by poor infrastructure and insurgent terrorism.
In Basra, the poorest people drink green, putrid water from stagnant irrigation canals used by the city's two million people for washing.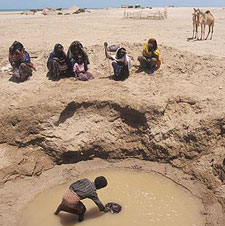 In Africa, nearly two-thirds of the population who live in rural areas, lacks an adequate water supply.
In Africa, 20 million people in six countries depend on drinking water from Lake Chad, an aquifer that has shrunk 95 percent in the past 38 years. According to the African Development Bank, nearly two-thirds of Africans who live in rural areas lack an adequate water supply.
In Mexico, 90 percent of the land is high and dry, and the per capita water supplies are 3,470 cubic meters, less than half of the world average. Mexico City is sinking at the rate of nine centimeters per year because so much water is being sucked out from under it.
In Lima, Peru, the majority of potable water comes from the melting Andean glaciers which have lost 22 percent of their mass in the last three decades and has already reduced the water supply by 12 percent. What's more, the fast-melting Andean glaciers threaten to deprive 40 million people of water by 2020.
In Europe, more than 90 percent of the rivers have high nitrate concentrations, as much as 200 times more than in unpolluted rivers.
And right here at home — in the United States — groundwater is being used up at a rate 25 percent faster than it is being replenished.
A decade-long drought has parched the western United States, threatening drinking water supplies for major cities and irrigation for food production. U.S. Geological Survey scientists say that the Western U.S. is experiencing its worst drought in 500 years.
Six Reasons Why There Is So Little Drinkable Water
Reason #1: Demand far outpaces supply
According to the U.S. Census Bureau's World Population Clock, the human race is 6.7 billion strong at latest count … and the count is rising at the rate of 80 million new thirsty mouths each year.
Three billion people have been added to the planet just since 1970, but the per capita supply of fresh water is one-third lower today than it was then.
Reason #2: Salty Oceans
Most of the world's water is in oceans. Salty. Undrinkable. Corrosive. Saltwater makes up 97.5 percent of the water on earth.
Of the remaining 2.5 percent of water supply that is fresh, about three-fourths of it is unavailable to most humans, locked away in ice caps and glaciers in the frigid Polar Regions.
Other fresh water reserves are buried deep under the Earth's surface in rock formations, the trickle-down reservoirs built over centuries.
That means only about 1 percent of the world's entire water supply is readily accessible in freshwater lakes, rivers, and in the soil at depths shallow enough to reach affordably.
Reason #3: Irrigation
Almost 70 percent of the available fresh water gets used for irrigation in agriculture.
But only 35 percent to 50 percent of the water used in irrigation actually helps grow crops. The rest, as much as 35 percent of available fresh water either leaks, evaporates, or runs off into surface waterways carrying a toxic load of agricultural pollutants.
Reason #4: Pollution and Mismanagement
Of the one-percent freshwater supply, an increasing share is fouled by pollution — from agricultural runoff mainly, but also from industrial and municipal waste — rendering it unsuitable to drink.
Reason #5: Green Technologies Are Actually Making the Water Crisis Worse
Green technologies are using massive amounts of clean water to produce green recyclable packaging, from paper to plastic … from manufacturing processes to technologies to produce cleaner fuel, biofuels and more.
One of the unintended consequences of the new push toward green product use, is causing water — a vital life-sustaining natural resource — to suffer.
Reason #6: Government Neglect
I have been absolutely amazed at how governments around the world are at best, underestimating the severity of the crisis, and at worse, actively neglecting it.
The lack of fiscal spending on water, as I mentioned at the outset, is proof positive that the crisis is not getting the attention it deserves. And like most government actions, they often come in the form of too little, too late to do any good.
As Bleak as It Is, The Water Crisis Isn't Hopeless
Private sector groups are actively studying the global water crises to create solutions that will help mitigate this disaster. In fact, private groups are actually doing more to solve the water crisis than governments are.
Solutions to the water crisis, such as this water purifier by Calgon Carbon, do exist.
New technologies and techniques for better water supply management and improved conservation on the demand side could potentially avert a worldwide disaster.
And as a long-term investment, water is one of my favorites. For both its tremendous social cause as well as its profit potential.
The clamor for solutions and the companies that provide them could propel overnight the relative unknowns of the water industry to legendary investment status. And again, with such a noble cause.
Especially companies involved in …
Water purification
Water supply and distribution
Wetlands management
Coastal engineering
Erosion and sediment control
Groundwater hydrology
Storm water control and treatment
Sewage and wastewater treatment
Determining which water companies to invest in takes considerable digging and studying. Just being in the water industry isn't enough to ensure that a company is a good investment.
Not to worry, though — I've already done the research for you …
Companies On My Radar Screen Positioned To Help Solve the World's Water Crisis
The companies I like in the water sector include …
Calgon Carbon Corporation (CCC). Calgon provides products and services to purify water and air. Calgon operates four divisions: Activated Carbon, Service, Engineered Solutions, and Consumer.
The Activated Carbon unit manufactures granular activated carbon for removing organic compounds from water, air, and other liquids and gases.
The Service segment deals with reactivating spent carbon and leasing, monitoring, and maintaining mobile carbon adsorption equipment.
The Engineered Solutions segment solves air and water purification problems by creating systems based on Calgon technologies.
The Consumer segment manufactures and sells carbon cloth, lump charcoal and briquettes, and new consumer products.
Calgon is a solid, $792 million company with good fundamentals … a respected brand name … and a moderate forward P/E around 20.87.
Aqua America Inc. (WTR). Provides water and waste-water systems to nearly 3 million customers and on the move, acquiring over 100 smaller companies in recent years.
Current revenues are about $626M, and growing.
Pentair Inc. (PNR). A manufacturer and distributor of fluid-handling systems and industrial products like waste-water pumps. Expanding in China, which is suffering through the worst water crisis on the planet.
Trading now for less than 10 times earnings, Pentair is a great long-term play.
Watts Water Technologies Inc. (WTS). One of my favorites, Watts is a major leader in the manufacturing of valve and flow-control products. It has doubled its business in the past five years, mainly through acquisitions and via expansion overseas, where more than 30 percent of its business now comes from Europe and China.
Veolia Environnement SA (VE). A French company, and the world's largest water utility, with more than half its revenues coming from outside of France.
Also consider the PowerShares Water Resources Portfolio (PHO) , an exchange-traded fund investing in a basket of global water stocks.
For specific buy and sell signals and protective stops, consider a subscription to my Real Wealth Report .
Best wishes,
Larry
P.S. For more of my thoughts and insights directly from the front lines as I travel the world, also consider signing up for our new free daily ezine, Global Wealth Report , focusing on the precious metals, natural resources, Asian and South American markets, and more.
The best part? A subscription to Global Wealth Report won't cost you one red cent! Click here to subscribe.
This investment news is brought to you by Money and Markets . Money and Markets is a free daily investment newsletter from Martin D. Weiss and Weiss Research analysts offering the latest investing news and financial insights for the stock market, including tips and advice on investing in gold, energy and oil. Dr. Weiss is a leader in the fields of investing, interest rates, financial safety and economic forecasting. To view archives or subscribe, visit http://www.moneyandmarkets.com .
© 2005-2019 http://www.MarketOracle.co.uk - The Market Oracle is a FREE Daily Financial Markets Analysis & Forecasting online publication.
Comments
Clifford J. Wirth, Ph.D.
06 Mar 09, 21:59
2 Catastrophes, Water Shortages and Peak Oil


As one who studied, researched, wrote, and taught about Mexico City for 20 years in a course call Global Urban Politics at the University of New Hampshire, I can say that this article is accurate.

Combine this with Peak Oil and we have a double catastrophe:

http://survivingpeakoil.blogspot.com/

http://www.peakoilassociates.com/POAnalysis.html



Marsha Stein
30 Jan 12, 21:34
WATER


I seen this coming when I was 15 years old. Youve got to be kidding.. no one noitced this until reciently. Im 64 now. Better late than never I GUESS.




Only logged in users are allowed to post comments.
Register/ Log in