Bullish and Bearish Stock Market Plays for the 2009 Hurricane Season
Stock-Markets
/
Investing 2009
May 29, 2009 - 05:39 AM GMT


Sean Brodrick writes: Whether the 2009 hurricane season turns out to be a snoozer or a bruiser, I have four picks for you — two bullish, two bearish — to play this summer's potentially wild weather.
The major hurricane forecasters have made their predictions, and it's for a "moderate" hurricane season. Cooler seas off the coast of Africa and a prediction of a weak El Nino get the credit for the calmer forecast.
That's good news for America's oil and gas industry, which is still recovering from the carnage caused in Energy Alley last year by two hurricanes — Ike and Gustav.
In fact, 5 percent of oil production and 8 percent of natural gas production remains shut in — production outages total 58,000 barrels of oil per day and 590 million cubic feet of gas per day — thanks to last year's stormy weather, according to figures from the U.S. Minerals Management Service (MMS).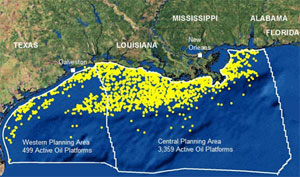 Thousands of oil platforms dot the Gulf of Mexico, and despite predictions of a "moderate" hurricane season, the oil and gas industry continues to recover from last year's storms.
Three major undersea pipelines were whacked by hurricanes Ike and Gustav last season. And rough weather this spring has kept work crews from making needed repairs.
Now for more good news
The oil and gas industry's hard work to strengthen platforms and pipelines — including additional mooring lines to secure offshore drilling rigs to the seafloor and rules to raise some facilities higher out of the water — is paying off.
Last summer, hurricanes Gustav and Ike destroyed 60 oil and gas production platforms. That's way down from the more than 100 platforms that were destroyed by Katrina and Rita. Also, last year, only two mobile drilling rigs went adrift, compared to 19 in 2005, according to the MMS.
The Gulf of Mexico accounts for about 25 percent of domestic oil production and 15 percent of natural gas output through about 3,800 offshore production platforms.
And the Gulf is going to get more important, according to the MMS, which says that oil production there could peak in 2013 at almost 1.9 million barrels per day (bpd). Deep-water production should become an increasing share of Gulf production and peak in 2011 at 1.4 million bpd.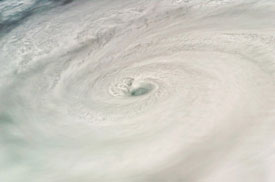 The National Oceanic and Atmospheric Administration forecasts four to seven hurricanes this season.
Last year's stormy weather spawned 16 named storms, which was higher than the long-term average of about 10 tropical storms and six hurricanes per year in a typical Atlantic hurricane season.
As for this year …
The National Oceanic and Atmospheric Administration is forecasting nine to 14 named storms this year, with four to seven becoming hurricanes.
Colorado State University's weather team downgraded its outlook for the number of named storms to 12, including six hurricanes.
AccuWeather.com forecasts 13 named storms including eight hurricanes.
Weather Research Center is predicting seven tropical storms this season with up to four of those expected to become hurricanes.
The World Meteorological Organization has its list of hurricane names ready, starting with Ana, Bill, Claudette, Danny, Erika, Fred and Grace. Why do I think Grace will have all the delicacy of a 2,000-pound hippo?
Now for two pieces of bad news
Forecasts for the number of storms in any given year are notoriously unreliable, though last year, agencies like NOAA were spot-on.
You can find a table of how accurate NOAA's predictions have been by pointing your web browser here: http://tinyurl.com/p8popp.
And the second piece of bad news: It only takes one well-aimed hurricane to make the season a bad one. So don't take the forecast for a "moderate" season as a reason to slack off in your preparedness.
The next hurricane may come barreling right at you or someone you care about. And one well-placed hurricane could also cause major damage to Energy Alley.
So what's the worst that could happen?
A storm surge above 20 feet that could take out up to 30 percent of U.S. refining capacity at one shot. Storm surge is a large dome of water often 50 to 100 miles wide that sweeps across the coastline near where a hurricane makes landfall.
Much of the 1.3 million barrels of oil equivalent produced in the Gulf of Mexico every day could be shut in … perhaps for weeks.
The Louisiana Offshore Oil Port — which imports up to 11 percent of U.S. oil consumption, could be taken offline.
Losses from hurricane damage along the coasts of the Gulf of Mexico "could increase tenfold from 2020 to 2025," according to World Bank estimates.
Climate change is making things worse — intensifying the hurricanes. Warmer seawater has boosted the average wind speed of powerful hurricanes from 140 miles per hour in 1981 to 157 miles per hour in 2007, according to a Florida State University study released last year. And the trend toward stronger hurricanes is particularly noticeable in the area of the Atlantic including the Gulf of Mexico.
Mind you, nothing bad has to happen. It depends on if the Gulf of Mexico is hit by hurricanes at all, where the hurricanes hit and how strong they are.
Speculators Aren't Waiting for Hurricanes to Manipulate Energy Markets
Over the weekend, McClatchy Newspapers reported that:
Big Wall Street banks such as Goldman Sachs & Co., Morgan Stanley and others are able to sidestep the regulations that limit investments in commodities such as oil, and they're investing on behalf of pension funds, endowments, hedge funds and other big institutional investors, in part as a hedge against rising inflation.
These investors now far outnumber big fuel consumers such as airlines and trucking companies, which try to protect themselves against price swings.
The big investors are betting that the economy eventually will rebound, that the Obama administration's spending policies and Federal Reserve actions will trigger inflation and that oil prices will rise.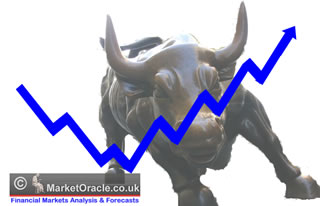 Speculation is pushing oil prices higher … at the moment.
This just backs up what I've been saying: Oil and gasoline prices aren't going up due to real demand. It is speculation that is driving prices higher.
This speculation can end with a "whoosh!" On the other hand, as long as economic indicators continue to improve, investors will probably continue to go long oil.
But should a hurricane line up to hammer Energy Alley in the Gulf of Mexico, there will be winners as well as losers.
Winners: Oil service companies, especially those that fix broken rigs and pipelines and shuttle crews back and forth to platforms. Also, disaster recovery companies that clean up after hurricanes.
Losers: Oil drillers and producers with large operations in the Gulf of Mexico, as well as insurance companies.
Here are four picks — two that should do well if hurricanes strike, and two that could be in for some pain.
The Gainers
Tetra Technologies (TTI): This is an oil services company that provides plugging and abandonment services on offshore wells. Hurricane cleanup last year blew a lot of new business Tetra's way.
The company looks cheap, trading at a price-to-earnings growth of 0.7, and it recently hit a three-year high in free cash flow.
Home Depot (HD): America's home fix-it center always cleans up on hurricanes — selling supplies before and after the storms and raking in bigger profits.
Last year's storm season couldn't save the stock, which was crushed by the falling housing market. Now, however, Home Depot is dirt-cheap, and hurricane gains could give it more of a boost.
The Painers
Allstate (ALL): The largest publicly traded U.S. home and auto insurer saw its bottom line clobbered by Ike and Gustav last year. Along with damage from a record number of tornadoes, the two storms gave Allstate a whopping $1.82 billion in catastrophe costs in the third quarter of last year — its first money-losing quarter since hurricane Katrina. Do you think this company is sensitive to storm season? Yes!
Plus, Allstate has bounced back hard with the market rally, so it's set up for a fall. To be sure, Allstate could get a bailout from Uncle Sam — it's hard to tell what the Good-Time Charlies in Washington will throw money at next — but if the winds pick up, Allstate looks pretty vulnerable.
Anadarko Petroleum (APC): Anadarko is a strong company, and one I've traded from the bullish side before. But hurricanes have the potential to be kryptonite for this company.
Anadarko operates the Independence Hub, a platform complex located more than 100 miles offshore that has the capacity to handle 1 billion cubic feet of daily production.
Last summer, Anadarko had to shut down its production in the Gulf and evacuate its personnel from offshore platforms due to hurricanes. The company lost 5 million barrels of oil equivalent (BOE) of production.
These are all speculative plays. Not only are you speculating on the stocks, but you're speculating on the weather. But if you feel like you know whether we're in for a strong hurricane season or not, these stocks — both bullish and bearish — could be just the ticket.
And in this wild and crazy market, there are two important things you MUST do …
Buy on pullbacks — don't chase anything, no matter how tempting. Use a protective stop in case this rally gives up the ghost and the bear rears its ugly head again.
Use a profit target and don't be greedy — bag those gains and get out.
Yours for trading profits,
Sean
P.S. There are other ways to play rising oil prices — and subscribers to Red-Hot Commodity ETFs are racking up fat open gains on oil prices right now. To check it out — CLICK HERE.
Also, remember to check out my daily updates at http://blogs.uncommonwisdomdaily.com/red-hot-energy-and-gold/.
This investment news is brought to you by Uncommon Wisdom. Uncommon Wisdom is a free daily investment newsletter from Weiss Research analysts offering the latest investing news and financial insights for the stock market, precious metals, natural resources, Asian and South American markets. From time to time, the authors of Uncommon Wisdom also cover other topics they feel can contribute to making you healthy, wealthy and wise. To view archives or subscribe, visit http://www.uncommonwisdomdaily.com.
© 2005-2019 http://www.MarketOracle.co.uk - The Market Oracle is a FREE Daily Financial Markets Analysis & Forecasting online publication.

Only logged in users are allowed to post comments.
Register/ Log in