Has the UK Housing Market Bottomed?
Housing-Market
/
UK Housing
Aug 05, 2009 - 03:50 AM GMT


Well, there's a surprise. It turns out that Northern Rock was a risky lender after all.
The bank that brought the credit crunch vividly to life for the British public when it blew up in August 2007, has often insisted that its actual loans weren't that bad. It was the business model and the reliance on the wholesale markets that pulled it down, as a result of the "totally unforeseeable" credit crunch.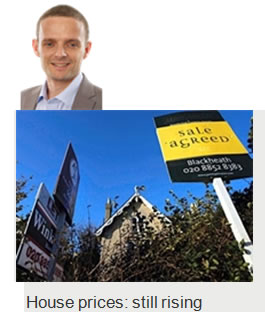 As David Wighton points out in The Times this morning, the latest results show that this just isn't true. The bank made loans that were "obviously risky". Half of the mortgage borrowers who are more than three months behind on their payments had taken out the notorious "Together" loans, which allowed them to borrow 125% of a property's value.
Loans of that size and recklessness are in the past – for now. Which is one big reason why the current bounce in the housing market is going to be very hard to sustain...
Borrowers from Northern Rock are in a worse state than the rest
Northern Rock's first-half results showed that the lender has far worse bad debt problems than its rivals. Nearly 4% of its borrowers are at least three months in arrears with their home loan payments, compared to an industry average of 2.4%. Its "Together" loan book has arrears of around 6.5%. And nearly 40% of people who bought a home with the group are in negative equity.
Northern Rock's first-half results showed that the lender has far worse bad debt problems than its rivals. Nearly 4% of its borrowers are at least three months in arrears with their home loan payments, compared to an industry average of 2.4%. Its "Together" loan book has arrears of around 6.5%. And nearly 40% of people who bought a home with the group are in negative equity.
While the Northern Rock story might end up with a reasonably happy ending for the taxpayer (depending on how the good bank / bad bank split goes), it certainly won't be cheerful for many of the people who ended up borrowing from it.
This shouldn't come as a major surprise. If you need to borrow 125% of a property's value to be able to buy it, then the obvious implication is that you can't actually afford to do so, and should find a cheaper property or stick with renting.
But caught up in the great property bubble, plenty of people saw Northern Rock's largesse as their only way onto the housing ladder, rather than what it actually was - a sure-fire way to ruin themselves.
Yet now house prices are rising again, according to the Halifax. We're told this morning that the price of an average house rose by 1.1% in July, to £159,623. Prices in the past three months have risen 0.8%. And the annual rate of decline shrunk to 12%.
And it's not just Halifax. Nationwide has reported very similar findings over the past quarter or so.
Is the house price crash over?
So what's going on? Is the house price crash over? We don't think so. There's certainly been a bounce in prices. But there are good reasons to believe that this is unsustainable.
We believe that the price of property is largely set by supply and demand for credit. In other words, the more you can borrow, and the more relaxed banks are about giving it to you, the higher house prices will go. The boom years demonstrated this amply. Products such as the above-mentioned "Together" home loan, and the rising number of interest-only loans taken out, were fantastic examples of the phenomenon.
Enjoying this article? Sign up for our free daily email, Money Morning, to receive intelligent investment advice every weekday. Sign up to Money Morning.
But right now, physical supply and demand is having an impact. Because interest rates are so low, the number of forced sellers has fallen sharply. The idea of moving house when the future looks uncertain is also no doubt making many people stay put. So the number of houses coming on to the market has dived.
According to figures from Henry Pryor of HousingExpert.com, the number of properties coming on to the market has fallen from "a peak in February 2004 of over 7,400 per day to just 3,100 today." Meanwhile, the number of sales has dived from a "peak of 5,200 per day in the summer of 2007… to just 1,300 last Christmas" before recovering a little during the "spring selling season to 2,500 a day".
So both the number of sellers and number of buyers has dived – but the gap between the two has closed. So you've got more buyers chasing fewer properties. And if all of those buyers are cash-rich and fussy, they're only going to be chasing the best homes on the market. That suggests that the average price paid is going to be higher than you'd see in a more typical market with a larger number of transactions.
As Pryor puts it, "if there were just one home on the market and two buyers in the whole country then estate agents and mortgage brokers would no doubt jump up and down and point excitedly at the excess of buyers and predict a rise in prices as a result… but can we really base the health of the nation's housing stock on this?"
This house price bounce won't last
The point is that this can't last. As David Smith of property consultancy Carter Jonas puts it: "There is a stark shortage of property on the market and this, above all, is driving the rebound we are seeing. The worry is that this shortage of property will cause buyers to sit on the fence again, as they shy away from committing to a purchase at a higher price."
But the other point is that sellers who've been holding off may see prices rising and decide to stick their homes on the market. The trouble is, while the number of sellers can rise easily, the number of buyers may not go up to match.
That comes back to the availability of credit. To keep house prices propped up where they were, the market needed lenders like Northern Rock, who would extend reckless loans at ridiculous rates to desperate first-time buyers. Or their counterparts at Bradford & Bingley, who would do the same for amateur property speculators.
Those lenders are now out of business as far as the housing market is concerned. And no one is coming in to take their place. That's why this bounce is going to be temporary.
By John Stepek for Money Morning , the free daily investment email from MoneyWeek magazine .
© 2009 Copyright Money Week - All Rights Reserved
Disclaimer: The above is a matter of opinion provided for general information purposes only and is not intended as investment advice. Information and analysis above are derived from sources and utilising methods believed to be reliable, but we cannot accept responsibility for any losses you may incur as a result of this analysis. Individuals should consult with their personal financial advisors.
© 2005-2019 http://www.MarketOracle.co.uk - The Market Oracle is a FREE Daily Financial Markets Analysis & Forecasting online publication.
Comments
TraderJoe
05 Aug 09, 14:52
house prices


Up for July, maybe the bottoms in.



mark thomas
06 Aug 09, 04:38
house prices


what the author fails to mention is the shortage of housing in this over populated island of ours.yes rising unemployement,lack of low deposit mortgages and a return to higher interest rates will put pressure on prices in 2010 but the fact remains there are lots of aspiring home owners out there just gagging to get on the property ladder and sometime in the not to distant future 90/95% mortgages will become readily available again and the laws of supply and demand will dictate a rise in prices.best guess back to 2007 prices by 2011.



Portfolio king
09 Aug 09, 06:15
house prices


The market is on its knees. All the news on prices rising and the bottom of the market is being peddaled by people with a vested interest in prices rising... Given Q/E interest rates will have to rise. As soon as it does people will be forced to sell. This may bolster prices against which sellers will increasing dump property, therefore increasing supply. However buyers will not return due to affordability indexes and higher mortgage costs. All this points simply to a major crash ahead this winter... Anyone who believes we are through the worst is dreaming. We are in the buggest bull trap of our generation. My company (A major investment firm) is already playing down reports of a crash of 25%-35% from Q3 2009 to Q4 2010.

I have reduced my portfolio from £12m to £7m but still face massive risk so am working furiously to get rid of all but core property that is returning 12+ yeilds




Only logged in users are allowed to post comments.
Register/ Log in