Cash for Scrappage of Old Fridges Can't Save the Global Economy
Economics
/
Economic Stimulus
Aug 17, 2009 - 04:22 AM GMT


John Stepek writes: 'Scrappage' fever is gripping the land. First it was about "cash for clunkers". Governments across the world are giving people money in return for swapping their old dirty cars for newer, 'greener' models.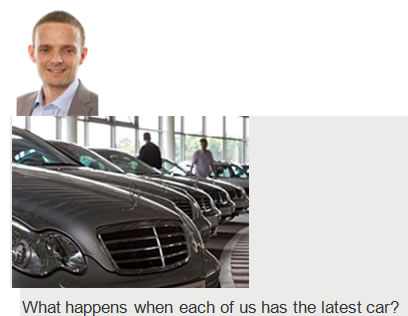 Now that everyone has seen what a tremendous success that's turning out to be, other industries want in on the fun. Retailers are now hinting that the government might want to try paying people to swap their old fridges for new ones. Where will it all end?
The scrappage scheme for fridges is a nutty idea
The British Retail Consortium (BRC) is suggesting that a "scrappage" scheme for white goods (fridges, washing machines and the like) would both help save jobs and help the country go "greener" more quickly.
The BRC reckons that the government should scrap VAT on more efficient models, and look into some sort of subsidy scheme. This "would do a lot to get old energy and water-squandering appliances out of people's homes." Not to mention helping out struggling electrical goods retailers, of course.
Now you can see the BRC's point. The idea is nutty, but no more so than the whole "cash for clunkers" concept in general. The BRC is just doing its job as a lobby group – after all, if one industry is getting its head into the taxpayer-funded trough, why shouldn't the rest?
This is what happens when you start bailing out industries. You start off with the banks, then the car makers, and suddenly everyone wants a hand-out. The worrying thing is that this sort of "new for old" subsidy might just catch on.
Economists and governments around the globe are getting very excited about the success of the car schemes. For some reason, it seems to have come as a surprise to them that if you give people free money to spend on a specific item, then they'll spend it.
But this is just yet another way of trying to return the global economy to the same unsustainable path that led us to the last crash. In the past ten years or so, we've used credit cards and personal loans and housing equity withdrawal in order to bring forward future consumption.
Now, having run out of credit and ever-increasing house prices, we're bringing forward future consumption with taxpayers' money via "cash for trash" schemes.
What will happen once we all have the latest cars and fridges?
This can't go on forever. You either run out of money to spend – Britain is already in danger of losing its AAA-credit rating – or you run out of things to keep upgrading. What happens when each of us has the latest car, the latest fridge, the latest plasma-screen 3D TV?
More to the point, as Bill Bonner points out in the current issue of MoneyWeek: Junk yard economics (if you're not already a subscriber, click here to claim your first three issues free), any subsidised industry takes limited resources away from newer, better industries that would have arisen in their place. "Savings, that might have been invested in new industries, go to prop up an old one."
For example, if you really care about "green" issues, then arguably "cash for clunkers" is just propping up the old, oil-based dinosaur car manufacturers, making it harder for genuinely green alternatives – such as the electric car (Electric cars: on the road to a cleaner, greener future) manufacturers – to achieve critical mass.
We're returning to the way things were before
Meanwhile, for all that everyone complains about how imbalanced the global economy was before the crash, we're simply returning to the way things were before. Only this time, the whole edifice is even more unstable.
Just take a look at the rapid recovery in the manufacturing economies, for example. During the collapse, Germany and Japan were subjected to a lot of gloating from pundits who favour the Anglo-Saxon economic model. "Look," they said. "Britain and America might be in trouble, but those manufacturing-led economies are doing even worse! Serves them right for favouring savings and production over credit and consumption."
But that's a rather stupid argument. If consumers in the West stop consuming, then yes, it's bound to hit export-led economies hard. But it also means they'll be the first to rebound when the inevitable restocking starts.
Germany and Japan are in better shape than the UK
And so the drive by Western governments to get their consumers buying again, has of course been great news (in the short term at least) for export-led economies. This morning we learned that Japan had escaped recession in the second quarter, and last week both Germany and France surprised pundits by doing the same.
How long can this last? Well, without any changes to the way the global economy works, we suspect that the likes of Japan and Germany will see further problems down the road, as the constant jolts of adrenaline needed to keep the Western consumer alive wear off.
But we'd still rather be invested in economies where consumers have healthy savings piles and where the major economic problem lies in finding new customers, rather than having to rebuild entire industries. You can find out more about investing in Japan in our recent May cover story: Stock up in Japan's bargain basement.
By John Stepek for Money Morning , the free daily investment email from MoneyWeek magazine .
© 2009 Copyright Money Week - All Rights Reserved
Disclaimer: The above is a matter of opinion provided for general information purposes only and is not intended as investment advice. Information and analysis above are derived from sources and utilising methods believed to be reliable, but we cannot accept responsibility for any losses you may incur as a result of this analysis. Individuals should consult with their personal financial advisors.
© 2005-2019 http://www.MarketOracle.co.uk - The Market Oracle is a FREE Daily Financial Markets Analysis & Forecasting online publication.
Comments
davis
20 Oct 10, 06:48
cash for fridges


Can you tell me where i can take some old fridges to earn a few quid ?

i come across them in my line of work regularly and would gladly earn £20 or so a fridge should someone (the gov) want to pay me for them.

Thanks.

(based in Oxon)




Only logged in users are allowed to post comments.
Register/ Log in