Gold Companies and Basic Gold Fundamentals Updated
Commodities
/
Gold & Silver 2009
Sep 29, 2009 - 01:11 PM GMT


Gold companies, gold stocks, gold shares - for sale and on sale Down Under now! We correctly called a small correction at GoldOz on the 21st after penning an article over the 19th and 20th (a weekend) based on the action on the Friday before that. This dip presents another fantastic opportunity to get set at low prices as we reach the October buying season.
October can be a time of intense nerves in equity markets and so profit taking may have seemed prudent for some investors at this time. Gold however took off in early September in 2005 and 2007 as shown in the circles on the chart below embarking both times on powerful rallies.
Gold has corrected briefly again and so have the gold stocks but this correction will not go deep in my opinion. It was most likely a reaction to the re-test of this record price level and some technically based gold trader profit taking.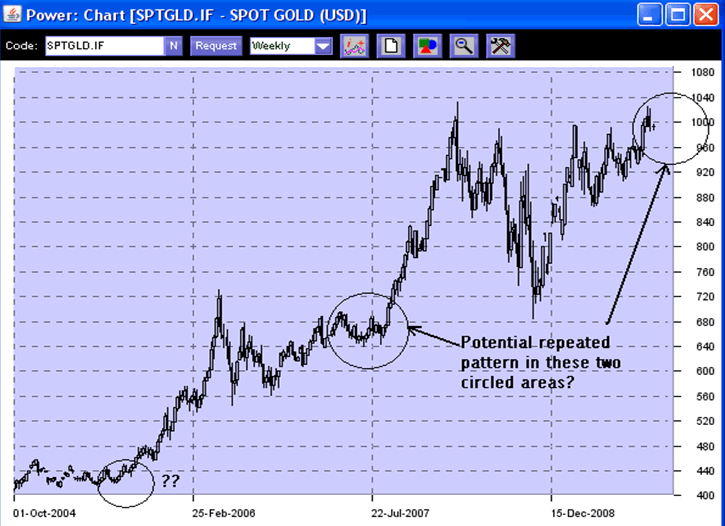 Gold could easily be headed up and away right now and merely taking a quick breather before it takes its run at the new price range. We will soon know and I have taken the stance that I need some shares and some cash right at this moment just to be cautious. Bullion is a long term hold and a core capital protection position.
Of course I am watching support levels with appropriate caution but technical and fundamental considerations lead me to look to the upside once this brief correction has run its course. I am delighted it is happening at this time as it provides a classic entry point for new investors and traders alike.
On the fundamental side I like to keep it simple. The world has changed because the US consumer has been tapped out. The asset bubble in US housing that led the home equity borrowing and spending spree burst and is long over and is not coming back.
The areas of economic growth remaining are in India, China, Russia, Brazil and countries that can supply the raw materials needed to roll out infrastructure – such as Australia. Curiously these are major gold buying capitals hence upward pressure on gold prices.
Buying pressure is likely to come from those countries that hold US treasuries – as a hedge. Buying pressure from the USA is also likely to be a highly significant factor because the USA citizens, corporate sector and government require a hedge against the US dollar weakness themselves.
Old Prediction
Over 18 months ago I noted that the USD could become the next carry trade and now this has come to pass and is a well accepted reality. I had not seen it written anywhere it was just a logical assumption based on a comment by my former Newsletter Editor who had seen carry trade after carry trade over his long banking career. Here is what I had to say at the time…
"I have another theory too – we had a similar problem in Japan and they had a deflating property market and interest rates went to very low levels and this only created the Yen carry trade thanks to the globalization of the investment markets. Then we have seen the gold carry trade so are we going to see a USD carry trade next? Of course the current US situation is not exactly like Japan experienced and the global backdrop is vastly different too however I hope you see my point – if we get a severely weak US interest rate as they desperately try to stimulate their local economy (and let the USD go to hell in a bucket) during a period of strong growth elsewhere… we may get a USD carry trade next."
Not strictly correct – there was not strong growth elsewhere, only pockets of firm growth thanks to massive stimulation. However this was relatively stronger in other economies other than the USA – especially China and Australia. At the same time I am very happy to have called this ahead of the event.
Carry trade activity is common place and one trade will replace another causing upheaval in their wake as the commodity or currency will be short sold causing massive continued weakness.
So in a period of USD weakness we are likely to see Euro strength and gold strength. One investor questioned me recently on Aussie Dollar strength but this currency will no longer keep pace with Euro and gold in this type of environment. Euro investment in gold however is likely to be more subdued than elsewhere and if I was in Europe I would tend to look to gold equities around the world as a more attractive asset class to participate in the rally.
A few weeks back the Australian gold stocks broke out with volume and have made a new relative high – the highest RSI level this year and this is good news. The gold stock behavior is the most exciting I have seen in three years.
The last time our gold sector acted like this was in 2005 when the small, mid and large cap stocks surged higher. In 2005 the larger cap stocks took off in the first quarter and this is identical to this year also. That year the stocks lead the way and gold followed to make new highs in mid September.
Last year we endured a severe melt down in gold equities which culminated in October to November and was on the back of a year long down turn. Leveraged gold equity and general equity positions were unwound and this event is highly unlikely to happen this year. Instead we see strength this year not weakness and that bear trap in gold equities is long gone.
Will we see another down wave in the global economy? The answer is yes in my opinion and I cannot say when however it will be somewhat different next time. I will leave this explanation for another time and believe this will not happen until some time next year at this stage. I am more interested in the job and opportunity at hand currently which is gold and related equities.
To illustrate how well the smaller stocks are doing now I have included the chart below on the junior Aussie gold stocks. Look how low they are now and wonder how high they will go when gold really takes off over the US$1,030 level and beyond.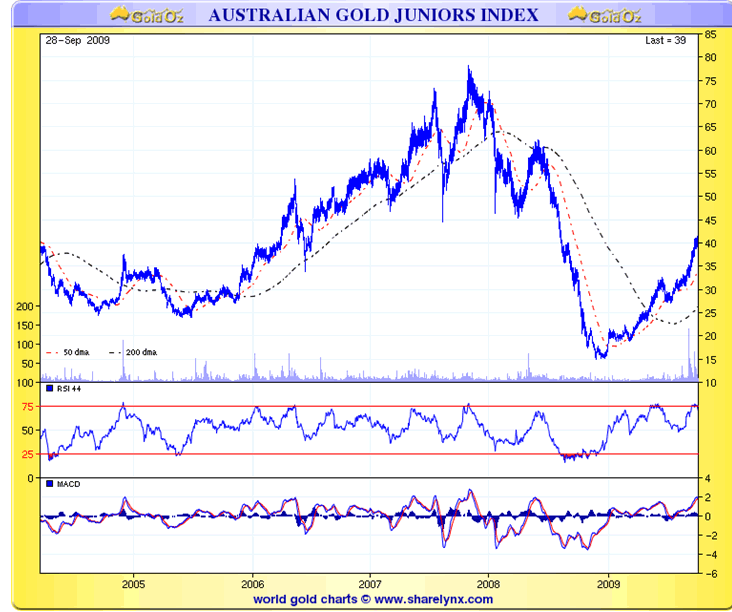 Now one could predict that – based on the high base in gold, fundamental & technical factors and gold stock behavior – that we have an excellent gold rally in front of us and that this gold stock run is by no means over.
I see US gold at US$1400 over the coming six to eight months and the Aussie dollar continuing with strength against the USD - but reaching similar or slightly better levels in our currency terms. This is highly profitable proposition for Australian gold miners as shown in our Ratings Tables which is a file in the Gold Members area at GoldOz.
Of course circumstances can change quickly in the investment game so you have to be on the ball and willing to admit you were wrong and liquidate if necessary. This is called "cutting your losses" and if handled correctly you can be wrong and not lose your shirt – able to fight on another day and recover those losses. Investors must always keep this in the back of their mind. At this point I am confident this gold stock prediction is on track.
One is only as good as ones latest trade and only as good as ones latest thesis in this game so lets take a quick look at another investors view of all these Australian gold stocks. I spoke to a very savvy fund manager in the USA last week – as a consultant which I undertake sometimes.
I will keep his identity a secret of course as this is not public knowledge. I can tell you he was amazed when I took him through the leading lesser known producers and told him about their fundamental condition. Large greenstone belts, large reserves (yes even by North American standards), some with zero debt and no hedge books – only thing missing was the expected valuation.
Great enthusiasm was evident as we discussed some of these stocks and their ground positions – and we hardly scratched the surface as we only spoke for 40 minutes. The smaller cap bargains are stupendous in some instances. I am talking about moderate producers in the 60k to 100k oz per annum range. Some of them are so cheap that when you take their cash and tangible above ground assets into consideration you are getting their gold in the ground for nothing.
The prognosis – "Aussie stocks are on sale". Need I say any more? In two to three years from now this will be ancient history and many of us may in fact be multi-millionaires. Because of our significant success in our recent Gold Membership drive I have decided to allow the bonus time component to remain in the subscriptions at GoldOz. We are offering a free month with an annual and 2 weeks with a six month – one free week with a 3 month subscription but only for the Gold Membership category.
Get on board with us if you want – or at minimum consider the Australian gold sector as there is opportunity to protect your capital and opportunity to make serious profits. We produced a special file many weeks back with all the offshore codes in the various exchanges around the world if you want to invest in your own time zone. Our special discount offer for Gold Membership with additional free bonus time runs out at the end of November if you want to take advantage of it, no pressure – details are at our web site.
Good trading / investing.
Regards,
Neil Charnock
GoldOz is currently developing a Member area and has added further resources for free access. We have stepped up our research and stand by to assist investors from all walks of life. We sell an updating PDF service on ASX gold stocks from only $AUD35 for 3 months – the feedback is grateful and enthusiastic because we are highlighting companies that have growth potential and offering professional coverage of the sector. GoldOz web site is a growing dynamic resource for investors interested in PGE, silver and gold companies listed in Australia , brokers, bullion dealers and other services.
Neil Charnock is not a registered investment advisor. He is a private investor who, in addition to his essay publication offerings, has now assembled a highly experienced panel to assist in the presentation of various research information services. The opinions and statements made in the above publication are the result of extensive research and are believed to be accurate and from reliable sources. The contents are his current opinion only, further more conditions may cause these opinions to change without notice. The insights herein published are made solely for international and educational purposes. The contents in this publication are not to be construed as solicitation or recommendation to be used for formulation of investment decisions in any type of market whatsoever. WARNING share market investment or speculation is a high risk activity. Investors enter such activity at their own risk and must conduct their own due diligence to research and verify all aspects of any investment decision, if necessary seeking competent professional assistance.
© 2005-2019 http://www.MarketOracle.co.uk - The Market Oracle is a FREE Daily Financial Markets Analysis & Forecasting online publication.

Only logged in users are allowed to post comments.
Register/ Log in