U.S. Durable Goods Orders Downside Surprise
Economics
/
Double Dip Recession
Aug 26, 2010 - 04:19 AM GMT


Spending on durable goods rose slightly in July but only on the back of an unsustainable spike in aircraft orders. The rest of the data ranged from weak to abysmal.

As has been the case recently, economists missed the mark by a mile. Economists expected a 3% rise, what they got was a .3% rise.
The Washington Post discusses the situation in
Durable goods orders disappoint in latest sign of economic weakness
Overall, orders for durable goods rose 0.3 percent, the Commerce Department said Wednesday, well below the 3 percent that analysts had expected. But even that slight rise was driven by a spike in aircraft orders, a volatile category. Excluding transportation, durable goods orders fell 3.8 percent.

Most worrisome, orders for non-defense capital goods excluding aircraft fell 8 percent. That indicator tends to predict future equipment spending by businesses, Business spending on equipment and software rose at more than a 20 percent annual rate in the first half of 2010, one of the bright spots in the economic picture; the new data suggest that such spending may not be as strong in the second half of the year.

Detail Digging

Inquiring minds are digging a bit deeper into the Advance Report on Durable Goods Manufacturers' Shipments, Inventories and Orders July 2010.

New Orders

New orders for manufactured durable goods in July increased $0.6 billion or 0.3 percent to $193.0 billion, the U.S. Census Bureau announced today. This increase followed two consecutive monthly decreases including a 0.1 percent June decrease. Excluding transportation, new orders decreased 3.8 percent. Excluding defense, new orders increased 0.3 percent.

Transportation equipment, also up following two consecutive monthly decreases, had the largest increase, $6.1 billion or 13.1 percent to $52.6 billion. This was due to nondefense aircraft and parts, which increased $4.0 billion.

Unfilled Orders

Unfilled orders for manufactured durable goods in July, down following three consecutive monthly increases, decreased $1.1 billion or 0.1 percent to $802.8 billion. This followed a 0.1 percent June increase. Computers and electronic products, down following four consecutive monthly increases, had the largest decrease, $0.5 billion or 0.4 percent to $121.1 billion.

Inventories

Inventories of manufactured durable goods in July, up seven consecutive months, increased $1.8 billion or 0.6 percent to $311.2 billion. This followed a 1.3 percent June increase. Machinery, up five consecutive months, had the largest increase, $0.9 billion or 1.9 percent to $51.4 billion.

Capital Goods

Nondefense new orders for capital goods in July decreased $1.8 billion or 2.8 percent to $64.1 billion. Shipments increased $0.9 billion or 1.4 percent to $64.7 billion. Unfilled orders decreased $0.6 billion or 0.1 percent to $487.2 billion. Inventories increased $1.0 billion or 0.8 percent to $129.8 billion. Defense new orders for capital goods in July decreased $0.2 billion or 2.2 percent to $9.5 billion. Shipments decreased $0.2 billion or 2.4 percent to $9.5 billion. Unfilled orders decreased slightly to $139.7 billion. Inventories increased slightly or 0.1 percent to $17.9 billion.
Inventories Up Orders Down

Note how inventories have risen seven consecutive months, while new orders, especially capital goods and non-transportation orders have tanked.

Who Couldda Thunk?

Flashback July 14, 2010: Expect Second-Half Housing and Durable Goods Crash
Those who think manufacturing is going to lead the way to a sustainable recovery need to think again. Data suggest durable goods sales are about to collapse.

Let's tie this together starting with the Mortgage Application Weekly Survey .

Consumers certainly will not be buying appliances (or carpeting, or landscaping, or nick-knacks) for the homes they are not buying either.

Will Commercial Real Estate Provide Growth?

Hardly. Vacancies are rising and rent prices are falling. Looking ahead US nonresidential building seen down 20 pct in '10

What about Business Equipment, Routers, Etc?

Intel had a blowout quarter. The equity market's reaction was ho-hum at best. Treasuries which had been in a short-term slump have rallied.

By the way, Intel had a blowout quarter in April as well. This was the result.



Intel New Low

Intel printed a new low for the move today.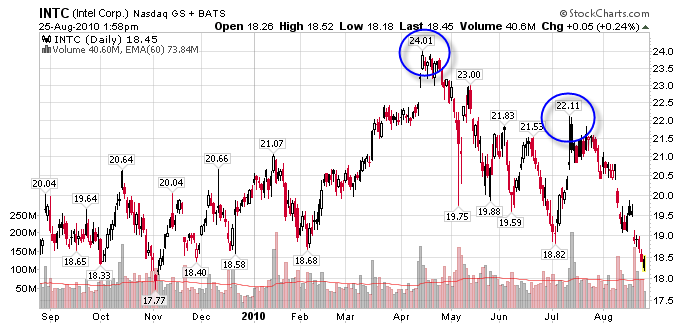 Blowout quarters are one thing, sustainability of them and what's already priced are clearly different things.

Across the board, from computers to electronics to home appliances to capital spending in general, durable goods have peaked. Moreover, I believe it was obvious.

Recent Surprises

Stack up another huge miss, this time with durable goods. Can someone please tell me what is going on in the minds of economists to continually blow forecast after forecast after forecast when the weakness is easily transparent?

By Mike "Mish" Shedlock
http://globaleconomicanalysis.blogspot.com
Click Here To Scroll Thru My Recent Post List

Mike Shedlock / Mish is a registered investment advisor representative for SitkaPacific Capital Management . Sitka Pacific is an asset management firm whose goal is strong performance and low volatility, regardless of market direction.

Visit Sitka Pacific's Account Management Page to learn more about wealth management and capital preservation strategies of Sitka Pacific.
I do weekly podcasts every Thursday on HoweStreet and a brief 7 minute segment on Saturday on CKNW AM 980 in Vancouver.

When not writing about stocks or the economy I spends a great deal of time on photography and in the garden. I have over 80 magazine and book cover credits. Some of my Wisconsin and gardening images can be seen at MichaelShedlock.com .
© 2010 Mike Shedlock, All Rights Reserved.
© 2005-2019 http://www.MarketOracle.co.uk - The Market Oracle is a FREE Daily Financial Markets Analysis & Forecasting online publication.

Only logged in users are allowed to post comments.
Register/ Log in