Beef Bull Market
Commodities
/
Commodities Trading
Oct 31, 2011 - 04:54 PM GMT


Have been visiting myfavorite unknown, small, near-hidden grocer more often recently. Reason for that is their steaks are both good, a rarity in this modern world, and reasonably priced relative to others. Another reason for doing so is in part to eat beef now, while it remains affordable.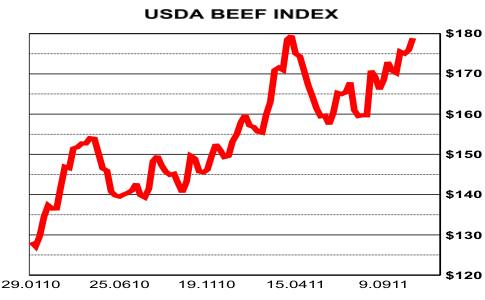 Chart above is of the USDA's index for beef. That measure is a combination of prices for boxed and hanging beef. No fancy software is necessaryto discern the rather obvious trend. The index is flirting with a new 90-week high.
High grain prices of recent times made profits difficult for those feeding steers to ultimately become beef at your grocery stores. Their response to such a development was to feed fewer steers. In the Southwestern U.S., the drought forced a massive liquidation of herds. Cattle there are fed grass which does not grow without rain. Remember, steaks are not produced in factories. That herd liquidation first reduced prices as sales occurred. Second round effect is now in place, rising prices.
USDA is forecasting that U.S. beef production will be down again next year. At the same time, export demand for U.S. beef continues to rise. Those nations not hampered by the failure of Keynesian ideology, such as China, continue their economic growth. Rising incomes from that growth are being used to eat better. Rising global demand combined with downsized U.S. cattle herd should translate into rising beef prices through late 2012. In the years beyond that, beef is likely to simply become too expensive for most budgets.
As a result of the above economics of beef, rising hog prices, and a growing unwillingness on the part of lenders to finance unprofitable U.S. chicken operations, the price surprise of 2012 could be chicken prices. A chicken in every pot at election time in the U.S. next year could easily cost 50% more than today. Agri-Equities of beef, hog/pork, and chicken producers should benefit from these trends.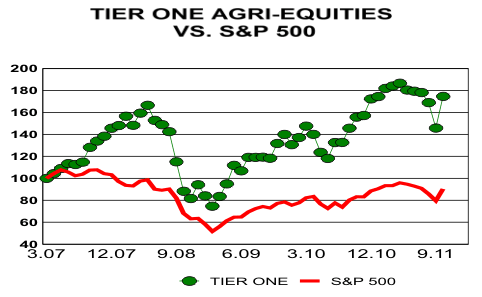 Continue to be baffled by ongoing babble and blather by strategists on the cable business shows. Banks and technology stocks? Ideas of the last decade. As the above chart portrays, a naive investment strategy in first tier Agri-Equities has done quite nicely. The price index for first tier Agri-Equities is just shy of a high, a new high not a recovery high. First tier Agri-Equities are primarily the large multi national companies serving the global Agri-Food system.
Rising again but lagging due to brutal and misguided raids by short sellers are the Asian Agri- Equities. That group is likely to do quite well in the years ahead given the demand for Agri-Food from China. Accounting issues? Groupon seems to be flipping a coin daily on revenue accounting.
At Olympus hundreds of millions disappeared down an offshore rabbit hole. Seems the short promoters are looking for love in all the wrong places. When markets push equities to an extreme, down or up, opportunity is created for investors.
By Ned W Schmidt CFA, CEBS
AGRI-FOOD THOUGHTS is from Ned W. Schmidt,CFA,CEBS, publisher of The Agri-Food Value View, a monthly exploration of the Agri-Food grand cycle being created by China, India, and Eco-energy. To contract Ned or to learn more, use this link: www.agrifoodvalueview.com.
Copyright © 2010 Ned W. Schmidt - All Rights Reserved
© 2005-2019 http://www.MarketOracle.co.uk - The Market Oracle is a FREE Daily Financial Markets Analysis & Forecasting online publication.

Only logged in users are allowed to post comments.
Register/ Log in