Rule Change on Foreign Investments to Send Chinese Stocks To the Moon
Stock-Markets
/
Chinese Stock Market
Dec 19, 2007 - 12:30 PM GMT

If you're feeling a little nervous about the markets ... you're far from alone.
U.S. stocks have been struggling ever since the Federal Reserve Bank disappointed investors with a measly 25-basis-point interest rate cut last week.
After nose-diving by almost 300 points last Tuesday, and posting further losses for the rest of the week, the Dow Jones Industrial Average fell another 172 points yesterday.
The gauntlet of bad news — falling real estate prices and retail sales, rising inflation and energy prices, and the continued saga of billions in subprime write-downs — has investors feeling the pain.
And some of that pain has washed across the Pacific Ocean and infected Asian markets. The Shanghai Composite Index surged from 2,695 at the beginning of the year to a record high of 6,124 on October 16. Then over the next 30 days, it lost more than 1,000 points.
Ever since, a chorus line of "I-told-you-so" naysayers have been all too eager to pronounce the end to the bull market. And while the Shanghai index has bounced around, it hasn't done much overall.
So is the China correction finished or about to get a lot worse? My answer is simple ...
The Chinese Market Is About To Get a Whole Lot Better
China's surging economy is proof that the partial adoption of a market economy has been a booming success. The rising Chinese economic tide has lifted millions of Chinese out of poverty, and is the greatest economic success story of our times.
But a bear market in the country's stocks would wipe out years of savings, scare small investors away (perhaps forever), and derail China's economic juggernaut.
This point is not lost on the leaders of the Communist Party. They want to avoid any event that would jeopardize their agenda to boost China's standard of living, economic growth, and inflows into the country's capital markets.
It's why the 17th Party Congress in October pledged to let people accumulate their "asset wealth." In other words, keep their stock portfolios rising in value.
And remember, China is a communist country. Don't think for a second that the Chinese leaders can't do whatever they want. They can — and do — manipulate markets. It's business as usual for them.
The Communist Party has absolute control of everything from prices of food and oil to the content of newspapers and television shows.
Needless to say, I expect the Chinese government to act aggressively in stabilizing or even propping up their stock market. For starters ...
Chinese Officials Are Publicly Stating That Stocks Have More Upside!
On November 30, a commentary in Securities Times , a major securities daily that is used to voice the wishes of Chinese market regulators, clearly stated that the Chinese stock market is NOT over-valued or developing a bubble.
Li Yang, the director of the Institute of Finance and Banking under the Chinese Academy of Social Sciences (CASS), said that applying western P/E ratios to Chinese stocks is a mistake. He argued that China is an emerging economy, which makes it an entirely different animal.
Yang said that by leveraging the rapid growth of China's economy and continued appreciation of the yuan, most listed companies are expected to report handsome profit growth, which will bring down their P/E ratios.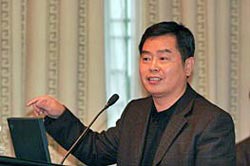 Li Yang publicly stated that Chinese stocks are nowhere near being overvalued.
His conclusion ...
"China's stock market in 2007 is one of a fast-running bull. The running speed of the bull is slowing down but it is still a bullish market. The market will remain bullish ahead of the Olympic Games."
But don't make the mistake of assuming that 'jawboning' from Chinese government officials is as powerless as it is in the U.S. The difference is that in China, the Communist politicians CAN and DO back up their jawboning with timely policy action.
Example ...
This Move by Foreign Exchange Officials Could Drive Chinese Stocks to the Moon
On December 9, the State Administration of Foreign Exchange (SAFE) announced that it was going to triple the quota for qualified foreign institutional investors (QFII) putting money into Chinese stocks listed on the Shanghai and Shenzhen stock exchanges.
See, while you and I aren't allowed to invest directly on mainland China stock exchanges, the big institutional investors — like Goldman Sachs and Merrill Lynch — can through the QFII program.
Previously, they were limited to $10 billion. Now, another $20 billion will likely flood into Chinese stocks!
I'm confident that's what's going to happen. After all, investors haven't lost their appetite for Chinese investments one bit. Just last week, two new Chinese companies went public on the New York Stock Exchange and skyrocketed!
Last Tuesday, Vance Info Technologies (NYSE: VIT), an IT services and software company, jumped 17% on its first day of trading. Separately, Chinese residential real estate developer Xinyuan Real Estate (NYSE: XIN) roared ahead 20% on its debut.
And while those numbers are impressive, the IPO market is even hotter in China itself:
China Shipping Container Lines, the second-largest shipping company in Asia, raced ahead by 75% on its first day on the Shanghai stock exchange.
China Railway, Asia's biggest construction company, rose 69% on its Shanghai debut.
Petro China, the company that Warren Buffet recently sold, skyrocketed 163% on its first Shanghai trading day!
I have no doubt that strong demand for Chinese stocks plus the expansion of the QFII program will be like throwing gasoline on an already red-hot fire.
Listen, the U.S. stock market is ugly and about to get uglier, but do not make the deer-in-the-headlights mistake of inaction. Instead, consider reducing your exposure to domestic weakness and put your money to work in places that are still expanding.
Best wishes,
Tony
P.S. I just gave my Asia Stock Alert subscribers my #1 pick to take advantage of a booming Chinese spending spree. This company's products are so in demand that it has to hire security guards to keep crowds from overwhelming its stores. I think the stock is an easy double in the next 24 months, and there's still time to get in. Interested? Subscribe now!
This investment news is brought to you by Money and Markets . Money and Markets is a free daily investment newsletter from Martin D. Weiss and Weiss Research analysts offering the latest investing news and financial insights for the stock market, including tips and advice on investing in gold, energy and oil. Dr. Weiss is a leader in the fields of investing, interest rates, financial safety and economic forecasting. To view archives or subscribe, visit http://www.moneyandmarkets.com .
© 2005-2019 http://www.MarketOracle.co.uk - The Market Oracle is a FREE Daily Financial Markets Analysis & Forecasting online publication.

Only logged in users are allowed to post comments.
Register/ Log in