Russian Stock Market Crash and the Currency Factor
Stock-Markets
/
Emerging Markets
Oct 08, 2008 - 05:05 PM GMT


After taking yet another beating on Monday, Russia found its stock market down 60% on the year-- sixty percent!


Citigroup recently suggested that investors put 55% of their portfolios in foreign markets . And there are those who have long recommend even heavier foreign exposure, saying that the rest of the world would hardly notice-- or somehow be better off--if the U.S. experienced a sharp recession on the back of a housing burst. Decoupling was always a fanciful idea, but one that looks particularly silly in retrospect.
What's the additional risk factor investors forget when looking overseas? Currency risk. Keep in mind: if you hold an overseas stock that's flat while its currency declines 25%, you're down 25%, as well. Look at the New Zealand dollar's action this year, for example: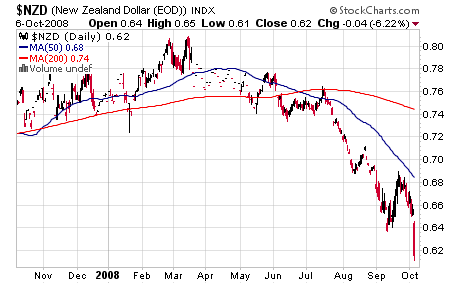 The Kiwi's fall has been nearly 25% this year.
For example's sake, let's roughly call the Kiwi's fall as having been from $.80 to $.60 this year. Using such numbers, then if you held a N.Z. stock worth $10 when the currency was at $.80, then in U.S. dollar terms it was worth $8/share. Even if that stock held flat at $10 NZD, it would only be worth $6/share U.S. due to the Kiwi's fall alone--you're down 25% just like the New Zealand dollar.
Now, let's make it more real-world: what if the stock declines 20% at the same time the currency is falling? Now you're down 40% in total. How? You started with a stock that had a U.S. dollar value of $8 ($10/share NZD X a currency rate of $.80). You ended up with a stock at $4.80/share ($8 NZD share price X a currency of $.60).
Bang.
Just as with the dot-com mania and the housing bubble, I think a lot of investors forgot this reality the last couple of years because foreign stocks and currencies had been on the rise together, leading to outsized returns.
What those investors lost sight of was that even a seemingly benign, Western market like Australia, which after Monday's close was down "only" 30% in local terms, has delievered a black eye to unwitting American investors, because it's down nearly 45% in U.S. dollar terms. It'll take a heck of a lot more rallies like Tuesday's, where a surprise 1-point rate cut lifted Aussie stocks, to make up for such whoopin'.
Hey, our firm focuses on international markets, but putting 55% or more of an American investor's portolio overseas is aggressive, to say the least.
Emerging markets offer the most exciting economic growth potential in years to come. At the same time, they still offer the most risk... something to keep in mind when wading back in.
*See this and other short commentaries daily in my blog, Hanlon's Pub
Chip Hanlon
President
Delta Global Advisors
Phone: 800-485-1220
www.deltaga.com
Chip Hanlon focuses on foreign equities, currencies and commodities. He is currently the president of Delta Global Advisors, an SEC-registered investment advisor with more than $1BB in assets under management. Previously, he was the C.O.O. and chief U.S. strategist for Euro Pacific Capital, president of Unfunds, Inc. and vice president of investments and syndicate director for Sutro & Co. He is also a contributing writer to Green Faucet and to Real Money, the subscription service of thestreet.com
© 2005-2019 http://www.MarketOracle.co.uk - The Market Oracle is a FREE Daily Financial Markets Analysis & Forecasting online publication.

Only logged in users are allowed to post comments.
Register/ Log in