Will The Stock Market Ever Stop Going Up?
Stock-Markets
/
US Stock Markets
May 16, 2007 - 07:38 PM GMT

Investors who want to beat the market are wondering if the recent rise will ever stop going up. The stock market is experiencing unheard of price appreciation that is breaking all times highs for the DJIA, the Transports and the Utilities. The DJIA is up 23 of the last 26 days, a move that has never occurred before. The DJIA did move up 22 of 25 days in 1955.
Also, the S&P 500 is close to the all time high and the NASDAQ is reaching highs not seen for several years. Is this a short term situation or will the markets continue to surprise to the upside for some time to come? According to Mark Hulbert of the Hulbert Financial Digest , this event is not a sign of anything in particular. It is just noise in the random walk down Wall Street. Let's look at some other factors that might shed more light on the markets.
First of all it has been said that the market will do whatever it takes to prove the most people wrong. For example, many market analysts have expected the market to pull back over the last few months, looking for a 10% retrenchment before it continues back up. This has been a normal occurrence in the past and that is one of the primary reasons these seasoned analysts have expected it to take place again. So far it looks like the market is doing all it can to prove them wrong.
Are there any economic reasons for the market to continue to go up? Actually there are several. According to a recent Lombard Street Research report the volume of stock retirements reached about 5.2% of the GDP for the fourth quarter of 2006. A lot of money from stock buy backs, takeovers and private equity is being spent to take stock out of the market, reducing the available supply. As long as this continues it is a positive sign for the markets.
The chart below is from chartoftheday.com . It shows that the current stock market rally as defined by the DJIA is the fourth longest since 1990, yet it is below average in size of move up. One interpretation of this chart is we are due for a move up to bring the current rally closer to the norm. Another is we are nearing the end of this current bull market.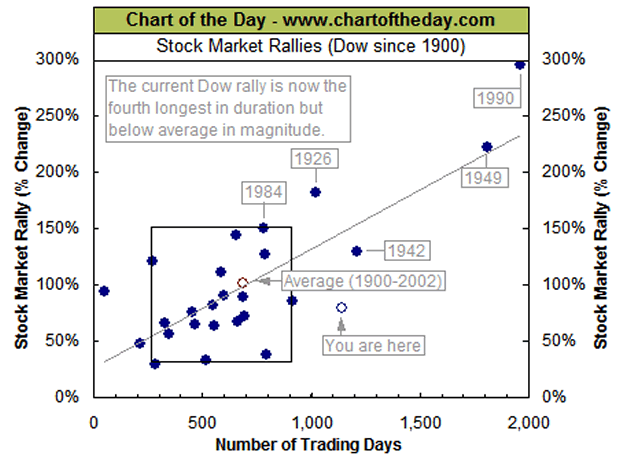 One of the most important factors to consider is whether the current market is over or under valued. According to Standards & Poor's the most recent Price Earnings (PE) for the S&P 500 is just over 17 and has been trending down for several years. The "norm" is 15.89 with over 20 considered "expensive". So the current PE ratio for the market is not over valued.
The chart below from Martin Capital Advisors uses their proprietary stock market valuation indicator showing that the S&P 500 is not in the area where we should worry. However, it also is not in the area that is considered good for stocks.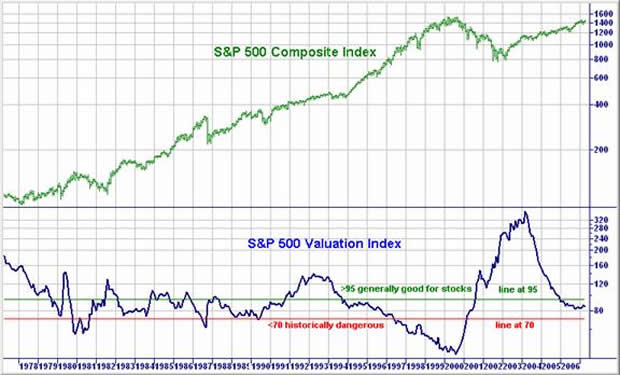 Jeremy Grantham, a well known value investor who manages money for a lot of wealthy people and founder of Grantham Mayo Van Otterloo, believes we are seeing the first worldwide bubble in history covering all asset classes. After a 6-week tour of countries around the world, Mr. Grantham believes there are two conditions necessary for a bubble to form. First, we must have excellent economic conditions. According to Grantham's letter, "Never before have all emerging countries outperformed the U.S. in GDP growth over a 12-month period until now." Grantham continued "Amazingly uniform strength, and yet another sign of how globalized and correlated fundamentals have become, as well as the financial markets that reflect them."
The second factor is there must be sufficient liquidity available to make it easy to obtain and at a cheap price. According to Mr. Grantham, having only one of these conditions is not sufficient for a bubble to form.
The increase in the money supply is helping to provide the liquidity to power the run up in asset prices including stocks. It seems that the broad measures of the money supply are rising throughout the world. Hedge funds and private equity investors are able to borrow money at low rates from countries that have cheap money, such as Japan and then deploy that money to buy assets that offer significant profit potential.
As identified by Mr. Grantham, this borrowing becomes self-sustaining. "The more leverage you take, the better you do; the better you do, the more leverage you take. A critical part of a bubble is the reinforcement you get for your very optimistic view from those around you."
So what do we do given this insight? Well, most bubbles last longer than many people expect. And this one isn't yet considered a bubble by very many yet. Also, China should continue to spend on infrastructure at least up to the 2008 Summer Olympics, since they want to show the world they are a modern nation.
Mr. Grantham suggests that in their study of bubbles there is a short but dramatic "exponential" move before it finally bursts. However, he and his colleges do not believe this has occurred yet. They do recommend that investor reposition their portfolios for the inevitable move down by becoming more conservative. Keep in mind that he is advising people with very large portfolios, where is can take a little longer to make the necessary changes.
For me, it looks like we should see the current bull market run for a while longer, driven by the growth of many global economies. We will also see some pull backs, possibly even the 10% ones some analysts are looking for. Those pull backs should be buying opportunities, unless something fundamentally changes in the global markets. To protect everyone's portfolios keep the stops in place whether you they are entered with your broker or kept mentally. When looking to buy, evaluate the impact of global economies on the company you are considering. The more involved in the world economies, the more potential for a move up, and a move down when the market breaks lower.
By Hans Wagner
tradingonlinemarkets.com
My Name is Hans Wagner and as a long time investor, I was fortunate to retire at 55. I believe you can employ simple investment principles to find and evaluate companies before committing one's hard earned money. Recently, after my children and their friends graduated from college, I found my self helping them to learn about the stock market and investing in stocks. As a result I created a website that provides a growing set of information on many investing topics along with sample portfolios that consistently beat the market at http://www.tradingonlinemarkets.com/
© 2005-2019 http://www.MarketOracle.co.uk - The Market Oracle is a FREE Daily Financial Markets Analysis & Forecasting online publication.

Only logged in users are allowed to post comments.
Register/ Log in