Financial Crisis Opportunities Amidst The Greatest Wealth Transfer In History
Stock-Markets
/
Credit Crisis 2009
Apr 24, 2009 - 11:47 PM GMT

In G7 capitals and financial centers, Public Servants and their elite Banksters - both central and money center banks and investment brokers - nervously tell their clients to wait for the inevitable recoveries, along with a chorus from the elite media stooges to fool the citizens and investors of their cluelessness. Neither the Chicago School nor Keynes can explain what is unfolding, and in the Austrian School everything is and has been predictable. Why are the first two considered mainstream? Because in both schools of thought GOVERNMENT is the answer rather than the problem. For the mainstream, the problems can always be solved by borrow, print, lend and spend.
In no way will the "borrow, print, lend and spend" model work in generating NEW economic growth; it just moves the hyperinflationary (Crack-up Boom) outcome closer into view. The G7 is now on the way to being a BANANA republic the likes of Venezuela, Argentina, Zimbabwe and the German Weimar republic. The G7 public and their Public Servants are economically illiterate and the "something for nothing" character flaw now leads them to their inescapable future. This Ship of Fools deserves its fate and nature is about to impose its lessons.
For those of us who understand what is unfolding, it is an amazing opportunity to prosper and thrive because the greatest transfer of wealth from those that hold their wealth in paper to those that don't is firmly underway. As this is priced into markets, "volatility" shall reign supreme as the Ship of Fools tries to elude its fate, driving markets (stocks, bonds, currencies, commodities, natural resources, energy) up, down and sideways as they seek shelter from the unfolding storms and maelstroms. But there is no escape as they have failed to learn history's lessons and are doomed to repeat them. For the prepared investor, the opportunities are immense.
In April of 2007, we identified the unfolding collapse of INCOME, as related to the S&P 500 and illustrated by a WOLF WAVE, and extrapolated it worldwide, because at that time the US was still the locomotive to the world economy. In August of 2007, this letter identified ROACH motels that were in essence the shadow banking systems over the counter derivatives. We postulated that there would NEVER be enough money printed to underpin their worth: they were unknowable and no price discovery mechanism was built into them, and at this point, never would be. If their worth was discovered the world would know: the G7 governments and their financial systems are INSOLVENT. Both scenarios have unfolded as predicted, and now the greatest debt bubble in history is just beginning to POP; what you have witnessed up until now is just the prelude.
As incomes are NOT sufficient to repay the debt, significant debt restructuring must take place and losses realized. However, very little, if almost NONE of the debt restructuring has yet occurred. Let's take a look at the mountain of debt going all the way back to the inception of the Federal Reserve. The final severing of gold from the US currency at Breton Woods II in 1971 was the LATEST betrayal of the American people by Public Servants at that time since fiat money was constitutionally PROHIBITED and contrary to the constitution: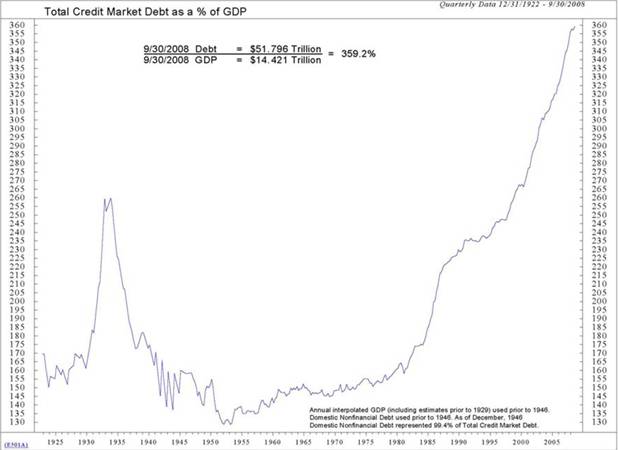 Notice how the accumulation of debt took off like a scalded cat after Breton Woods II severed the last links to gold-backed money. Then the politicians with their central bank and private financial institutions embarked on the debt enslavement of the American and G7 people. Obviously they have now achieved it. GDP is declining while debt issuance is SOARING and the unpaid mountain of debts, as a percentage of GDP, continues to climb just as it did in The Depression.
Look closely at the period between 1930 and 1933: Debt skyrocketed AFTER the stock market crashed in 1929, and continued to skyrocket until 1935 when the deleveraging REALLY began. Extrapolating this today, by looking at current executive and congressional actions and intentions, it is set to occur again NOW, as well. So, look at this vertical growth in debt above as JUST the beginning of a debt-to-GDP ratio which projects to 500% of GDP, without taking into account UNFUNDED entitlements. During the first Great Depression, the United States was the greatest CREDITOR nation in the world. Now it is the greatest debtor, and most of the debt is held by FOREIGNERS. This is a recipe for ZIMBABWE.
Virtually NONE of this debt has been written off ($1 Trillion of an expected and required $8-12 plus Trillion). Most lenders are still holding these loans at 90 cents on the dollar, when in fact they may be worth 20 cents. Lending and expansion will not resume until at least 20% of these losses are retired because the INCOME to service it no longer exists.
In order to pay down debt you must PRODUCE MORE THAN YOU CONSUME. This is something the G7 hasn't done in years (properly adjusted for inflation) and has forgotten to do; it has substituted fiat currency and credit expansion in its place. This is growth by misstated inflation and Ponzi finance. Please don't call it Capitalism because it is not Capitalism. It is a type of stealth Socialism and creeping enslavement of current and future generations with UNPAYABLE debt; deficit spending can only be paid for by future taxes or INFLATION by printing press. As this pile of debt just soars and comes due over the next several years, incomes are in freefall. Let's review the Wolf Wave from the Crack-up Boom series of last summer:
3 Year Annualized earnings on the S&P 500 through June 2008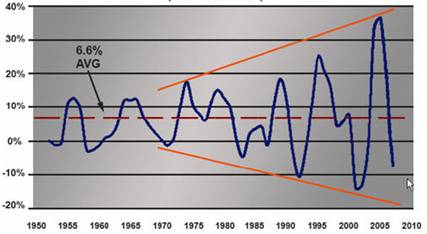 This is a chart from the summer of 2008 and 3 quarters later; the drop in earnings has sliced through the lower trend line like a hot knife through butter and is approaching an 80% decline on a quarterly and a monthly basis. US corporate tax receipts have fallen from $32.57 billion in March 2008 to $3.39 billion in March 2009, a decline of almost 90% in just 1 year. John Mauldin has been doing fabulous work detailing the falls in income. It is outlined in his work from April 10th and available to you here: http://www.marketoracle.co.uk/Article9976.html, I urge you to read it as it removes any of the illusions you may have about corporate PROFITABILITY.
The FEDERAL budget deficit in the first six months of the fiscal year was reported close to $1 trillion ($956.8 billion). Last year, the budget deficit for the same period was $312 billion and for ALL 2008, a mere $454 billion. A quadrupling of the RED ink, codified into law and as we all know, never to be repealed regardless of which party holds the reins of power. Through the first six months of the fiscal year, expenditures are up over 33% and income is down over 13%, and that is BEFORE the Washington spending and stimulus bills passed in January-March are included. Rivers of RED ink as far as the eye and mind can see.
The bank rescue plan, known as the Public Private Partnerships, to remove the TOXIC bonds has FAILED because no one in their right mind would partner with the government. As Jamie Dimond of JP Morgan Chase said, "We have no intention of participating; we have learned our lessons about government partners already."
To see the fall in income globally, look no further than this chart of World Trade from a recent New York Times: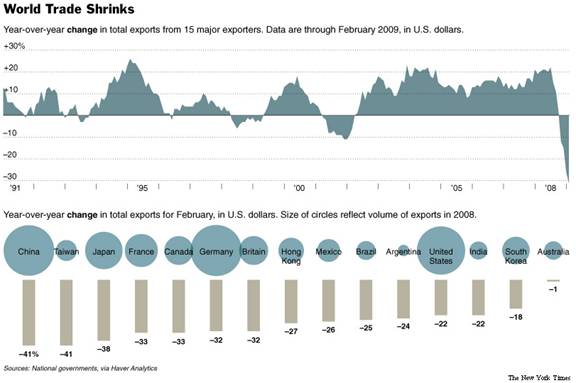 This is another face of the global collapse in income. Do you really believe these firms, economies and governments are still able to service their debts? How many lenders are now in jeopardy of default? My estimate is that it is quite a few. Industrial production is at its lowest level since it started being measured in 1967, about 68% of capacity. Inventories are skyrocketing, so it is set to fall MORE, and layoffs shall also. Actual unemployment is almost 20% if you eliminate the statistical definitions. Take a look at this chart from www.shadowstats.com outlining the true picture: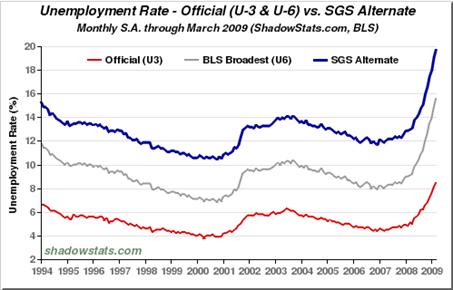 Unemployment properly measured is almost 20% and it has a long way up to go, only the government and mainstream media HIDE this betrayal by Public Servants to create the conditions for JOB growth! This is also a picture of plummeting incomes. MetLife has just released a study which discovered that 50% of the people surveyed would be UNABLE to pay their bills after 30-60 days if they lost their jobs.
The Benedict Arnolds in the G7 capitals continue to bury the futures of their current and subsequent generations with debt to fund their follies in bribery with taxpayer money. The interest expense on Obama's and Congress' new spending plans amounts to over $115,000 of ADDITIONAL INTEREST expense for every person over the age of 20, over the rest of their lives. This is in addition to what is already owed and does not include repayment of principle.
I am about to have a son born in the next two weeks and he is a DEBT slave of the government, impossibly indebted by over $250,000 AT BIRTH. I was informed that when I apply for the birth certificate, they want me to apply for a Social Security number, placing their noose around my son's future earnings as their debt slave. MY SON IS NOT RICH, and neither am I. The immorality of the US government expecting future generations to pay for the profligate spending of people who REFUSE to pay for their own consumption is on plain display. Obscene and immoral behavior.
Then, the most economically illiterate new gang of 535 (the executive, congressional and judicial branches of the US government), in conjunction with the rest of the G7, have implemented programs and plans which are accelerating the demise of the G7 financial systems bringing forward their unfolding insolvencies. In just six months (since October 1, 2008), the Public Servants and the president will have expanded government by 99%.
It took George Bush eight years to double the size of government. For President Obama and the Democrats, the doubling is accomplished when the 2010 budget begins. Think of all the NEW opportunities for corruption that Public Servants can SELL via CAMPAIGN contributions and cushy jobs from the private sector contributors after retirement, as the new rules are written. As they choose the NEW "winners and losers" in the private sector by government fiat and regulations, the new national champions are DECLARED and the money is spent. It's Christmas day for every Public Servant and government office in the land. Just this week, it was announced that Social Security contributions are almost less than the payouts, due to the collapsing income of the American people. This was not projected to happen until 2011-2012.
The losses which reside, for the most part, on the books of the lenders, whether they are banks, investors, institutions or pension funds, etc. - ALL are waiting for the (as they believe) typical post-WWII recovery to take place. The IMF now estimates another $4.1 TRILLION of losses are yet to be realized (the true number is MANY multiples of this figure). The $12.9 Trillion borrowed, guaranteed or printed to date could PAY OFF every residential mortgage in America with Trillions to spare.
Recently, stock markets around the world have rallied from 25 to 45%, depending on where you look and sectors such as the financials have enjoyed gains of up to 100%. DON'T BE FOOLED. The worst of the economic crisis is in front of us. Use this rally to further position yourself for the next leg of the unfolding economic and political debacle.
Even DEAD CATS bounce and this dead cat was thrown to the floor harder than any time in history. In February, the stock markets of the world on monthly charts were more oversold than anytime on record. Emotional exhaustion, mainstream media- hyped HOPE, statistical manipulation and seasonal adjustments on an unprecedented scale and never before seen levels of PPT (plunge protection team) MONETIZATION of stocks are all combining to fuel this bounce. The financial authorities are already buying US and agency debt. What makes you think they will stop there, when the PPT is already in place at the primary dealers and ready to PUMP up the stock market, providing the illusion of stability?
Take a look at this chart from Dennis Gartman at the www.thegartmanletter.com and from Trim Tabs which illustrates saving and investment flows: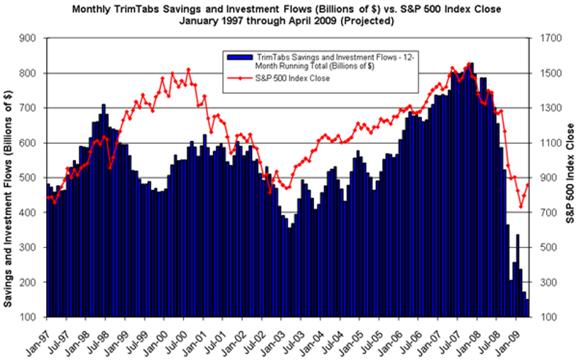 This chart makes the rally even more suspicious. The PPT I believe has never been more active in its history. The current denizens of WASHINGTON, D.C. just got tired of the market taking nose dives any time one of them speak, so it appears the order went out to HIT THE BUY button every time they do in order to create the ILLUSION of support from people with MONEY on the line. They will STOP at NOTHING in pursuing power and the crisis is their cover.
Today when Obama started speaking, the tic went from negative 600 to positive 1200 in less than a minute. It would appear it is relentless. At no time during my career have I seen the things I have seen in the last 60 days; it is mesmerizing. Any time the market tries to correct, they would appear to stand in the way of healthy corrective activity, setting the stage for a debacle when their interference with NATURE ultimately fails. Fundamentally, the market should fall another 50%, at least if Mauldin is correct in his work. AND HE IS! Of course, the money on the line to buy the markets is created with a keystroke and the purchasing power is subtracted from the money you have in the bank by debasement.
The bank stress tests are a joke and the conclusions were known before they began. Whatever is most POLITICALLY beneficial is to be expected, as practical solutions fall prey to the corruption of the present Congress and executive ambitions. Turner Radio Network has obtained a copy of the results as follows:
The Turner Radio Network has obtained the stress test results. They are very bad. The most salient points from the stress tests appear below.

1) Of the top nineteen (19) banks in the nation, sixteen (16) are already technically insolvent. (Based upon the "alternative more adverse" scenario which had a 3.3 percent contraction of the U.S. Economy in 2009, accompanied by 8.9 percent unemployment, followed by 0.5 percent growth of the U.S. Economy but a 10.3 percent jobless in 2010.)
2) Of the 16 banks that are already technically insolvent, not even one can withstand any disruption of cash flow at all or any further deterioration in non-paying loans. (Without further government injections of cash)

3) If any two of the 16 insolvent banks go under, they will totally wipe out all remaining FDIC insurance funding.

4) Of the top 19 banks in the nation, the top five (5) largest banks are under-capitalized so dangerously, there is serious doubt about their ability to continue as ongoing businesses.

5) Five large U.S. banks have credit exposure related to their derivatives trading that exceeds their capital, with four in particular - JPMorgan Chase, Goldman Sachs, HSBC Bank America and Citibank - taking especially large risks.

6) Bank of America`s total credit exposure to derivatives was 179 percent of its risk-based capital; Citibank`s was 278 percent; JPMorgan Chase`s, 382 percent; and HSBC America`s, 550 percent. It gets even worse: Goldman Sachs began reporting as a commercial bank, revealing an alarming total credit exposure of 1,056 percent, or more than ten times its capital! (HSBC is NOT in the top 19 banks undergoing a stress test, but is mentioned in the report as an aside because of its risk capital exposure to derivatives)

7) Not only are there serious questions about whether or not JPMorgan Chase, Goldman Sachs, Citibank, Wells Fargo, Sun Trust Bank, HSBC Bank USA, can continue in business, more than 1,800 regional and smaller institutions are at risk of failure despite government bailouts!

The debt crisis is much greater than the government has reported. The FDIC`s "Problem List" of troubled banks includes 252 institutions with assets of $159 billion. 1,816 banks and thrifts are at risk of failure, with total assets of $4.67 trillion, compared to 1,568 institutions, with $2.32 trillion in total assets in prior quarter.

Put bluntly, the entire US Banking System is in complete and total collapse.
Look no further than the unfolding WASHINGTON consensus to convert the Preferred to Common Equity, which in effect makes the government the largest shareholder in the respective TARP recipient. With effective voting control, the government will probably direct lending to politically important priorities, rather than economically sound efforts. Mortgage cram-downs are now supported by Citigroup vis-a-vis the Preferred to Common exchange now taking place.
The banking industry is suffering from wholesale loss of employees as top talent leaves to avoid the compensation restrictions and the unfolding WITCH hunts by your elected representatives, leaving the least qualified personnel to deal with ALWAYS emerging NEW PROBLEMS. A total of 10 people at the US Treasury are overseeing/supervising the banks and now they propose to micromanage them. Barney Frank and Chris Dodd are preparing to direct these HUGE operations as they are now doing with AIG, GM, Chrysler, Fannie Mae, and Freddie Mac, ad infinitum.
While we are speaking about Congressman Frank, on May 5th he is going to explore the possibility of the FEDERAL government GUARANTEEING municipal and state bonds. Congressman Frank insists, like he did with Fannie and Freddie, that they are economically sound. On the state level, tax revenues have fallen much faster than the federal level. Trillions of dollars of spending budgeted during the credit bubble are now spiraling out of control on the spending side, while revenues are in FREEFALL as every assumption underlying the budgets and bond issuance proves FALSE. The most liberal states are in the most distress and danger, and the GANG of 535 works to implement their failed policies on a national level.
Cap and Trade energy legislation was dead on arrival as no Public Servant in their right mind would send that bill to their constituents (once implemented a rise in energy costs of almost 1000%). So quietly last Friday afternoon, the EPA Czar and Al Gore radical Lisa Jackson declared carbon dioxide (the air you exhale) a danger to your future! YOU ARE A PART OF NATURE NOT A VIRUS TO IT. There is no CONSENSUS on climate change except in the back rooms of the G7 governments, which have RUN OUT of NEW taxes to impose, reasons to take your freedom away and TO PROTECT YOU; they need fresh funds for political boondoggles. The president is speaking about energy policy as I write this missive. One of his boasts is that we need to take the path that California has taken, telling the poorly-informed illiterates among us a fairy tale. California has to IMPORT its energy as NO ONE will build any kind of energy business there except government mandated ethanol. It is an unfolding DISASTER, just like their economy. Morally, intellectually and fiscally bankrupt Public Servants.
Jonathan Hoenig of Fox Business News sums up where we have come to nicely:
"It has been described as socialism, fascism or communism. In various contexts, all are true, but let's refine it. From loans to the automakers to the bailouts for the banks, the taxation, spending and control, the primary philosophy that's powering the country now is collectivism.
Collectivism holds that the individual has no rights. Your life and the product of your labor now belong to the group. If the group wants a bailout, heath care, green cars, low mortgage rates, a job, an education - anything at all, it now becomes your responsibility to provide it, whether you want to or not.
You see it in taxes that take money from people who've earned it and give it to those who have not. You see it in the language itself. Phrases like "we're all in it together", "I am my brother's keeper" and "shared sacrifice" all speak to the same idea: you are here to serve. And unlike charity of volunteerism, the "will of the people" is implemented by force, not by voluntary trade.
This is a profoundly un-American ideal. From the original Boston Tea Party came the Declaration of Independence which put forth the morality of individual rights. In this country, you are born free, not with a duty to serve the King but with a moral right to live your own life. "Life, liberty and the pursuit of happiness" refers to your life, your liberty and your happiness. You do not owe society a thing.
For socialists, collectivists, and others who support a high tax, high spending, government controlled economy, sacrifice is an absolute. You're expected to sacrifice for your neighbor, your government, for AIG or Citigroup, or deadbeat homeowners or poorly run municipalities, whomever the geniuses in Washington decide deserves your money.
This is wrong. The Founding Father's view of government was that its scope was limited and clearly defined.
Is the purpose of government to own and run a car company? An insurance firm? A bank? A mortgage company? Of course not. We've become one of the state-owned basket case European economies we used to make fun of in this country.
This country was the once land of "rugged individualism."
Now America is controlled by and home to, the government dependant: "something for nothing", poorly informed and functionally illiterate. Fooled by the mainstream media to believe the RICH don't pay their FAIR share. Take a look at this recent chart from Dennis Gartman at www.thegartmanletter.com illustrating the FACTS of the matter: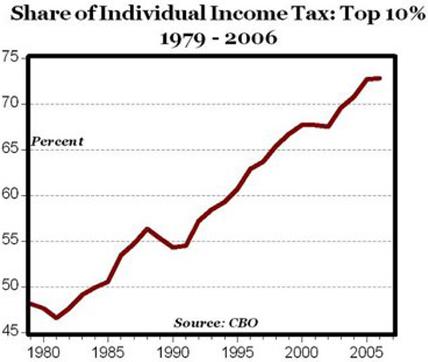 In my mind, this CANNOT, by any stretch of the imagination, be called shirking your duty to society; but the illiterate masses, Public Servants and elite's mainstream media prey on the most productive people in society using this lie.
The productive portions of the economy are just meat at the buffet table for these VAMPIRES. They believe they have a right to the property of others. Have a RIGHT to FREE healthcare, housing and welfare at the expense of people who work for their money. It is slavery personified in EVERY sense of the word. The unproductive as masters of the productive; it is a recipe for disaster.
Thinking of all the debt in relation to GDP and projected deficits is frightening in and of itself. But then you must REALIZE that G7 currencies are debt and IOU's, not REAL money, so any PAPER fiat currencies held globally should actually be ADDED to the total debt. I am ending this missive with a quote from "Atlas Shrugged" by Ayn Rand, as it fits what is unfolding:
""Whenever destroyers appear among men, they start by destroying money, for money is men's protection and the base of a moral existence. Destroyers seize gold and leave to its owners a counterfeit pile of paper. This kills all objective standards and delivers men into the arbitrary power of an arbitrary setter of values. Gold was an objective value, an equivalent of wealth produced. Paper is a mortgage on wealth that does not exist, backed by a gun aimed at those who are expected to produce it. Paper is a check drawn by legal looters upon an account which is not theirs; upon the virtue of the victims. Watch for the day when it bounces, marked: Account Overdrawn.
In conclusion: Benedict Arnolds are firmly in control in America and much of the G7, pursuing the demise of these once great nations. There is no escaping what has been put in place and the only exit is the PRINTING press. The destination is that of a BANANA republic, and a quiet coup (http://www.theatlantic.com/..), as outlined by Ex-IMF executive Simon Johnson, has occurred. Martin Feldstein echoes his comments in a recent Financial Times article entitled "Inflation is Looming in America's Future", available at:http://www.ft.com/cms/..
But it is broader than what he outlines and extends to ALL the OLIGARCH sectors of the economy. The US and G7 have become Fascist corporate states. The captive victims, also known as citizens and debt slaves, are too busy trying to survive instead of revolting. As they become increasingly DESPERATE, civil unrest LOOMS. Nothing can stop the developed world collapse that is occurring.
The internet is now emerging as a threat to Washington because it exposes their lies. They are going to try to SHUT IT DOWN and REGULATE it and call it a NATIONAL SECURITY THREAT as their excuse, because foreign governments may attack us. To SAVE you…
The emerging world will recover much sooner as they are savers and capitalists and the developed G7 are rapidly becoming what they once were: socialist command economies and BANANA republics. Look no further than the President's EMBRACE of Hugo Chavez and Raul Castro to see the future of the United States.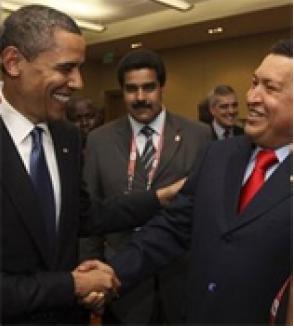 They are heroes of the President and preside/rule over workers' paradises, just as he and the beltway aspire to do. Today the CFO of Freddie Mac was found dead (41 years old and in the prime of his life) and they are calling it a suicide. I say: HE KNEW TOO MUCH! And was probably about to "blow the whistle"….
Do you really believe anyone in government can produce more healthcare for all, for less? UNBELIEVABLE claims. How about green energy? Recent studies indicate one green energy job kills two jobs in the regular economy. In his speech on Cap and Trade and energy, the President stated "the countries that make the correct choices will thrive". He's right. The ones that choose cheap and practical sources will thrive and the US and G7 will fail, as they FORCE impractical energy policies on already impaired economies.
The US Government is now the major shareholder and controlling partner in the world's largest mortgage companies, insurance company and automobile manufacturer, and has its site set on the energy, banking and healthcare industries. It is only a matter of time until they control them as well. To save you.
It is ILLEGAL for the government to own these companies; it makes a mockery of the constitution. In France, anyone making more than 50,000 Euros a year is RICH, and in reality, that is where the US and the G7 are headed. But with the printing presses fully engaged, it will actually be POVERTY level. Gordon "Sold the gold" lowered the definition of rich today and raised the level of taxes on anyone making 150,000 pounds to 50%, Can you say slave to the government?
There is only one ray of sunshine to this and that is EVERY market in the world will erupt in VOLATILITY to re-price to these rapidly changing REALITIES, and "Volatility is Opportunity" for the prepared Investor. Absolute return investments are the key to the future, as they have the potential to thrive in UP and down markets. The opportunities are enormous!!
There is not enough money in the world to fund the deficits, spending and rescuing the financial system, so once again, hi ho, hi ho, it's off to the printing press they go. Look for quantitative easing to supply the juice for these reckless Public Servants and their elite masters, so they will steal it out of your bank accounts while you sleep at night with their printing press. We truly are in the hands of the "Ship of Fools" and everything you have known and loved is set for destruction at their hands. The only growth you can expect this year and next will be a mirage, courtesy of lying bureaucrats. The Obama administration has ushered in an EXPANDED era of parasites and they are bent on killing the host private sectors, and I believe they will succeed. The President and Congress are the most anti-growth, anti-American government in history. If you think the collapse that is unfolding now is a passing phase, next year will be worse. WE WILL BE AFLOAT ON A SEA OF WORTHLESS COUPONS and call it MONEY. Hyperinflation anyone?
Note: Ty will be appearing as a panel speaker at the Chicago Resource Expo on April 24th and 25th. Attendance is free and information is available at:
http://www.chicagoresourceexpo.com.
Next week the "Fingers of Instability" series will return. Don't miss it.
Don't miss the next issue of Ted bits. Subscribe. It's free, at: www.TraderView.com
Please remember that subscribers generally receive Tedbits two to three days before it is posted on the web. Subscribers will also start receiving guest essays from leading economic pundits, and a blog looms soon. So if you want it early and the added features SUBSCRIBE NOW it's FREE!
Thank you for reading Tedbits if you enjoyed it send it to a friend and subscribe its free at www.TraderView.com don't miss the next edition of Tedbits.
If you enjoyed this edition of Tedbits then subscribe – it's free , and we ask you to send it to a friend and visit our archives for additional insights from previous editions, lively thoughts, and our guest commentaries. Tedbits is a weekly publication.
By Ty Andros
TraderView
Copyright © 2009 Ty Andros
Hi, my name is Ty Andros and I would like the chance to show you how to capture the opportunities discussed in this commentary. Click here and I will prepare a complimentary, no-obligation, custom-tailored set of portfolio recommendations designed to specifically meet your investment needs . Thank you. Ty can be reached at: tyandros@TraderView.com or at +1.312.338.7800
Tedbits is authored by Theodore "Ty" Andros , and is registered with TraderView, a registered CTA (Commodity Trading Advisor) and Global Asset Advisors (Introducing Broker). TraderView is a managed futures and alternative investment boutique. Mr. Andros began his commodity career in the early 1980's and became a managed futures specialist beginning in 1985. Mr. Andros duties include marketing, sales, and portfolio selection and monitoring, customer relations and all aspects required in building a successful managed futures and alternative investment brokerage service. Mr. Andros attended the University of San Di ego , and the University of Miami , majoring in Marketing, Economics and Business Administration. He began his career as a broker in 1983, and has worked his way to the creation of TraderView. Mr. Andros is active in Economic analysis and brings this information and analysis to his clients on a regular basis, creating investment portfolios designed to capture these unfolding opportunities as the emerge. Ty prides himself on his personal preparation for the markets as they unfold and his ability to take this information and build professionally managed portfolios. Developing a loyal clientele.
Disclaimer - This report may include information obtained from sources believed to be reliable and accurate as of the date of this publication, but no independent verification has been made to ensure its accuracy or completeness. Opinions expressed are subject to change without notice. This report is not a request to engage in any transaction involving the purchase or sale of futures contracts or options on futures. There is a substantial risk of loss associated with trading futures, foreign exchange, and options on futures. This letter is not intended as investment advice, and its use in any respect is entirely the responsibility of the user. Past performance is never a guarantee of future results.
© 2005-2019 http://www.MarketOracle.co.uk - The Market Oracle is a FREE Daily Financial Markets Analysis & Forecasting online publication.

Only logged in users are allowed to post comments.
Register/ Log in