How is Money Created?
Economics
/
Money Supply
May 23, 2007 - 12:27 AM GMT

The Federal Reserve Bank of Chicago used to publish a pamphlet entitled Modern Money Mechanics , which explains M1, M2, and M3. It is a truly fascinating read. That pamphlet is no longer in print, and the Chicago Fed has no plans to re-issue it. However, electronic copies are available (see link ).
In it, the process by which the Fed creates money "out of thin air" is detailed. Consider the opening paragraph:
"Money is such a routine part of everyday living that its existence and acceptance ordinarily are taken for granted. A user may sense that money must come into being either automatically as a result of economic activity or as an outgrowth of some government operation. But just how this happens all too often remains a mystery." ( Modern Money Mechanics , Federal Reserve Bank of Chicago, page 2)
Really read that paragraph.
The USFed, in one of its own publications, is stating right there in black and white that money is not created from economic activity, nor from a government operation. How then is it created?
"The actual process of money creation takes place in the banks." ( Modern Money Mechanics , Federal Reserve Bank of Chicago, page 3)
The pamphlet uses an example of $10,000 being deposited from the Federal Reserve Bank to "Bank A" and shows how that develops into an increase in assets to the amount of an additional $90,000.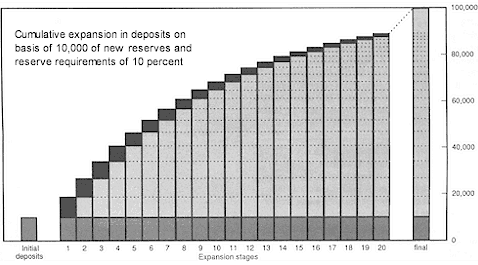 Essentially the Federal Reserve simultaneously creates an asset and liability of the same amount with a private bank. The net sum is zero. This money is "deposited" in the bank's federal reserve account. The private bank can then use this money as a reserve through which they can lend out additional money to the public. This reserve rate is generally 10%. Thus, a "deposit" of the USFed of $10,000 will transform into the private bank being able to loan out $90,000.
A couple of points,
Firstly, if I loaned your company $10,000 would the net worth of your company increase by that amount? The answer is no, because while assets went up by $10,000 so did the liability. It would be fraudulent for you to report an increase in net worth of $10,000.
Secondly, your company could not lend out $90,000 from the initial $10,000 you borrowed from me. You simply would not have the funds and if you claimed to have them, again you would be committing fraud.
Thirdly, I would like to take a quote from another Reserve Bank publication, this time from page 8 of Philadelphia's The National Debt ,
"The Federal Government, with the cooperation of the Federal Reserve, has the inherent power to create money - almost any amount of it. This power makes technical bankruptcy out of the question."
So not only are the banks committing fraudulent activity in the sense that they claiming asset value from their debt and secondly loaning out more than they have borrowed, they are protected from any risk of bankruptcy courtesy of the public! You and I would pay more for prices of goods and services should the Fed have to dilute the money supply further by printing sufficient money to prevent bankruptcy of a bank !
This is nothing short of outrageous.
By Mike Hewitt
http://www.dollardaze.org
Mike Hewitt is the editor of http://dollardaze.org a site about the current fiat monetary system and how to best position oneself using hard assets such as gold and silver along with shares of resource companies.
© 2005-2019 http://www.MarketOracle.co.uk - The Market Oracle is a FREE Daily Financial Markets Analysis & Forecasting online publication.
Comments
shandeep mann
08 Jun 09, 07:57
uk


does the same mechanics apply to england's banking system?




Only logged in users are allowed to post comments.
Register/ Log in