The Battle Rages On Between Stock Market Bulls and Bears
Stock-Markets
/
Stock Index Trading
Jun 22, 2009 - 12:43 AM GMT


And doing it's very best to make sure neither camp gets a whole lot of satisfaction. The market is continuing to dance the dance between the 50 day exponential moving average on the bottom and the 200 day exponential moving average at the top. It does appear at times that we'll have a clear cut winner. It looked for a long time as if the bulls were going to have an easy time of getting above those 200's on the S&P 500 and Dow because price was right there for the taking and because the Nasdaq had already made the move thus let's get the whole party to the table. It just didn't happen. A breach above but when it got there, the market was extremely overbought and the Macd wasn't printing a good divergence.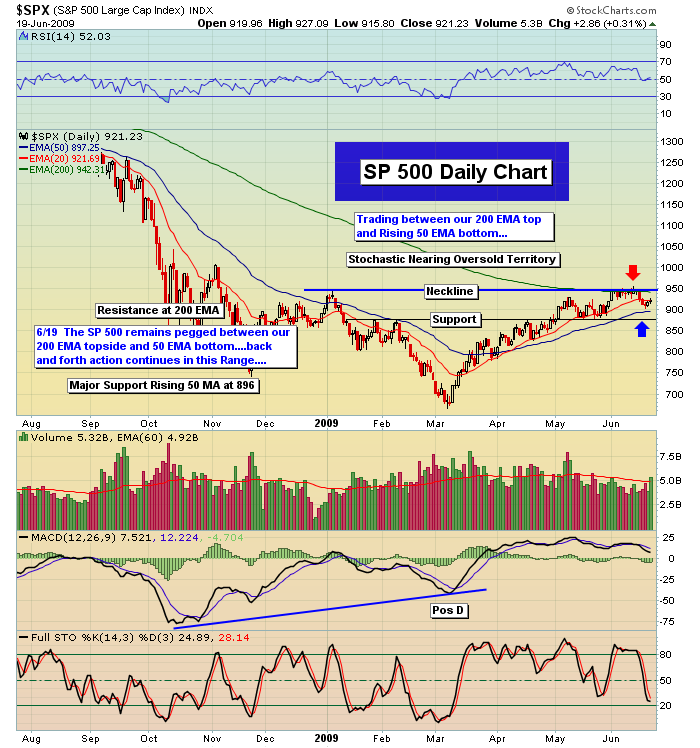 The S&P 500 and Dow thus failed and down we went. We are now trading between those magical moving averages. Back and forth and back and forth. Can drive you nuts for sure. We gapped up on Friday and tried to move higher but hit the Nasdaq 1838 gap down from some days ago and the market was unable to make the move through that level. First time at a gap down is usually failure time but you never know for sure.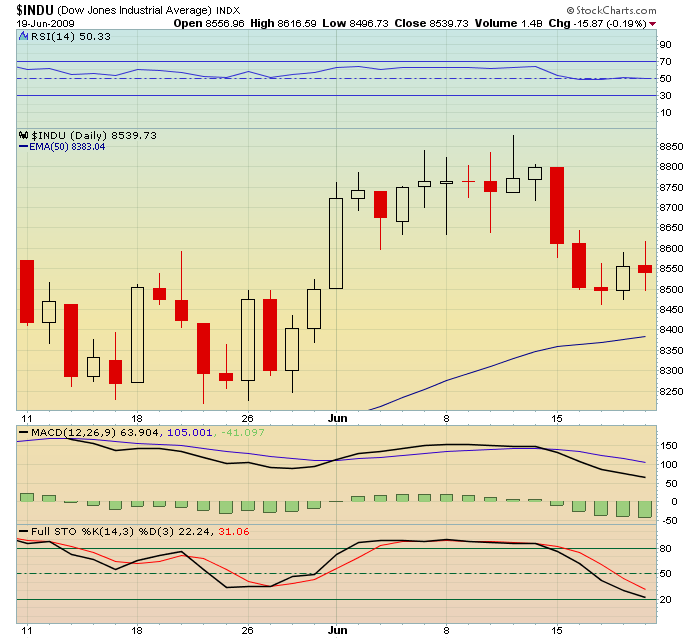 The key was to see whether the market would just collapse down or whether buyers would defend things from getting out of hand. The buyers won out. No slam dunk. Things are still tenuous but the market is NOT acting in a fashion that suggests anything devastating to the down side is upon us any time soon. It can happen for sure but you have to play what you see. There's nothing else to do. To anticipate a crash down when there's nothing in the charts suggesting such is just ridiculous. Just because we've had some selling and the market is weaving its way up and down does not mean things are about to fall apart. When we lose the 50 day exponential moving averages then you can say with certainty that we have flipped from a buy signal to a sell signal. Not a moment before, regardless of what you may think things look like.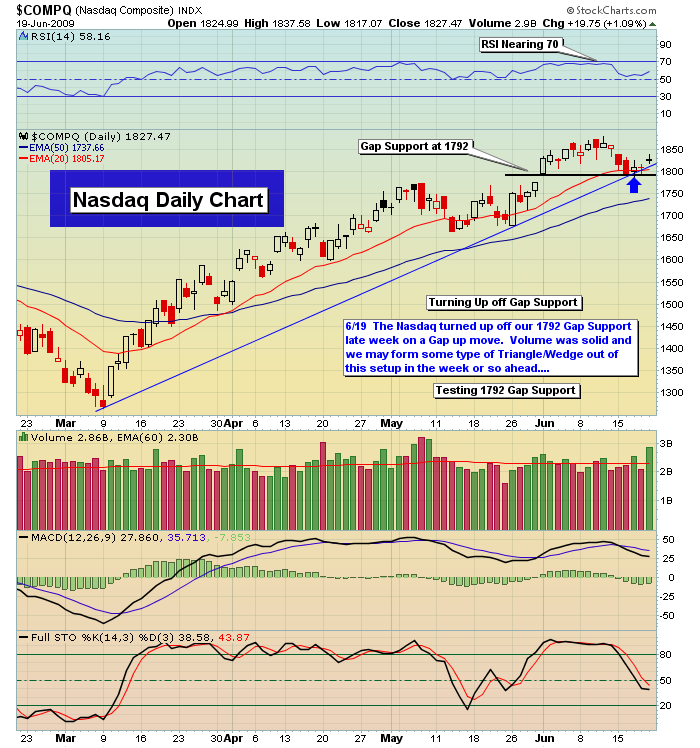 There's no denying that the bears have defended the final line in the sand with regards to the Dow and SPX. Credit needs to be given for that. On the other hand, the bulls can take comfort in the fact that they haven't surrendered those 50's. The market is telling us to remain open to all possibilities and there is the chance that what we don't see will appear shortly. That a break to the down side is near. For now I'd suggest approaching this market from the perspective of buying weakness until proven otherwise. We're long a couple energy names -- Peabody Energy (BTU) andPetroleo Brasileiro (PBR) -- and theDirexion Daily Small Cap Bull 3x (TNA). After all, if you look at the daily charts, we've seen stochastic's move form the 90's to the 20's and 30's. We've seen extended Macd's move down towards the 0 line. While this has taken place, the market has barely eroded its highs. Down some of course but nowhere near losing critical support. The ending is unwritten. I wouldn't get too bearish yet.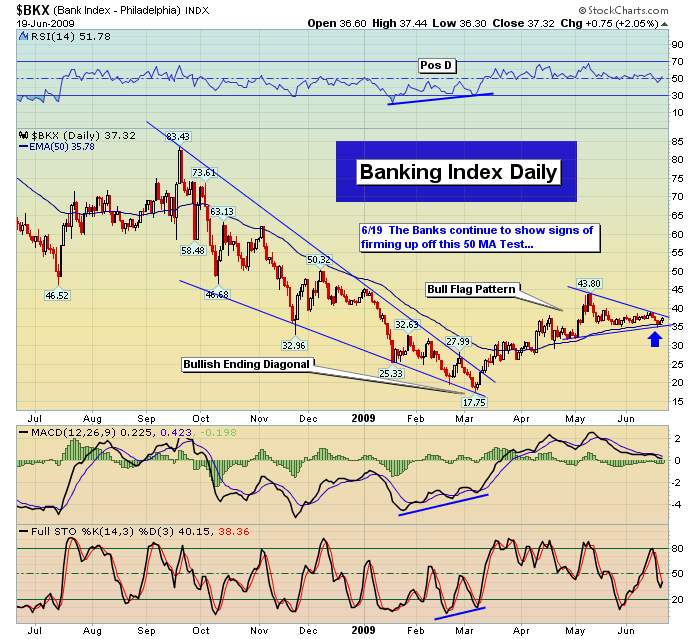 The vix broke down again today and that's something to keep our eyes on. It had made it above 30 for a few days but it touched the 50 day moving average from underneath and quit. It is now in the 27's or 10% below the breakdown area. This does suggest that the market should move higher but where's the move? It should be coming but it makes you wonder if the vix is even a valuable tool to use any more. If the market can run back up then it's in play but really there's no excuses left. It's a broken vehicle suggesting higher market prices. Early next week will tell the tale.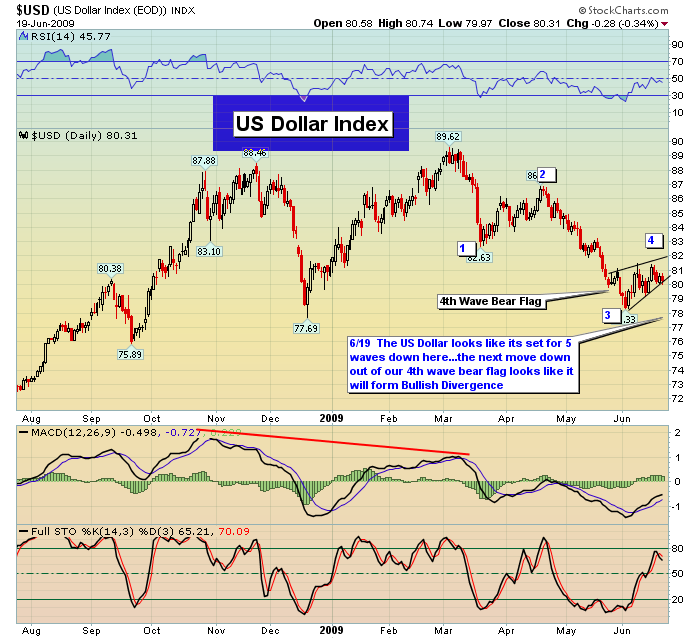 The banks had a nice recovery and are now still in play. That's a necessary component to the market having sustained success to the up side. Without the financials, the SPX has literally no chance of breaking back above its 200 day exponential moving average. if the financial's fail, the SPX will lose its 50 day exponential moving average. Good to see that sector remain in decent shape with it too having no excuses not to get going now that the vix has broken down. Will keep a keen eye on it early next week.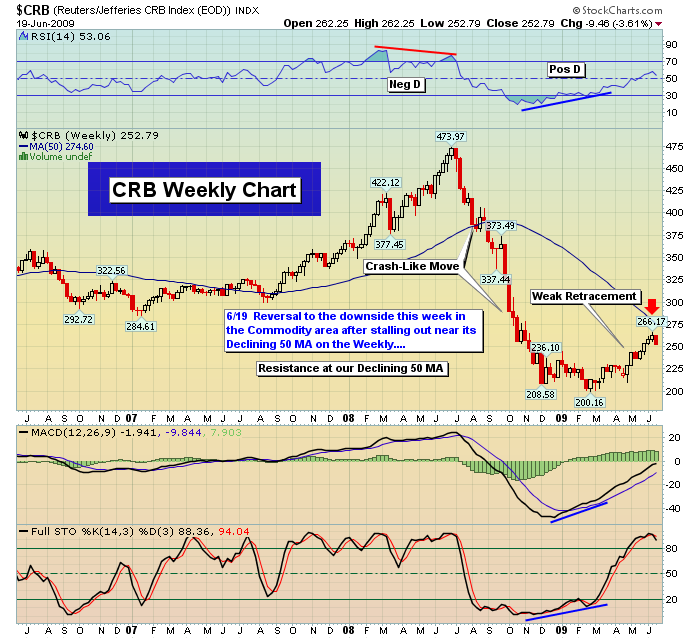 The SPX is playing ping pong. It's encouraging in that it has found a way to hold up in the face of poor earnings the past few days and not so great economic news. It's acting as if there's something out there none of us know about that will give it a life. It's refusal to break says the market is seeing what none of us can, at least for now. Again, the majority of people I speak with are more bearish and we did see readings on the put call ratio above 1.0 yesterday and the day before.
It doesn't take long to get folks unhappy does it. The dark side kicked in quick once we fell off the top. Good to see if you're bullish. Next week we'll see something happen I believe. The market has that vix breakdown to work off of. If nothing else, I guess I want it to do something. Something so we can play better off it. This back and forth is making things difficult. Patience folks. Things will work themselves out shortly.

Peace,
By Jack Steiman
Jack Steiman is author of SwingTradeOnline.com ( www.swingtradeonline.com ). Former columnist for TheStreet.com, Jack is renowned for calling major shifts in the market, including the market bottom in mid-2002 and the market top in October 2007.
Sign up for a Free 30-Day Trial to SwingTradeOnline.com!
© 2009 SwingTradeOnline.com
Mr. Steiman's commentaries and index analysis represent his own opinions and should not be relied upon for purposes of effecting securities transactions or other investing strategies, nor should they be construed as an offer or solicitation of an offer to sell or buy any security. You should not interpret Mr. Steiman's opinions as constituting investment advice. Trades mentioned on the site are hypothetical, not actual, positions.
© 2005-2019 http://www.MarketOracle.co.uk - The Market Oracle is a FREE Daily Financial Markets Analysis & Forecasting online publication.

Only logged in users are allowed to post comments.
Register/ Log in