Wild, Profitable Moves Coming; Update on China Economy
Commodities
/
Investing 2009
Jun 22, 2009 - 03:33 PM GMT


Larry Edelson writes: Could the economy get any worse? Could real estate prices continue to decline? Could Detroit take more hits? Could manufacturing and retail sales slump more?
Absolutely!
But as I've often warned, central banks and governments around the world — not just our Federal Reserve — will do anything and everything to try and turnaround the global economy.
They will fight the downturn tooth and nail. They will backstop and guarantee just about anything. They will keep investing in banks, mortgage brokers, and even effectively semi-nationalize real estate.
And they will continue to print money like crazy … issuing — and even buying — their own mountains of new debt.
Some of their policies will help. Most will fail … backfire … and aggravate the crisis. But in ways very few today truly understand.
In the end, a few years from now, not only will we have witnessed the collapse of a mountain of debt in the private sector — but also in the public sector.
With precious few exceptions, most governments around the globe are going to end up defaulting on their IOUs … their bonds … their contingent liabilities and promises, and go bankrupt.
You can already see the early stages of this in the action of the 10-year U.S. Treasury note maturing in May 2019, which has plunged more than 7 percent from its recent record high price on May 14 to its low on June 11.
In The End, A Whole New Monetary System Will Be Needed
New currencies. New rules of the game. New institutions. A new monetary system.
I've warned you about this before. But if you still don't believe me, I suggest you take your cues from gold, which is much more than just an inflation barometer. Much more. It's the ultimate currency — real money.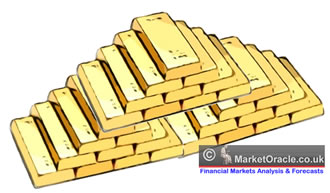 Once gold breaks above the $1,010 level, I expect it to reach new record highs.
And despite this week's pullback, gold remains solidly over $900 … has now tested the $1,000 mark three times … and is preparing to blast off to much higher prices.
Once gold breaks above roughly the $1,010 level, I expect to see new record highs. With the first stop probably being around $1,250 an ounce.
And mark my words: $1,250 gold will merely be a stepping stone to much higher prices, eventually to well above $2,000 an ounce.
Meanwhile, for the broad stock markets in the U.S. … Europe … and Japan — after the breather that's occurring now — I expect to see one more rally into September/October and then, a final devastating crash that will scare the wits out of almost everyone.
There's no sure way to say at what levels the current rally in the Dow will peak. It could be just a couple hundred points higher, to near Dow 9,000. Or, it may peak even higher, near 10,000.
But I can say this with a high degree of confidence: After this rally in stocks is over — I expect to see another major, multi-month DECLINE take place, with the Dow falling back to retest its 6,440 lows.
In short, I see some wild — but hugely profitable market moves — right around the corner.
Right now, if you've been following my suggestions and have taken advantage of the rally in stocks, you would have been sitting on open gains of as much as 42.5 percent in Aluminum Corp. of China Ltd. (ACH) … 37.4 percent in iShares FTSE/Xinhua China 25 (FXI) … and 27.4 percent in PetroChina Co. Ltd. (PTR) as of June 17. Nice!
Hold those positions. But stay alert for any changes I may suggest by making sure you read my weekly column.
Other Than Cash, Gold And A Few Select Natural Resources — The Only Other Market I Would Invest In For The Longer-Term: China.
Those are my core recommendations, the specifics of which can be found in my Real Wealth Report.
It's comprised of a well-diversified series of four portfolios that are designed to not only protect your money and help you profit, but to do so in ways that reduce overall risk, while covering as many bases as possible.
To make sure you're current with the Real Wealth Report portfolios, please be sure to become a member today. It's a mere $99 a year.
You'll get my current June issue — "Prepare Now For The Imminent Death Of The Dollar!" — which was published Friday, June 19.
Plus, you'll be all set for the next 12 monthly issues — including the July issue, which will cover a major market almost everyone seems to consistently get wrong — yet where there are some of the world's best profit opportunities: China!
Indeed, over the past few months I've told you repeatedly how — despite what all the naysayers are claiming about a massive slowdown — China's economy is booming again.
The evidence continues to stream in. Check out these stats from Bloomberg:
Auto sales in China surged 34 percent in May, making it the largest car market in the world.

China's spending on factories, property, and roads surged 32.9 percent in the five months ended in May. That's the most in five years!
In China's rural areas, more than 12,430 miles of new roads and more than 1 million square feet of new airports have been built.
Meanwhile …

Property investment has likewise picked up, jumping 6.8 percent through May, including the building of 5.2 million low-rent homes.
And significantly …

China's new bank lending doubled in May to $97 billion.

Industrial output jumped 8.9 percent.

Retail sales exploded 15.2 percent higher, with furniture sales surging 33.3 percent and jewelry sales roaring 28.7 percent higher.

Auto sales surged 34 percent higher in May, making China the largest car market in the world and putting it on pace to sell 11 million cars this year.
What's more, Beijing is actively adding liquidity to its currency, broadening its penetration into the world's monetary system.
Indeed, in just the last few months, Beijing has signed never-seen-before currency swap agreements with Russia … Brazil … Venezuela … and Australia.
The ultimate goal: Beijing wants the yuan to become a major international currency, or at minimum, a major component of a new world monetary system — dethroning the dollar.
So what's happened to the Shanghai Composite 300 Index, which I recommended you take advantage of in this column on March 16 via the iShares FTSE/Xinhua China 25(FXI), an ETF that closely tracks the Shanghai Composite?
It's up 37.4 percent!
What should you do if you own it?
Hold! After a brief pullback, I expect to see China's stock markets continue higher into the Fall. Longer-term, I expect China's stock markets to more than DOUBLE.
Best wishes,
Larry
This investment news is brought to you by Uncommon Wisdom. Uncommon Wisdom is a free daily investment newsletter from Weiss Research analysts offering the latest investing news and financial insights for the stock market, precious metals, natural resources, Asian and South American markets. From time to time, the authors of Uncommon Wisdom also cover other topics they feel can contribute to making you healthy, wealthy and wise. To view archives or subscribe, visit http://www.uncommonwisdomdaily.com.
© 2005-2019 http://www.MarketOracle.co.uk - The Market Oracle is a FREE Daily Financial Markets Analysis & Forecasting online publication.

Only logged in users are allowed to post comments.
Register/ Log in