Inflation, Inflation, Inflation!
Economics
/
Inflation
Jun 07, 2007 - 11:32 AM GMT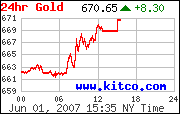 Are you feeling sorry for gold lately? Fraid it doesn't need your sorrow with its present price action. As I have said before and will say again gold will do what gold wishes to do.
Here's a subject that brings humor to the table. Inflation.
The humor is the fact that inflation is the huge elephant in the living room that everyone wants to ignore and pretend its not there. Well, not exactly. The middle class, lower class, the upper class and every class in between knows that prices are rising across the board.
"GDP up at 0.6% annual rate, worst since '02." The U.S. economy grew at the slowest pace in more than four years…"
"On the inflation front, the Commerce Department says the Federal Reserve's preferred price gauge, which measures consumer prices excluding food and energy, was up 2.2% in the first quarter, vs. 1.8% at the end of 2006 and above what several Fed officials, including Chairman Ben Bernanke, have called their inflation comfort zone." Click
The humor is how our government attempts to hide it by playing with subtle numbers and hoping that the mere thought of inflation will disappear from the minds of the voters. And I guess this is true pretty much.
The reason the general public accepts inflation without a big fuss is that for 10 years the public has seen inflations effects primarily in the value of their home going up. And the big joke is that the classes have been convinced that their home is an investment and that there fore a rising home price means rising personal net worth.
Plus, the loan market added to the bubble by making cheap loans to all. Why not use cheap money to acquire an asset that is "guaranteed" to go up in value. How can you lose? Of course you lose when the asset quits appreciating and actually begins to go down in value. What? Does anything actually ever go down in the throes of an inflationary environment? Yes, some or many things will go up while a few things go down.
Best to be most informed of those assets that have a better longer term reputation for keeping pace with inflation and even surpassing inflationary forces. And of course I will not test your intelligence here to remind you of the principal asset that not only keeps pace with inflation but leaps in bounds ahead of it. Gold au contraire? Click
And you think monetary inflation is bad. Ever heard of "cosmic inflation?"
"…cosmic inflation is the idea that the nascent universe passed through a phase of exponential expansion that was driven by a negative-pressure vacuum energy density." "Inflation answers the classic conundrums of the big bang cosmology: why does the universe appear…" "Inflation also explains the origin of the large-scale structure of the cosmos." "Inflation is thus now considered part of the standard hot big bang cosmology." "Inflation suggests that there was a period of exponential expansion in the very early universe." "Inflation is often called a period of accelerated expansion because…" Click
Let's get back to the subject of monetary inflation. I believe we need Stephen Hawking to understand better "Cosmic Inflation." But there do appear similarities between monetary and cosmic inflation.
"Federal Reserve saw inflation as biggest threat." "Concerns about inflation trumped worries about the slumping housing market last month in the minds of Federal Reserve officials who voted to hold interest rates steady." "While U.S. Fed officials said the downturn in housing was turning out to be more severe than expected, worries about inflation continued to dominate the May 9 discussions among Fed Chairman Ben Bernanke and his colleagues…" "Nearly all participants viewed core inflation as remaining uncomfortably high…" "Fed officials said they had not changed their view that inflation remained the biggest risk to the economy." Click
Below is an interesting and informative email.
"Dear David, Having read the article by Malcolm Bucholtz about Pegmatite Mineralization and Unconformity Mineralization, it begs the question "Which type of mineralization does Paladin face in Malawi and Australia ?" He seemed to be only concerned about Cigar Lake . Bye now," Lawrence D.
Wow! Let's learn something new today. Pegmatite Mineralization and Unconformity Mineralization. I know you have stayed up late at night pondering the relevance and significance of these terms. Well, your dreams of curiosity have been answered.
Malcolm Bucholtz – "…any presentation where the topic of presentation was Uranium - there was standing room only and you could have heard a pin drop in the room." "…grade is of secondary importance when exploring for Uranium." "Of primary importance to investors is the Uranium geological setting." "You see, in North America , Uranium mineralization occurs in 2 basic formats - Pegmatite style mineralization and Unconformity style mineralization." Click
Next name coming up below is analyst Doug Casey. A bright light should appear automatically in your mind and click to "pay attention" mode when Doug Casey's name is referenced.
"Newsletter writer Doug Casey is well aware of geological setting issues. He recently made a comment in the Bull and Bear newspaper to the effect that investors now should be starting to focus on those companies that are exploring in areas away from these Basins. And I trust you can see why he would say this. The cost of drilling through the thick layer of sandstone is far from cheap." "This week I introduce two Uranium exploration companies. Two are active in the Wyoming area and will use in-situ leaching. Three are active in areas of Canada with pegmatite style mineralization…" Click
Below is a good email from a reader.
"Hi David, "Those who invest in the stock market should be worrying. After all, they are the ones climbing the wall (of worry), not us. We are merely seeing a reflection of how gold is moving relative to the dollar and other world markets. Thank you for pulling us through last summer's correction with your centeredness on this issue and your articles about cheese. How about a nice bottle of wine under $20? This is my own personal quest. When the gold market gets the jitters and tries to shake me out, I just ignore the noise and focus on something else for awhile…" Best Wishes, Tony P. S.
And how goes the growth related to the nuclear power industry? Are those juicy uranium stocks still the place to be?
"Europe warms to nuclear energy" "Europe is poised to begin a new nuclear age, reversing two decades of policies aimed at abandoning nuclear power as an energy source…" "There is a strong move," says Ian Hore-Lacy of the World Nuclear Association, a London-based global nuclear industry group. "People are starting to say, 'Let's have another look at this." "If we want to have secure energy supplies and reduce CO (carbon dioxide) emissions, we have got to put the issue of nuclear power on the agenda," Blair said last week." " Europe 's move toward nuclear power comes amid near-record global prices for crude oil and natural gas. There is also intense debate about environmental damage caused by greenhouse gases emitted through use of oil, gas and coal. Europe's resurgent interest can't match China's ambitions: China plans more new nuclear reactors — 23 — than any other country, the World Nuclear Association says." Click
Before we close let's tie together the importance of inflation and gold including the natural resource markets.
"Inflation is one of the most important considerations for long-term investors. If interest rates are 4.5% and inflation 4.7% then you are losing money. So is there a way to beat inflation? $100,000 today could be worth a lot less in real terms tomorrow." "…where on earth should investors stash their cash to avoid the ravages of inflation?" "The classic hedge against inflation is gold and silver, and other precious metals." "…inflation can be the friend of the savvy investor." Click
Recognizing that we are in a new investment era that is changing the way we invest Gold Letter, Inc. reviews undervalued gold, silver, uranium and other resource stocks under valued and poised to rise in this time of increased demand for all resources. Gold Letter's 10 best performing stocks are up over 2,000% and GL's top 50 performing stocks are up over 500%. GL charts are computer generated and updated every hour while markets are open.
"The Worldwatch Institute, an organization that focuses on environmental, social and economic trends, says the current rate of global demand for resources is unsustainable." Click
Let me hear what you have to say and I'll try and post it.
By David Vaughn
Gold Letter, Inc.
Click here to order Gold Letter
The publisher and its affiliates, officers, directors and owner may actively trade in investments discussed in this newsletter. They may have positions in the securities recommended and may increase or decrease such positions without notice. The publisher is not a registered investment advisor. Subscribers should not view this publication as offering personalized legal, tax, accounting or investment-related advice. The news and editorial viewpoints, and other information on the investments discussed herein are obtained from sources deemed reliable, but their accuracy is not guaranteed. © Copyright 2007, Gold Letter Inc.
© 2005-2019 http://www.MarketOracle.co.uk - The Market Oracle is a FREE Daily Financial Markets Analysis & Forecasting online publication.

Only logged in users are allowed to post comments.
Register/ Log in