Stock Market May Not Correct Until 2010
Stock-Markets
/
Stocks Bull Market
Oct 01, 2009 - 07:58 AM GMT


Common sense and prudence say stocks must experience a significant correction soon. Unfortunately, waiting for a correction to participate in the current stock rally has proved highly frustrating for many market participants. While it may not be what investors sitting on large cash positions want to hear, market history says a significant correction in stocks may not occur until 2010.
Understanding and respecting that each individual needs to make their own decisions relative to market entry points, an open-minded review of the historical cases presented below may allow some to be more receptive to the possibility of bullish and correction-less outcomes for several more months. How things unfold in the coming months remains to be seen, but thus far the current rally has followed the new bull market script very closely.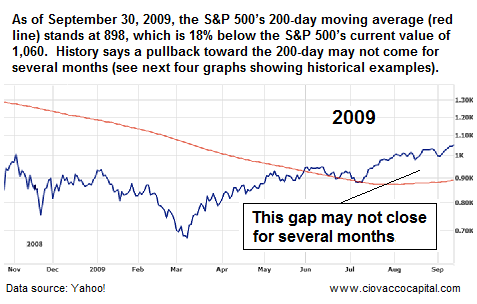 In the context of an established and on-going bull market, it is common for traders and value investors to look for a pullback toward the 200-day moving average (red line in chart above) as a logical entry point for new purchases. What may be frustrating them in the current environment is that new bull markets, especially after significant bear markets, may not correct back toward the 200-day for an extended period of time. As shown in Table 1, in four similar instances, a significant pullback did not occur on average until 270 calendar days after the original cross of the 200-day moving average.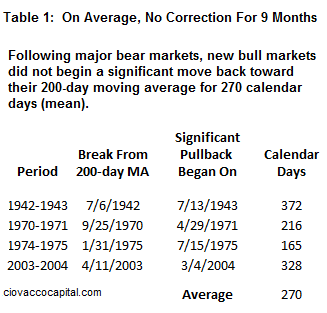 Table 2 uses the S&P 500's July 10, 2009 cross of the 200-day to estimate hypothetically when a pullback might begin, assuming the market behaves in a similar manner relative to history. A typical path in 2009-2010 may not produce a significant pullback toward the 200-day until the spring of 2010.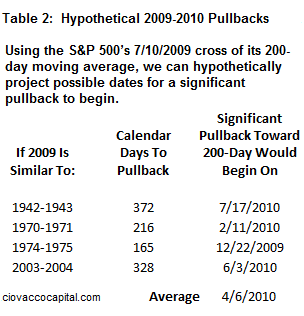 More detail on this study and similar studies can be found in the September/October 2009 - Asset Class Outlook, which is available for download. Page 20 of the Asset Class Outlook covers "Monitoring The Health Of The Bull - Red Flags", which acknowledges the risks associated with blind investments in the current environment. Many problems remain.
Sometimes being able to see concepts illustrated on a chart can help us in our decision-making process. The following charts show how long new bull markets stayed above their 200-day moving average before beginning a significant correction back toward the 200-day (shown in red).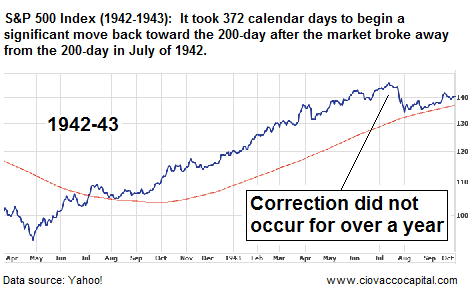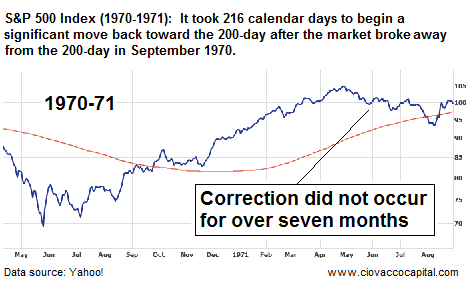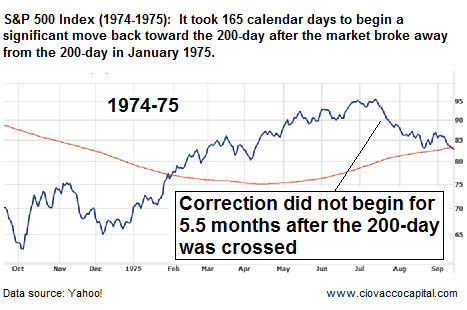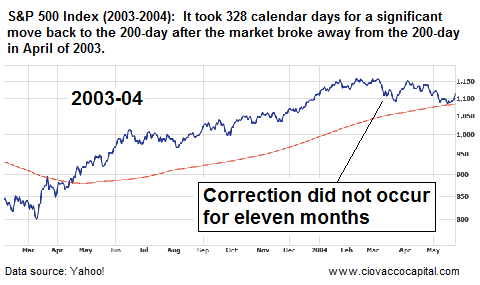 Possible Psychology Behind The Charts
It is important to recognize that the historical charts above represent shifts in the mass psychology of investors. If we can step outside ourselves in the current environment and examine our own thoughts, we may find that they are very similar to those of the majority of market participants. Slowly as stocks have continued to move higher in 2009, more and more market participants have accepted the possibility of a new and sustainable bull market, even if it only represents a shorter-term or cyclical bull market. However, many of the market participants who have now accepted the new bull remain largely on the sidelines in cash – waiting for a correction to enter. What most likely happened in the historical cases above, and is happening again in 2009, is that corrections are short-lived since many are looking for any glimmer of a correction to enter the market. When the corrections do not last, many buy fearing they are being left behind. The fear of being left behind will increase greatly for professional money managers should the rally remain intact through year-end.
Cyclical Bulls Can Last A While
Since numerous structural and fundamental problems remain, it is likely that the current bull market does not represent the early stages of a secular, or long-term, bull market. However, as outlined in the passage from the September 16, 2009 Los Angeles Times, waiting out a cyclical bull may be more frustrating than many believe:
Buyers are finding plenty to like: Rising stocks have outnumbered losers by more than 2 to 1 on the New York Stock Exchange in seven of the last eight sessions. That encourages bulls like Ned Davis Research, a well-known market research firm in Venice, Fla. that correctly called the rally earlier this year and has maintained the view that stocks are going higher. "So much money has been sitting on the sidelines and now is looking for a place to go" as confidence in a recovery rises, said Tim Hayes, the firm's chief investment strategist. Ned Davis believes this is a "cyclical" bull market within a longer-term, or "secular," bear market. But given the firm's forecast for the S&P 500 to peak sometime in 2010 in the range of 1,200 to 1,300, it makes no sense to sit out the cyclical rebound, Hayes said.
When decisions are driven partly by the fear of being left behind, they may not appear to be prudent or based on common sense. Corrections tend not to occur in the early stages of a new bull market because there is so much cash looking for an opportunity to enter. Until cash positions move closer to bull market norms, which is not the case today, stocks may continue to surprise on the upside.
Above are excerpts taken from the September/October 2009 - Asset Class Outlook, which is available for download. The comments above and those in the outlook are intended for CCM clients, and thus investments or strategies described may be inappropriate for some investors based on their own individual situation and risk tolerance.
By Chris Ciovacco
Ciovacco Capital Management
Copyright (C) 2009 Ciovacco Capital Management, LLC All Rights Reserved.

Chris Ciovacco is the Chief Investment Officer for Ciovacco Capital Management, LLC. More on the web at www.ciovaccocapital.com

Ciovacco Capital Management, LLC is an independent money management firm based in Atlanta, Georgia. As a registered investment advisor, CCM helps individual investors, large & small; achieve improved investment results via independent research and globally diversified investment portfolios. Since we are a fee-based firm, our only objective is to help you protect and grow your assets. Our long-term, theme-oriented, buy-and-hold approach allows for portfolio rebalancing from time to time to adjust to new opportunities or changing market conditions. When looking at money managers in Atlanta, take a hard look at CCM.

All material presented herein is believed to be reliable but we cannot attest to its accuracy. Investment recommendations may change and readers are urged to check with their investment counselors and tax advisors before making any investment decisions. Opinions expressed in these reports may change without prior notice. This memorandum is based on information available to the public. No representation is made that it is accurate or complete. This memorandum is not an offer to buy or sell or a solicitation of an offer to buy or sell the securities mentioned. The investments discussed or recommended in this report may be unsuitable for investors depending on their specific investment objectives and financial position. Past performance is not necessarily a guide to future performance. The price or value of the investments to which this report relates, either directly or indirectly, may fall or rise against the interest of investors. All prices and yields contained in this report are subject to change without notice. This information is based on hypothetical assumptions and is intended for illustrative purposes only. THERE ARE NO WARRANTIES, EXPRESSED OR IMPLIED, AS TO ACCURACY, COMPLETENESS, OR RESULTS OBTAINED FROM ANY INFORMATION CONTAINED IN THIS ARTICLE. PAST PERFORMANCE DOES NOT GUARANTEE FUTURE RESULTS.
© 2005-2019 http://www.MarketOracle.co.uk - The Market Oracle is a FREE Daily Financial Markets Analysis & Forecasting online publication.
Comments
Trader X
01 Oct 09, 15:28
Stock Market May Not Correct Until 2010


Stock Market May Not Correct Until 2010

Says it all on the same day the dow drops 200 points

I see you were bearish on the rally for the much of the past 6 months too!




Only logged in users are allowed to post comments.
Register/ Log in