Is Bear Stearns Just The Tip of the Iceberg?
Stock-Markets
/
Financial Crash
Jun 29, 2007 - 06:31 PM GMT

The Chicago Trib's headline says it all. " Hedge funds' mortgage woes could spread ." "Investors following the near-collapse of two hedge funds managed by Bear Stearns Cos. might be a little bit like a homeowner watching the house down the block catch fire: It's far enough away to think there's no immediate threat, but you still need to care about what the embers could do to your own roof.

The worry is the same on Wall Street, where bankers are anxiously watching to see if the hemorrhaging at Bear Stearns will spread elsewhere."
The likelihood is high that it will. The reason is that the high credit ratings given the CDOs (collateralized debt obligations) was based on almost no historical performance data. In the period from 2000 to 2006, virtually anyone could get a mortgage with no money down. In addition, defaults were few because anyone on the verge of default could simply refinance away his/her problem debts, including credit cards and car loans. This practice has been halted by the rising interest rates that are causing the problems now. Many of the adjustable rate mortgages now resetting to payments as high as double the original cost. I have commented in earlier Updates that many families hit with higher payments have used their credit cards to make up the difference. But time and options are running out for many families who took the bait of a subprime loan without thought of the future.
Personal income is in decline…
…and no one is noticing. The Bureau of Economic Analysis news release today says that personal income went up .4% in May. But the fine print says that personal savings declined by 1.4% in May. That's a decline (in the average family savings) of 1% of household (annual) income in one month . Another way of putting it is that the average American family is spending 12% more per year than it earns.
The Nikkei's uptrend now in question.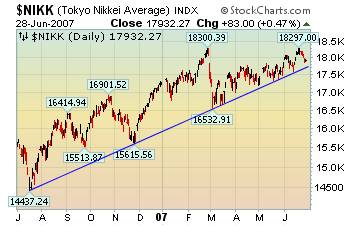 The Nikkei rallied last night . However, it may just be what is called "window dressing." Here is what the media suggests, "Predictions of a higher-than-expected profit growth in the July-September quarter at auto, steel and precision equipment makers could push the Nikkei to 19,000." Notice that nothing is being said about this quarter.
While Shanghai is getting clobbered again.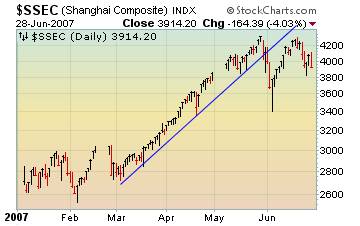 " SHANGHAI : Chinese stocks fell after regulators carried out a slew of market cooling measures amid expectations more were on the way. The benchmark Shanghai Composite Index slid 2.4 percent at 3,820.70 (not shown in the chart), following a 4 percent slump on Thursday."
One reason for the decline may be the $2 billion in fraud and bad loans at two major banks uncovered by auditors.
The battle royal over the 50-day moving average!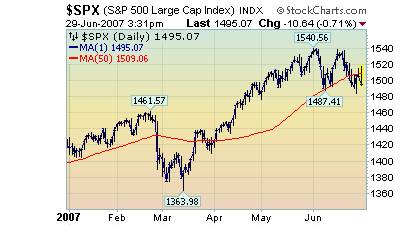 For the past week the S&P 500 has been lingering below its 50-day moving average. Yesterday and today it has fought to regain the "high ground" above the 50-day. It failed again this afternoon. Why is this so important? For many traders, the 50-day moving average is the dividing line between a healthy market and an unhealthy one. This is so important that many hedge funds have programmed buy and sell signals when the line is crossed.
Another volatile week in bonds…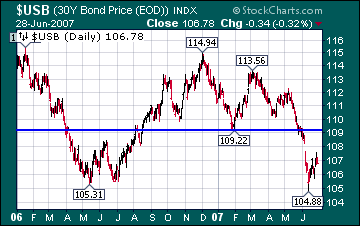 ..but not a whole lot of progress. Bonds are looking a tad more bullish this week and it appears that this index will try to "fill the gap" left by the larger decline. Yesterday's Federal Reserve announcement to hold rates steady didn't help the cause for bonds. While keeping the benchmark lending rate at 5.25%, it announced that inflation is still the greatest risk facing the economy.
The housing market is searching for new lows again.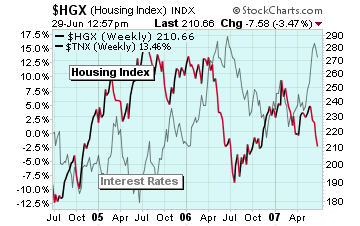 Bank regulators are finalizing mortgage rules for subprime borrowers. This is a bit like closing the barn door after the horses have escaped out of the barnyard. The fact is, the housing decline has been set in motion and there is a lot further to go. This has not stopped 92 mortgage lenders from going bust. Bear Stearns may just be the tip of the iceberg for hedge funds, as well. The collapse of the subprime market is taking a heavy toll on hedge funds.

The dollar is resting…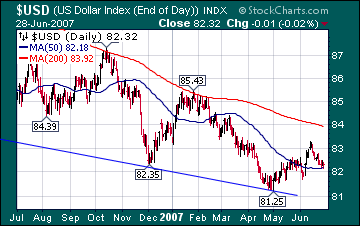 …on its 50-day moving average this week. The question is, will it hold? Bloomberg reported today that the dollar fell to a 3-week low . This point is critical. Should the dollar not hold at the 50-day moving average, the outlook becomes more bearish. If support is maintained, this could lead to a powerful rally. Stay tuned
Precious metals not well with higher dollar and higher bond yields.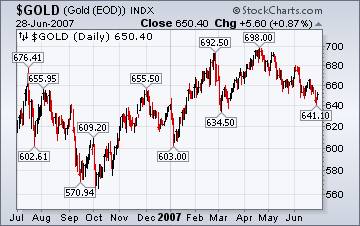 The news media proclaims, Gold higher as oil continues rise. The fact is, gold has been in decline for two months now. This is the most compelling reason for not basing investment decisions on the media. They always seem to have it wrong. Or, worse yet, the turn molehills into mountains as they focus on daily activity rather than the larger trend.
Gasoline process are hovering near the highs, but due for a change.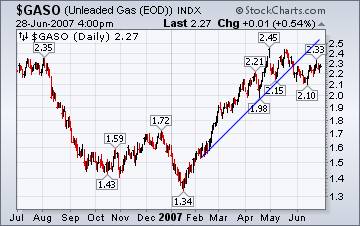 The EIA's report on Wednesday that showed crude inventories are still climbing despite refinery production dropping to its lowest percentage utilization since 1991. They have a thoroughly reasoned explanation in their report entitled, This Week in Petroleum . Magic? Or is it just some crude tricks they have up their sleeve?
Lower heating bills ahead?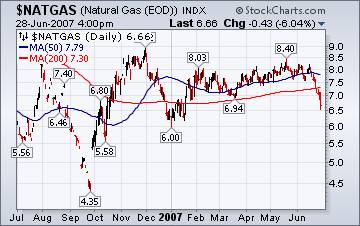 It appears that we can look forward to it this winter. Forecasting something like lower gas prices next winter has some risks. However, the chart shows natural gas prices breaking "hard" through the 200-day moving average. This indicated that a longer –trend move is taking place. Chances are good that the 200-day moving average will now act as a "ceiling" to natural gas prices as it did last August.
Back on the air again.
Tom Wood of www.cyclesman.com and I have had a running commentary on the markets again this week. You may listen to our comments by clicking here .
Have a safe and happy holiday.
I'll be gone next week on a family trip. That leaves the chance that I'll not be available to write another newsletter until July 13 th . In the meantime, enjoy your summer holiday!
The Practical Investor will be moving its business location at the end of July. Further updates on the move will follow.
Please make an appointment to discuss these strategies by calling me or Claire at (517) 324-8741, ext 19 or 20. Or e-mail us at tpi@thepracticalinvestor.com .
Regards,
Anthony M. Cherniawski,
President and CIO
http://www.thepracticalinvestor.com
As a State Registered Investment Advisor, The Practical Investor (TPI) manages private client investment portfolios using a proprietary investment strategy created by Chief Investment Officer Tony Cherniawski. Throughout 2000-01, when many investors felt the pain of double digit market losses, TPI successfully navigated the choppy investment waters, creating a profit for our private investment clients. With a focus on preserving assets and capitalizing on opportunities, TPI clients benefited greatly from the TPI strategies, allowing them to stay on track with their life goals
Disclaimer: It is not possible to invest directly into any index. The use of web-linked articles is meant to be informational in nature. It is not intended as an endorsement of their content and does not necessarily reflect the opinion of Anthony M. Cherniawski or The Practical Investor, LLC.
© 2005-2019 http://www.MarketOracle.co.uk - The Market Oracle is a FREE Daily Financial Markets Analysis & Forecasting online publication.

Only logged in users are allowed to post comments.
Register/ Log in