Gold Progress & Stages of Public Interest
Commodities
/
Gold & Silver 2009
Oct 26, 2009 - 07:22 AM GMT


I received some great feedback this week that really got me thinking in a different direction other than analysis of gold, markets, economic news and gold stocks. I posted an article late last week titled Gold IS and this covered how I see gold as the only viable asset class and investment game in town. The feedback related to investor perceptions on the subject of gold investment.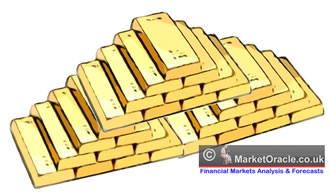 I considered this feedback to be a gem - from Charlie R in Canada who states that he has been buying gold here and there and sees the direction of the economy going in the direction that my colleagues and I have been describing for several years now. Charlie makes a great point that there will not be enough gold to go around and he wonders how we will all participate in the "only game in town" as stated in my Gold IS article. It sounds basic but it led me to consider the stages of awakening and awareness that investors go through in relation to this crisis.
Of course gold and silver are rare and there will not be enough physical gold or silver to go around when things really bite hard in the general economy. The problems in the sovereign economies are already playing out differently across national borders. The opportunities to buy and hold physical metal and invest in other related asset classes will vary too – a subject for another essay.
Unfortunately many more people will find themselves out of work and struggle to afford decent food and accommodation even in first world countries. That will make it hard for them to afford gold or silver in the future when it is needed most. If you have none I urge you to buy what ever you can afford now and hold onto it as if your life depends on it.
Many great web sites that I post articles on (and others) are doing great work providing a market to assist investors with physical investments now. They promote gold sales and forms of physical or ETF participation. I am just as bullish on silver and highly respect the great work of several major leading writers who promote this wonderful investment too. I put silver in the same category as gold and agree there is additional leverage in the physical metal compared to gold – it must go up more in percentage terms making silver a no brainer investment opportunity.
In considering the answers to Charlie's question about how investors will be able to participate I realized something else. I can see the answers because I have been developing and improving strategies and my own education on the subject for decades now. I am lost in the woods in this regard as I am busy promoting and providing information on gold and silver and gold shares - but how well am I getting my message across? This is critical if this industry is going to make a difference and really assist people to survive better in the times we face.
Then I got to thinking about the stages of awareness, action, experience and ability I went through myself all those years ago and right up until now as I practice trading techniques. This is all an evolutionary process that runs something like the list below for many people. I have added the full range of levels in this list and some of the first levels can be omitted for investors that have been watching the economy & gold for years now with understanding. But here is the list of stages in full as I see them;
Vague awareness that "something is wrong" - eased by denial.
Moderate awareness accompanied with fear.
Acute awareness that creates interest and demands action.
Research and questioning, education and planning with intent to "do something about it". It can also be absolute need – have to do something about it if left too long.
Decision time – what exactly to invest in and then how and where do I accomplish this. This is a period of strong interest and evaluation based on intelligent research but little or no experience.
Action with potential failure which is unfortunately part of the process (usually but not always) – learning from ones mistakes; in Australia we call it having a go. Only the brave and courageous get to this level which has to overcome "fear of loss". [What novices don't realize is that if they hold that investment property, cash or "blue chip" stocks (or is that stale chip) they face a certain risk of losing money.
Practice and improvement accompanied with more research, education & finally a level of viability. It has to be accompanied by a willingness to accept responsibility for ones own failures so that one does learn and move forward.
Relative proficiency and success in investment application technique which is accompanied by moderate financial reward plus ups and downs.
Experience, expertise and elimination of excessive risk leading to exceptional returns and reward. Letting profits run and cutting losses quickly – always accompanied by more research, education and a reality level of ones own ability and limits. Dealing with emotion through discipline and practiced / proven techniques.
It is interesting to look at these stages in more detail. In my Gold IS article I mentioned that many people get a fleeting idea they are in trouble and then put it to the back of their mind. Fact is they have to do this in the absence of answers – it is a survival mechanism to ignore the problem initially as it is too painful to face something when you don't have a solution. This can be moved through very quickly and so can the next level of confrontation of the reality and fear.
The next step to saving your own bacon in this crisis is facing the problem more and losing ones fear - and this has happened for many people in the past two years because it has been forced on them through financial hardship or from taking a huge hit on their Super Annuation. Many more have increasingly become more aware over the past two years and are looking for answers. They are beginning to wake up on mass as this crisis becomes so obvious it is harder and harder to sweep under the carpet.
My colleagues and I have been talking to investors that saw what was coming for several years – like us they could read the "writing on the wall". Now our game has changed a little because we have a new wave of investors showing interest in gold and related asset classes. These come in two categories – investors of all levels from novice to professionals now discovering precious metals and also raw beginners that have never invested in stocks or bullion.
An essential process of education on these issues it to understand that things are not "back to normal", the economy is still unstable, dysfunctional, dangerous and wont get back to normal for many years – just like Japan didn't and hasn't over the past 20 years.
After this nasty shock and reality hits them they have a choice to do something about it and the most logical pro-survival choice is to look for a silver lining. Look for a way through the crisis that will maintain their financial position. I have great respect for this ability in mankind - it is great survival ability that has driven us to develop great civilizations. Look for the silver lining folks because there is one and as a mate of mine said last night "there will have to be people left with capital to rebuild when this all hits rock bottom". I hope that includes you.
Each step in the process above can be the end of the line if you don't progress through that step fully and move up to the next. Skipping a step can cause a bigger mistake down the line and this is where you see the novice try futures trading and lose everything. It is where you see a moderately experienced investor make a killing on a hot stock only to lose it again gradually on a succession of poor investment decisions. It is easy to go backwards and end up in fear after such an event.
Only the seasoned professional can take a near total loss and build straight back up to a strong position quickly – not flinch or move to fear, denial or self doubt. Many investors get to the practice stage and think they know it all – dangerous. They can be successful in other fields and perhaps a little over confident and not seek help when they really need it. They can also fail to move up to more desirable levels because they don't take responsibility for their own mistakes.
Many investors are happy with number 8 relative proficiency because it enables them to get on with other areas of life and special interest. This is fine and a great level to reach but I do urge investors that are at this level to at least aim for the top of this level.
I know a few brilliant and socially / spiritually successful people in this category that could do so much better with a little extra tuition if they would accept the help – most investors in this category don't think they need it. This can work out alright but it can lead them to miss the top too and ride all their hard won gains into the bottom of the next market dip waiting for their stocks to recover.
I have found the best approach is to take your money off the table at and near tops so you have your full capital to invest at or near the next bottom. With proper research this is possible and you also learn that some of the investments you rode up successfully last up-leg are not appropriate in the next for a whole range of reasons. It does not pay to fall in love with these stocks you just want to make money from the price appreciation.
I have been fortunate to meet a few especially gifted people who are naturals and have so much analytical horsepower accompanied by massive insight that they are hugely successful without ever going through these levels. I have also been fortunate enough to work with some professional investors that I am able to share market discussion with and learn from on a regular ongoing basis.
If there is not enough gold or silver to go around then we must turn to the gold shares – something I took for granted as the logical way forward when I started GoldOz. Gold shares are demanding if you want to operate at level 9. This is a subject I write a great deal on while I aim to cover as much of the Australian gold sector as possible.
They are my preferred investment class for income generation while I sit on my physical metal. Gold shares may be the only game in town when the music stops and you can't buy gold or silver for love nor money. If you are lucky enough to hold it at the top you can then swap it for real estate which by then should be at its bottom.
When cash, bonds, real estate, bank shares and other investment classes start imploding at a greater rate, gold and its related asset vehicles will be the only game in town. When you can't get gold or silver the gold stocks will be already through the roof and rising and everybody will know about their names.
Everybody will be able to tell you the name of 20 different gold stocks and it will be like a casino free-for-all by that stage. Our job at GoldOz is to assist people and investors of all levels to understand the business of mining and the business of investing way before we get to that stage. We are still running a special offering some free bonus time for Gold Member subscribers and I hope you will join us – or at least join in the fun and make some money in the coming months.
Good trading / investing.
Regards,
Neil Charnock
GoldOz is currently developing a Member area and has added further resources for free access. We have stepped up our research and stand by to assist investors from all walks of life. We sell an updating PDF service on ASX gold stocks from only $AUD35 for 3 months – the feedback is grateful and enthusiastic because we are highlighting companies that have growth potential and offering professional coverage of the sector. GoldOz web site is a growing dynamic resource for investors interested in PGE, silver and gold companies listed in Australia , brokers, bullion dealers and other services.
Neil Charnock is not a registered investment advisor. He is a private investor who, in addition to his essay publication offerings, has now assembled a highly experienced panel to assist in the presentation of various research information services. The opinions and statements made in the above publication are the result of extensive research and are believed to be accurate and from reliable sources. The contents are his current opinion only, further more conditions may cause these opinions to change without notice. The insights herein published are made solely for international and educational purposes. The contents in this publication are not to be construed as solicitation or recommendation to be used for formulation of investment decisions in any type of market whatsoever. WARNING share market investment or speculation is a high risk activity. Investors enter such activity at their own risk and must conduct their own due diligence to research and verify all aspects of any investment decision, if necessary seeking competent professional assistance.
© 2005-2019 http://www.MarketOracle.co.uk - The Market Oracle is a FREE Daily Financial Markets Analysis & Forecasting online publication.

Only logged in users are allowed to post comments.
Register/ Log in