U.S. Third Quarter GDP Too Good to Be True?
Economics
/
Economic Recovery
Nov 02, 2009 - 09:56 PM GMT


This past Thursday, the Bureau of Economic Analysis (BEA) reported 3rd Quarter GDP at up 3.5%, surprising the already ebullient consensus. The report I'm sure put a smile on Obama and Bernanke's faces, not to mention legions of Keynesian economists longing to say I told you so. Hey, even the stock market seemed to like the report, as the Dow Jones Industrials exploded 200 points on the day.
Is this GDP report too good to be true?
In a Friday op-ed piece in The Wall Street Journal entitled We're Governed by Callous Children, Peggy Noonan suggests it is too good to be true when she wrote:
The new economic statistics put growth at a healthy 3.5% for the third quarter. We should be dancing in the streets. No one is, because no one has any faith in these numbers. Waves of money are sloshing through the system, creating a false rising tide that lifts all boats for the moment. The tide will recede. The boats aren't rising, they're bobbing, and will settle. No one believes the bad time is over. No one thinks we're entering a new age of abundance. No one thinks it will ever be the same as before 2008. Economists, statisticians, forecasters and market specialists will argue about what the new numbers mean, but no one believes them, either. Among the things swept away in 2008 was public confidence in the experts. The experts missed the crash. They'll miss the meaning of this moment, too.
The full op-ed is here and it is a must read: http://online.wsj.com/..
Yours truly agrees with Noonan. This GDP report is too good to be true, and Noonan and I are not alone.
Economist John Williams, proprietor of Shadow Government Statistics, makes his living by let us say, questioning government economic numbers. From Williams' site, his mission statement:
"John Williams' Shadow Government Statistics" is an electronic newsletter service that exposes and analyzes flaws in current U.S. government economic data and reporting, as well as in certain private-sector numbers, and provides an assessment of underlying economic and financial conditions, net of financial-market and political hype.
You can find the site here, and it's worth a look: http://www.shadowstats.com/
So, what does Williams have to say about 3rd Quarter GDP?
…one-time stimulus or inventory items represented 92% of the reported quarterly growth of 3.5%. The nature of the stimulus-related gains was that they tended to steal business activity from the future. The months ahead are the future. Accordingly, fourth-quarter quarterly GDP change likely will turn negative, again.
Well I am not ready to call 4th Quarter GDP negative just yet, but there is no doubt that government policies have stolen future economic growth. Williams continues:
Now for the really bad news in the GDP: Current-dollar personal income decreased $15.5 billion (0.5%) in the third quarter, in contrast to an increase of $19.1 billion (0.6%) in the second. Personal current taxes increased $4.8 billion in the third quarter, in contrast to a decrease of $119.1 billion in the second. Disposable personal income decreased $20.4 billion (0.7%) in the third quarter, in contrast to an increase of $138.2 billion (5.2%) in the second. Real disposable personal income decreased 3.4%, in contrast to an increase of 3.8%.

But that's not the only issue Williams has with the hype over 3rd Quarter GDP.
Williams computes an Alternative GDP measure, removing from the BEA calculation what he defines as pollyanna creep; namely, computational changes made by the BEA to GDP over the last 25 years that somehow always seem to present the economy in a better light. To quote Williams:
Varied academic theories, often with strong political biases, have been used to alter the GDP model over the years, resulting in Pollyanna Creep, where changes made to the series invariably have had the effect of upping near-term economic growth. Whether the change was to deflate GDP using "chain-weighted" instead of "fixed-weighted" inflation measures, to capitalize rather than expense computer software purchases, or to smooth away the economic impact of the September 11th terrorist attacks, upside growth biases have been built into reported GDP with increasing regularity since the mid-1980s.
Williams tracks his Alternative GDP measure against that of the BEA on his site. The difference is quite startling. Indeed, for the 3rd Quarter, Williams shows GDP down big, at a year over year rate of 5.7%. The BEA shows GDP with a year over year decline of just 2.3%.
Here's the history of the year over year change in GDP as reported by the BEA and by John Williams' Shadow Stats since 1982: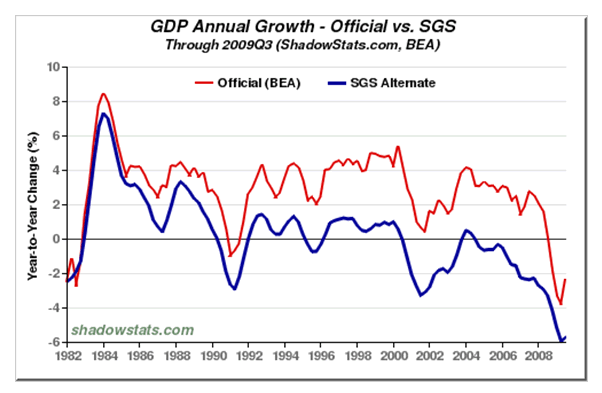 Look at this chart, especially at Williams' SGS Alternative GDP. According to Williams, not only is the BEA GDP metric overestimating economic growth, but contrary to what we have been told by the BEA, there has been no positive year over year growth in GDP since 2004.
Perhaps this is what Noonan was getting at when she wrote her op-ed for the Wall Street Journal. Perhaps something is not right with the government numbers. They simply don't jive with reality, and more and more people are getting it. Ask yourself, how can the mood of the country be so negative, the credibility of the guys in charge so weak when the government numbers point to the opposite? Maybe it's because the government numbers are not telling us the truth about the economy.
While Williams may have his own biases, and who doesn't, the man makes a good case for his Alternative GDP measure in a piece entitled, Government Economic Reports: Things You've Suspected But Were Afraid To Ask! If you interested, you can read about it here:
http://www.shadowstats.com/article/gross_domestic_product
Austrian economics teaches that economic aggregates are dangerous and no one number can truly measure the activity of a complex economy like that of the US. But I think something is amiss here with the BEA GDP metric and by implication the US economy.
Maybe after some reflection you do too.
By Michael Pollaro
Email: jmpollaro@optonline.net
I am a retired Investment Banking professional, must recently Chief Operating Officer for the Bank's Equity Trading Division. I am also a passionate free market economist in the Austrian School tradition and private investor
Copyright © 2009 Michael Pollaro - All Rights Reserved Disclaimer: The above is a matter of opinion provided for general information purposes only and is not intended as investment advice. Information and analysis above are derived from sources and utilising methods believed to be reliable, but we cannot accept responsibility for any losses you may incur as a result of this analysis. Individuals should consult with their personal financial advisors.
© 2005-2019 http://www.MarketOracle.co.uk - The Market Oracle is a FREE Daily Financial Markets Analysis & Forecasting online publication.

Only logged in users are allowed to post comments.
Register/ Log in