US Economy Nightmare Warnings! and How to Protect Yourself Now!
Economics
/
Financial Crash
Jul 12, 2007 - 09:08 AM GMT

Larry Edelson writes: I hate to say it, but I believe the next five to six months will harbor nightmares for the U.S. economy so profound that they will impact each and every one of us.
Before I go any further, let me say that I'm not a gloom-and-doomer. Longer term, I am very optimistic about U.S. and global economic growth. I'm even optimistic on the U.S. real estate market. But I'm also a realist …
We've had over four years of a rising stock market without one 10% decline, a record breaking string. We've had historically low interest rates. We haven't had a terrorist attack on U.S. soil in nearly six years.
We've had a huge rebound in corporate earnings since the depth of the 9/11 woes. We've had the benefits of explosive economic growth in countries like India and China.
In short, we've had a period of virtually uninterrupted, explosive global economic growth without too many downside surprises. So while I expect global economic growth to rise in the years ahead, there are going to be some huge speed bumps to go over in the short-term.
Few people have a clue what's coming down the pike, so the shock will be devastating. The good news is that if you've been following my columns here at Money and Markets, as well as my recommendations in Real Wealth Report , you're largely prepared for what's coming.
Still, there are more steps you'll want to take. Before I get to those, here's what I see ahead …
A Terrorist Hit Could Strike The U.S. Economy Hard
I sure hope and pray that I'm wrong on this one. But my gut, along with several of my indicators, suggest that a terrorist event could hit U.S. soil before the end of the year. Why?
For one thing, it's been six years since 9/11. In my book, the odds of a strike rise with the passage of time.
For another, as Martin has shown you in various issues of Money and Markets , terrorism is spreading … gathering momentum … and building renewed vigor. The recent incidents in Pakistan, where al Qaeda is now spreading, and the bombings in London are proof positive. Not to mention the hugely deteriorating situation in Iraq.
Plus, al Qaeda and other groups that are hell bent on hitting the U.S. see the political scene in the states as a huge plus for them. What better time to strike than when there's so much dissent not only amongst the American public about Iraq, but also when senior GOP Senators are now defecting from Bush's policy.
I believe al Qaeda wants to send Bush packing with his tail between his legs, and divide and conquer Washington well before our next President is sworn in.
Mind you, this is mere conjecture on my part. I have no hard facts to back it up. Nonetheless, I feel very strongly that a terrorist event in the U.S. could come sooner rather than later.
Even if I'm wrong — which would make me quite happy — I still see another big problem …
The Price of Oil Could Soar To New Record Highs and My Target Price of $100 a Barrel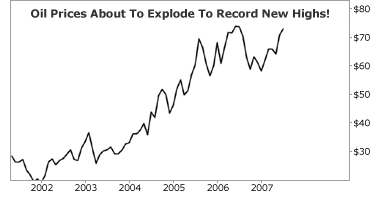 Oil is already trading near $73 a barrel, just from basic supply and demand.
It's very simple: The global economic expansion of the last few years has created the biggest-ever increase in world demand for oil. At the same time, supplies from virtually every oil-producing country in the world are quickly becoming tapped out … refineries are running at capacity … and production costs are rising because of the lack of easy-to-refine "sweet" crude oil.
Add in a terrorist attack … anxiety about this year's hurricane season … or even minor supply disruptions in countries like Nigeria … and it's not hard to see how the price of oil could hit $100 per barrel, even higher.
The issue, then, is: What higher oil prices would do to U.S. economic growth, which is already a sickly .7%.
My view: Rising oil and gas prices haven't even hit the economy yet. But they soon will, on the next run-up in prices. Then we'll see what I've been predicting all along — rising inflation coupled with absolutely no economic growth. It's what I call the "Big Squeeze," or stagflation.
That Would Lead to a Sharp, Unexpected Drop in Most U.S. Stocks
I gave you my downside target for the Dow a couple weeks ago: Approximately 11,500.
In my opinion, the most vulnerable U.S. stocks are real estate issues, which will go into their final sharp-sell off, and shares of financial institutions, who will get caught flat-footed with more loans going bad.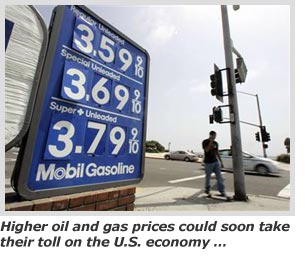 Conversely, the best performing stocks will be those of gold companies. That's because the yellow metal would likely rise further with inflation … a weak dollar … and geopolitical turmoil. Oil and gas shares would also thrive. In fact, most natural resource stocks could be expected to outperform.
What about overseas markets? I consider them a different matter altogether. They have consistently done better than U.S. markets, and I expect most emerging market economies, as well as China and India, to continue performing well.
Sure, they will see some pullbacks. But I'd treat those as buying opportunities. After all, there will be no stopping the advances of the needs, wants and desires of nearly three billion people, who are now rapidly moving from the 19th century right into the 21st.
I Suggest Taking the Following Steps Immediately …
First, minimize your exposure to the Dow. In my opinion, this is the perfect time to get out. I think we're very near an important peak and I believe the risk of staying in far outweighs the potential rewards. Reduce your exposure as much as possible.
Second, carefully monitor the natural resource stocks you own. If at any time you see a share price fall by 10% or more, get out. Pull in your horns and wait for a better chance to get back in. If you're a Real Wealth subscriber, you'll get my exact timing signals and instructions, just like the ones I gave you to grab gains over the past couple weeks.
Third, stay away from long-term bonds. U.S. Treasury bonds have fallen by as much as 10 full points, or $10,000 per $100,000 of face value, in just the last seven months. I've been warning you about this. And bond prices are bound to fall further. The extremely weak dollar virtually guarantees it.
Fourth, don't buy any real estate right now. Later this year, when the dust from the dollar's plunge starts to settle, you may see a major bottom in real estate prices.
And foreign investors — especially wealthy Asians — could come rushing back into the U.S. to buy properties on the cheap with their strengthened currencies. Heck, the Chinese already effectively bought nearly 10% of all the Hilton Hotels in the U.S. through their shareholdings in the Blackstone Group.
Fifth, most of your keep-safe money should be in liquid, short-term investments such as money markets and Treasury-only money funds.
Sixth, no matter what, hold your core gold positions! Gold can thrive through slow economies, geopolitical instability, and more.
In my view, the best way to hold gold is through the streetTRACKS Gold Fund (GLD). Each share represents 1/10 of an ounce of gold. And the fund eliminates storage and shipping worries because the gold is held in trust for you.
Best wishes,
By Larry Edelson
P.S. If you grabbed gains based on my suggestion in last week's Money and Markets , congratulations! And if you missed that issue, I urge you to read it now !
This investment news is brought to you by Money and Markets . Money and Markets is a free daily investment newsletter from Martin D. Weiss and Weiss Research analysts offering the latest investing news and financial insights for the stock market, including tips and advice on investing in gold, energy and oil. Dr. Weiss is a leader in the fields of investing, interest rates, financial safety and economic forecasting. To view archives or subscribe, visit http://www.moneyandmarkets.com .
© 2005-2019 http://www.MarketOracle.co.uk - The Market Oracle is a FREE Daily Financial Markets Analysis & Forecasting online publication.
Comments
christian
12 Jul 07, 20:28
Stop Fear mongering about Terrorists please


You have a far better chance of dying via a car accident or drowning than from a "terrorist" strike.

Don't buy into the F. ake E. vidence that A. ppears R. eal




Only logged in users are allowed to post comments.
Register/ Log in