Extremely Low Global Food Storage Balances to Drive Agri-Food's Bull Market
Commodities
/
Agricultural Commodities
Nov 16, 2009 - 03:46 PM GMT


Bounty is the child of shortage. The grandchild of bounty is also called bounty, and begets again shortage. When those generations are born with fanfare, the world is made well aware of the situation. However, creeping shortages go unnoticed. The latter are also more serious as they reflect structural changes emerging in supply-demand. Globally, Agri-Foods may be giving birth to an era more akin to shortage than bounty.
During most of the post World War II era, supply was dominant in the global Agri-Food system. That situation seemed to many to be likely to persist indefinitely. In the last decade, as a new Chinese economy emerged, the global Agri-Food system has become more dominated by demand. China has learned that feeding the population is not a food problem, but an income problem. Give the people jobs that generate incomes, and they will simply buy the food. India, with another billion people to feed, may also, despite the best efforts of some politicians, come to fostering income growth in order to feed the nation.
Analysts persist in a misunderstanding of the economic development of China. Yes, that periodic economic disturbances could occur there do to economic imbalances is acknowledged. Any disruptions in economic growth, should and when they happen, will not interrupt the longer term growth trend. The much predicted crash of the Chinese economy simply has not happened. Tomorrow in China though is far brighter than ever, and certainly far brighter than in a nation dominated by wealth destroying policies of the Obama Regime.
Those looking to the future are indeed acknowledging the middle income miracle unfolding in China. bloomberg.com, 4 November 2009, reported, "Disney Wins Approval for Park in China's Richest City," "Walt Disney Co. won government approval to build a theme park in Shanghai, giving the world's largest media company access to consumers in mainland China's richest city." The Disney park will cost nearly $4 billion. Nothing says middle income consumers more than Disney. The Disney park is both a sign of positive direction within the government, and the potential of China's future.
Global Agri-Food system, however, may not be ready for the consumption that follows income growth in Asia. A presumption that globally the Agri-Food system would persist in a long supply condition may be an error. Little attention has been given to the rising demand for food arising globally. Further, inadequate attention has given to the weakening of the supply potential of the global Agri-Food system. Analysis still focuses mistakenly on single grains as if they exist in isolation.
Our first chart this week, below, is part of an effort to help investors understand that supply is only relevant when compared to demand. In that chart are the months of consumption in storage on a global basis for the major Agri-Food grains and vegetable oil. These estimates come from the diligent researchers, economists, and statisticians at the U.S. Department of Agriculture(USDA).
Each of those bars represents the USDA's estimate of ending stocks for this crop year relative to expected consumption. For example, less than 2 months of global corn consumption will be in storage at the end of this crop year. For rice, a little more than 2 months of global consumption will be in storage. These statistics are not the lowest that have been experienced. However, both are far lower than the historical experience or that which would provide a comfortable margin of food adequacy.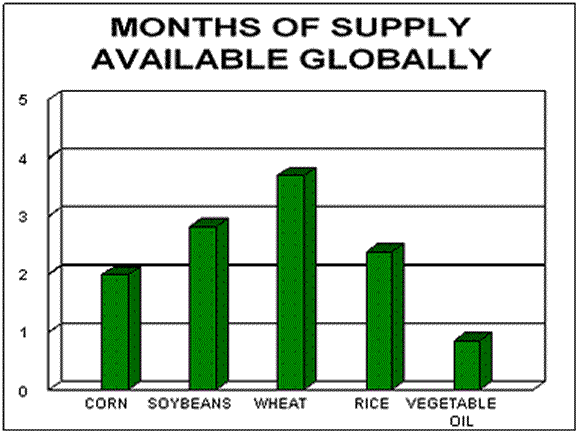 Globally, the food balances in the "bank" are extremely low. The damage to the rice crops and rice in storage in India and the Philippines, as well as damage to the Arkansas crop, may already be tipping rice into a less than adequate supply situation. As the above statistic for rice is on a global basis, it does not portray the situation within individual nations. If the global average is only two months, some nations have less and some, such as Thailand and Vietnam, have more. As rice is not made in a factory, only the next crop year can eradicate any unmet needs.
Agri-Food, aside from not being made in a factory, has another important characteristic that should be understood. In many ways, the global Agri-Food situation is like a giant Rubik's Cube. If rice is not in adequate supply, then wheat may be used as a substitute. So, while wheat may currently looks plentiful, as the world pushes on the other side of the cube the adequate supply of wheat becomes less than adequate.
Most interesting is the level of vegetable oils in stock relative to consumption. Less than one month of the world's consumption of vegetable oil exists. That estimate includes the full range of vegetable oils, from palm oil to peanut oil to canola oil. The available global stockpile of vegetable oil may have reached the minimum acceptable level. To increase the amount of vegetable oil available more grains would need to be crushed, which would reduce the availability of important grains from corn to soybeans to rapeseed. Remember the Rubik's Cube.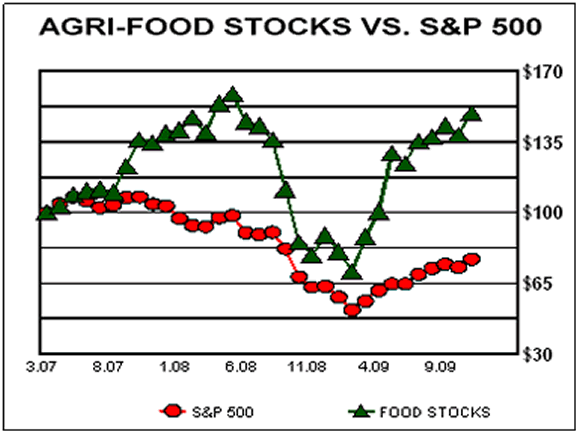 This author is not predicting a global food shortage, nor a Malthusian disaster. What is being predicted is that the global Agri-Food supply-demand balance is and will be far tighter than many expect. Prices for Agri-Food will be the first beneficiaries of this situation. Other beneficiaries will be those that produce Agri-Food and those that serve the entire supply chain for Agri-Food. Some investors have already been harvesting some of the benefits of this situation.
Our second chart, above, compares the estimated return on a basket of Agri-Food stocks to the S&P 500. After being pummeled in the collapse of the 2008 hedge fund induced mania in commodities, Agri-Food stocks have recovered substantially. The projected global collapse in commodities, including Agri-Food, simply did not happen.
Strong performance of the Agri-Food stocks has removed the gross under valuation that existed in early 2009. However, the global and structural Agri-Food cycle is still in infancy. Growth in Chinese incomes will propel global Agri-Food demand for almost another decade. Sometime before then the awakening of India's economy will become a strong factor. The Agri-Food sector as an investment theme has another decade ahead for investors to benefit.
Disney's announcement of a Chinese theme park should serve as a strong signal to investors that China's economic potential is real. Yes, disruptions may occur, but the secular trend is not likely to be disturbed. Agri-Food sector is perhaps one of the best ways to participate in the ramifications of China's economic growth. Further, Agri-Food may possess the equivalent of a call option on the Indian economy. Consumption of Agri-Food by 1.3+ billion Chinese consumers and 1+ billion Indian consumers has little forecast risk, for eat they will as their incomes expand. To begin your Agri-Food research use this link: http://home.att.net/~nwschmidt/Order_AgriValueRECENT.html
The response to the release of 3rd Annual U.S. Agricultural Land As An Investment Portfolio Consideration, 2009 is much appreciated. This work is the definitive annual study of the role of U.S. agricultural land in an investment portfolio. It is a rigorous statistical analysis suitable for the sophisticated investor. The 60 page PDF file is delivered via email, and is available at the following link: http://home.att.net/~nwschmidt/OrderAgriLand2009.html
By Ned W Schmidt CFA, CEBS
AGRI-FOOD THOUGHTS is from Ned W. Schmidt,CFA,CEBS, publisher of The Agri-Food Value View , a monthly exploration of the Agri-Food grand cycle being created by China, India, and Eco-energy. To receive the most recent issue of this publication, use this link: http://home.att.net/~nwschmidt/Order_AgriValue.html
Copyright © 2009 Ned W. Schmidt - All Rights Reserved
© 2005-2019 http://www.MarketOracle.co.uk - The Market Oracle is a FREE Daily Financial Markets Analysis & Forecasting online publication.

Only logged in users are allowed to post comments.
Register/ Log in