Rewarding New Decade for Agri-Foods Investors
Commodities
/
Agricultural Commodities
Jan 12, 2010 - 01:49 AM GMT


What needed remembering this past week as a goodly part of the Northern Hemisphere sat frozen was that all that cold was a mirage. This cold weather, practically everywhere, was really just cloaking the underlying warming trend of the world. Do not let this cold weather fool you! This phony cold weather does, however, have some hidden dangers. We have been, here in south Florida, under an Iguana Alert. Iguanas, which are illegal immigrants without a natural predator, become immobile at temperatures below 40 degrees. They were falling out of the trees, which made walking under Iguana filled trees dangerous.
With the U.S. Environmental Protection Agency moving toward declaring carbon dioxide a hazardous pollutant, global warming may be the least of our worries. Breathing may require a permit from the government. Growing food could become an illegal activity. As a field growing food produces more carbon dioxide than a forest, the EPA could deny farmers the necessary permits to grow food. Instead, they may be ordered to replant their fields as forests. Australia is already moving in that direction.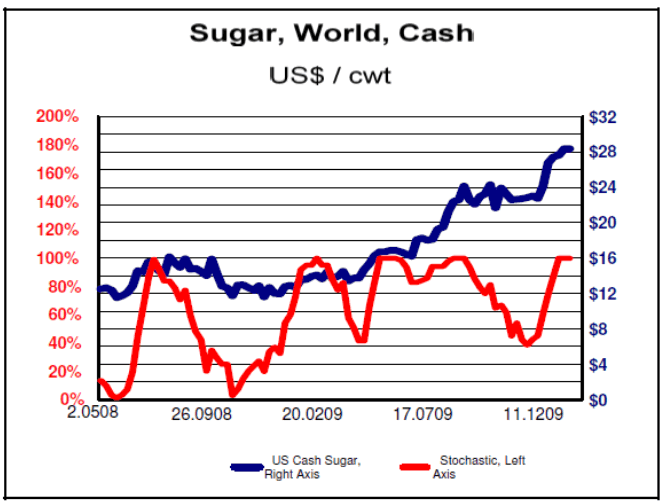 Those that sipped a cup of coffee in an attempt to stay warm may have discovered that adding sugar to their drink was more expensive than ever before. Our first chart this week, above, is of the price of sugar. Yes, that bag of sugar in your cupboard has outperformed the stock market. In fact, the price of sugar has risen above even the most optimistic estimates of a year ago.
Some important lessons are to be gleaned from the sugar situation. First and foremost, sugar is not made in a factory. Sugar comes from plants, such as sugar cane, which are grown in fields containing dirt. Those fields being the ones that may need to be left idle if the EPA and other radical environmental groups have their way on carbon dioxide.
Two more lessons to be learned, aside from the realization that sugar is not produced in a factory, are that it is produced seasonally and is subject to the weather. If the weather does not cooperate, sugar cane will not be produced as was the case in India due to drought. Or, too much rain could fall as it did in Brazil which prevented some harvesting. No such thing as just in time inventory in Agri-Foods. The internet can not cause sugar that does not exist to be delivered, regardless of which search engine one uses. Sugar production that was lost this past year could not be replaced until the next crop season in 2010.
All of this leads to the all-important realization that the supply curves for Agri-Foods are highly inelastic in the short run. That term describes a supply curve that is extremely steep. Demand for sugar, in the short-term like all Agri-Foods, will not and can not bring forth more supply. The only consequence is higher prices in the short-term. Such is what has happened with sugar.
The truly important lesson to be learned from today's sugar situation is that it provides a glimpse into the future for global Agri-Foods. As global demand continues to expand due to an increasingly prosperous and urban population, the ability of the world to supply food will be tested. As the world's ability to produce Agri-Foods is constrained by land and water limitations, price will be the variable that will adjust. Just as some are being priced out of the sugar market, so will others be priced out of global Agri-Food markets in the decades ahead. Consumers around the world will find themselves competing in Agri-Food markets with buyers from China and India, carrying far more dollars with which to compete.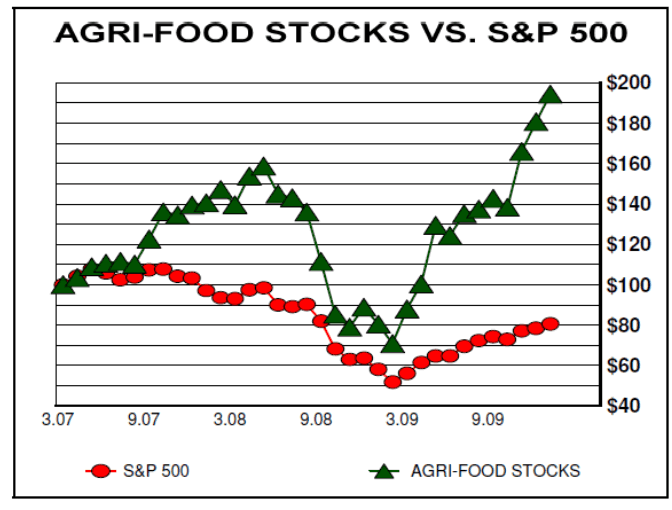 Let us not forget too that sugar is a nonessential food. We do not need sugar. Those that wish to consume nonessential foods will have to pay a far higher price in order to compete for land needed to grow essential foods. The world may be a lot healthier without such foods, anyway.
As our second chart, above, portrays, some have already benefitted from the new, forgive me, paradigm for Agri-Food. While the next year will no doubt be far less exciting for the Agri-Food stocks than was the case this past year, the decade ahead should be rewarding. Where else can investors position themselves in front of 1.3 billion Chinese and 1.1 billion Indian consumers all desiring the products produced by those investments. They want more Agri-Food, they will be able to afford more Agri-Food, and they will buy Agri-Food each and every year.
Agri-Food investments come in three flavors. First, some companies provide products and services to the Agri-Food producers, the farmers. Second group of companies is those that facilitate the movement of Agri-Food production from the farm to the food processing companies. Third sector is Agri-Land, which is one the three essential ingredients for Agri-Food production. The other two are water and money. While your defensive investment in Gold has done well, perhaps the time for offensive investing may have arrived. To start learning about Agri-Food use this link: http://home.att.net/~nwschmidt/Order_AgriValueRECENT.html
By Ned W Schmidt CFA, CEBS
AGRI-FOOD THOUGHTS is from Ned W. Schmidt,CFA,CEBS, publisher of The Agri-Food Value View , a monthly exploration of the Agri-Food grand cycle being created by China, India, and Eco-energy. To receive the most recent issue of this publication, use this link: http://home.att.net/~nwschmidt/Order_AgriValue.html
Copyright © 2010 Ned W. Schmidt - All Rights Reserved
© 2005-2019 http://www.MarketOracle.co.uk - The Market Oracle is a FREE Daily Financial Markets Analysis & Forecasting online publication.

Only logged in users are allowed to post comments.
Register/ Log in