Where Will US Job Growth Come From?
Economics
/
Employment
Jan 27, 2010 - 09:27 AM GMT


Despite the Federal Reserve's extraordinary printing and the U.S. Government's extraordinary spending measures during the last twelve months, it looks like the only job categories with growth potential are printing press operator, ditch diggers, ditch fillers, whatever they call the guys handing out trillions in government largesse, Treasury Department comedians tickling Chinese funny bones by saying they favor a strong U.S. dollar and people installing Stimulus signs at highway projects.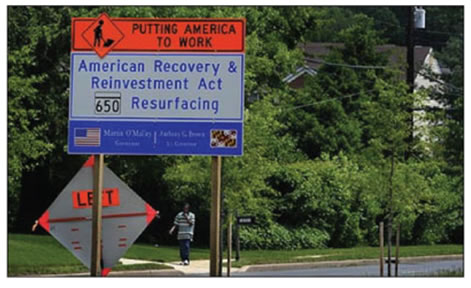 The signs are about taking credit. An acquaintance fairly high up in the Electrician's Union told me about a big infrastructure construction project in Philadelphia's Germantown section that has been underway for two years and is already nearly completed. A representative of the Federal Government recently entered the construction trailer and announced that the work was now a Federal stimulus project. A big sign then was put up at the site to prove it. Two years from now, expect Obama's re-election campaign to claim this project as one of his stimulus accomplishments.
Unemployment on the Rise
Employment in the U.S. peaked in November, 2007 at 146.6 million people. As of December 2009, only 137.8 million Americans were employed -- a loss of 8.8 million jobs in 25 months. Using the official (U3) measurement, the unemployment rate is 10%. Using the broader, more realistic (U6) measurement, the rate is 16.3%. If you add in discouraged workers who were defined out of the calculation during the Clinton Administration, the rate has reached 22%.
That's on a par with the 25% unemployment rate during the Great Depression. The current employment-to-population ratio of 58.2% is down to levels last seen before women entered the workforce en masse during the 1970s. And the economy continues to lose more than 200,000 jobs per month. That can't go on forever. Recessions always end. But what are the industries that will lead us out of this horrific downturn and provide the jobs of the future?
Where the Jobs Are
During the last two years of economic turmoil, while the real economy was shedding 7 million jobs, government (federal, state, and local) was adding 300,000 jobs. There are now 22.5 million government employees in the U.S. Think about that for just a moment. One in every six jobs in the U.S. is a government job. But what the government workers produce, build or sell is nothing at all. Nada by the carload. They shuffle paper and spend our tax dollars. They are a sinker tied around the neck of the American economy.
And government spending, which is only part of the problem, is poised to surge to levels not seen since the Vietnam War. The distribution of GDP by activity shows a disturbing trend over the last five decades. You can see this trend in the chart below. It paints a picture of a country that has transformed from a young, healthy society that produced capital goods and built things with support from financial services, into a sickly nation that has outsourced production and filled the gap with high finance.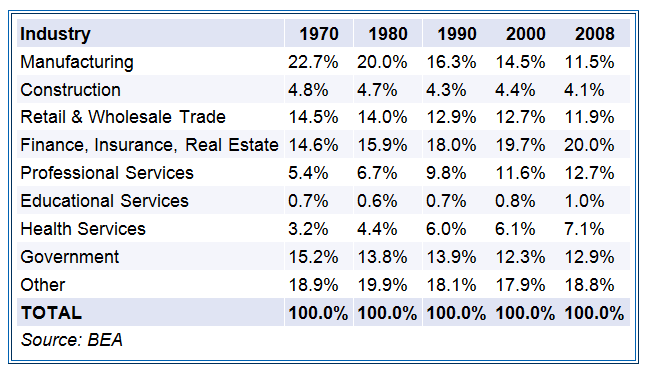 Where the Jobs Will Be
Knowing how this chart will look in 2020 would help us position our investments to ride the trends. Based on clear demographic patterns and expected government programs, it is virtually certainty that health services will reach 10% of GDP and government spending will exceed 15% of GDP.
American consumers are still burdened with $13.8 trillion of household debt and will be deleveraging for the next decade as they try to save enough for a semi-comfortable retirement. This will cut retailing's share of GDP. Given that the country is over-housed, over-malled and over-officed, construction will not be leading the charge. Given the competitive disadvantage of union labor, onerous government regulation and the coming green regulations, it is unlikely that U.S. manufacturing will be making a dramatic comeback.
With their recent track record, financial and professional services are heading for a decline as a percentage of GDP, even though massive government and Federal Reserve support will allow them to hold on to their current share for a while longer. But when Phase Two of the Depression/Crisis gets underway in 2010-2011, these industries will be further discredited and will shrink.
Two years ago, the Bureau of Labor statistics published its projections for job growth by industry and job title through 2016. This is the same government organization that has systematically under reported CPI inflation by 4% to 5% per year for decades through its adjustments and reinterpretation of the data. So I wouldn't put much faith in their projections. Still, it's interesting to see what they think.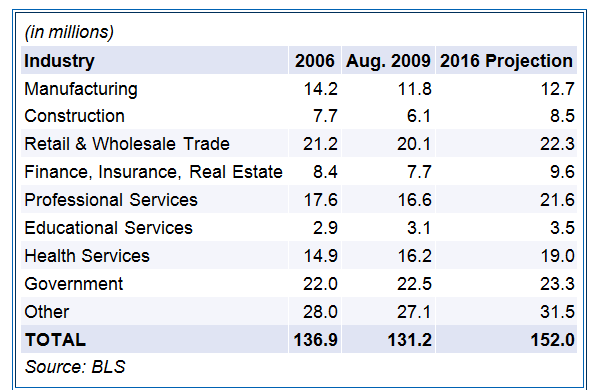 It's obvious from the projections made in 2007 that the data guys at the BLS used the always-ready method of extrapolation based on recent trends. They evidently didn't anticipate a recession between 2007 and 2016. It is highly unlikely that we will add 3 million jobs per year for the next seven years. It is a practical impossibility for construction jobs to grow by 40%, professional services jobs by 30% or finance jobs by 25%. While the BLS data shows an increase in total government jobs, within the data was a laughable projection that those gains would come at the state and local levels, but that Federal Government jobs would actually fall by 149,000 between 2006 and 2016. Not if the Obama administration has anything to say about it.
The BLS list of fastest-growing occupations between 2006 and 2016 paints a disturbing picture. Among the 30 fastest-growing occupations, I could only find two that produce something of long-lasting value (network systems and data communications analysts and computer software engineers). The list is littered with the likes of:
Personal and home care aides
Home health aides
Substance abuse and behavioral disorder counselors
Skin care specialists
Gaming surveillance officers and gaming investigators
Mental health counselors
Mental health and substance abuse social workers
Gaming and sports book writers and runners
Manicurists and pedicurists
Environmental science and protection technicians, including health
By the above list, it would appear that we are destined to become a nation of sickly obese people confined to our homes, with good skin and nails, playing the lottery but mentally impaired from worrying about global warming.
The truth is that the BLS has no clue where growth will come from. Many of the industries and jobs of the future haven't yet been imagined.

One likely candidate is nanotechnology. Something as game-changing as the internet has been is likely to come from this area in the next decade.

And if Peak Oil pushes crude up to $200 a barrel, alternative energy will become a growth industry even without force-feeding from the government. (Bet against anything that relies entirely on government subsidies to be economic, e.g., ethanol.) Research into algae as an energy source could be a winner. Geothermal power and ocean wave power are other areas that hold promise. The widespread use of mini-nuclear plants has excellent prospects.

The aging of the baby boomers is a given, which means that medical technology is a growth area, provided the government healthcare "reform" doesn't turn it into a dead industry.

An aging country dependent upon oil and debt for sustenance is not the ideal place to invest, and that may be the conclusion that many come to, giving a boost to emerging economies. Domestically, technology – including medical technology - and alternative energy look to provide the best chance for the United States to regain some of its lost prosperity, and therefore are potential areas of focus for investors.

This article was originally published in the Casey Report. To see my latest article on the coming crash in China in the February edition of the Casey Report, sign up for 3 free months here: http://www.caseyresearch.com/
Join me at www.TheBurningPlatform.com to discuss truth and the future of our country.
By James Quinn
James Quinn is a senior director of strategic planning for a major university. James has held financial positions with a retailer, homebuilder and university in his 22-year career. Those positions included treasurer, controller, and head of strategic planning. He is married with three boys and is writing these articles because he cares about their future. He earned a BS in accounting from Drexel University and an MBA from Villanova University. He is a certified public accountant and a certified cash manager.
These articles reflect the personal views of James Quinn. They do not necessarily represent the views of his employer, and are not sponsored or endorsed by his employer.
© 2010 Copyright James Quinn - All Rights Reserved
Disclaimer: The above is a matter of opinion provided for general information purposes only and is not intended as investment advice. Information and analysis above are derived from sources and utilising methods believed to be reliable, but we cannot accept responsibility for any losses you may incur as a result of this analysis. Individuals should consult with their personal financial advisors.
© 2005-2019 http://www.MarketOracle.co.uk - The Market Oracle is a FREE Daily Financial Markets Analysis & Forecasting online publication.

Only logged in users are allowed to post comments.
Register/ Log in