Stocks Look To Consolidate Gains From Friday
Stock-Markets
/
Financial Markets 2010
Mar 08, 2010 - 08:27 AM GMT


On Friday a combination of better-than-expected data and easing sovereign concerns combined to deliver some very constructive price action in equity markets, with key bourses across Europe and the US making seven-week highs. Commodity prices strengthened and the Baltic Dry Freight Index posted a strong increase for a third consecutive session (and the seventh consecutive increase in total) to make a six-week high.
Of course the highlight was the US non-farm payrolls report which revealed a 36k decline in February following a net 35k of upward revisions and this despite the fact that just over 1 million people reporting that bad weather had prevented them from turning up at work. Whilst this outcome was only slightly better than formal expectations, I think that most investors (including myself) had been braced for downside surprise. With the labour force also increasing, the unemployment rate was steady at 9.7%, suggesting that the October 2009 reading of 10.1% may well have been the peak.
Early on in Europe, markets heartened by Germany's factory orders report for January. After a surprisingly 1.6% mom decline in December, orders rebounded 4.3% mom in January with domestic orders up 7.1% mom. German industrial output rose 0.6% mom in January, to a level 2.2% higher than a year earlier when adjusted for the number of working days, the first positive year-on-year reading since July 2008.
Shares on the move this morning included AstraZeneca who lost 1.5% after its experimental Recentin drug for colon cancer failed to match Roche's Avastin in tests. Liberty International fell 1.2% on news the real-estate investment trust may announce plans to raise cash in a rights offer this week, its third in two years. Petrofac advanced 4.4% after the oil-services provider said full-year net income rose to $353.6 million from $265 million in 2008 as orders for oil and gas engineering projects increased.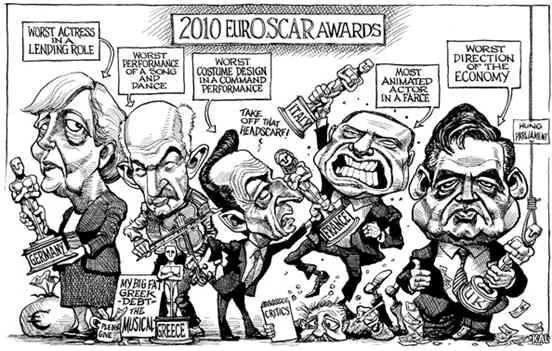 Today' Market Moving Stories
•Without any negative news over the weekend, risk markets continued to trade on a firm note in the new week. Asian equity indices broadly rallied with the Nikkei (+2.1%) and Hang Seng (+1.9%) leading the way.
•UK Chancellor Alistair Darling said that a lack of clarity over public spending cuts or fears over a possible indecisive election is not affecting GBP or other markets. He explained that he does not plan to publish a spending review now because of continuing uncertainties about the economic outlook.
•China's industrial output growth in the first two months of the year maintained the strong momentum witnessed in November and December, Ministry of Industry and Information Technology Li Yizhong said. China's industrial output rose by 19.2% year on year in November and 18.5% year on year in December. The combined figure for January and February is due to be reported on March 11. Economists polled by Reuters have forecast a 19.3% increase.
•Any speculation that China might stop supporting the dollar in the next few years is absolute nonsense, Li Ruogu, chairman of Export-Import Bank of China, said. A collapse in the dollar's value would damage Chinese interests. China should focus instead on trying to stabilise the dollar and on preserving its status as the leading global currency, said Li. Li said that "In the short run, maintaining a stable dollar is good for everyone. It is good for the United States, good for China and good for the world."
•Japanese bank lending fell 1.5% yoy in February – matching the largest drop in more than four years which was recorded in January.
•The CBI, in its budget proposals for 2010, said the government should aim to balance its budget two years earlier than currently planned (2016) and should be achieved through spending cuts and reforms to public services rather than tax increases.
•A BPIX poll in the Mail on Sunday gives the Conservative, on 36%, a lead of just two points over Labour with 34%. However, the latest YouGov poll in the Sunday Times put the Tories at 38% and Labour 33% – a five point lead up from two a week earlier. An ICM poll published in the News of the World puts the Tories at 40%, nine points ahead of Labour.
What To Watch For Greece Wise This Week
On Tuesday, Greek PM Papandreou visits Washington for talks with US President Obama. This continues a whistle-stop tour of major capitals after talks with German Chancellor Merkel in Berlin on Friday and French President Sarkozy in Paris on Sunday. As acting Foreign Minister as well as PM, the tour can be presented as relationship building rather than anything else. But in light of the PM's threat to call on IMF financing if the EU refuses, winning support from the Obama Administration may be a means of ensuring IMF support should it be required. Note, neither Germany nor France believes Greece needs to go to the IMF. Sarkozy's comment's yesterday were more supportive of eventual EU aid, should it be required. Also note, German Chancellor Merkel meets with Eurogroup head Juncker on Tuesday, French PM Fillon on Wednesday and Dutch PM Balkenende and Queen Beatrix on Thursday. This may be important diplomacy ahead of next week's Eurogroup and ECOFIN meetings.
Thursday, the ADEDY and GSEE trade union confederations will hold their next round of strikes. So far, the strike action by the two umbrella groups representing as much as 60% of all Greek workers have been relatively unimpressive, although impromptu demonstrations outside the Greek parliament building on Friday to coincide with the parliamentary vote on last week's supplementary austerity measures did turn violent. Markets will continue to watch these events to help gauge implementation risk. The opinion polls have remained generally supportive of the Greek government and the consolidation plans.
Next week, on March 15/16, the Eurogroup and ECOFIN groups of European finance ministers will hold their monthly meetings again. With Greece having successfully come to the market and raised €5bn with the 10 year bond last week, other European capitals will be reticent about detailing potential rescue initiatives for Greece. If the ECOFIN meetings come and go without any elaboration of the EU's potential support for Greece, Papandreou and Greece will grow even more frustrated with the EU. Political tensions could rise and affect spreads. Greece is doing all the EU asks in the hope that the EU will be more explicit in how it would support Greece financially. Greece has issued bonds but the cost is still high and Greece wants a more explicit statement of support from the EU to reduce the cost. Greece feels there should be a quid pro quo. The threat to go to the IMF is a reflection of this tension.
The bottom-line is, despite last week's new austerity measures and successful bond syndication, this crisis is not over yet. Perfect delivery of a comprehensive fiscal consolidation and structural reform plan is required to keep the markets on-side.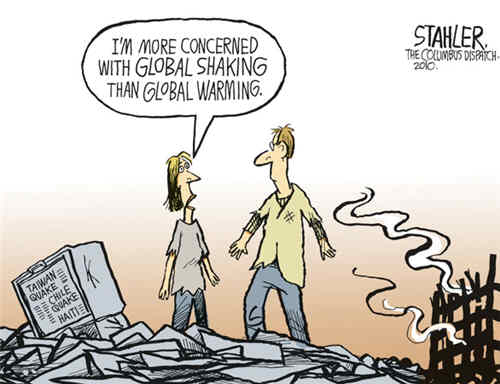 Portuguese Troubles Simmering
The Portuguese cabinet met on Saturday to discuss its Stability Programme, the medium-term fiscal plan. Today, PM Socrates is expected to discuss the plans with opposition parties. Writing an ambitious, credible and detailed Stability Programme is one thing. What Portugal needs is some kind of platform for national unity in order to convince markets that a minority government is going to be able to deliver a medium-term consolidation programme. That sense of unity could be tested this week.
On Friday, the Portuguese 2010 Budget bill will be voted on in parliament. The main opposition party, the Social Democrats, have said they will abstain from the vote. If they don't, it could be significant. However, it is not that the Social Democrats are opposed to consolidation. In fact, they are urging greater control of spending than that proposed by the minority Socialist government. Media reports say that the Portuguese Stability Porgramme does not include public pay cuts or tax hikes, but does include pay freezes and reduced tax breaks. Note, Strass-Kahn said over the weekend that there is no reason for the Greek crisis to spillover into Spain and Portugal.
Company News
•Merrion Pharmaceuticals today released a strong set of full year results with revenues up 373% to €6.335m ahead of expectations of €5.3m. This was driven by stronger than expected inflows from the Novo Nordisk partnership, which now accounts for 98% of group revenues.
•The rebound in AIB's share price last week (up 47% in the week) is a tribute to the positive messages coming out of results and investor meetings. Interestingly, were the group to dispose of their Polish and American interests i.e. BZW and MTB at current market prices and the UK at book value, its core equity ratio would reach 6.7%, highlighting the fact that equity issuance may be avoided. The possibility of zero or limited dilutive equity issuance, recent encouraging domestic data (PMIs, retail sales and live register numbers) and easing in credit market conditions (continued unlimited ECB liquidity, narrowing CDS spreads and successful Greek issuance) suggest that the positive momentum in AIB's share price will continue.
•The Sunday Times reports that the attempted sale of 320 RBS branches in the UK is faltering after a £3 billion funding gap emerged. The network is currently benefiting from liquidity provided as part of the Special Liquidity Scheme. Any buyer of the network will have to provide immediate replacement funding.
•Bovis Homes is the latest UK homebuilder to report results today, with full year pre tax profits of £4.8m (£78.7m loss in 2008). Private homes reservations increased in the year by 82% to 1,801 while overheads reduced by 34%. This saw the group deliver a margin of 6.2%, despite a 9% decline in gross margins due to continued price declines. The results in isolation are broadly positive for the sector and the Irish homebuilders, however with almost all the UK homebuilders having reported at this stage, the news should be priced in.
•Arrow Energy surged a whopping 47% in Sydney after the Australian coal-seam gas producer said it received a takeover offer worth more than $3 billion from Royal Dutch Shell and PetroChina.
•Hewlett-Packard may be softer today after the computer maker revised its first-quarter results, cutting profit by 3 cents a share, after a lawsuit against its Electronic Data Systems unit increased legal costs.
•MetLife said it has a definitive agreement to acquire one of AIG's international subsidiaries, American Life Insurance Company, for $15.5 billion. The consideration will consist of $6.8 billion in cash and $8.7 billion in MetLife equity securities, subject to closing adjustments.
•Imax advanced 1.2% on reports that "Alice in Wonderland," directed in 3-D by Tim Burton, earned $11.9 million at 188 Imax 3-D theaters this weekend, the most in its history, according to Hollywood.com Box-Office.

And Finally… The Fed Releases Propaganda Video To Explain What It Does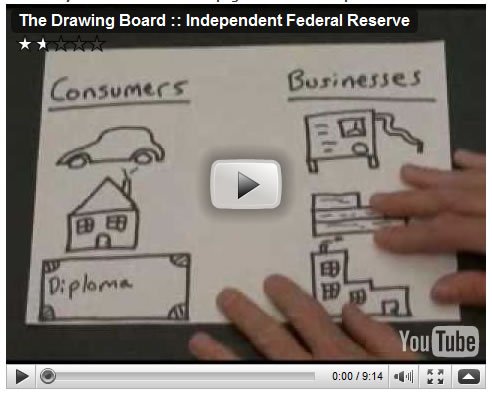 Disclosures = None
By The Mole
PaddyPowerTrader.com
The Mole is a man in the know. I don't trade for a living, but instead work for a well-known Irish institution, heading a desk that regularly trades over €100 million a day. I aim to provide top quality, up-to-date and relevant market news and data, so that traders can make more informed decisions".© 2010 Copyright PaddyPowerTrader - All Rights Reserved

Disclaimer: The above is a matter of opinion provided for general information purposes only and is not intended as investment advice. Information and analysis above are derived from sources and utilising methods believed to be reliable, but we cannot accept responsibility for any losses you may incur as a result of this analysis. Individuals should consult with their personal financial advisors.
© 2005-2019 http://www.MarketOracle.co.uk - The Market Oracle is a FREE Daily Financial Markets Analysis & Forecasting online publication.

Only logged in users are allowed to post comments.
Register/ Log in