Central Bank Ponzi-Regimes to the Rescue of Financial Markets
Stock-Markets
/
Central Banks
Aug 11, 2007 - 09:09 AM GMT

Kindly indulge us - as we pen this week's intro with the spirit and dark-humor of a Dennis Miller-like rant.
We cannot help but find it quite amusing that:
The titan institutions currently adhering to egregiously mutated paradigm-doctrines, handed down by their founding architects - the global cartel of central banks - (financial engineers of worthless marked-to-nothing fiat-paper) suddenly find themselves scrambling to affect "rescue" across a broad spectrum of over-bloated markets, from a systemically induced crisis of inevitability - spawned from the godfather of all Ponzi-schemes from which they preside.
In a rather twisted analogy: (To wrap this rant)
The above is akin to continually re-appointing a board of known-pedophiles and sex-offenders to preside over a conglomerate-monopoly of worldwide-playgrounds and child-care centers. Having provided such board appointments with full-unfettered power in maintaining hands-on controlling interest, ( for reasons yet established by the author) we then collectively harbor the brilliance of mind, to rely exclusively upon the appointees for remedy, savior, and solution to the vicious cycles of child-abuse repeatedly experienced on their watch. – Have we all gone completely mad?
Making Waves:
From our perspective, the only remotely positive effect of such compounded, incessant meddling in supposed free-markets – are the unmistakable footprints of Elliott Waves - which remain clearly marked in the wake of such malfeasance.
The Week in Review: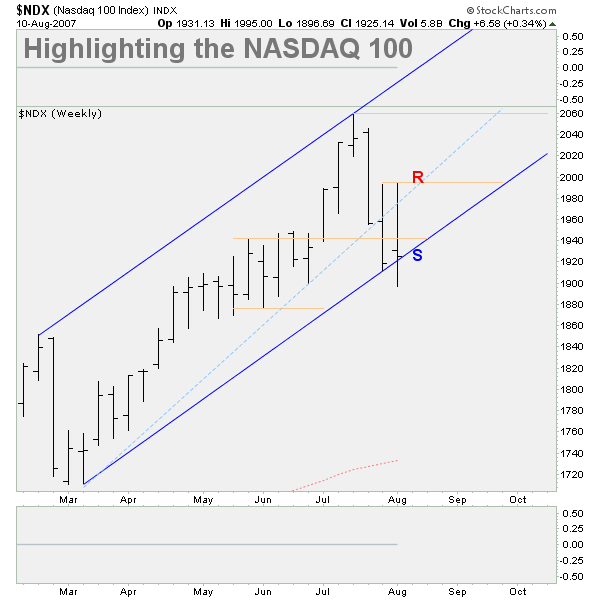 General Equity Indices singing like canary's - to the global cartel of central bankers…
…"Catch Us Now – We're Falling"
(From historic and unprecedented all-time highs)
The NDX:
After treading briefly below last weeks support-line, the NDX managed to close spot-on this critical trendline boundary.
Barely hanging on to what little remains as a zone of comfort – a narrow weekly close inside the boundary of its longer-term bullish-uptrend channel - the NDX has its work cutout in the days and weeks ahead.
Despite cries of financial Armageddon…
This Super-Cycle Bull may have been stirred – but it has yet to be shaken
One should remain open-minded in reluctantly maintaining necessary levels of collective psychotic-optimism, hinged of course, upon the promise and hope of a sustainable success to the Fed-led rescue efforts now underway.
However, in the event such omnipotent forces of world influence flat-out fail, one should also continue to brace prudently for the worst.
At the pilot's continued request, please keep your safety belts securely fastened, and your seat backs in their standard upright positions.
A Financial PANIC and Crisis-situation on par with 911?
They have got to be kidding us, right?
In our view, the current crisis has spawned from titan institutions adopting a perpetual debt-based prosperity paradigm. Such a cumulative, inevitable, systemic-born crisis resulting from such doctrine, will ultimately require a complete dismantling, and total reconstruction from the ground up.
The recent malaise is a result of yet another cumulative miss-step, layered atop decades of such hubris, in ruling authorities attempt to perpetuate, shape, subvert, and distort the otherwise natural order of free-markets.
Authoritarian Free Enterprise aside
The Elliott Waves continue to reveal their footprints with glaring clarity. The immediate $64-trillion-dollar question - is whether this antiquated, and elite system of inevitable misfortune, has finally placed its last straw atop the peoples back.
We shall soon find out whether the markets will be printing fresh historic highs by years-end, or begin unleashing a truly debilitating period of reckoning for many years to come.
Elliott Wave Technology remains at the forefront in producing unrivaled, well-organized, and stunningly accurate guides to long and short-term market forecasts.
For those compelled to participate and profit from such volatile, crisis-bearing opportunities, acquiring access to our adept and impartial council will provide the required competitive advantages in trading safely, and profitably - no matter what the market may deliver.
Such practical guidance will also render lasting utility in effectively balancing one's perceptions, and active engagement with financial markets, across all time-horizons.
The chart below documents last weeks short-term trade-triggers and price-targets captured from Elliott Wave Technology's Near Term Outlook .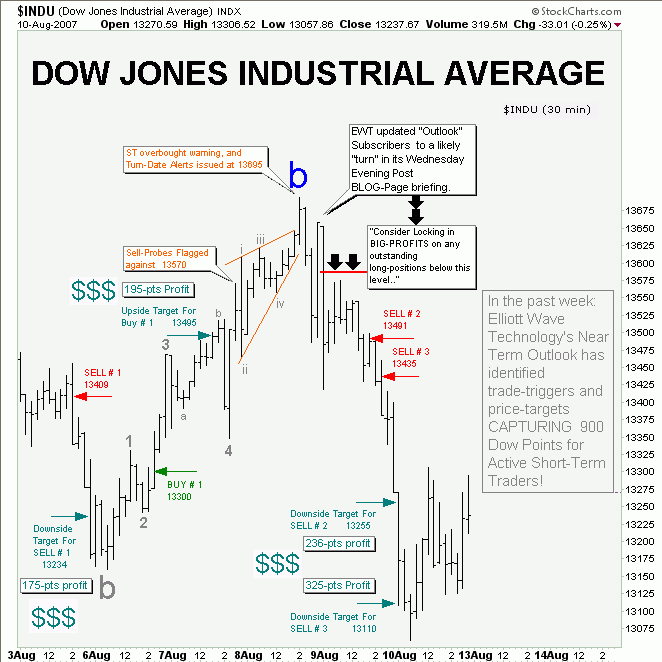 For active traders of all time-horizons, there is no better road map for navigating market indices than the Near Term Outlook .
As evidenced by recent news of significant losses at "black-box" quant-funds, no mechanical trading systems or algorithms can anticipate directional moves with the agility, speed, and precision rendered by our adaptive method of short-term forecasting.
Now let's see how the rest of the majors performed last week…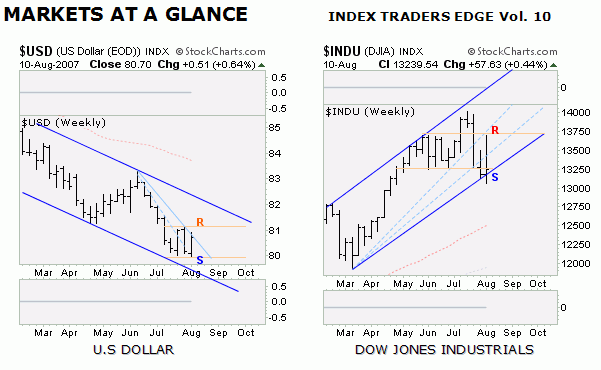 After setting fresh multi-year lows earlier in the week - following news that its manufacturers are taking a leadership role in "rescuing the world" from the effects of their "marked-to-nothing-but-faith" products and mutant offspring - The Dollar has curiously begun to stabilize.
After printing fresh lows for the move on Friday, The Dow managed to close marginally higher on the week, but remains stuck beneath the base of its previous trading range. Although overwhelmingly bullish longer-term, the Dow continues to show signs of vulnerability over the short-run.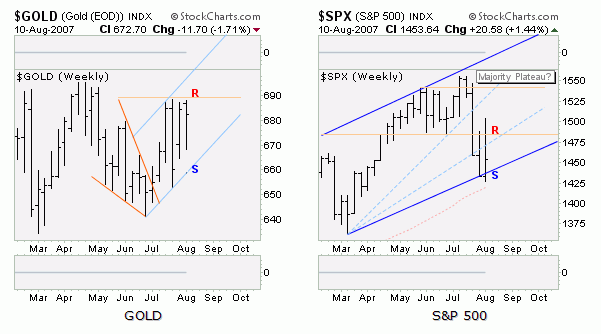 Gold failed to follow through on last weeks feeble attempt at breaking above the previous weeks inside bar. As a result, we now have a potentially more powerful array, consisting of "two successive" inside compression bars. Next week should prove interesting.
Since it has been one of the worst recent performers, it is only fitting that The S&P closed the week with a wider margin of cushion above its recently weakened trend channel boundary.
Should readers have interest in obtaining access to Elliott Wave Technology's blog-page, kindly forward the author your e-mail address for private invitation.
Until next time …
Trade Better / Invest Smarter...
By Joseph Russo
Chief Editor and Technical Analyst
Elliott Wave Technology
Copyright © 2007 Elliott Wave Technology. All Rights Reserved.
Joseph Russo, presently the Publisher and Chief Market analyst for Elliott Wave Technology, has been studying Elliott Wave Theory, and the Technical Analysis of Financial Markets since 1991 and currently maintains active member status in the "Market Technicians Association." Joe continues to expand his body of knowledge through the MTA's accredited CMT program.
© 2005-2019 http://www.MarketOracle.co.uk - The Market Oracle is a FREE Daily Financial Markets Analysis & Forecasting online publication.

Only logged in users are allowed to post comments.
Register/ Log in