Stock Market Dow New Highs All Lies
Stock-Markets
/
Stock Markets 2010
May 20, 2010 - 01:19 AM GMT


"All pain is either severe or slight, if slight, it is easily endured; if severe, it will without doubt be brief." ~ Marcus T. Cicero 106-43 BC, Great Roman Orator, Politician
As the saying goes, a picture speaks a thousand words and the charts below quite clearly illustrates that the Dow has not put in a single new high in the past 3 years.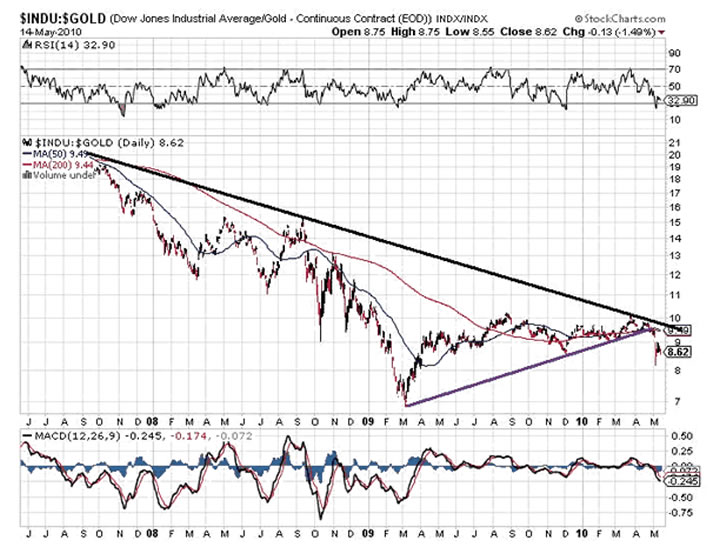 When the Dow is priced in Gold all we get is a long term down trend line. This clearly illustrates how the masses are being fooled into believing that these illusory highs are real highs.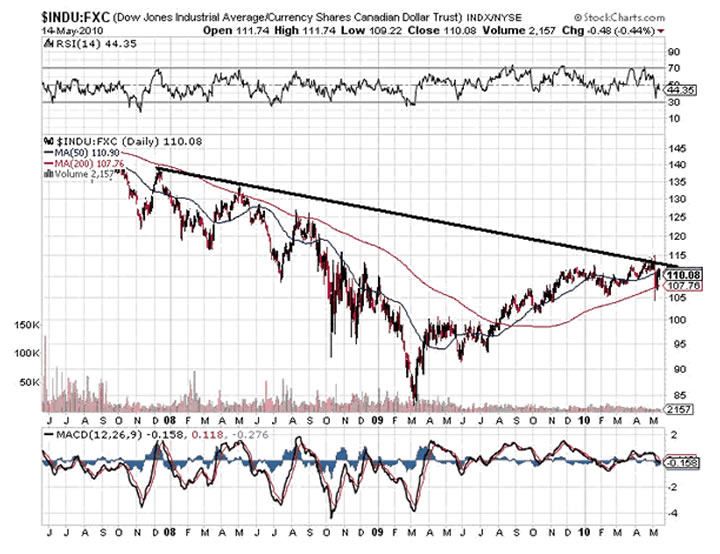 When the Dow is priced in Canadian dollars, we also get a similar picture though not as striking as when it's priced in Gold.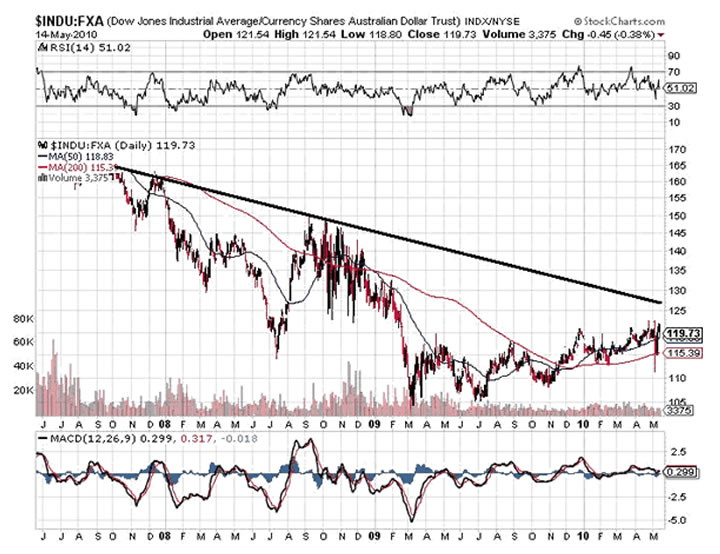 When priced in Australian dollars the picture is almost as striking as when it's priced in Gold. These charts clearly illustrate the sinister nature of inflation; your wealth is literally being stolen right in front of your eyes.
Conclusion
Inflation the silent killer tax is being used to fleece the masses; you work hard for your money, you pay taxes and instead of getting a pat on your back you get a kick in the cahones. Welcome to the real world. The way to protect oneself from this insidious disease is to stay one step ahead of the central bankers. Precious metals are one way to hedge oneself, but they are not the only way and not always the best option. For example, from the mid 1990's to 1999 the dot.com era was a good way to stay ahead of the inflation game, and then from 1998 to roughly 2006, real estate was a good bet; precious metals were a good place to start parking one's money from 2000, and they still are.
Given the rate at which new money is being created and the fact that many nations are reaching the point of no return in terms of paying back their debt, it would be extremely wise to have a position in precious metals (Gold, Silver, etc). In fact, having a position in any commodity is a good idea for the current commodity bull still has a long way to go before a long term top is put in. We would, however, wait for strong pullbacks before opening up new positions or adding to existing positions.
"You know the world is going crazy when the best rapper is a white guy, the best golfer is a black guy, the tallest guy in the NBA is Chinese, the Swiss hold the Americas Cup, France is accusing the U.S. of arrogance, Germany doesn't want to go to war, and the three most powerful men in America are named Bush, Dick, and Colon." ~ Chris Rock Comedian
Random musings
Euro Bailout Bought Time, Nothing More
There is a need for a quantum leap in the governance of the euro area," European Central Bank (ECB) President Jean-Claude Trichet told Der Spiegel magazine.Echoing his call, ECB Executive Board member Juergen Stark said turbulence in the euro zone would calm down only if member countries reformed their economies and cut their deficits.
"We have bought time, nothing more," he said in an interview with the Frankfurter Allgemeine Sonntagszeitung.
Euro zone governments agreed a 750 billion euro ($1 trillion) rescue last weekend to end a crisis of confidence in the euro triggered by financial problems in Greece, which had threatened to envelop the region's much bigger economies."It is not an attack on the euro," he said. "It is clear that it is the primary responsibility of the Europeans to take the appropriate measures in order to counter the present severe tensions which have erupted in Europe."
Trichet has long urged euro zone governments to cut budget deficits to stop debt piling up. The failure of the Greek government to take this advice led to a debt crisis that risked spreading to other euro zone countries with similar problems. "There need to be major improvements to prevent bad behaviour, to ensure effective implementation of the recommendations made by 'peers' and to ensure real and effective sanctions in case of breaches."
In Zagreb, EU Economic and Monetary Affairs Commissioner Olli Rehn said bailouts had to be harsh to avoid encouraging reckless behaviour by governments.
"This mechanism must be made so unattractive that no leader of any (EU) country is voluntarily tempted to resort to this system," Rehn said in a speech. Full story
Precisely; we could not have said it better; if any help is offered (we are against this, but if the measures implemented are harsh enough it might just work) the restrictions should be so painful that it will make others think twice before breaking the rules. So far, all we have is talk; let's see if it turns into action.
Now the head of the European central bank finally agrees with what we have been saying all along. As we have stated before, when bankers make comments that actually make sense one should pay heed to them. We feel that only a severe lesson will be sufficient enough to trigger the other laggards into finally pushing in long term meaningful measures to balance their budgets. Until then they will nod yes but in terms of actions nothing will change; it will be business as usual.
The euro has already hit one of our targets; when it was trading at or close to new highs we stated that it would trade down to the 120 ranges before putting in a bottom. However, the picture has changed slightly, and it now appears that the euro could potentially trade down to the 115 ranges. We've recommended shorting the euro via EUO several times, but at this point in the game, we think it's a bit late to open up new positions, unless the euro mounts a strong rally over the next few weeks.
by Sol Palha
Sol Palha is a market analyst and educator who uses Mass Psychology, Technical Analysis and Esoteric Cycles to keep you on the right side of the market. He and his partners are on the web at www.tacticalinvestor.com.
© 2010 Copyright Sol Palha - All Rights Reserved
Disclaimer: The above is a matter of opinion provided for general information purposes only and is not intended as investment advice. Information and analysis above are derived from sources and utilising methods believed to be reliable, but we cannot accept responsibility for any losses you may incur as a result of this analysis. Individuals should consult with their personal financial advisors.
© 2005-2019 http://www.MarketOracle.co.uk - The Market Oracle is a FREE Daily Financial Markets Analysis & Forecasting online publication.

Only logged in users are allowed to post comments.
Register/ Log in