Politicians Battle Against Markets, The Sovereign Policies of Insolvency
Stock-Markets
/
Global Debt Crisis
May 21, 2010 - 01:58 AM GMT


The greatest transfer of wealth from those who hold it in paper to those who don't is underway; a Crack-up Boom looms.
It's time to put on your battle gear and man your stations as the "when hope turns to fear" (see 2010 outlook in Tedbits archives) moment has arrived. As the G7 financial systems lurch towards their demise, insanity is on plain display in the capitals of the developed world, with the purchasing power of all G7 currencies (Pounds, Swiss Francs, Euros and Dollars of all stripes) in free fall -- as measured in the only REAL currencies in the world: GOLD and SILVER. &
"Gold is money, and nothing else"- JP Morgan, testifying under oath to the Pujo Commission 1913
Public servants and their central bank allies are in a struggle between truth and fiction. The truth being that they are Insolvent; the fiction being that they are NOT. Hardy har har. (Thank you www.zerohedge.com for the wonderful quotes). Euro zone public servants are decrying ratings agencies which can no longer present POLITICALLY correct and PRACTICALLY incorrect ratings.
"In some ways it's a battle of the politicians against the markets. That's how I do see it. But I'm determined to win this battle" --Angela Merkel
This reminds me of Chuck Prince of Citigroup who said as long as the music was playing he was still on the dance floor. That was a bell ringing, so is Angela's statement. If there ever was a political epitaph, that is it. The very idea that she can defy nature is ABSURD and dangerous to the future of her constituents; it is they who will PAY the PRICE for her INSANITY. German Finance Minister, Wolfgang Schäuble, claims that markets are out of control. Earth to Wolfgang: They were never in your control! You may want to study the lessons of King Kanute.
She and the other political powers that be in the Euro zone ATTEMPT to DEFY Mother Nature, but unfortunately they will fail, as years of MORAL and FISCAL bankruptcy and the 40 years of sovereign ALCHEMY is exposed as the fraud that it is and has been.
The Pound, Euro, and oil in freefall, or the Dollar, gold and silver in moon shots as investors scurry into and out of those markets.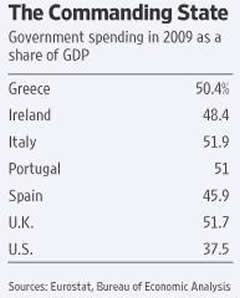 Look at the markets (stocks, bonds, currencies, energy, natural resources, etc) zooming all over the place to price in the new realities. Expanding volatility is opportunity for the prepared investor. It's just BEGUN! Absolute Return Alternative Investments which have the potential to thrive in up and down market conditions are essential to a diversified portfolio. You must also learn to fix your paper currencies to SHORT circuit the powerful debasement of the money supplies in the G7. This is what I do… (click here to inquire: www.traderview.com/inquire.htm)
Years of borrowing to build the welfare-state constituencies has now resulted in an economic model and a public no longer produce more than they consume. The European welfare states' economies are now DEAD; nothing will revive them apart from structural changes which will never be considered short of the final disaster they have created. The crony capitalists, illuminati banksters, public sector trade unions and public servants have KILLED the golden goose of the private sectors. Look at the portion of these economies going to GOVERNMENT parasites:
When you look at the US, don't be FOOLED. With all the UNREPORTED spending and new taxes being implemented by the chosen one, we will arrive at EU levels NEXT YEAR. For the first time in memory, this year the US federal government WILL NOT have a budget; it would be too embarrassing for incumbent public servants if the bad news and the FISCAL bankruptcy were DISCLOSED to the PUBLIC.
The chosen one and his BIG government progressives are racing to implement the European social welfare state model into the United States, regardless of what they see unfolding across the pond, defying common sense and implementing their ideology which is GUARANTEED to fail a la Europe, Argentina, Venezuela and everywhere else it has been tried throughout history.
In today's Financial Times, the former Prime Minister Spain, Jose Maria Aznar, outlined the changes which must take place for ECONOMIC growth to be possible in Spain, and his recipe must be implemented throughout the Euro zone and in the US for that matter.
"Spain urgently needs:
Large-scale labor reform to transform collective bargaining, deregulate labor recruitment services, lower taxes on employment and encourage the unemployed into work

A new energy policy to avoid the shutdown of nuclear plants, deregulate markets and cut subsidies on inefficient renewable energy sources

A bank shake-up, including authorizing the investment of private capital in savings banks

Sweeping reforms to reduce the size of regional administrations and create a viable and efficient state

Changes to the state pension system to guarantee its mid-term and long-term sustainability

Deregulation to increase competition, including reforms to the welfare state and further privatizations of public companies

Tax reform to foster competitiveness.
Thank you, Jose. What do you think the odds are of these reforms taking place short of a financial crisis, also known as collapse? If you said NONE you are correct.
"The government's decision to raise taxes is a mistake that will worsen the crisis; in the past 160 years no leftist government has been able to rescue Spain from an economic crisis. It does not look as if this age-old rule will be broken this time around either. The current Socialist government is incapable of resolving Spain's problems and taking the necessary steps. Only a new government can do this. The sooner, the better" --Former Prime Minister of Spain, Jose Maria Aznar
Look no further than the French President Sarcozy to see the hubris of a man who thinks he is above the laws of nature. Add to this the Presidents and Prime ministers of Germany, Spain, Italy and Portugal. Look no further than the ENRON, WORLDCOM, and REFCO solution being implemented by the European commission. Off-balance-sheet vehicles have never been employed in anything other than DECEPTION. This is no different than any other SPV.
A SPECIAL PURPOSE vehicle held off the balance sheets of the countries which are creating it. Can someone please tell me when a special purpose vehicle has ever been employed to do anything but mask debt and losses off the balance sheets of the parties to them? The Euro zone is issued the shares "for nothing" and then authorizes the borrowing which they will then guarantee.
Essentially putting nothing in, keeping the borrowing off the public record and Debt-to-GDP ratios, and getting idiot lenders to allow them to take money out, in order to buy debt securities that rational investors are refusing to buy in the open market. It will never work, yet they will make the domestic banks take down the trash. But German banks are CHOKING on sovereign and private debt from the pigs (Portugal, Italy, Ireland, Greece and Spain), take a look: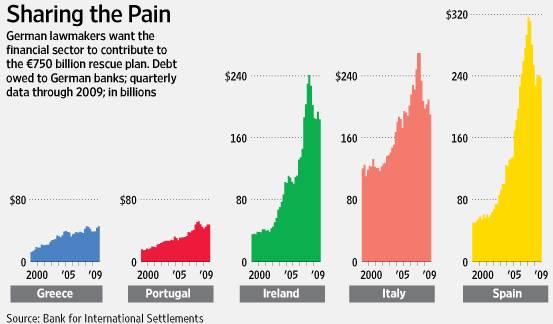 Now you know why the chairman of Deutsche Bank went to Greece several months ago, but the threat to its solvency is much greater than just Greece. Just Yesterday Greece banned "NAKED" short selling (Bravo, as regular readers KNOW I DESPISE NAKED short selling, and NAKED credit default swaps). Regular short selling is a vital function for price discovery, and buying credit default swaps on bonds to protect the value of what you hold is as well.
That chart is why they BANNED naked short selling in the 10 largest banks, as they are all insolvent after the coming defaults and restructuring of the debt they are holding. Do you think they are solvent or insolvent? KEEP in MIND, that this is a country whose economy is the BEST in Europe. What do you think the balance sheets of the rest of the Euro zone BIG banks look like? I will give you a hint… WORSE.
"The last duty of a central banker is to tell the truth." --Former fed Governor Alan blinder
The $990 billion BAILOUT announced by the EU is a stunning about-face for Jean Claude Trichet, President of the European Central Bank, who said earlier in the week: Under no circumstance would the bank buy bonds and engage in quantitative easing.
The following weekend he announced they were commencing to do so and bought $20 Billion worth in the first salvo. Yesterday's Spanish debt auction of 1-year and 18-month notes had to be reduced and almost FAILED; a 10-year auction is being held today: HOLD YOUR BREATH. A bomb may go off today. The Italian central bank is proposing SUSPENDING mark to market for SOVEREIGN debt, just as the US did a year ago with private debt and the suspension of FASBY 157. The lending windows are CLOSING rapidly; the con game of social welfare states is quickly being EXPOSED as to what they are.
Let's look at the bankrupt countries attempting to guarantee the borrowing of bankrupt countries, from a recent www.wsj.com :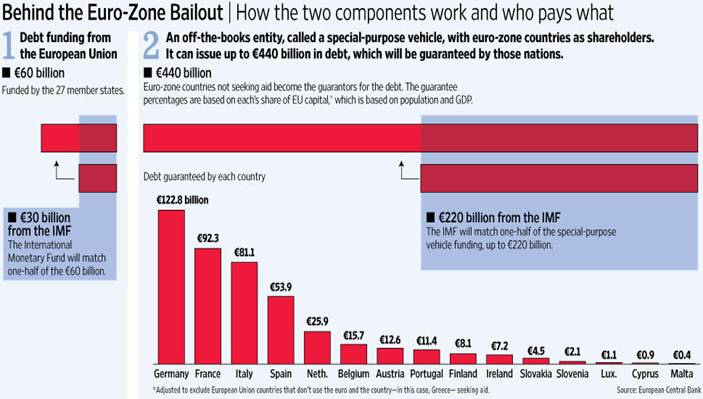 Then the IMF steps in for another 220 BILLION euro loan from the same group of countries who are ALSO members of the IMF. Reported NOWHERE is the fact that the AMERICAN public is guaranteeing 18% of this BAILOUT total, on top of all the other bailouts they have FUNDED.
Take a look at this picture as they exit the scene of their latest FINANCIAL crime and future fraud on investors, who they call SPECULATORS, to FOOL the general population whose ignorance is being PREYED upon:
Please understand this meeting contained the seeds of the end of their careers and the finances of their respective countries. Shades of Benedict Arnold. I love this picture; it's a Freudian slip of the first order, the truth of what they just did to their constituents is PLAIN on their faces. If only they were wearing PINSTRIPES… HA HA.
The truth of the matter is the groups who are refusing to finance their welfare states are INVESTORS and LENDERS who are doing the RATIONAL thing by SELLING their holdings BEFORE the next GREEK episode appears from who knows where. Investors and lenders SELLING to protect the value of their holdings are not speculators. UNFORTUNATELY for them, they now just hold the IOU'S of the respective countries, also known as currency. Those bonds are no safer than those they have already issued.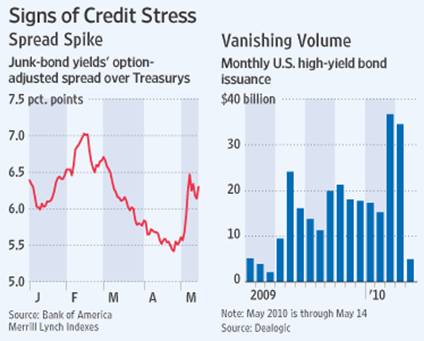 The truth of the effectiveness of these plans can be seen in Dollar, Euro and British Pound Libor as banks begin to price in the insolvency of their short-term counterparties. The developed world financial systems have approximately $17 trillion of outstanding debt, against assets which are worth a fraction of that number.
Spreads on investment-grade corporate and junk bonds are also widening and the ability to issue new debt is drying up. Take a look at the widening in junk bond spreads and the COLLAPSE in issuance:
Over $900 billion was raised in the corporate bond markets over the last year and sold to investors who now have jumped from the frying pan into the fire. The bond issuance party is over, and the lending windows are closing RAPIDLY. When the public is stampeding into something, it will be weak hands buying from strong ones. Thinking bonds are safe compared to stocks, these lemmings are about to learn that bonds have downsides too.
Just as the central banks wanted investors to do when they cut interest rates to zero, they have gone out of the risk curve as they reached for yield and perceived safety. Now they are stuck holding the debt of companies and countries whose growth prospects are severely diminished, as we head into the next leg down in economic activity. While profits have recovered mostly on the back of the financial industry, main street profits have risen on cost cutting, not from REVENUE growth.
Investors seeking yield and safety will probably get NEITHER. Bonds are the EPICENTER of the unfolding CRISIS. Extend and pretend will not work a second time as the POLICIES which foster ECONOMIC GROWTH are inconveniently NOT in the PLANS. Economic growth of 0% and debt growth of 6 to 12% (compounded annually) is a recipe for not being repaid.
The numbers DO NOT add up and calculators are BANNED in government land and the MAIN stream media, as are accurate economic stats which would UNMASK the true extent of the financial calamity and government malfeasance. REMEMBER: Paper is POISON during currency EXTINCTION events. The Euro is not the only currency which will FALL…..
"The more corrupt the state, the more it legislates." – Tacitus (ca. 110)
The people RUNNING the US on CAPITOL HILL are completely corrupt; they DON'T READ THE BILLS they are passing, how can this be? It is treasonous behavior. Financial reform in the United States is a DONE deal. We are witnessing a corrosive political TAKEOVER of the financial industry, just as healthcare reform (also a tax bill in disguise) was and is. The business models of the financial industry are being warped and distorted by Capitol Hill TERRORISTS. Putting themselves in charge of the reins, picking winners and losers based on POLITICAL considerations rather than PRACTICAL ones. 1,500 pages of political corruption are enshrined into law; just like healthcare before it, another criminal enterprise is born. It is obscene.
Are naked credit default swaps being addressed? NO. How about Freddie and Fannie? NO. How about the breakup of TOO-BIG-TO-FAIL financial institutions into sizes which DO NOT THREATEN the whole economy? NO. The anti-trust regulators broke up AT&T, why not JP Morgan Chase? Are there provisions and regulations (crony capitalist provisions) which stifle young competitors to the big financial organizations? YES. These public servants are working for somebody but it certainly is not YOU or the general PUBLIC.
As this letter has said many times over the last several years, Fannie and Freddie will generate close to a trillion dollars of losses before this is over; now the crew that engineered it is about to assume NEW RESPONSIBILITIES over lending decisions. Be afraid; be very, very afraid.
All this is not a confidence builder when it comes to the future. They are REMOVING the ability to price risk and you can expect lending to take another fall as this becomes clear. If you can't price for the risk that the borrower represents, then the lender can't charge for the risk and can't make the loan, it's that simple. Over a trillion dollars of credit will DISAPPEAR over the next several years.
If you are politically connected you will be safe (also known as campaign contributors), if not, it's heave ho and away you go. Politically-correct lending decisions are practically incorrect; just ask Freddie and Fannie as billions of lending go BAD. Part II straight ahead.
The number one issue for voters is the economy and jobs. These vipers put their interests in gathering power over doing what's required to revive the economy and income growth. BETRAYAL of their sworn duties and constituents.
No doubt at least four PROGRESSIVE republican senators will cross the aisle to screw the American people once more before being thrown out in November. As Rahm says: Never let a good crisis go to waste, and the public serpents aren't.
The idea that the US government is implementing what is failing in Europe is beyond belief and a betrayal of the American people and holders of the world reserve currency… it's also known as treason.
In closing we will begin with a quote from Mohamed El-Erian of Pimco:
Even with this critical uncertainty, we should not under-estimate the historical relevance of what is happening this weekend; and the stakes for Europe and the global economy are huge.
If this rescue attempt does not work, there will be a material acceleration in the process of change to Europe's economic, financial, and institutional landscape; and the reality of the debt explosion in industrial economies will become even more of a destabilizing factor for the world economy. --Mohamed El-Erian is CEO and co-CIO of PIMCO
On top of this I will point out the fact that NOT ONE PENNY EVER BEEN REPAID by any Euro zone sovereign or the United States since 1971. All their borrowing has been rolled over when due and new DEFICIT spending has been borrowed as well. This is about to come to a SMASHING halt over the next several years. The United States is running MONTHLY deficits the size of what used to be yearly deficits.
Look at the markets (stocks, bonds, currencies, energy, natural resources, etc) zooming all over the place to price in the new realities. Expanding volatility is opportunity for the prepared investor. It's just BEGUN! Absolute Return Alternative Investments which have the potential to thrive in up and down market conditions are essential to a diversified portfolio. You must also learn to fix your paper currencies to SHORT circuit the powerful debasement of the money supplies in the G7. This is what I do… (click here to inquire: www.traderview.com/inquire.htm )
As I said in the last issue, black swans have taken flight. Look for increasing blowouts in interest rate spreads signaling a crash watch in many, many markets. As I pointed out in the Something-for-Nothing essay, the something-for-nothing societies borrow until they can borrow no more, and print money until it is no longer accepted. This is in full motion.
The tops are in for the stock markets, and as Europe sinks into the next leg down of the unfolding depression look for other economies to follow shortly. On another note, GOLD and Silver are NOT bubbles and I will cover this in the next letter. I am also including a commentary from Stewart Dougherty, "The Dollar Rally is Hugely Bullish for Precious Metals" (www.traderview.com/tedbits/DoughertyBlogPost-May07-10.pdf ). Mis-titled in my estimation, it should be entitled: WHEN BIG MONEY PANICS. It is a great piece, so don't miss reading it to see the future.
Its all Austrian Economics as regular readers know. You better be learning how to do applied Austrian Economics in your investments… or perish with the Keynesians.
Thank you for reading Tedbits. If you enjoyed it...
If you enjoyed this edition of Tedbits then subscribe – it's free , and we ask you to send it to a friend and visit our archives for additional insights from previous editions, lively thoughts, and our guest commentaries. Tedbits is a weekly publication.
By Ty Andros
TraderView
Copyright © 2010 Ty Andros
Hi, my name is Ty Andros and I would like the chance to show you how to capture the opportunities discussed in this commentary. Click here and I will prepare a complimentary, no-obligation, custom-tailored set of portfolio recommendations designed to specifically meet your investment needs . Thank you. Ty can be reached at: tyandros@TraderView.com or at +1.312.338.7800
Tedbits is authored by Theodore "Ty" Andros , and is registered with TraderView, a registered CTA (Commodity Trading Advisor) and Global Asset Advisors (Introducing Broker). TraderView is a managed futures and alternative investment boutique. Mr. Andros began his commodity career in the early 1980's and became a managed futures specialist beginning in 1985. Mr. Andros duties include marketing, sales, and portfolio selection and monitoring, customer relations and all aspects required in building a successful managed futures and alternative investment brokerage service. Mr. Andros attended the University of San Di ego , and the University of Miami , majoring in Marketing, Economics and Business Administration. He began his career as a broker in 1983, and has worked his way to the creation of TraderView. Mr. Andros is active in Economic analysis and brings this information and analysis to his clients on a regular basis, creating investment portfolios designed to capture these unfolding opportunities as the emerge. Ty prides himself on his personal preparation for the markets as they unfold and his ability to take this information and build professionally managed portfolios. Developing a loyal clientele.
Disclaimer - This report may include information obtained from sources believed to be reliable and accurate as of the date of this publication, but no independent verification has been made to ensure its accuracy or completeness. Opinions expressed are subject to change without notice. This report is not a request to engage in any transaction involving the purchase or sale of futures contracts or options on futures. There is a substantial risk of loss associated with trading futures, foreign exchange, and options on futures. This letter is not intended as investment advice, and its use in any respect is entirely the responsibility of the user. Past performance is never a guarantee of future results.
© 2005-2019 http://www.MarketOracle.co.uk - The Market Oracle is a FREE Daily Financial Markets Analysis & Forecasting online publication.

Only logged in users are allowed to post comments.
Register/ Log in