Gold Bull Market Resmues As Inflation Equals Higher Gold Price
Commodities
/
Gold & Silver
Sep 07, 2007 - 10:38 AM GMT

"To The Moon, Margaret!"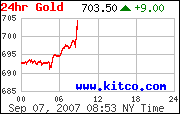 Don't you just feel real sorry for gold? Look at that poor chart below and weep. Actually weep for those idiots who cannot recognize a gold bull market when they see one. Hah! Gold will yet go where gold wants to go and perhaps where it has never been before – higher Margarita.
As the world leans further and further to financial doomsday is anyone even awake to the fact? Not really, except for those who are having their homes foreclosed.
Gold's journey to 700 has been real peculiar. The fervor or lack there of, reminds me of when gold was under 300 and everyone waited with baited breath every day for gold to reach and surpass the magical number of 300. From 300 to 400 gold did not produce an avalanche of excitement. When gold broke through to 500 in late 2005 there were still no ticker tape parades. But there exists a perception at this round that gold must hit 700 and surpass it.
And at that point do we grieve until gold hits 800? And when gold is in the 800 range do we grieve and sell our gold stocks because it is taking too long to hit 900? I suppose the point I always try to remind myself is that this game really is about making money. And on the day gold ascended 400 to 500 a great many gold mines as never before became profitable. And don't forget, our primary emphasis always is on quality gold and silver equities.
Let's listen to what Gary Dorsch has to say about the presently rising gold price. Gary has worked as the chief Financial Futures Analyst for three clearing firms and he knows his beans.
By Gary Dorsch - "On August 21st, Fed chief Bernanke told Senate Banking Committee Chairman Christopher Dodd, that he was willing to use all the tools available to him, to calm turbulent financial markets." Click
And more!
By Gary Dorsch - "Then on Sept 1st, Bernanke told a gathering of the world's top central bankers at Jackson Hole , Wyoming , "The Federal Reserve stands ready to take additional actions as needed to provide liquidity…" "In a rare moment of honesty, Feldstein admitted, "If Fed cuts rates result in higher inflation - it would be the lesser of two evils." "Thus, Americans must prepare for a further dilution of their purchasing power, and the most evil tax of all – higher Inflation." Click
Now, what does all this mean that we just read? The government is currently injecting a lot of US dollars into the market. And as we know from Economics 101.
INFLATION = HIGHER GOLD PRICE
No sense in arguing this as this single fact represents just one of the fundamentals for driving gold higher. End of story. Enough said. How much simpler can it get to understand this basic simple equation. Rising inflation always brings with it a climbing gold price. I've said it and I will not repeat it again. At least for the time being.
"Dave, The people that gave up on gold/silver stocks last month on the 16th and 17th are a lot POORER today because FEAR governed their investments rather than fundamentals. Nice move today in gold up over $8. $850 is in the cards or higher this coming spring......... Ed P."
And getting back to the subprime mess Kevin below reminds us where this chaos will lead to.
"Hi David, Nobody knows what the next asset bubble will be to fuel the Fed's desire to print dollars. Most know, however, the end game will be monetization of debt thus fueling or paving the way to hyper-inflation and catapulting gold to the 2000+ range. I believe that the government providing money for the subprime fallout, in the absence of an asset bubble, is the beginning of monetizing debt. Gold seems to feel that as well lately. It fuels the markets, increases money supply like an asset bubble, provides liquidity indirectly, protects from a credit crunch, but in the end it is still more debt on the government Léger and that's monetization as no asset is acquired with that money. The national debt sits at $8,989,621,240,888.00. A round trillion has produced a gold rally every time. After an 18 month base building for gold, this time shouldn't be any different. Cheers, Kevin M."
And is gold really going higher? I always listen to what the professionals have to add.
"Gold could rise to $700 an ounce by the end of 2007…" "Paul Walker, chief executive officer of London-based GFMS…" "My view is that the ground work is in place for a substantial rally in gold…" Click
Gold Letter, Inc. reviews gold, silver, uranium and other resource stocks under valued and poised to rise in this time of increased demand for all resources. Natural resources and related contrarian stocks will only escalate in value as the world continues to experience unprecedented population growth.
old Letter's 10 best performing stocks are up over 2,000% and GL's top 55 performing stocks are up over 500%. Close to 90% of all Gold Letter's recommendations since inception in January, 2003 are up over 250%. GL charts are computer generated and updated every hour while markets are open.
Click here to order Gold Letter
"The Worldwatch Institute, an organization that focuses on environmental, social and economic trends, says the current rate of global demand for resources is unsustainable." Click
Send me an email! Tell me what you personally feel about this subprime mess.
By David Vaughn
Gold Letter, Inc.
David4054@charter.net
The publisher and its affiliates, officers, directors and owner may actively trade in investments discussed in this newsletter. They may have positions in the securities recommended and may increase or decrease such positions without notice. The publisher is not a registered investment advisor. Subscribers should not view this publication as offering personalized legal, tax, accounting or investment-related advice. The news and editorial viewpoints, and other information on the investments discussed herein are obtained from sources deemed reliable, but their accuracy is not guaranteed. © Copyright 2007, Gold Letter Inc.
© 2005-2019 http://www.MarketOracle.co.uk - The Market Oracle is a FREE Daily Financial Markets Analysis & Forecasting online publication.

Only logged in users are allowed to post comments.
Register/ Log in